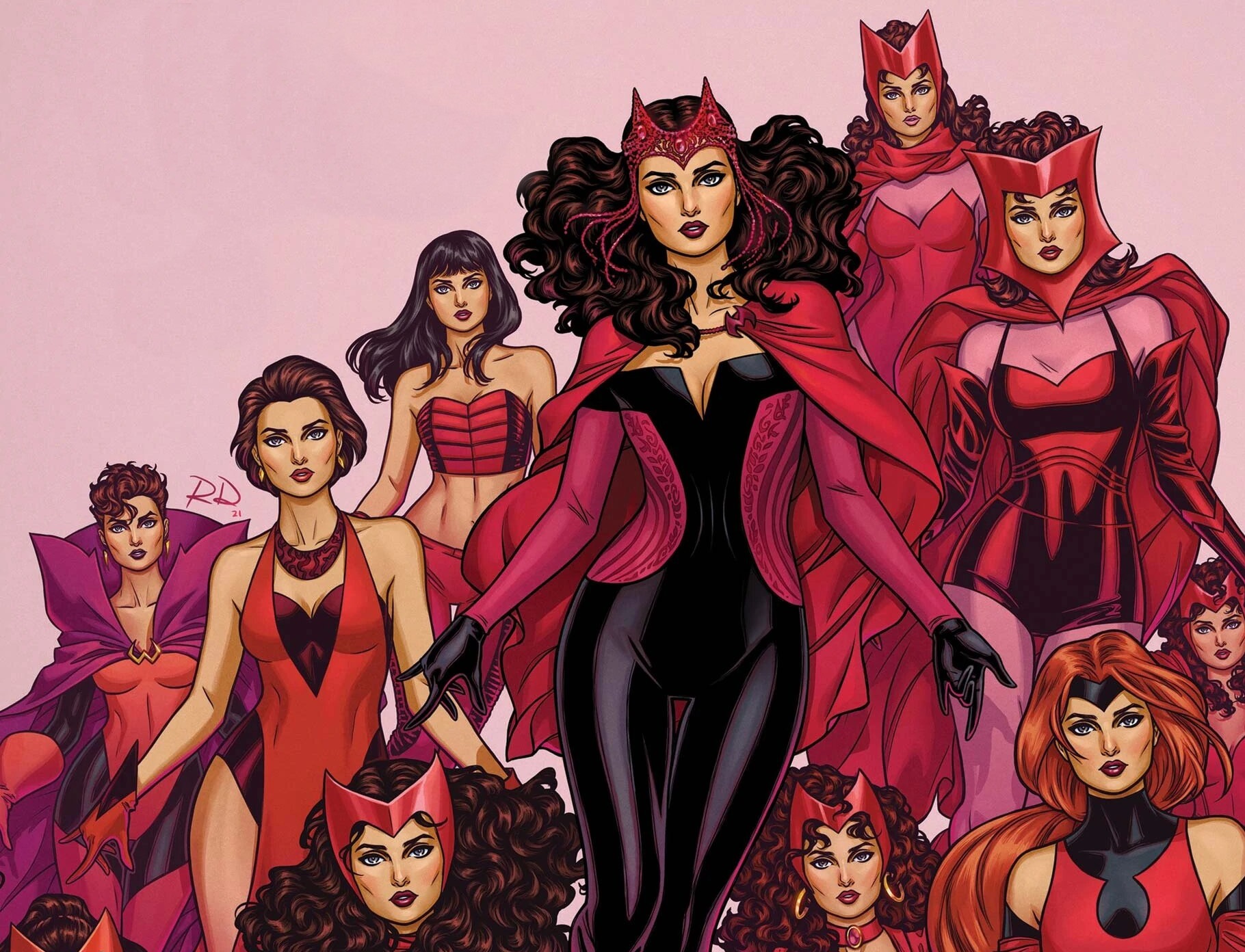 Wanda Maximoff. Wanda Frank. Just Wanda. Or the Scarlet Witch. The Great Pretender. The Great Redeemer. Whatever you may call her, she's one of Marvel's powerhouses, and that universe's Nexus Being—that is, the living focal point for all its mystical energies… and, if that mumbo-jumbo doesn't clue you in, she's a character with a remarkably complicated history, too. I've discussed her before in this site (my first time writing for Comic Book Herald, actually), so I've already made my case for why she's a worthwhile character despite all the many, many controversies and mistreatments. What I'm here to do today is try and coalesce all her convoluted continuity, which has mostly been told through team books instead of her own title, into a single omnibus Marvel could believably publish… as well as a fantasy version they certainly won't.
Wanda debuted as one of Magneto's Brotherhood of Mutants in 1964's X-Men #4, but she and her twin brother Pietro—Quicksilver—quickly changed sides and became a cornerstone of the Avengers. From her earliest days in Cap's Kooky Quartet, through her relationship to the synthezoid Vision, to this past couple of turbulent decades, Wanda has been an Avenger most of all… but that means an Avenger is what she's largely been, too; unlike other Avengers such as Captain America, Iron Man or Thor, Wanda didn't have her own book for most of her history, which makes mapping an omnibus for her a bit more complicated than with the average character.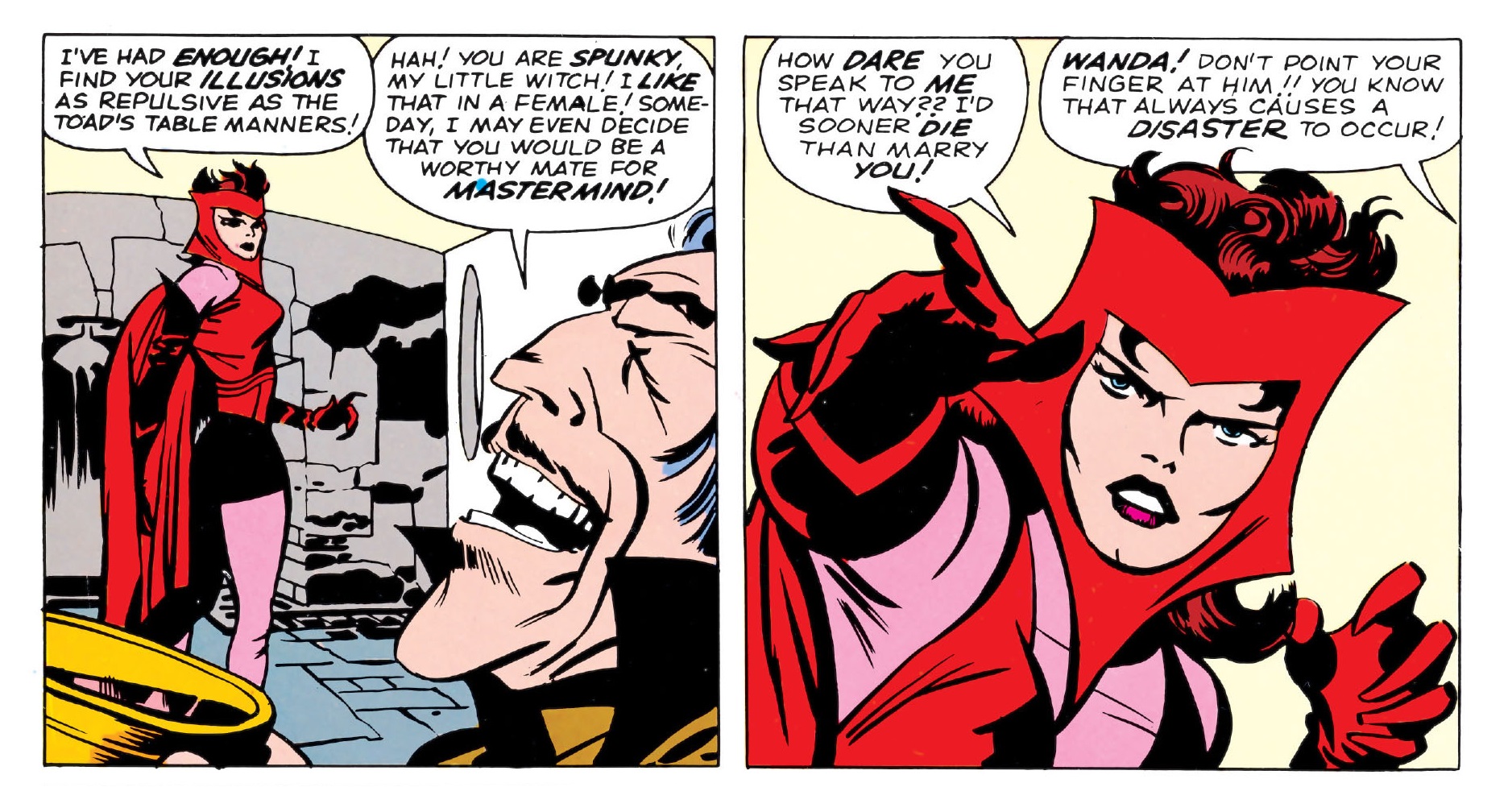 Personally, my first instinct would be to exhaustively collect all three decades of her classic material, from 1964 to 1996, in as many volumes as it would be necessary. More than that, I would collect Vision's key issues as well, since their stories are so intertwined. Which is exactly what I did last year, carefully picking and choosing from more than thirty years of comics for the comprehensive story of Wanda and Vision, with no need to read anything else for any context. That included not only picking and choosing issues but pages within issues. In a few rare cases, I went so far as to handpick specific panels within pages! This was the result: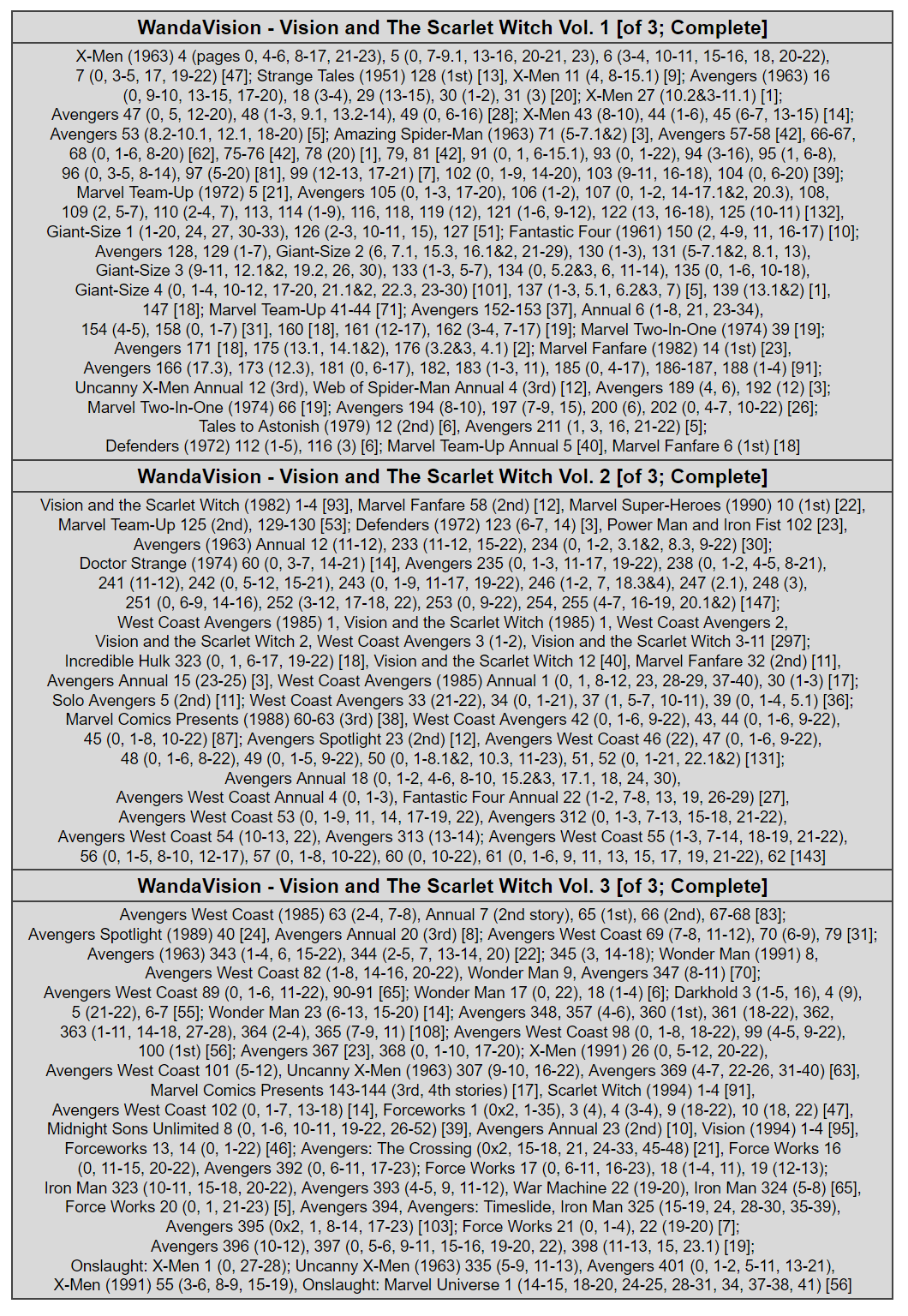 It was a lot of work (which I did for fun because I'm a weird little freak). It was also pointless, of course, because this is not something Marvel would ever put out. Marvel rarely publishes excerpts instead of single issues, and certainly not to this extent. They're also not going to dedicate three enormous volumes (each of them around 1260 pages) for Wanda and Vision. Nevertheless, I did want to share my ideal "WandaVision" collection, from their first appearances to their fall together to Onslaught, as I consider it a great resource as a complete reading order, excising the many appearances in which they don't do much and zeroing-in on anything that advances their story.
Moving on to a more realistic collection, it would naturally include all of the 20th century material bearing her name, starting with Wanda and Vision's first shared title, the Bill Mantlo and Rick Leonardi 1982 miniseries in which a certain master of magnetism was revealed to be her father; Steve Englehart and Richard Howell's followup 1985 maxiseries, which starts by tying-in with the just-started West Coast Avengers ongoing title and culminates in the birth of the twins Tommy and Billy; as well as her first own solo miniseries, 1994's Scarlet Witch by Andy Lanning, Dan Abnett, and John Higgins. Together, these stories would add up to 519 pages.
Support For Comic Book Herald:
Comic Book Herald is reader-supported. When you buy through links on our site, we may earn a qualifying affiliate commission.
Comic Book Herald's reading orders and guides are also made possible by reader support on Patreon, and generous reader donations.
Any size contribution will help keep CBH alive and full of new comics guides and content. Support CBH on Patreon for exclusive rewards, or Donate here! Thank you for reading!
That's not all, of course. The Scarlet Witch also starred in several anthology or team-up titles: the long-running Serpent Crown saga found in Bill Mantlo and Sal Buscema's Marvel Team-Up #41-44, Mark Gruenwald & Ralph Macchio and Jerry Bingham's Marvel Two-In-One #66, and Gruenwald's Marvel Team-Up Annual #5; Mike W. Barr and Sandy Plunkett's Marvel Fanfare #6 co-starring Spider-Man; a couple suburban stories in Mantlo, Plunkett and Mike Mignola's Marvel Fanfare #58 and Marvel Super-Heroes #10; a Doctor Strange team-up in J.M. DeMatteis, Kerry Gammill, Mike Esposito and Sal Buscema's Marvel Team-Up #125 and with Spider-Man in issues #129-130; a few tragic little tales in Roger McKenzie and Paul Smith's Marvel Fanfare #32 and Dennis Mallonee and John Ridgway's Solo Avengers #5; and, finally, a definite jump into the nineties in Richard Howell's Marvel Comics Presents #60-63 as well as Cefn Ridout and Charles Adlard's #143-144. This would add 312 pages to the 519-page volume, leaving it at 831 pages.
These may be all the classic Wanda-starring comics but not all the Wanda-centric stories. As I mentioned, her development largely took place in one team book or another. If only for the sake of completion, we'd start with Stan Lee and Jack Kirby's X-Men #4, in which Wanda and Pietro are reluctant members of Magneto's Brotherhood of Evil Mutants (The clue was in the name).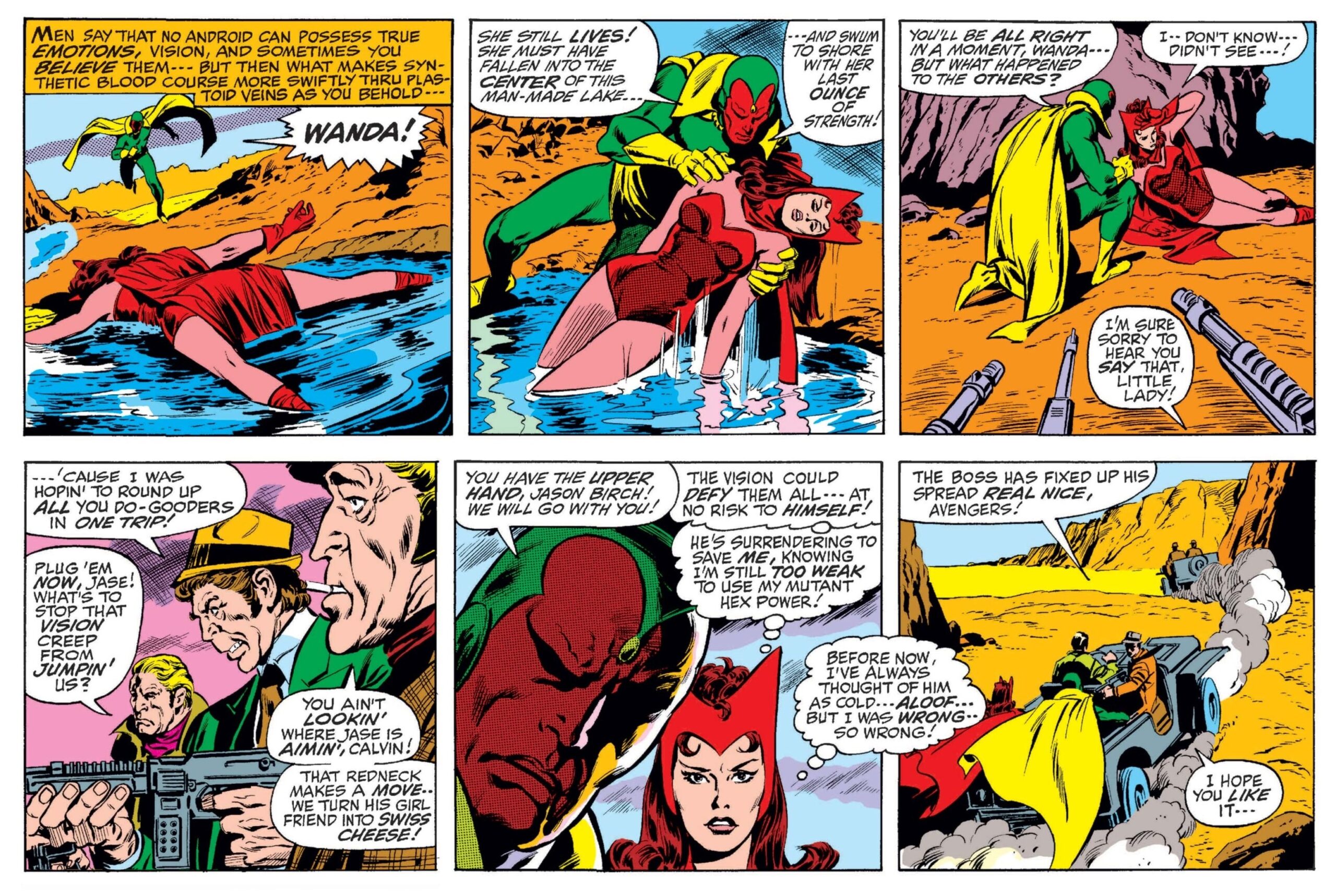 Avengers and West Coast Avengers are where you'll find most of her stories, and these are—for good and ill—crucial to understanding Wanda's life: Lee and Kirby's Avengers #16, in which they join the team; Roy Thomas and John Buscema's Avengers #75-76 and #81, in which they return to the Avengers after a brief absence only to find the mysterious Vision there, and sparks start flying; Steve Englehart and Don Heck's Giant-Size Avengers #4, in which the mutant and the synthezoid get married; Mark Gruenwald, Steven Grant, David Michelinie and John Byrne's Avengers #182 and #185-187, better known as the "Nights of Wundagore" arc in which Wanda falls victim to the Darkhold and the Elder God Chthon (this may ring a bell if you've watched Doctor Strange and the Multiverse of Madness); and finally John Byrne's Avengers West Coast #42-45, #47-52 and #56 with Roy & Dann Thomas and Paul Ryan's conclusion in Avengers West Coast #60-62, in which Wanda's life absolutely falls apart—she loses so much that she ends up losing her mind.
With these significant additions, the volume would contain a minimum of 1357 pages, which is quite large, but just around the size of "Doctor Doom: The Book of Doom," a recent single volume that was also devoted to a titleless character's highlights through the decades. I also managed to cut down my ideal collection by two thirds, which is quite a feat if I say so myself. That said, if anything had to be cut, it'd be from the many anthology and especially team-up titles, which offer stories ranging from at least entertaining to actually great but are rarely crucial to Wanda's journey.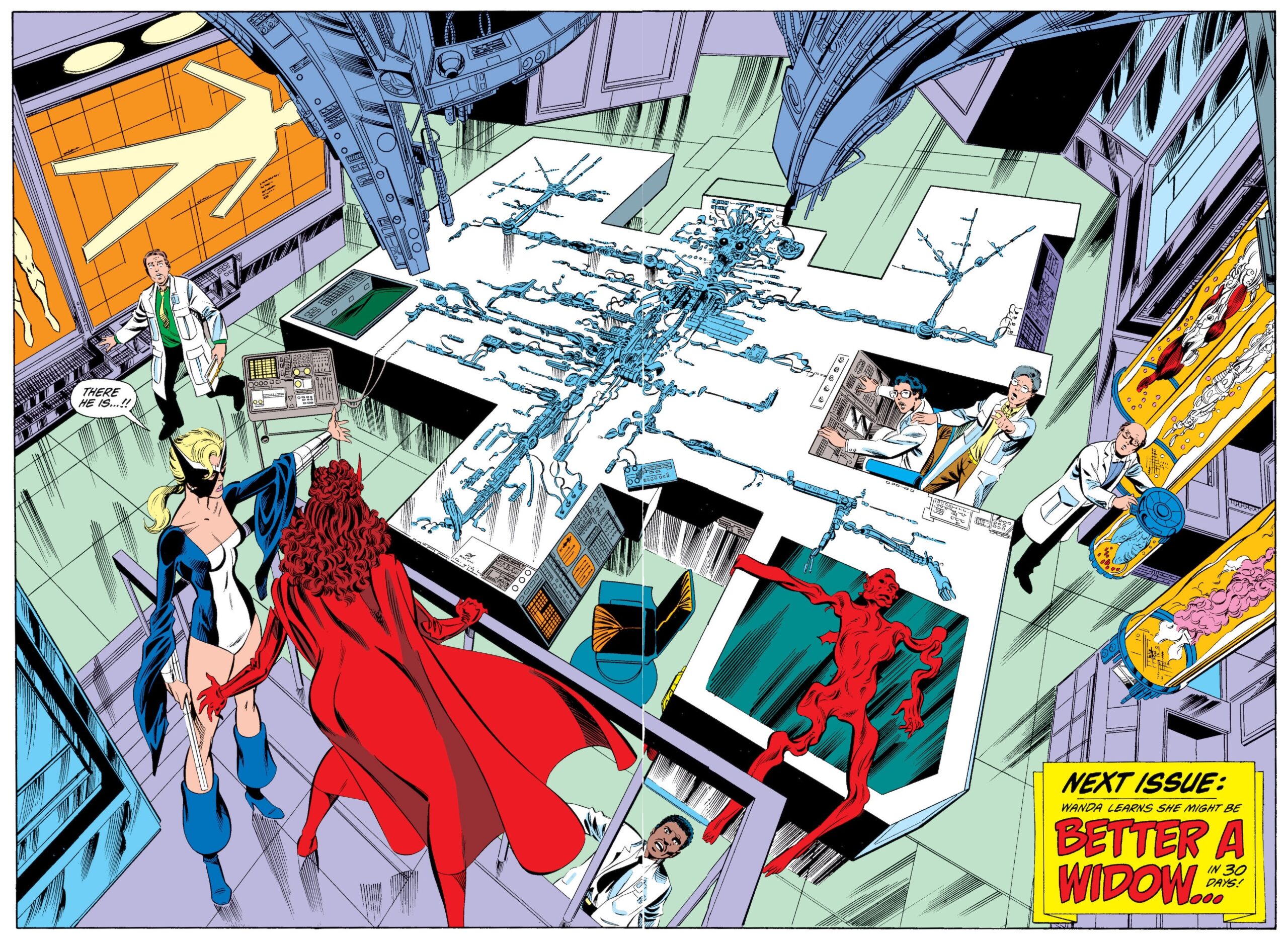 In contrast to the experience the average reader would have with that original sprawling mapping of mine, anyone reading this hypothetical volume would have no small amount of questions about what's going on exactly at several points. But that's just something we'll have to deal with. For example, there's no way to go through each and every story about Wanda and Pietro's parentage, or else the omnibus would explode out of its binding. It's best to see this as a collection of her greatest hits—quite expansive, as these things go, but not a complete picture of the character.
The Scarlet Witch Omnibus (as I would title it) would include comics by Stan Lee, Jack Kirby, Roy Thomas, Sal Buscema, Bill Mantlo, Rick Leonardi, Steve Englehart, Richard Howell, Mark Gruenwald, Steven Grant, David Michelinie, John Byrne, Andy Lanning, Dan Abnett, and John Higgins. It would contain, in reading order: X-Men (1963) #4; Avengers (1963) #16, #75-76 and #81; Giant-Size Avengers #4 (1st story), Marvel Team-Up (1972) #41-44; Avengers #182 and #185-187; Marvel Two-In-One (1974) #66, Marvel Team-Up Annual #5, Marvel Fanfare (1982) #6 (1st story), Vision and the Scarlet Witch (1982) #1-4, Marvel Fanfare #58 (2nd story), Marvel Super-Heroes (1990) #10 (1st story); Marvel Team-Up #125 (2nd story) and #129-130; West Coast Avengers (1985) #1, Vision and the Scarlet Witch (1985) #1, West Coast Avengers #2, Vision and the Scarlet Witch #2-12, Marvel Fanfare #32 (2nd story), Solo Avengers #5 (2nd story), Marvel Comics Presents #60-63 (3rd stories); Avengers West Coast #42-45, #47-52, #56 and #60-62; Marvel Comics Presents #143 (3rd story) and #144 (4th story), and Scarlet Witch (1994) #1-4.