Writer Dan Slott's "Marvel Fresh Start" era take on Iron Man has concentrated heavily on artificial intelligence and robot rights, attempting the kind of 15 minutes into the future challenges that Netflix's Black Mirror has done so well throughout the 2010's.
That continues in dramatic – and deliciously obscure – fashion with Iron Man 2020, a miniseries reboot of Tony Stark: Iron Man following the conclusion of "The Ultron Agenda" in Tony Stark: Iron Man #19.
Arno Stark has long been Marvel's Iron Man of the future, but now that his future (2020) is simply the present, it's too perfect an opportunity to bring Arno and Iron Man 2020 to the limelight. Just in time for Slott's long brewing Robot Revolution, led by Machine Man and host to just about every robot, android, and life-model-decoy you can think of.
Below you'll find a complete guide to Iron Man 2020, including the Marvel history that sets the stage for the crossover, as well as reading order checklists for the entire mini event.
The Road to Iron Man 2020
Collects: Amazing Spider-Man Annual (1964) 20, Machine Man (1984) 1-4, Death's Head 10, Iron Man 2020 #1, Astonishing Tales: Iron Man 2020 (Digital) 1-6, Material From What If? (1989) 53
This prelude collection (of the, um, exact same name as the new event!) brings together the spread-out history of Arno Stark, the once and future Iron Man of the year 2020. As you'll quickly gather from reading the new Iron Man 2020, it's the 1984 Machine Man limited series by Tom Defalco, Barry Windsor-Smith, and Herb Trimpe that serves as Dan Slott's primary inspiration. Arno Stark is a genuinely obscure corner of Marvel's Iron Man history, so I find it a pretty fascinating deep dive to explore the character's past before we dig into the new story.
Collects: Iron Man #12 to #17 (but note this is "Part 2" of Gillen's "Secret Origin" for Tony Stark)
During his Marvel NOW! era take on Iron Man, comics writer Kieron Gillen restored parts of the Arno Stark mythos to Iron Man lore. These are heavily referenced in Iron Man 2020 #1's background page on Arno Stark. The whole "Secret Origin" arc never really struck a chord with me as a reader, but it's an interesting run to revisit, particularly given how darn good Gillen's work typically can be.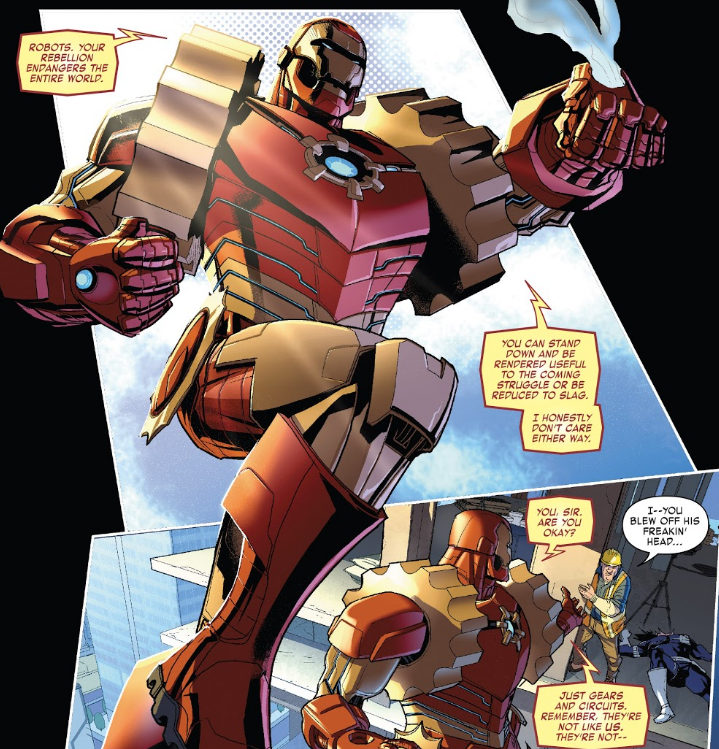 Iron Man 2020 Collected Editions
Iron Man 2020
Collects: Iron Man 2020 #1 to #6
Iron Man 2020: Robot Revolution – Force Works
Collects: 2020 Force Works (2020) 1-3, 2020 Machine Man (2020) 1-2, 2020 Iron Age (2020) 1
Iron Man 2020: Robot Revolution.EXE
Collects: 2020 Rescue (2020) 1-2, 2020 Ironheart (2020) 1-2, 2020 Weapon.Exe (2020) 1-2
Iron Man 2020 Reading Order Checklist!
Iron Man 2020 #1
Iron Man 2020 #2
Machine Man 2020 #1
Force Works 2020 #1
Rescue 2020 #1
Iron Man 2020 #3
Iron Age #1
Machine Man 2020 #2
Force Works 2020 #2
Ironheart 2020 #1
Rescue 2020 #2
Iron Man 2020 #4
Force Works 2020 #3
Ironheart 2020 #2
iWolverine #1
Iron Man 2020 #5
iWolverine #2
Iron Man 2020 #6