2005's 'House of M' had transformed the X-Men's world, decimating the mutant race.  But by 2006, the Marvel writers started working towards a grand crossover that would move the X-books into a new phase – an arc that was finally unveiled in the 2007 event 'Messiah CompleX'.
The concept was simple: at a time when the mutant race seemed to be on the verge of extinction, a single mutant child was born.  Sinister, Cable, Bishop, and the Purifiers all had their own agendas; and the X-Men were immediately caught on the back foot.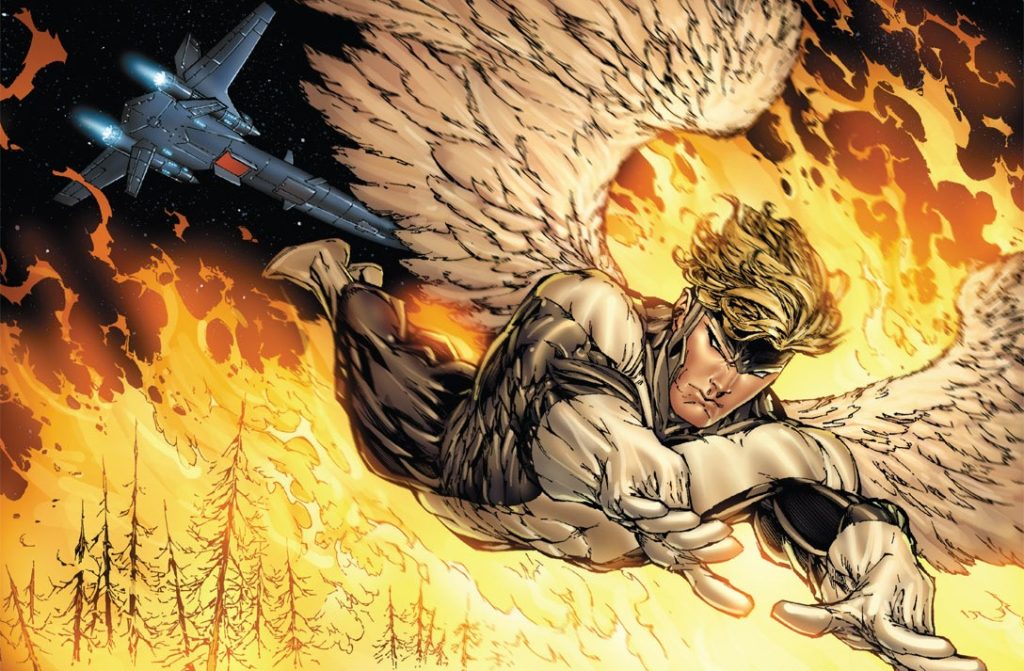 Building up to this, every one of the X-books began to shift their status quo, moving the pieces into place for the event.  Most critically, in the 'Blinded by the Light' arc, Sinister began the process of neutralising those who had potential future knowledge.  This had a radical impact on 'Cable and Deadpool', removing Cable from that book's equation altogether.
Four books were involved – 'Uncanny X-Men', 'X-Men', 'X-Factor' and 'New X-Men', with a one-shot to launch the crossover.  The writers collaborated in a somewhat unique way, as Peter David disclosed in an interview with IGN.
"You have to bear in mind that we've been planning this for a very long time, and most of that planning has been face-to-face – all the X-Men writers and all the X-Men editors in the same room for several days at a time, thrashing out ideas and hammering out structures.  We have a very detailed scene-by-scene plan now that we've all played a very active part in constructing…

We're passing the baton in a very precise and coordinated way.  Each of us is working from the full set of scripts to date when we write our own chapters – and each of us getting a chance to comment on each script as it comes in.  It's not scripting by committee – that would almost inevitably lead to blandness.  It's more like we're all acting as editors of each other's work."
The result was a story that captured imaginations like few others.  The transition between issues is smooth, and each book avoided the usual 'crossover feeling' of being overtaken by the event.  Peter David's 'X-Factor', in particular, wove the story seamlessly into its larger narrative, and it is genuinely hard to imagine the development of fan-favourite Layla Miller without this arc.  Characterisation was solid, and  in 2013 CBR voted the crossover as Number 12 in the 50 Greatest X-Men Stories of All Time.
Support For Comic Book Herald:
Comic Book Herald is reader-supported. When you buy through links on our site, we may earn a qualifying affiliate commission.
Comic Book Herald's reading orders and guides are also made possible by reader support on Patreon, and generous reader donations.
Any size contribution will help keep CBH alive and full of new comics guides and content. Support CBH on Patreon for exclusive rewards, or Donate here! Thank you for reading!

'Messiah CompleX' completely transformed the status quo of the X-books.  In the aftermath of these events, Cyclops disbanded the X-Men and moved them to San Francisco, taking a leadership position in 'Uncanny X-Men'.  'X-Men' was rebranded as 'X-Men: Legacy', with Mike Carey focusing in on the consequences of the saga for Charles Xavier.  'New X-Men' was sadly closed down, replaced by the less-successful 'Young X-Men', while Kyle and Yost launched a new incarnation of 'X-Force'.  Jason Aaron got to write a short Wolverine story, 'Get Mystique', and the success of this would lead to his being offered a chance to launch 'Wolverine: Weapon X'.  Most critically of all, a new 'Cable' series was launched.  The character of Bishop was transformed into a brutal villain – for reasons that made a twisted kind of sense.
'Messiah CompleX' is pretty much required reading in the modern era of the X-Men, and is all the stronger because little prior knowledge is required in order to make the story work – for all the months of setup, it is a seriously accessible story.  The final scene, with Xavier's disappearing body, is beautifully symbolic.
MESSIAH COMPLEX REQUIRED READING
'X-Men: Messiah CompleX' one-shot
'Uncanny X-Men #492'
'X-Factor #25'
'New X-Men #44'
'X-Men #205'
'Uncanny X-Men #493'
'X-Factor #26'
'New X-Men #45'
'X-Men #206'
'Uncanny X-Men #494'
'X-Factor #27'
'New X-Men #46'
'X-Men #207'
All issues are collected in the 'Messiah CompleX' trade paperback, along with a one-shot 'Mutant Files #1'.