To many, the 'Wolverine: Weapon X' series, penned by Jason Aaron, is a last hurrah for Wolverine; a short series that celebrates the truth of the character, just before Marvel began to over-expose him.
INTRODUCTION TO WOLVERINE: WEAPON X
In 2009, Marvel decided to give writer Jason Aaron has first chance to write an ongoing; and, no surprise, they decided to give him Wolverine.  In fact, Aaron's entrance into comic-book writing had been in a 2001 short story, so for Aaron it was very much like coming home.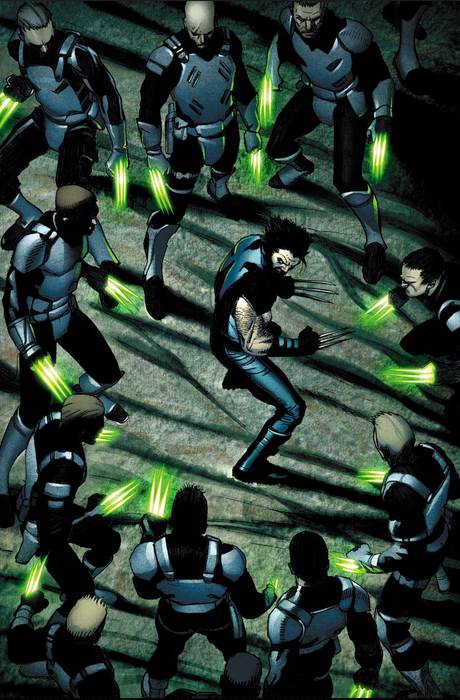 Aaron chose to take a subtle approach.  While he celebrated the history and heritage of the character – hence the 'Weapon X' in the book's title – he also aimed to create a book that was extremely accessible.  The timing was no coincidence, launching the book as the Fox movie 'Wolverine: Origins' hit the cinemas.  In an interview with Newsarama, Aaron explained the book's mission like this:
"Basically, I'm approaching this like Garth Ennis did the Punisher MAX series.  Obviously, this won't be a MAX book in terms of content, but we will see arcs that are stand-alone and feature lots of new characters and new villains.  We'll really be working to establish our own continuity, instead of mining Logan's past… We'll still be dealing with his past at times, just like how the first arc involves the legacy of Weapon X, but in a way that's still easily accessible."
Aaron really ran through three arcs, and in his third re-introduced the concept of Deathlok.  Although a Deathlok unit was added to the staff of the Jean Grey School, interviews hint at his having a broader – and unfulfilled – plan for the Deathloks.  Ironically, after 'Marvel's Agents of S.H.I.E.L.D.' introduced television viewers to the concept of Deathlok, Marvel are currently trying to relaunch the concept once again.  Only the final issue, #16, featured any real continuity – tying in to the death of Nightcrawler in the X-Men 'Second Coming' arc.
TIMELINE
Support For Comic Book Herald:
Comic Book Herald is reader-supported. When you buy through links on our site, we may earn a qualifying affiliate commission.
Comic Book Herald's reading orders and guides are also made possible by reader support on Patreon, and generous reader donations.
Any size contribution will help keep CBH alive and full of new comics guides and content. Support CBH on Patreon for exclusive rewards, or Donate here! Thank you for reading!
'Wolverine: Weapon X #1-5': 'The Adamantium Men': The secrets of the Weapon X Program are being reintroduced on an industrial scale, and Wolverine resolves to shut it down.  This brings him into conflict with the Adamantium Men, an army of highly-trained military operatives who have been engineered to duplicate his own powers…
'Wolverine: Weapon X #6-10': 'The Brain Trust': Originally entitled 'Insane in the Brain', a psychopath experiments with Logan's mind, while the X-Men struggle to rescue him.
'Wolverine: Weapon X #11-15': 'Tomorrow Dies Today': Deathloks from the future are sent into the present-day, and Wolverine teams up with Captain America to battle them.
'Wolverine: Weapon X #16': 'The End of the Beginning': Wolverine mourns the death of his close friend Nightcrawler.  This issue was collected in the third trade paperback.
CHARACTERISATION
In many ways, the book as a whole is a celebration of everything Wolverine is, never more so than in the first arc.  In 'The Adamantium Men', Aaron faced Wolverine off against a literal army of top soldiers whose powers duplicated his own, and Wolverine's triumph played to his characteristic strengths.  Rather than a soldier, Wolverine was shown as a man of animal cunning, willing to engage in guerrilla tactics, and risking all; Aaron introduced the concept that water was dangerous to Wolverine, that he could drown to death in spite of his healing factor.
In contrast, 'The Brain Trust' began as a sort of meta-critique of super-hero comics in general, but ultimately turned into a surreal and dark adventure.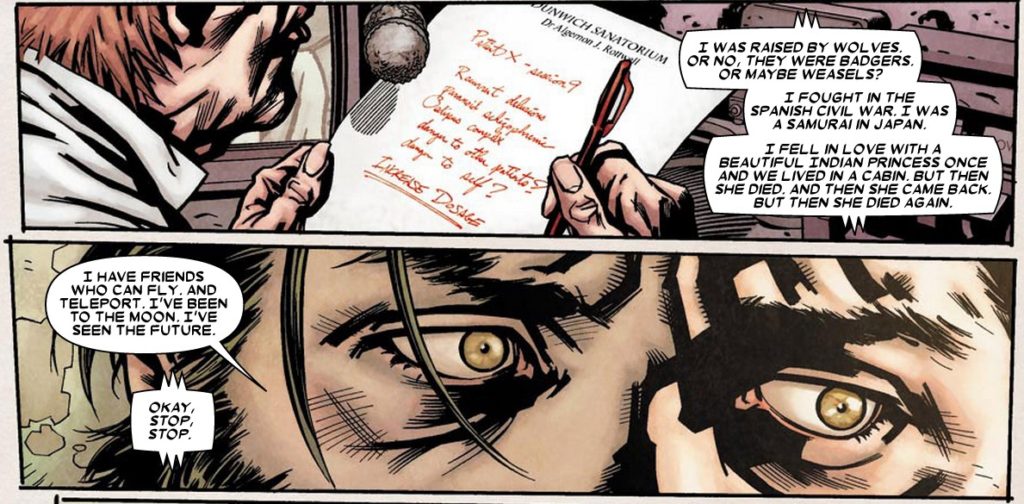 Aaron introduced a new relationship for Wolverine, San Francisco reporter Melita Garner, designed as a very different relationship – a modern American woman who stood up to him, leading to Aaron focusing in upon Wolverine's relationships in #10.  The final arc explored Wolverine's position in Marvel's super-hero community, and culminated in an issue that poignantly expressed his history with close friend Nightcrawler.
CONCLUSION
At a time when Wolverine books rejoiced in exploring Wolverine's history, 'Wolverine: Weapon X' was an exception – a book that celebrated all that made Wolverine unique.  Aaron proved that he truly understood the character, and penned dark adventures that really expressed Wolverine in a very powerful way.