Craig Kyle and Christopher Yost are one of Marvel's top teams.  Their collaborations extend across media – in fact, the duo are due to write the third Thor movie, 'Thor: Ragnarok'.  Chris Yost is also credited with creating the character of X-23, who debuted on the animated series 'X-Men: Evolution'.  But in 2005, they were really part of something special, when they took over 'New X-Men' at #20, continuing until #46.
Introduction to New X-Men
'New X-Men' was a creature of its time, perhaps more than any other book.  The mutant population had been decimated by the Scarlet Witch, and Kyle and Yost deliberately mined this context.  To them, this was an opportunity to bring the X-Men back to their core concept: hated, feared, and hunted.  And they were to do this with a cast of students – young X-Men, under-experienced teenagers who were now standing in the firing line.  But, as Kyle explained:
"We brought in Stryker.  We brought in Nimrod.  We're trying to plug the kids in and make them matter.  It's so easy to sweep them under the rug because they're the newbies.  They aren't X-Men yet, but in our minds they are.  If 'X-Men' is on the cover of the book then they are X-Men.  Yeah, they're not great at it but the point is these kids, when they shine, they really shine."
Kyle and Yost were unafraid to take risks and give the series a very real sense of cost, most demonstrably in the 'Crusade' arc.  The cover of #27, inspired by the classic 'New Mutants #38', expressed the feeling the kids were dealing with perfectly.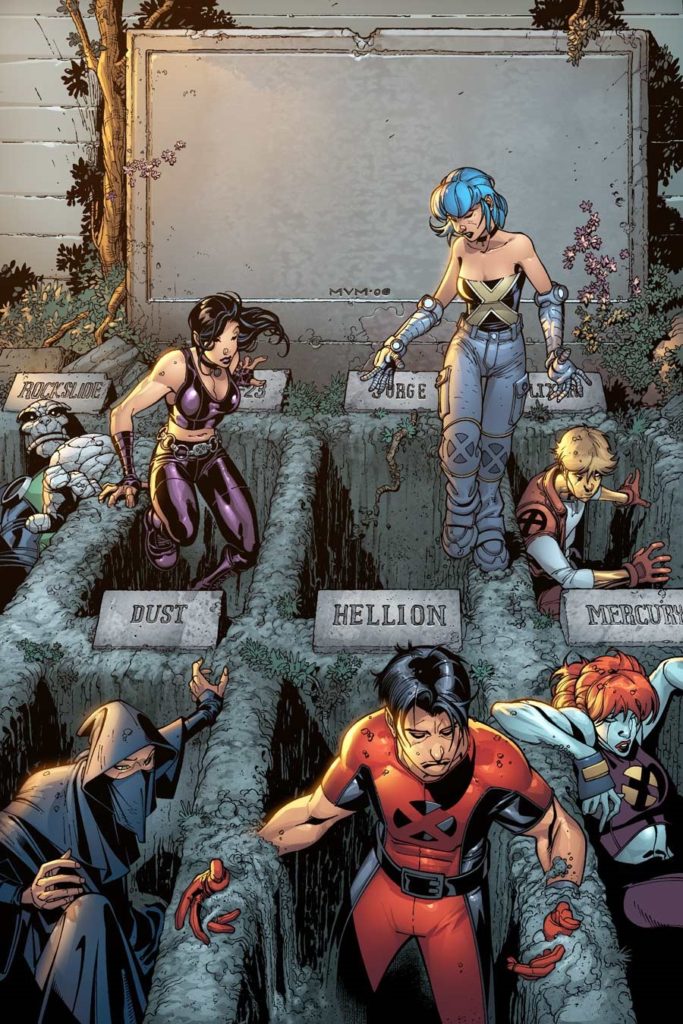 The book was deeply emotional, and stress levels in the team were insane.  At the same time, though, Kyle and Yost embraced an aspect of the X-Men legacy that has often been missed; they recognised that, particularly in the early '90s, the X-Men had been compared so much to your standard soap opera.  The interactions between the characters – rivalry, discord, attraction, lust, doubt, trust, fear – these were the heart of the book.  And, because these were teenagers, this manifested in a predictable way.  As Kyle observed in an interview with ComicBookResources, "Since we joined the book, the kids have been getting killed or getting kinky.  They're teenagers, that's what they do.  Well, not the dying part, but you know what I mean."
While Kyle and Yost kept the book intensely emotional, they also played a very careful game.  They exploited the backdrop of the wider Marvel Universe, with 'Civil War' and the marriage of Storm and the Black Panther forming a backdrop to 'Nimrod', even though the book wasn't solicited as a 'Civil War' tie-in!  They also worked carefully to enjoy the broader X-Men mythos, with Reverend Stryker, Nimrod, Belasco, and Magik playing key roles in their stories.  Along the way, Kyle and Yost made changes to that mythos that would transform the X-Men's narrative, most prominently with the resurrection of Magik and the careful embedding of X-23 in general Marvel continuity.
Support For Comic Book Herald:
Comic Book Herald is reader-supported. When you buy through links on our site, we may earn a qualifying affiliate commission.
Comic Book Herald's reading orders and guides are also made possible by reader support on Patreon, and generous reader donations.
Any size contribution will help keep CBH alive and full of new comics guides and content. Support CBH on Patreon for exclusive rewards, or Donate here! Thank you for reading!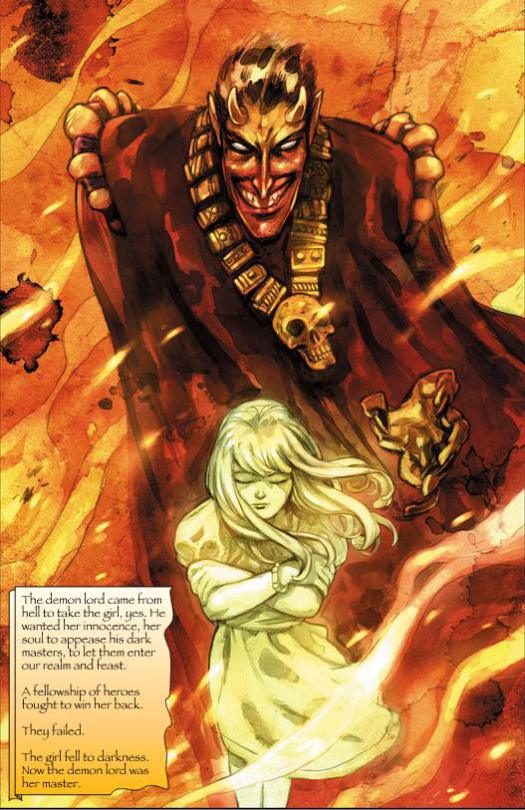 The simple fact is that no successor book starring young mutants has lasted anywhere near this length, and the stars of 'New X-Men' are still regularly asked about by fans.  This book was an undoubted success, but, with the closure of the Xavier School at the end of 'Messiah CompleX', its raison d'etre was gone.  Marvel made the right call in cancelling it, and Kyle and Yost moved on to launch a new incarnation of X-Force.
TIMELINE
All issues were collected in a 'Childhood's End' series, with the final issues part of the 'Messiah CompleX' edition.
CHARACTERISATION
Kyle and Yost played a careful balance; every scene, even the ones where they interacted with senior X-Men, was designed to make them shine.  The X-Men were frequently relegated to supporting roles, lampshaded in a rather amusing scene;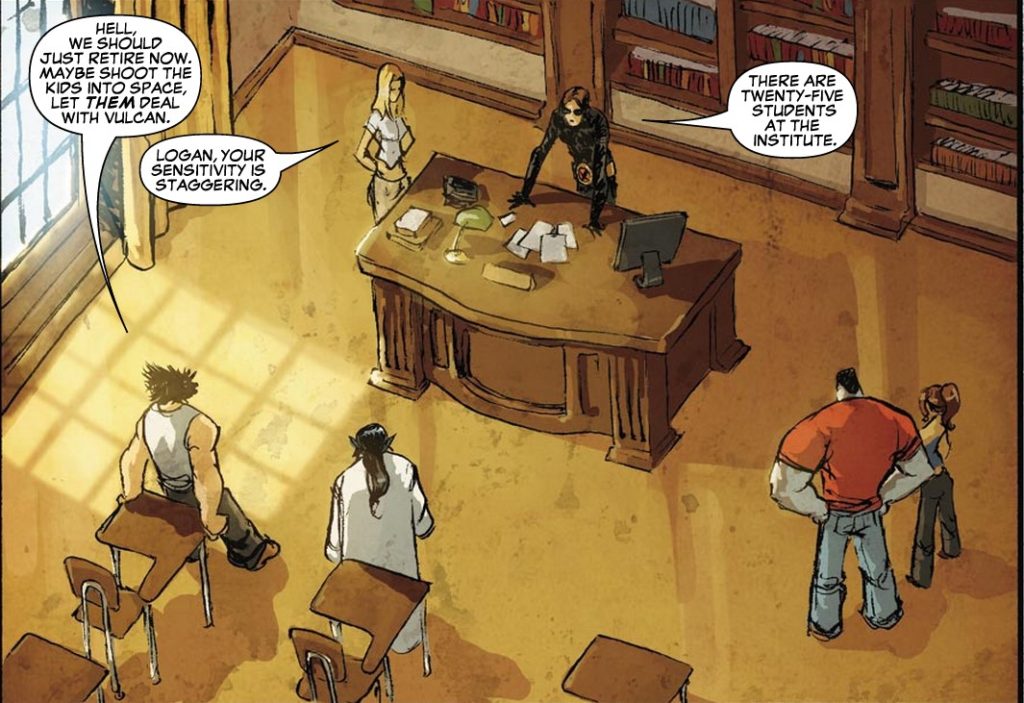 To give you an idea of the quality of writing, I'm going to quickly mention just a handful of characters.
Somewhat unsurprisingly, the addition of X-23 meant that she was one of the central characters.  Her introduction to the students was memorable: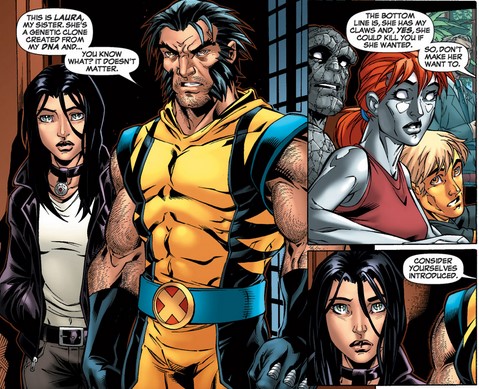 X-23's struggle to discover her humanity was brilliantly presented, and she struggled to deal with human emotions – particularly her attraction to Hellion.
Surge and Hellion were both used to powerful effect; prior to the Decimation, they had been rival leaders of student factions.  Now, they were forced to work together, and their rivalry was enjoyable – even leading to a hint of sexual chemistry at times.  Given that both were dealing with relationship issues, Kyle and Yost were rather enjoying the complexity of teenage relationships!
The fact remains, though, that Kyle and Yost did tremendous work with each character.  Even Pixie, essentially wallpaper until the end of the series, got fleshed out and transformed into a character Matt Fraction would choose to focus on in his 'Uncanny X-Men' run.
Curiously enough, one character who played a crucial role in the series was Emma Frost.  Her reaction to the Decimation was a desperate attempt to exert control upon the situation, forcing Dani out of the School, and using methods familiar to anyone who has read 'Generation X #1' to select the mutants she would work with.  In 'Nimrod', her reaction to Miss Marvel was poignant and telling.  Kyle and Yost most definitely had a good handle on the character.
CONTINUITY
'New X-Men' is more firmly rooted in its time than any other X-book of the era; it runs out of the Decimation, absorbs 'Civil War' and Storm's marriage, and ultimately concludes in the 'Messiah CompleX' event.  What's more, the book routinely plays with classic X-villains: Belasco, Reverend Stryker, Nimrod, and even Selene.  Where experienced X-Men are used, including unusual background characters such as Forge, their narratives are carefully woven; Forge's motivation, for example, is the fact he's never quite gotten over Storm.
CONCLUSION
Bluntly, 'New X-Men' is an absolute gem of a book, drawing closer to the X-Men's central themes than any book since.  Kyle and Yost do excellent work with their characters, and it's a great shame that most of them have since lost the spotlight they so richly deserved.