Every now and again, a comic storyline builds up into something that really needs to have a wider impact.  That's happening at the moment, in AXIS; it happened in 2009 with the X-Men's 'Necrosha' plotline.
'X-Force' writers Chris Yost and Craig Kyle had been playing a long game.  In 'New X-Men #32', they'd teased the return of a classic X-villain, the sorcerous Selene.  When they launched 'X-Force', they'd chosen to continue her arc, revealing her secret history in X-Force #11 and building up her plans in #18.  Their goal was to launch a plotline that would cement Selene in place as a true threat to the X-Men.  As Kyle put it in an interview with IGN:
"To us, Morrison did such a great job dusting Emma off and pushing her into such an extraordinary place.  We're still reaping the benefits of that hard work.  We're not saying we're going to be able to do for Selene what Morrison did for Emma, but hopefully she has that kind of potential, and that speaks to her personal journey and that she has yet to achieve what she was meant for."
To my mind, Yost and Kyle succeeded; you can learn more about Selene over in my feature on MahMuseComics.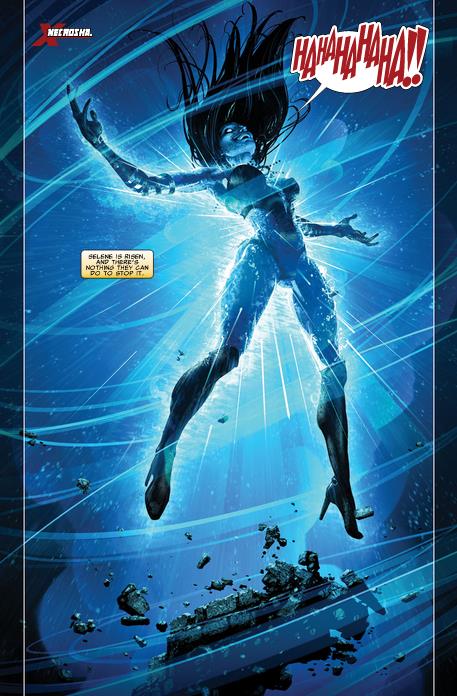 Essentially, Selene launches her greatest plan ever; using dark magic and a techno-organic virus, she resurrects countless dead mutants.  Her plan is to conduct a ceremony that will enable her to absorb the life-energies of these resurrected mutants, thus ascending to near-godhood.  However, the ceremony requires a sacrificial knife in the possession of Warpath, and meanwhile Selene has the will – and the means – to cripple the X-Men so they cannot stop her.
As they continued to build towards 'Necrosha', Kyle and Yost began to realise that the scale was simply too big.  That was when Zeb Wells (then writing 'New Mutants') and Mike Carey (of 'X-Men: Legacy' fame) stepped in, and offered to weave the arc into their own stories.  So the core storyline would be told in 'X-Force', while various side-effects would be explored in 'New Mutants' and 'X-Men: Legacy'.
Support For Comic Book Herald:
Comic Book Herald is reader-supported. When you buy through links on our site, we may earn a qualifying affiliate commission.
Comic Book Herald's reading orders and guides are also made possible by reader support on Patreon, and generous reader donations.
Any size contribution will help keep CBH alive and full of new comics guides and content. Support CBH on Patreon for exclusive rewards, or Donate here! Thank you for reading!
NECROSHA REQUIRED READING:
The 'Necrosha' plotline ran through the following issues:
'X-Men: Necrosha' one-shot
'Necrosha: The Gathering' one-shot
'X-Force #21-25'
'New Mutants #6-8'
'X-Men: Legacy #231-233'
Random tie-in in 'X-Force Annual #1'
You can purchase the whole arc – and all spin-offs / build-up in a single 'X-Necrosha' edition.
Character development was really well-done, with major moments for Warpath (who is central to this arc), Wolfsbane (pregnant and dying as the arc begins), and Elixir (who must make a decision that took him off the table for several years, and is only now scheduled to return).  Continuity was superb, although it's worth noting that a small number of resurrections conflicted with other resurrections (most notably during 'Chaos War: X-Men').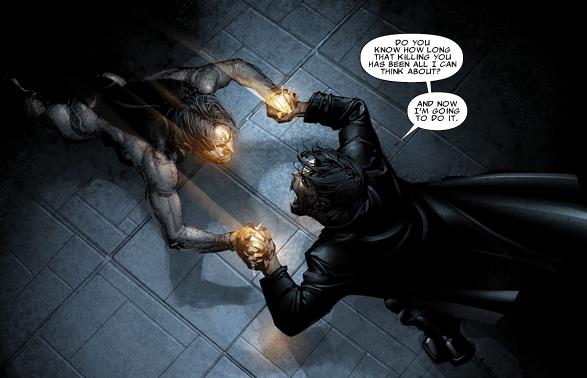 Initial fan reaction was mixed, with the feeling that the main arc stretched out a little too long; and yet, when the storyline was collected into a trade paperback, reviews become far more positive.  It may be that the arc was actually weakened somewhat by being in the standard comic-book episodic format.  The spin-offs were criticised far more, with the resurrection of Cypher in particular garnering some fan complaints; he just seemed superfluous.  Ironically, that particular resurrection appears to have been mandated by editorial, and Cypher became crucial in 'Second Coming'.