In 2008, the X-Men universe was turned upside-down.  A child was born – the first mutant since M-Day, who would come to be known as Hope Summers.  This birth kicked off the events of 'Messiah CompleX', and ultimately led to Cable travelling to the future with the baby.  The idea was to keep her safe; but Marvel chose to ensure the story continued, and passed responsibility for the arc to experienced novelist Duance Swierczynski.
Swierczynski's response was to produce something very unusual in the history of X-books; an almost pure-blooded science-fiction series that really focused in on the concept of time-travel.  Swierczynski was immediately faced with a difficult question; why wouldn't Cable just time-jump back to the past?  His answer was inspired, and was also the method he used to avoid the possible paradoxes of time travel; he had Cable's time-travel tech damaged in #5, and Cable was left only able to head ever-further into the future.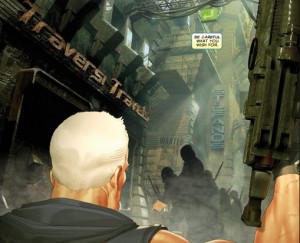 Although the series soon crossed over with 'X-Force' in the 'Messiah War' arc, Swierczynski's book remained a character piece.  Three characters were central to his book: Hope, of course, who grew and matured; Cable, the grizzly old soldier whose body is beginning to fail him but who remains as sharp-minded as ever; and Bishop, desperate to kill the infant who he believes will destine a terrible future for the world.  Cable and Bishop are essential 'father' and 'anti-father' to Hope, one striving to protect her and the other to kill her.
CABLE TIMELINE
'War Baby' (#1-5): Cable and Hope arrive in the future, with Bishop hot on their trail! By the end of #5, Cable is unable to return to the past…
'Homefront' (#6): Cyclops leaves a message for Cable in the ruins of Westchester.
'Waiting for the End of the World' (#7-10): Bishop closes in on Cable, sabotaging the future and ruining any change the soldier has of happiness…
'Prelude to War' (#11-12): Bishop and Cable are locked in conflict through time, building towards the events of 'Messiah War'.
'Messiah War' (#13-15): Bishop and Stryfe threaten the mutant messiah.
'Wanderlost' / 'Too Late for Tears' (#16-17): An exhausted Cable struggles to keep Hope alive in the crumbling future, but the two are separate by time.
'Brood' (#18-20): Now stranded in space, Cable and Hope must battle against the Brood!
'Homecoming' (#21-24): Hope decides she is ready to return home.
The arcs are collected in the following graphic novels:
CABLE CHARACTERISATION
Oddly enough, Swierczynski's run is a perfect example of how a good comic requires supporting cast.  While Cable remains the central focus of the series, his character arc is really driven by that of his daughter.  We see him growing ever-fonder of Hope, and increasingly protective – the lengths he will go to in order to protect her, including self-sacrificing, are both inspirational and extreme.  While Cable remains the brilliant military strategist – some of his traps for Bishop are truly remarkable – it is his humanity that resonates the most.  Cable is become a father, carrying all the baggage that brings with it, and his love for Hope becomes heartwarming.  He isn't just committed to Hope because the future of the mutant race rests with her; he truly loves her.
Support For Comic Book Herald:
Comic Book Herald is reader-supported. When you buy through links on our site, we may earn a qualifying affiliate commission.
Comic Book Herald's reading orders and guides are also made possible by reader support on Patreon, and generous reader donations.
Any size contribution will help keep CBH alive and full of new comics guides and content. Support CBH on Patreon for exclusive rewards, or Donate here! Thank you for reading!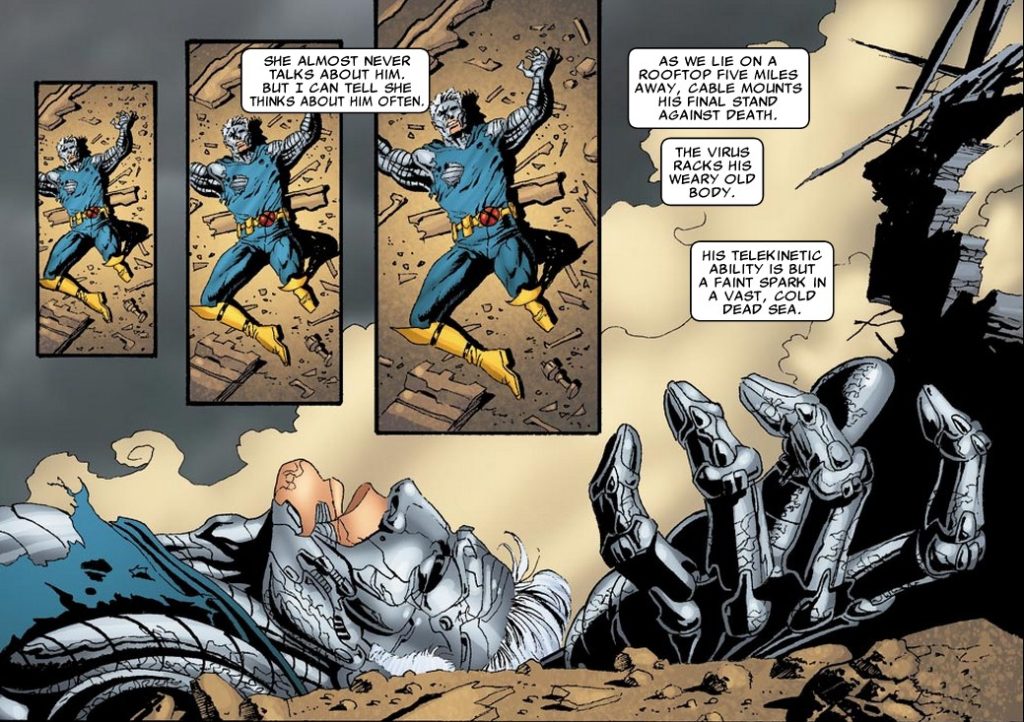 Bishop, in contrast, is very much the opposite of Cable.  Haunted by his own decisions, Bishop goes to ever-greater lengths to kill Cable and Hope.  He devastates the future in order to restrict Cable's options, and is locked in relentless pursuit.  By the time of 'Messiah War' we see just how far he's willing to go, as he even forges an alliance with Stryfe!  At the same time, Swierczynski charts an intriguing course with Bishop; he gradually transforms the character, having Bishop undergo injuries that gradually turn him into a dark mirror-image of Cable himself.
And of course, Hope is the central character.  Her growth is in fits and starts, courtesy of the time-travel side to the series, and this jump is most notable post-'Messiah War', with even hints of romance in Hope's life.  Finally, she comes to a place where she is willing to embrace her destiny, and the events of 'Second Coming' are set in motion.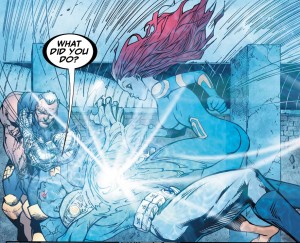 CONCLUSION
This was an unusual, and frankly superb, run – one that played with the core concepts of the X-Men, and that very much enjoyed threading a consistent narrative.  It's easy to overlook, given the fact it ties in to not one but three major events, but it's one that I heartily recommend.  Far from just spinning wheels for 24 issues,