In October 2012, Marvel rebranded their entire line of comics under the "Marvel Now" banner, an era that would effectively last for three years until 2015's Secret Wars. It's a fan favorite era of comics, under the editorial reign of Axel Alonso, with titles like Hawkeye, Superior Spider-Man, Thor: God of Thunder, and Jonathan Hickman's Avengers among many others.
2022 marks the 10 year anniversary of Marvel Now, so at Comic Book Herald, we'll be looking back at the best, most interesting, or just downright most confounding Marvel Now titles. This is "Marvel Then."
Jason Aaron is a man obsessed with legacy. It's hard to fault him for it because legacy is a quintessential part of being human. When we part from this world, what do we leave behind? Philosophers have spent centuries trying to determine the pathos behind it, but the act of wanting something (or even someone) to outlive you and propagate through time is intrinsic to the human experience.
But the legacy that Jason Aaron leaves behind today is a far cry from the legacy he was building up ten years ago, during the Marvel NOW! Era. Nowadays, it feels like a race between writers to leave their mark on the biggest intellectual property in the world, and at the forefront of that race is Jason Aaron, who currently claims nine hundred and four creations within the Marvel Universe alone. Going back to read the very beginning of his seven-year-long run on Thor after years of enduring his latest works feels refreshing, especially with the hindsight of an entire decade helping to colour my reread.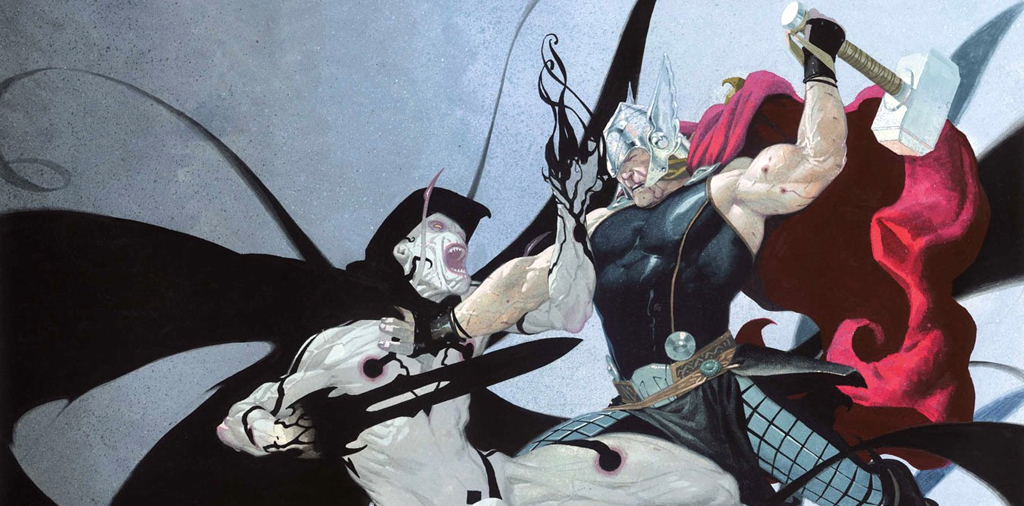 The twenty-five issue run of Thor: God of Thunder
 is separated rather cleanly into three major arcs (four, if you want to be pedantic), with a few straggling issues spread in-between to ease from one arc to the other. The first arc (or two, if again, you want to be pedantic), which has been chopped and hacked to make Marvel's latest Thor movie, is the Gorr Saga. These first twelve issues are the strongest of the run, and show off Aaron's plot structuring skills the best. Despite it being broken into two volumes, The God Butcher and the Godbomb, Esad Ribic's consistent presence throughout (save for issue six, a Gorr origin one-shot done by Butch Guice) gives the saga a cohesion that most superhero runs longer than six issues wish they had. Dean White's colouring gives Ribic's art a very painterly feel in the first issue, but from the second issue onwards, Ribic is paired with Ive Svorcina, whose coarsely-textured, crosshatched colours adds a prestige touch to Ribic's work.
Support For Comic Book Herald:
Comic Book Herald is reader-supported. When you buy through links on our site, we may earn a qualifying affiliate commission.
Comic Book Herald's reading orders and guides are also made possible by reader support on Patreon, and generous reader donations.
Any size contribution will help keep CBH alive and full of new comics guides and content. Support CBH on Patreon for exclusive rewards, or Donate here! Thank you for reading!
To describe this arc in one word, I'd call it cohesive. From the way the narrative is woven together to the way the art marries that narrative to gorgeous visuals, it feels like a well-oiled engine ready to go from zero to sixty the second it hits the ground. Comparing Ribic's work on Thor to his current work on Eternals
, I was surprised by the consistency of the line art between both eras. I went into my reread expecting a radical shift in his craft but instead found that Ribic's work, much like Paul Rudd, has remained unchanged over the years.
The Gorr Saga does a fantastic job of hooking readers in for not only the arc itself, but the run ahead. The core mechanic of splitting the one story into three stories across time is unconventional, and is where Aaron's first stab at conquering Big 2 legacy lies. By placing his King Thor stories at the end of time, Aaron has effectively called dibs on the end of the Marvel Universe. Even in spite of what lies beyond the end of time (such as a new cosmos, as explored in Immortal Hulk #25
), it's a deep mark on the Marvel Universe, and one that carries not only through Aaron's own work, but into the work of others seeking to write about the end of time in the Marvel Universe.
The three stories also add a non-linear nature to the storytelling, scattering bits and pieces of the plot's mysteries between the three Thors and their respective eras. It elevates the saga in its quieter moments, building out Thor mythos and setting Thor's future in stone. When readers are introduced to King Thor, they immediately notice the two most notable features of the aged Thor's body: the missing arm and the missing eye. Back then, it was an unspoken omen, one that left the reader to wonder when such losses were incurred. Aaron does a great job of not rushing to appease this curiosity, giving the gap between eras more time to breathe. Even at the very climax of the saga, when the current Thor and King Thor meet, Aaron doesn't dwell on the intricacies of Thor's confrontation with his future, instead choosing to hone in on the adventurous chaos that such a meeting instigates. Looking back all these years later, it's honestly shocking that it manages to juggle so much without succumbing to excess.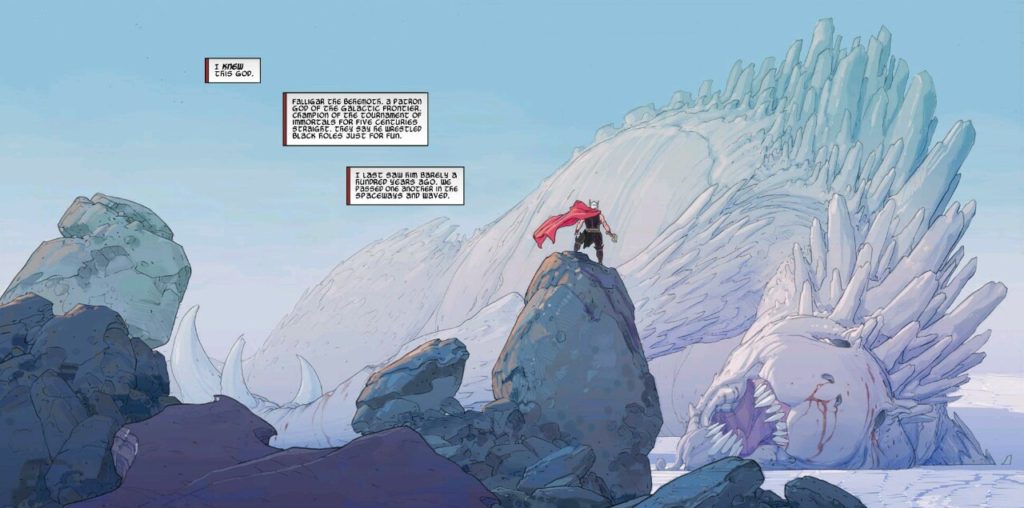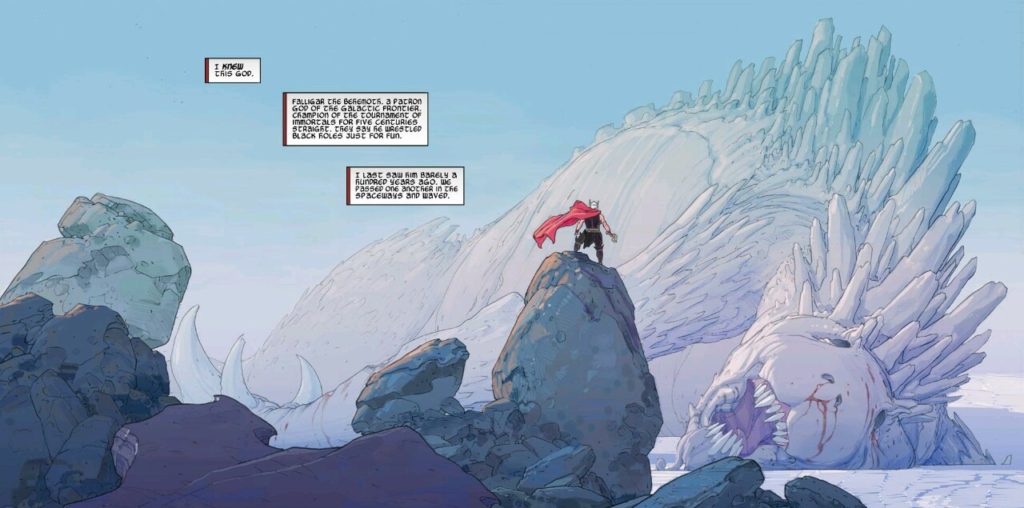 Between the eleven-issue first arc and the five-issue second arc of the run, we get a breather issue to calm down after the events of the Gorr Saga, de-escalating Thor back to Earthly troubles. While calmer than what came before and after it, it's not a quiet issue, as it drops the bombshell reveal of Jane's cancer. It's an interesting reveal to revisit, not only with Jane's career as the Mighty Thor in mind, but how her arc with cancer ended so many years later. I lack the uncertainty that readers may have had back then about Jane's fate, though I'm not entirely sure it lessens the gravitas of the issue. The most entertaining thing about this issue is seeing current Thor artist Nic Klein's art for the issue, six and a half years before his debut on the current run. The difference in his art style between Thor: God of Thunder #12 and Thor #1 is night and day. It was refreshing to see such a large contrast after eleven issues of Ribic's evergreen style.
The second arc of the run, "The Accursed," is one that I call "Proto-Current-Aaronian," in that it feels written by a primordial version of the Aaron we know today: dense, confusing, laying the seeds for things that won't happen for another three to seven years down the line. But unlike Aaron's work nowadays, it didn't grate on me, even on reread. Aaron is joined by Ron Garney, inking himself, alongside Ive Svorcina on art. Garney's pencil-like finish with his inks, coupled with Svorcina's softer colours for this arc make the art feel as though it was pulled right out of the early 2000s. What the art lacks in the epic feel that Ribic's art carried, it makes up for in a more grungy attitude that sells the adolescent nature of this arc. While it doesn't fully stick the landing, with the last issue being left to clean up any messes left behind by previous issues, it does still maintain the momentum handed to it by what came before it.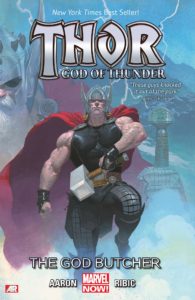 It is certainly weird re-reading it, knowing where all the characters introduced and re-introduced in this arc end up. Even until the very end of the arc, it had not settled in for me that this arc was the first stepping stone towards the finale of Aaron's years-long Thor epic, "The War of the Realms". To have such faith and confidence in seeing the War of the Realms through to its actual existence so many years prior, especially in the face of an unstable industry hellbent on relaunches, is ballsy on Aaron's part.
The Marvel Now! Era of Thor: God of Thunder comes to a close with its eighteenth issue, another breather issue between arcs, this time with art by Dan Pastoras. It's a Young Thor story that feels much like a tale from the mythology from which all Thor stories derive their plot and characters. Aaron's strengths in differentiating between the three Thors personality-wise is on full display here, with Young Thor's demeanour delivering a huge shift in vibes from the prior arc. Pastoras' art, much like Ribic's, remains evergreen on reread, especially when comparing it to his most recent Thor work on the 750th anniversary issue. It's a good issue on its own, but far from the ideal way to end off an entire era of comics. In that respect, the last two issues of Thor: God of Thunder do a far better job of closing out Aaron's tenure on…well, the first of many segments to his tenure on Thor comics.
Having recently watched Thor: Love and Thunder, I've gained a new appreciation for this run, in spite of all its flaws. The run, despite its fast pace and high energy, gives itself room to breathe and space itself out, unlike the movie that adapts it. I never found myself lamenting the fact that the Jason Aaron that wrote this run has seemingly been lost to time, instead choosing to enjoy Aaron's sophomore (something I say as praise, and not pejorative) work. Written by a man entranced by legacy, this work still stands worthy of a read a decade after its release.