When comics writer Donny Cates gets a chance at a Marvel series, he takes big shots, and aims for at least one clear, major hook to get readers on board. What if Thanos… won? What if Loki was the Sorcerer Supreme? What if Peter Parker could talk to Spiders?
Ok that last one's like half a joke (but seriously, it happened), but the idea is Cates excels as these balls-to-wall no-cards-left-on-the-table "WHAT IF" style narratives seen through to completion. It's this approach that has generated an extremely compelling body of work, across a wide variety of Marvel titles, from Thanos to Venom and now to Thor. This body of work has also increasingly set up Cates as the godhead of Marvel Cosmic, a role that looks to continue in Thor.
Podcast: Play in new window | Download
In many ways, Thor #1 is actually three years in the making, as the Cates-verse at Marvel builds upon itself in a style not dissimilar to what Jonathan Hickman did at Marvel from 2008 to 2016, only faster, and with fewer data charts. Since the Cates-verse is so compelling, and such an interconnected pocket universe, I can't help but take the debut of this new Thor #1 as the chance to launch "The Cates of Hel!" where I'll be reviewing all Donny Cates written books, like Venom and Thor, to explore connections, ideas, and Marvel Comics history.
Support For Comic Book Herald:
Comic Book Herald is reader-supported. When you buy through links on our site, we may earn a qualifying affiliate commission.
Comic Book Herald's reading orders and guides are also made possible by reader support on Patreon, and generous reader donations.
Any size contribution will help keep CBH alive and full of new comics guides and content. Support CBH on Patreon for exclusive rewards, or Donate here! Thank you for reading!
Today I'll answer:
+ What's coming for Thor in 2020
+ What are the elements of the Cates Marvel-verse at play in Thor #1 (and what comics should you check out to understand them)
+ A little history about the first meetings between Thor and Galactus in Marvel's Silver Age, in comics by Stan Lee and Jack Kirby!
Spoilers for the discussed comics may follow!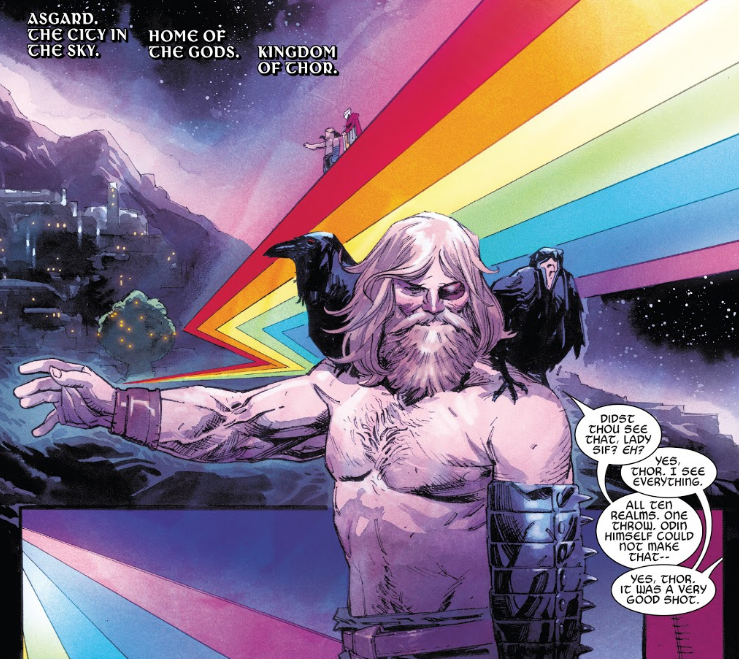 Thor #1 follows in the wake of War of the Realms, and the Jason Aaron written run of Thor that began in 2012 with Thor: God of Thunder
and ended in 2019 with King Thor
(both drawn by Esad Ribic.) Aaron's is a truly worthy run in the Marvel pantheon, undeniably one of the top three Thor runs of all time, and arguably 2nd best (Walt Simonson's 80's work is still, quite unimpeachably the GOAT). The highest degree of difficulty in the run is likely the middle stretch, where Aaron, Russel Dautermann, and colorist Matt Wilson turned Jane Foster into the goddess of thunder and were wildly successful in doing so.
That's the legacy that awaits Donny Cates, Nic Klein, and Matt Wilson (again!) entering Thor #1.
The War of the Realms is over, and so – if the apparent mission statement of King Thor is to be believed – is death in the Realms. While I don't necessarily expect the dark elves or Muspelheim to remain off limits for Cates, it's definitely a smart move to take the action away from the 10 realms after so much focus over the past several years.
Of course the other major inherited development is King Thor.
Thor is both only recently "worthy" and only recently anointed King of Asgard. It's not the first time we've seen Thor take the throne (whether in Marvel continuity or in alternate futures), but it's a new role for Thor in the modern Marvel era, and not one without burden. The carefree prince will always be an adventurer first and foremost, and there's a sense here that King Thor confined to a throne is the end of those days. As Tony Stark remarks with a sharpie on Mjolnir "Enjoy retirement."
When confronted by Loki, Thor displays his newfound all-father force by stopping his thrown hammer in mid-air, but also unintentionally reveals the continued difficulty he's having even lifting Mjolnir.
I quite appreciate that this thread wasn't simply thrown away because even though the Odinson was finally restored to enough "worthiness" to wield the hammer in War of the Realms, it's been a long, arduous journey, and Aaron's work provides every indication that it will continue to be one for the unsure Thor.
As for Loki, his role in the Cates/Klein era remains entirely unclear. I can't help but lament the cancellation of Loki's solo series written by Daniel Kibblesmith, as the prince of lies will once again have an empty Asgard to play with for the foreseeable future. I'm sure Cates and Klein have ideas aplenty as well.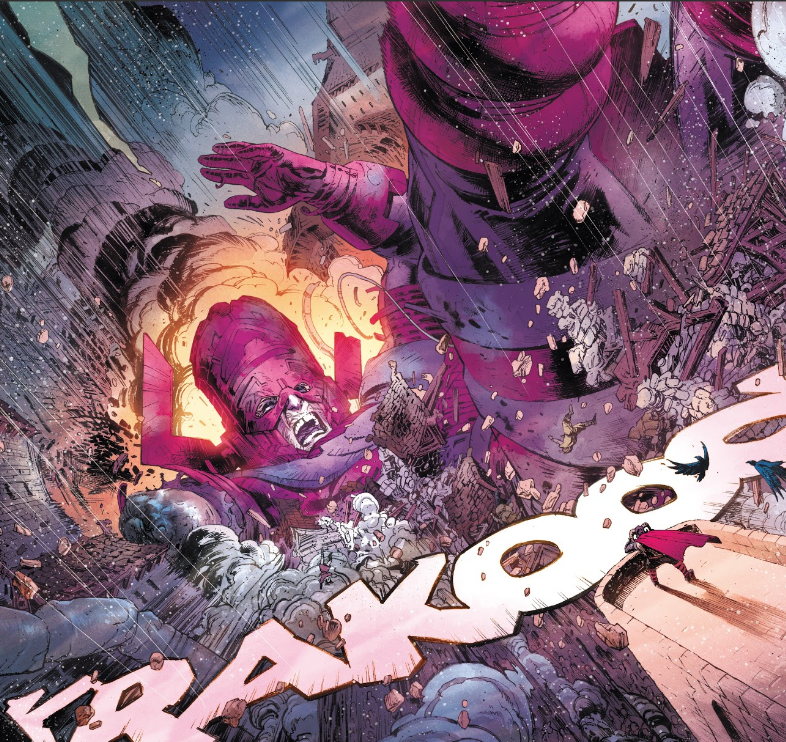 Things are all well and good until a Galactus with a severed arm comes crashing to Asgard, in my favorite artwork by Klein and Wilson this issue.
Before passing out, a clearly wounded Galactus desperately tells Thor he's come for help, and fears the coming of the Black Winter.
In order to get to the bottom of Galactus' dire warnings about "Star Plagues" and "Black Winters," King Thor calls for a gathering of former heralds of Galactus (maybe I missed it in the issue, but I'd actually enjoy the semantics here – how does Thor reach all of them? Another hammer toss round the cosmos? Sponsored ads on the 'Gram? One wonders.)
This is also the first – of several – clear Cates-verse connections, with Donny's favorite Cosmic Ghost Rider sluggin' mead at Thor's table (shouts to Firelord and Stardust for joining the party as well).
The Cosmic Rider debuted in "Thanos Wins," and has since appeared in the Cates written Cosmic Ghost Rider (5 issues that are way better than they have any right to be) and Guardians of the Galaxy. If you don't want his origin spoiled, jump ahead 15 seconds, but the CGR is…
A Frank Castle who made a deal with the devil and was once a herald of Galactus and then Thanos' right-hand. For more on these details – and they're comics well worth reading – I'd highly recommend Comic Book Herald's complete Donny Cates Marvel Universe reading order.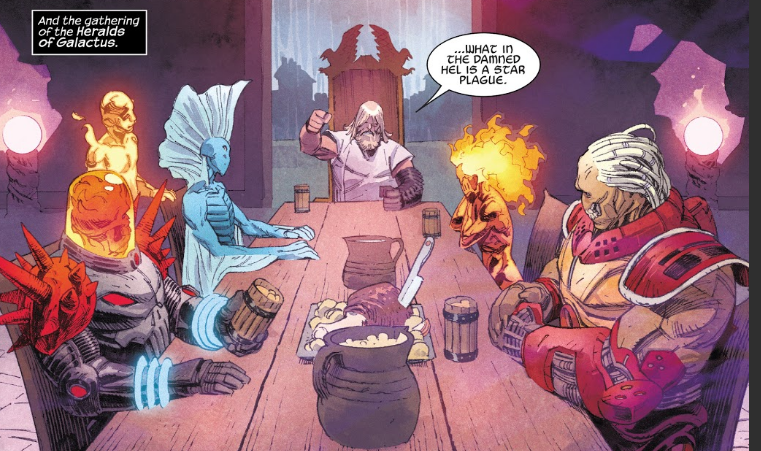 The next major Cates-verse connection is when Silver Surfer Black shows up to spout some Galactus origins exposition (it's not a Galactus wiki party if Norrin Radd isn't present, don't ever question that).
If for no other reason, every comic book fan should read Silver Surfer Black for Tradd Moore's modern psychedelia, but suffice to say after the color-altering 5 issue mini, no one is more intimately familiar with Galactus' rebirth than Silver Surfer.
That said, Thor's actually quite well acquainted too, as Galactus told him his origin directly way back in 1969's Thor #168 and 169 by Stanly the Manly and Jack "King Kirby." As my work on Comic Book Herald may attest, I love no-prizing modern comic book stories into the historical canon, and it's not really that hard to fit The Black Winter into Galactus' origins!
For the less familiar, the short version is Galactus was the lone survivor of his universe, more or less finding himself reborn in this universe's big bang as the world devourer, a cosmic force of nature.
The Surfer concocts the plan that will guide this story arc, revealing 5 super powered planets that he has hidden from the world devourer, which he now plans to deliver to Galactus in order to stop the Black Winter.
I'm extremely curious what these "very special planets" might be, and if there are going to be known cosmic connections that give these planets their unique source of energies. For example, could a planet have a power stone or cosmic cube at its center? Could one of these be the offspring of Ego the Living Planet? Could one of the planets be the prison Knull just left behind after Absolute Carnage? There are a ton of cool Marvel connections that could come into play here.
Everyone's all set to go out for dinner, when Galactus shouts "Wild card B's!" and reveals that his vision of his second death showed him Thor as the cause.
In order to keep an eye on Thor, then, he turns him into the band leader for a Norwegian death metal act that uses rat teeth as guitar picks, and also his latest Herald.
This is the big issue ending cliffhanger, and while it's clearly supposed to be the "Oh hell yeah!" moment, it's actually the part of the comic I enjoyed the least. Turning heroes into heralds of Galactus is kiiiiiiinda overplayed (Mark Waid just did this with Doctor Strange in his run), and I was already very much on board with the action and plot.
Either way, I'm super excited for issue #2, and for this new era of Thor and the Cates-verse.
What do you think? Was thor #1 a worthy follow-up to War of the Realms? Is Herald of Thunder a good idea?