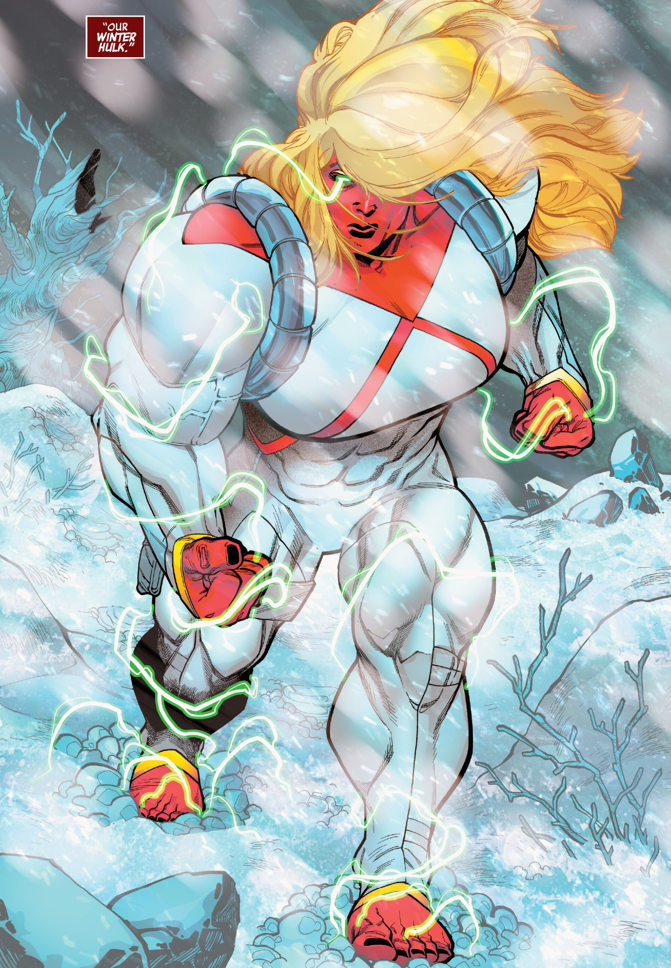 What is this broken toy with a flickering bulb for a brain lumbering through 50 issues of a flagship title? It's certainly not She-Hulk—and I don't simply mean she's not "my" She-Hulk. I know it wasn't Jason Aaron who first broke this character, but what he is guilty of is keeping her broken—and dull, dull, dull, super-dim and super-dumb. In fact, he could've just had her mumbling and grumbling word bubbles occupied by nothing but those very words, dull-dull and dumb-dumb, for the past almost four years.
This critique of Aaron's run spins out of my reading of the recently released World War She-Hulk trade, the first half of which has career-best art from Javier Garrón, one of my favorites. That is the only positive I can share regarding this collection. There are Garrón pages in maybe a quarter of the bloated issue #50 occupying the rest of the volume, which sees the return of the bombastically cartoonish work of Ed McGuinness, who was previously busy with Heroes Reborn—an Aaron-helmed, Squadron-centric event that did less than nothing to make me care more about that tired parody of the Justice League.
Many readers have been put off by Aaron's take on the Avengers—but here, we really need to talk about just how and why this series, the only ongoing Avengers title, is so damn bad. Most Marvel fans would agree Aaron writes a hell of a barbarian—barbarian warriors and heavy metal gods; and he's masterfully fluent in the kind of grotesque poetry that comes from a lifetime of listening to heavy metal. At this point, I might even enjoy his work on a Red Widow miniseries (though it was refreshing that younger talent got to write that recent Winter Guard mini). But sadly, my all-time favorite Thor scribe is now become, as a writer, something of a parody himself.
Maybe it's just that he's always had a very limited range and should simply stick to the barbarians and the demons and the toys that came into the world already broken—properties that were meant to be infinitely pliable vessels of brokenness, like Wolverine or even Gorilla-Man. And that is what's so weird about him writing a title like the Avengers: None of these characters is broken in that way that Aaron is talented at exploring, albeit superficially (with the occasional exception of Jane Foster).
(Meanwhile, most the other Avengers have gotten great solo runs recently, but that doesn't obviate the need for better character work on this title.)
Support For Comic Book Herald:
Comic Book Herald is reader-supported. When you buy through links on our site, we may earn a qualifying affiliate commission.
Comic Book Herald's reading orders and guides are also made possible by reader support on Patreon, and generous reader donations.
Any size contribution will help keep CBH alive and full of new comics guides and content. Support CBH on Patreon for exclusive rewards, or Donate here! Thank you for reading!
His poetry of the grotesque is superficial because it's only ever in that one mode. His brand of brokenness is howling inner demons and desolate landscapes—Southern heavy metal gothic. And that's a no-brainer; this is the persona he wears publicly. That's fine; he seems like a really nice guy, a beautiful human being, caring and kind to others. He just hasn't figured out how to write the Avengers, and it's been four years.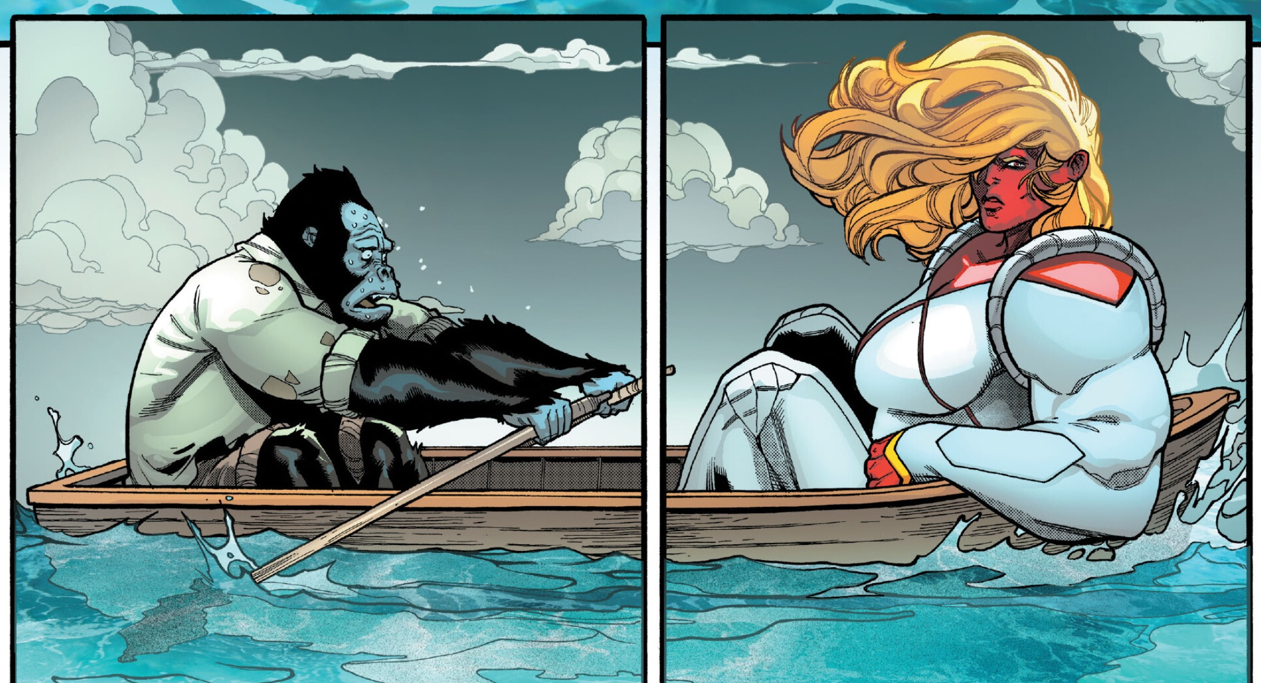 As a kid, I loved Roger Stern's Avengers. It'd be hard not to—those were some supremely likeable comics starring good-natured but lightly flawed superheroes. They were perfect, in their time. Since then, it's been quite a challenge to know what to do with a character like Jennifer Walters, the She-Hulk. But growing up, I never thought of her as "the girl version of her cousin the Hulk": She was a wholly distinct character. And I didn't even like the Hulk. Stern was great at character work, especially interpersonal dynamics, and he never broke the toys, a tendency that's become all too familiar—sometimes to create an air of "seriousness" or for blunt "utilitarian" reasons. Many fans and creators understand by now how thoughtlessly damaging this has been to characters in an ongoing shared universe; it's not thoughtful. But while there is a distinction between "killing your darlings" and destructively tearing up a character's script, maybe not everyone is aware that there is a damn difference.
And that speaks to the limitations of most Marvel writers of the '80s as well. Outside of Claremont and Miller, there wasn't much lasting character development; there was an aversion to change, a fear of losing a very young readership, which was likely sensible at the time, a conservatism that's frustrating in hindsight. Beginning in earnest in the '90s, though, there was less reverence, a willingness to start breaking things, almost purely mercenary, not because these properties anyone's "darlings" or not. Only fitfully has a more considered approach to long-term storytelling come to the fore, finally allowed because that's ultimately how the Big Two will keep their readerships (producing for the speculator market was pure death drive).
But one of my favorite Marvel characters, She-Hulk, has always been in the awkward position of almost but never quite becoming a breakout character. She's in a kind permanent low-priority B-list status. And so what kind of character trajectory has that left her with? Like most other B-listers, it's been very fitful, but without anything spectacularly tragic in her backstory, she's seen less development than the tortured man who generally gets his own title fairly easily—like Ghost Rider! Deathlok! Moon Knight! All characters whom Aaron would certainly rather spend time writing. In 2004, over 20 years after her debut, She-Hulk finally got a solo title that gave her some actual inner drama—the Dan Slott run, two volumes, 33 issues total. Slott's question was: Why does Jen spend so much time as She-Hulk, not in her ordinary human body? Self-confidence issues, a feeling of being small, negligible, mousy, a retiring introverted bookworm rather than a powerhouse lawyer. The series overall isn't without its flaws, but it's quite good, a She-Hulk classic
. Its balance of lighthearted fun and occasional deeper introspection was influential on future series.
Then, in 2017 came the question of whether she should now be, with Bruce Banner (briefly) dead, "Hulk," thus retiring the name "She-Hulk." This felt of a piece with Marvel's rebranding of Laura Kinney as Wolverine (Logan being also whatever for a time), but the problem with this comparison is that being called "X-23" for as long as Laura had was just stupid, anyway; it started as a dehumanizing appellation and should've been left in the torture labs; there's just no reasonable way someone should be made to own that as a codename.
Whereas Laura Kinney came into the world as an extreme character—the product of a murder lab—Jennifer Walters had never seen anything remotely similar to such trauma. Then, in 2016's Civil War II (ugh!), Marvel decided she needed to be brutalized, beaten into a coma by Thanos, in the same battle where the Mad Titan slew the War Machine, James Rhodes—who, notably, returned basically trauma-free by way of some very hand-wavy techno-necromancy from Tony Stark that hasn't been used again since. Meanwhile, we have up through 2021's "World War She-Hulk," we have Bar-Bar She-Hulk.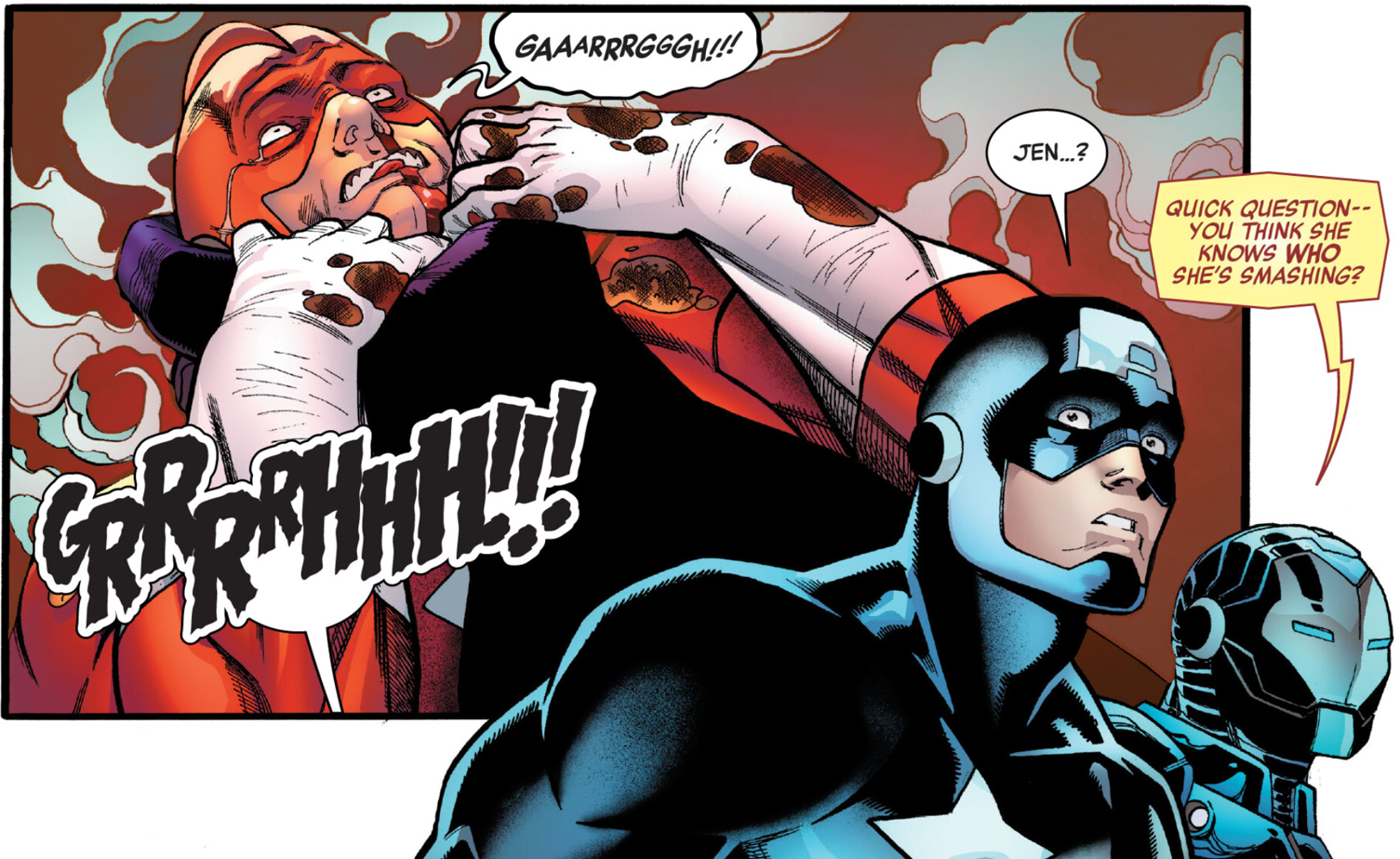 I'm not one to say whether there's something inherently wrong with the name "She-Hulk," but while having Jen identify as "Hulk" might've worked for a brief time after her slow waking out of that months-long coma, this shouldn't have been forced into a yearslong condition. Still, Mariko Tamaki's 11-issue Hulk
from 2017 was pretty good, thoughtfully focusing on Jen's PTSD and halting readjustment to life. This was the best that could be done given what Bendis/Thanos had done to the character. For an additional six "Legacy" issues, it was retitled She-Hulk, though by the end Jen's recovery had only just begun. Was it meant to be ongoing? It did feel self-contained, a somber character study, alternately quiet and ruptured by PTSD "Hulk outs"—which, may have been as authentic as feasible for corporate superhero comic, allowing a necessary lull. But did she ever need to be "Hulk" again? Was proof needed that she could "Hulk out" with the worst of them (i.e., Bruce Banner, who sucks)? I don't understand why there was yearslong interest in this.
To be taken seriously, must Jen Walters turn into Bruce Banner or Bar-Bar Hulk? Really? This is wild. The Hulk is an entirely different character with a trajectory totally alien to that of Jen Walters. While she may be a Hulk, in the gamma-tied family of Hulks, however consistent a thing that is, she isn't and shouldn't carry on ever again as "Hulk." If being called "She-Hulk" is a problem, what is the solution? Who knows, but it is not "Hulk."
Unfortunately, with the work of healing beginning in the 2017 Hulk book, it then completely disappeared once Jen was on Aaron's Avengers, immediately devolved into Savage Hulk-lite by a Celestial's touch. Why "lite"? Because she wasn't a perpetually raging baby in a god-tier body, just a pouty, mumbly one—often drinking and bunking with the real god on the team, which I gotta say, always felt pretty damn cringe, y'all.
WARNING: There's a spoiler ahead regarding the conclusion of Aaron's use of She-Hulk, in issue #50's brief "coda"—a tidy little footnote for a character he never knew what to do with.
Unless you consider the following a spoiler: Why the hell is Namor kneeling before She-Hulk in praise of her, and of the Avengers generally, and in shame of his own actions? After all, in the post-Hickman X line, it seems highly unlikely there will be anything like such contrition from the mutant Prince of Atlantis regarding his utterly snide disdain not only for Xavier and Magneto (which is understandable) but for the nation of Krakoa itself. (I'm not going to get into Mephisto's henchman, Howard Stark, Doom's new team evil, or Ka-Zar attacking Galactus with a knife.)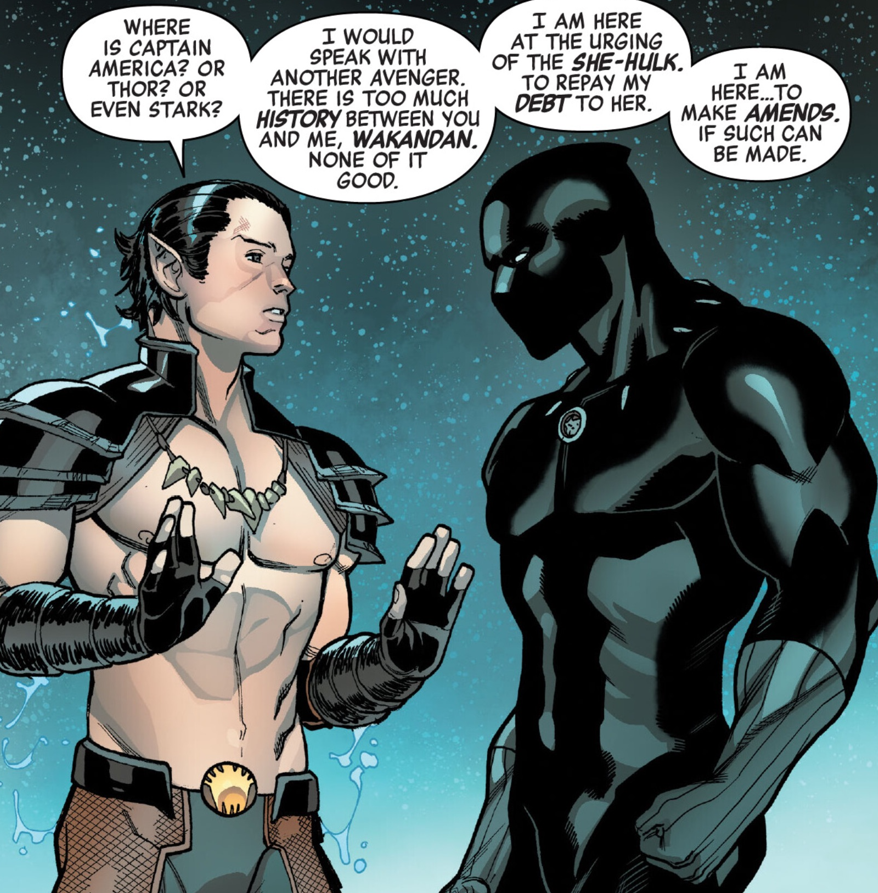 To make the inevitably oversized issue #50 even bigger and more overpriced, the coda to the She-Hulk arc is jarringly wedged into the middle of an Avengers One Million BC scene, a big one—the "revelation" as to their "true purpose," guest-starring Ka-Zar on recon for the modern-day Avengers and Doctor Doom, or "the Doom Above All" (which I have no idea about: Is this Aaron being typically goofy and outsized? Or did he take on this new appellation in one of the many other titles "Doom Supreme" was in last year? Oh, wait, it's later vaguely revealed this one's from a different earth). Obviously, here, in this "milestone" issue—ahem, cash cow—She-Hulk's relegated to footnote territory and is then shown the exit with a modicum of dignity.
Issue #50 shows us Aaron setting up the next year-plus as a cheap rip-off of Hickman's classic Avengers era, what with all the multiversal bloodletting, courtesy of an alt-earth Doom and the lamest instantiation yet of the Masters of Evil. I guess he just doesn't have ideas of his own for how to revitalize this franchise?
And then there's Avengers One Million BC, again. Which, visually, especially when drawn by McGuinness, look like they'd be a lot of fun in a children's title outside the mainstream Marvel Universe. (Indeed, Avengers #50 has them making short work of a time-traveling tween Thanos, who is by intent embarrassingly childish.) But when we've gotten a few individual one-off stories, a single issue about one of their number, it's grim and violent, involving that bad caricature of the Devil, Mephisto. More importantly, Aaron's whole One Million BC concept just doesn't make sense, and the characters are uninspired, particularly disappointing in the case of the Phoenix.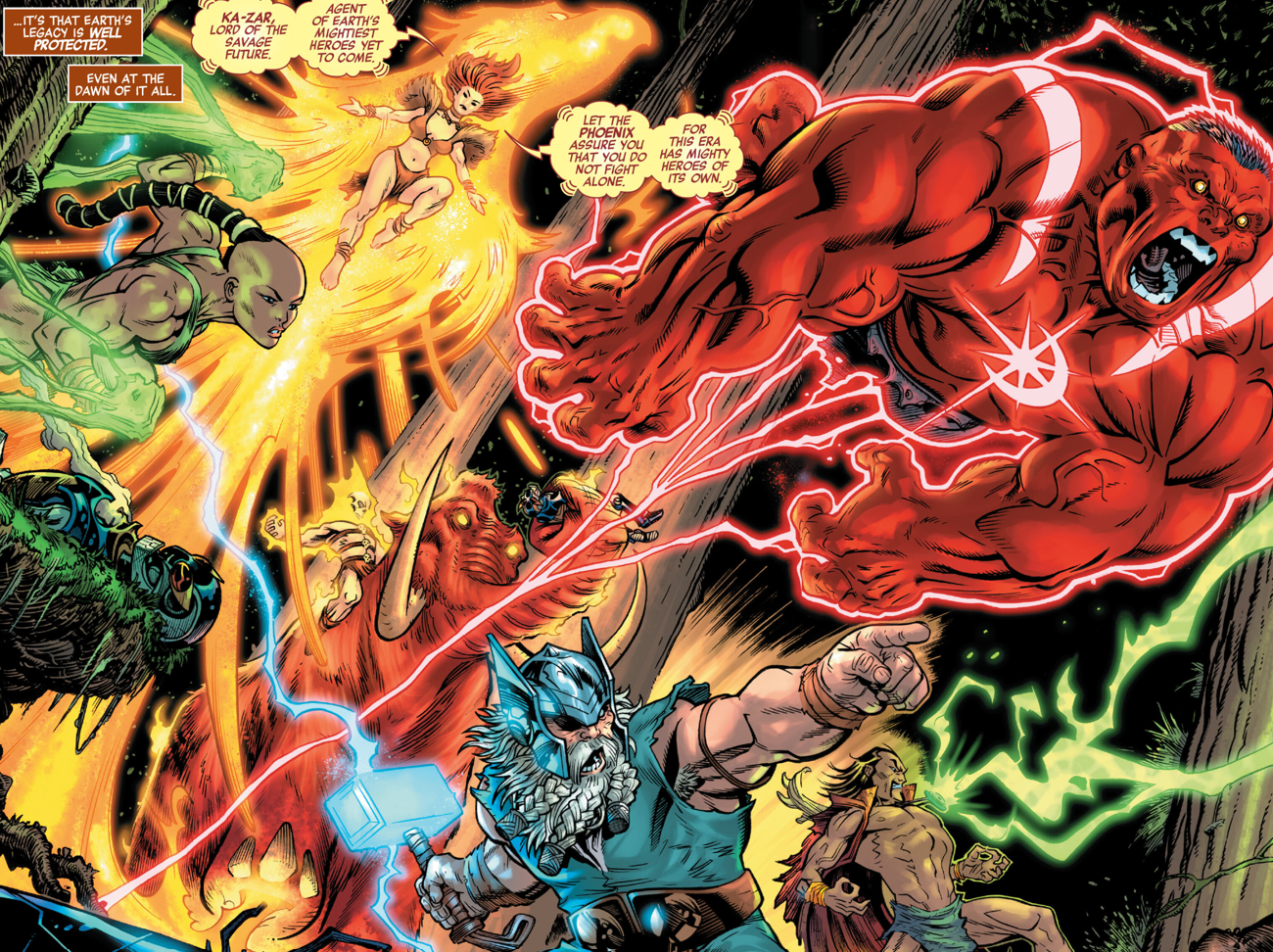 (Seriously, this McGuinness material has the look and feel of a Sunday morning cartoon, but content-wise, Aaron is at his typically ghoulish and crusty, with the violence going in a Hickman-era direction with Sorcerer Supreme Doom's insipid version of the Cabal. If you want to forever kill the interest of a friend who's curious but hesitant about comics—give them this mind-numbing issue!)
To be fair, Bendis paved the way for deracinating the Phoenix force from the cosmic psychosexual drama that gave us one of the greatest comics stories of all time and thus making a travesty of this classic trope developed by Marvel's all-time highest-quality ur-creator, Chris Claremont. (See 1980's Dark Phoenix Saga and 2012's Avengers vs. X-Men). But Aaron's taken this to new lows of bathos—and that's before he briefly tries to persuade us that there was indeed an alt-earth "Gorgilla Phoenix" (implying that the apportioning of Earth's "defensive powers" doesn't matter as long as it's among the seven "primordial" Avengers).
Homo sapiens first emerged in Africa 300,000 years ago. But in One Million BC, Aaron gives us what looks like Jean Grey's direct descendent—who is of course the first white lady? And she's bunking with Odin, with the clear suggestion that this ur-Phoenix is Thor's true mother? (Decades after discovering that Gaea was his biological mother, not Freyja, who was his foster mother from birth—apparently.) And why? There's no discernible point to any of this beyond: Let's make more corporate IP for Marvel.
I just do not understand what is going on with this. It's the most cartoonish and unthought-out big "idea" from the "House of Ideas" since—ever, maybe. The logic is beyond stupid. Why is Odin hanging about Midgard hundreds of thousands of years before humans emerge? He's just drinking, banging the firebird, and waiting around for primeval monsters to pummel while giving pre-humans the stink eye? Oh, no, he's hobnobbing with these other impossible and thus impossibly lonely humans, Iron Fist*, Black Panther, Agamotto (previously said to be a mere 27 millennia old), and Ghost Rider.
*Although K'un Lun was founded by humanoid aliens, Fan Fei is said to be an "early human," presumably with other such "early humans" in this remote enclave—meaning this would have to be the only colony of Homo sapiens on Earth, because…
What is going on here?! While I don't expect Aaron to know much about actual human evolution, he's really set up himself and future storytellers with an embarrassingly dumb framework. I'll start with what probably no one else is going to care about: The beautiful story of the "opening" of the human face. This process had begun over four million years ago, but remember, it doesn't conclude in a recognizable way until 300,000 BCE. It was a consequence, many scientists say, of our hominid ancestors' relative weakness and longer childhood/adolescence compared to other primates that still exist in the wild today. Basically, proto-humans banded more closely together out of necessity and in doing so, their faces began to open up, the eyes no longer so closely set and deep under the brow ridge, which itself smoothed out to allow for subtle micro-expressions. Such expressivity was needed for complex communication and coordination and itself required the development of fine-tuning of small muscles around the face's center as it opened up.
That is, in brief, the beautiful story of the human face. Saying that these random few were there first is both offensive to the understanding of evolution as a collective phenomenon—totally unlike Social Darwinism, which is what it feels like Aaron is doing here—and to what these lonely ur-humans(?) must have felt, being completely without a recognizable people but each other—and for how long exactly?
I get that there's always been something a bit too obviously Social Darwinist with most superheroes, until fairly recently, with the more thoughtful Kamala-Khan generation. But while writers like G. Willow Wilson have begun correcting for that, it's a form of present-day escapism that's always revealed things about us as creatures of a complicated modern world; we don't now need to be populating the deep past with more problematic figures for future storytellers to deal with.
The biggest sticking point for me is that Odin has always been a turd, but now, as an X-Men fan, I'm supposed to accept that the old mead-crusted beard was banging the first mutant, who looks like Jean Grey? Are we supposed to understand that Homo superior preexisted Homo sapiens even though the former was supposed to be the flower of the latter—until now, suddenly? Wasn't it cool that Selene, at 17,000 years old, was seen to be a kind of "mother of mutants"? We now have to assume there were countless others in the 983,000-year gap, making Selene's impact entirely negligible? That's really lame. Please. Just STOP. But he won't, which is why I'll have to wait till Aaron's gone to maybe come back to Avengers.
That's fine; I hear the X-Men have it going on these days. And if I want a fresh take on superheroics, there's Black Hammer
—or just about anything DC's currently putting out, as I keep discovering, with nary a glance at what used to be a favorite franchise.
Until we stop unearthing lonely, bored-out-of-their-minds metahumans among the proto-humans doing I don't care what, make mine—Oh never mind.
Aaron's Avengers run: D-; saved from an F by the fabulous artists (except McGuinness) who've been absolutely wasted on this tasteless, hyper-condensed, and tooth-breakingly stale hard candy cranked out monthly (more than, whenever possible—unfortunately) by Aaron Brews Watery Mead Industries.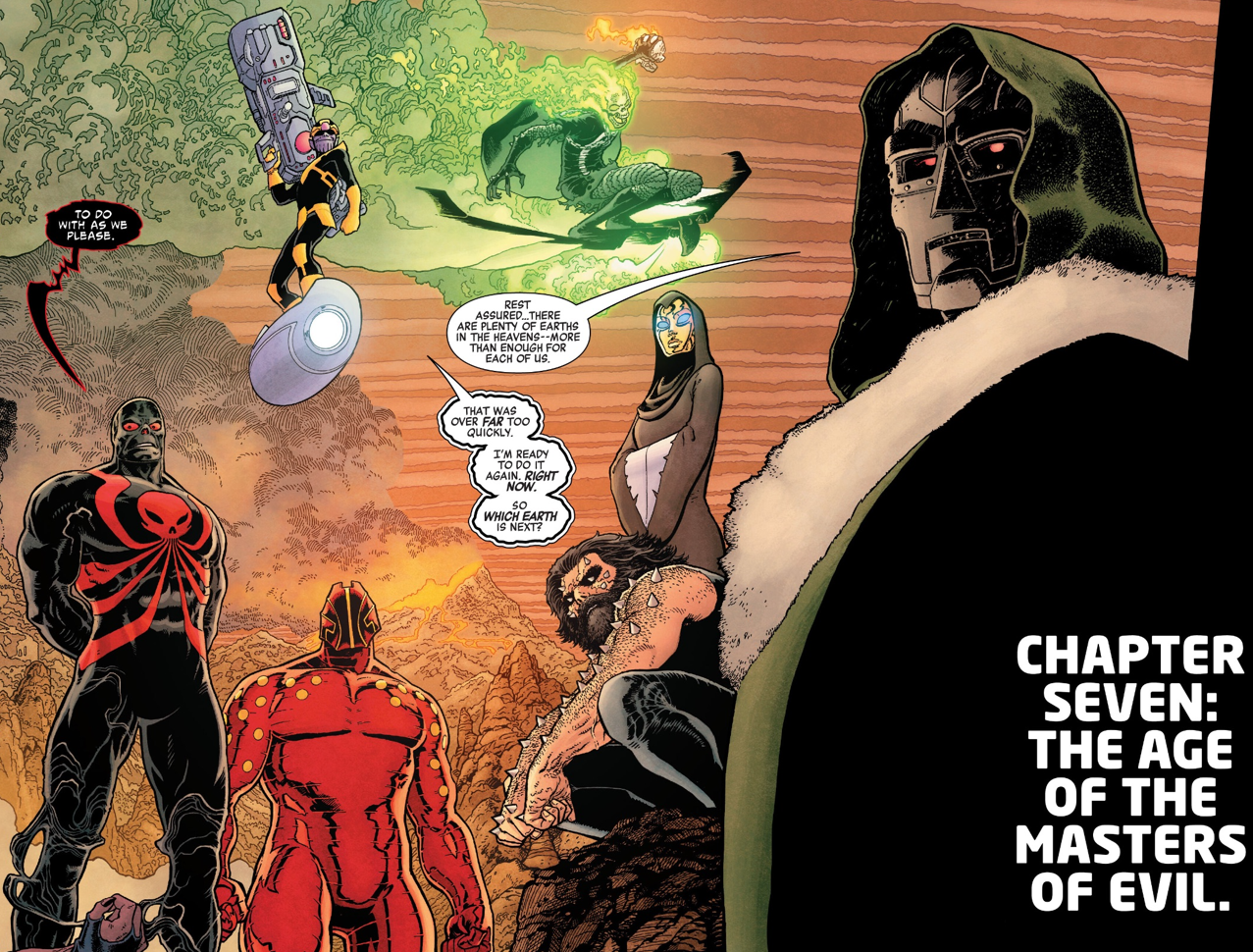 (The amazing Aaron Kuder's talent! totally wasted on what clearly seems to be a much too stoned teenager's nightmare vision of the worst of the '90s. Please—somebody make it stop! Make an intervention!)