Origin stories are a staple of superhero comic book lore, as essential to the mythology as wolves to romulus & remus or sweet teeth to Hansel & Gretzel. At some point, every comic book fan wants to know how their heroes got their start, which is why we see miniseries like Wolverine's "Origins" getting a second chance at life a decade after the original. Within the last decade, this obsession with origins has also led to the more dramatic "secret origin," the twist or new light brought to a revisiting of an established character's roots. Typically, "secret origins" has been a DC Comics labeling, with the likes of Green Lantern's Secret Origins launching a modern favorite run on Hal Jordan (and ultimately spawning a disaster of a film). It was only a matter of time before Marvel co opted the language, and hence, we have Kieron Gillen and Greg Land's "The Secret Origin of Tony Stark."
Previously in Iron Man NOW!: Issues #1 – #5 — "Believe" 
Any secret origin is a risky proposition, largely because it suggests the creative team will alter some significant understanding we have of the character or how they came to be. Gillen and Land's "Secret Origin of Tony Stark" presents a unique challenge in this regard, as during the 12 issues that encompass this story, Tony is in space exploring both the cosmos and his soul. Having already established that Iron Man begins in a cave in war-torn Iraq, it seems pretty unlikely that Tony will uncover new details in the stars.
This proves true, but it also brings us to the crux of this secret origin which is that the "origin" in question is truly the origin of Tony Stark: his birth.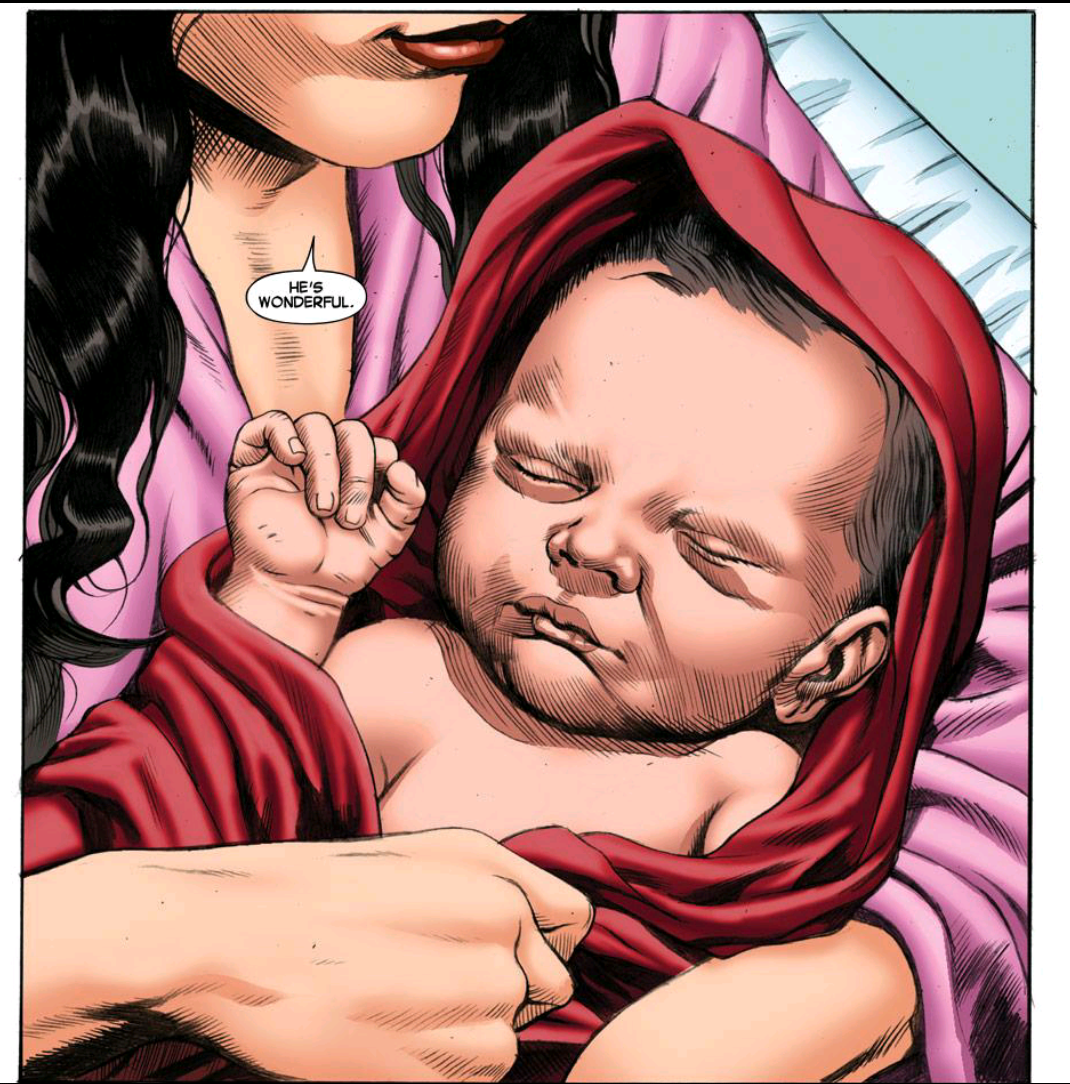 Tony Stark Studies Genealogy
If you ask me (what's that? You didn't ask? Oh.. Well… maybe we could pretend?), Tony's relationship with his father, Howard, is one of the less interesting injections from the Marvel Cinematic Universe. The MCU has made it clear that Howard Stark is a major player in the Marvel Universe, both from his appearance and influence beyond the grave in Iron Man 2, and from his time with the American army in Captain America: The First Avenger. Additionally, we learned in the Agent Carter one-shot that Howard Stark is a primary force in launching SHIELD in its original pre-Coulson incarnation. Howard has always been presented as a workaholic genius father who pushed Tony to follow in his industrial footsteps, but the "and secretly he was a spy/hero too!" angle is a more recent push.
Support For Comic Book Herald:
Comic Book Herald is reader-supported. When you buy through links on our site, we may earn a qualifying affiliate commission.
Comic Book Herald's reading orders and guides are also made possible by reader support on Patreon, and generous reader donations.
Any size contribution will help keep CBH alive and full of new comics guides and content. Support CBH on Patreon for exclusive rewards, or Donate here! Thank you for reading!
Naturally it was only a matter of time until this push heavily infiltrated the comics, and that's what we have in "The Secret Origin of Tony Stark." Tony's adventures in space begin typically enough with some lighter cosmic fare involving an alien race holding Tony accountable for his "murder" of the Phoenix force in Avengers vs. X-Men. Issues #6 – #8 in this narrative arc (contained in TPB volume 2 and titled "Godkiller") find Tony humorously mocked by aliens for his grotesque facial features and forced into gladiatorial combat for his life, Planet Hulk style.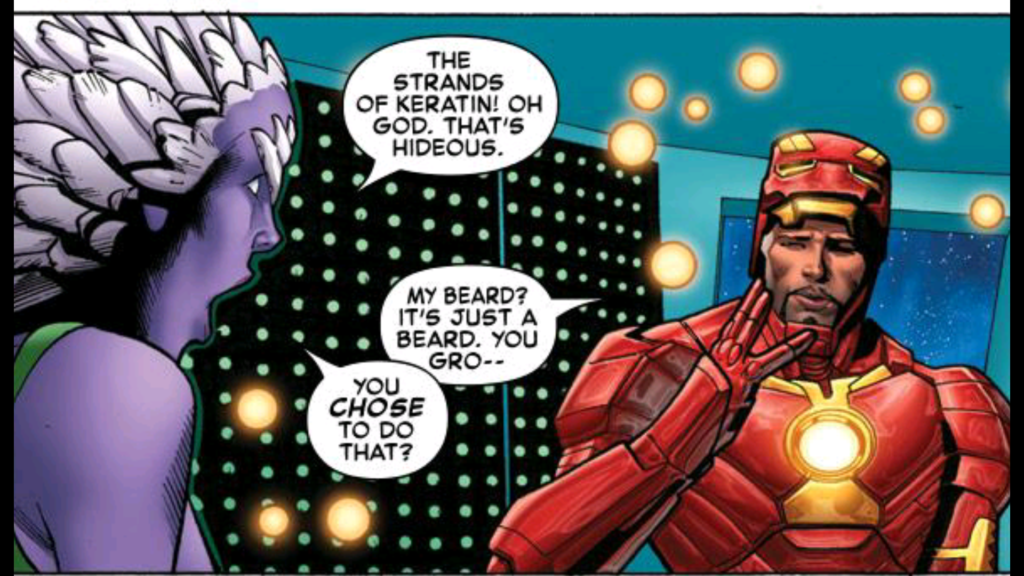 Most importantly, it's in the "Godkiller" arc that Tony comes into contact with the seemingly innocent Rigellian recorder, 451. In Marvel history, Rigellian recorders are much like Watchers (RIP Uatu), in that their purpose is to record cosmic events. The first instance I ever remember reading of a Rigellian recorder occurred during the exploits Stan Lee and Jack Kirby's Thor #132.
Without getting overly spoilerific, the Rigellian named 451 is a different breed. He has determined that he has too much information to remain passive, and that he must act! Unfortunately for Tony, his actions involve a lot of scheming, sinister plans, and ultimate loss of life "for the greater good." But it also means this Rigellian has played an essential role in the direction of Tony's life to date.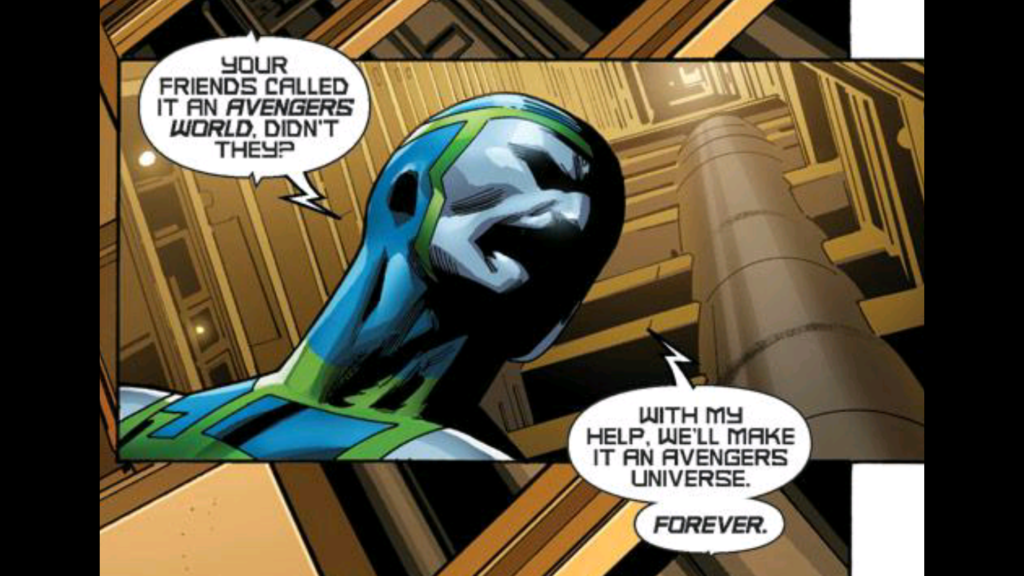 It's revealed that 451 was there to influence Howard and Tony's mother during the pregnancy, and that he in fact helped instill alien knowledge and skillsets into little fetus Tony. If this is starting to not sit well, just imagine how poor Tony feels.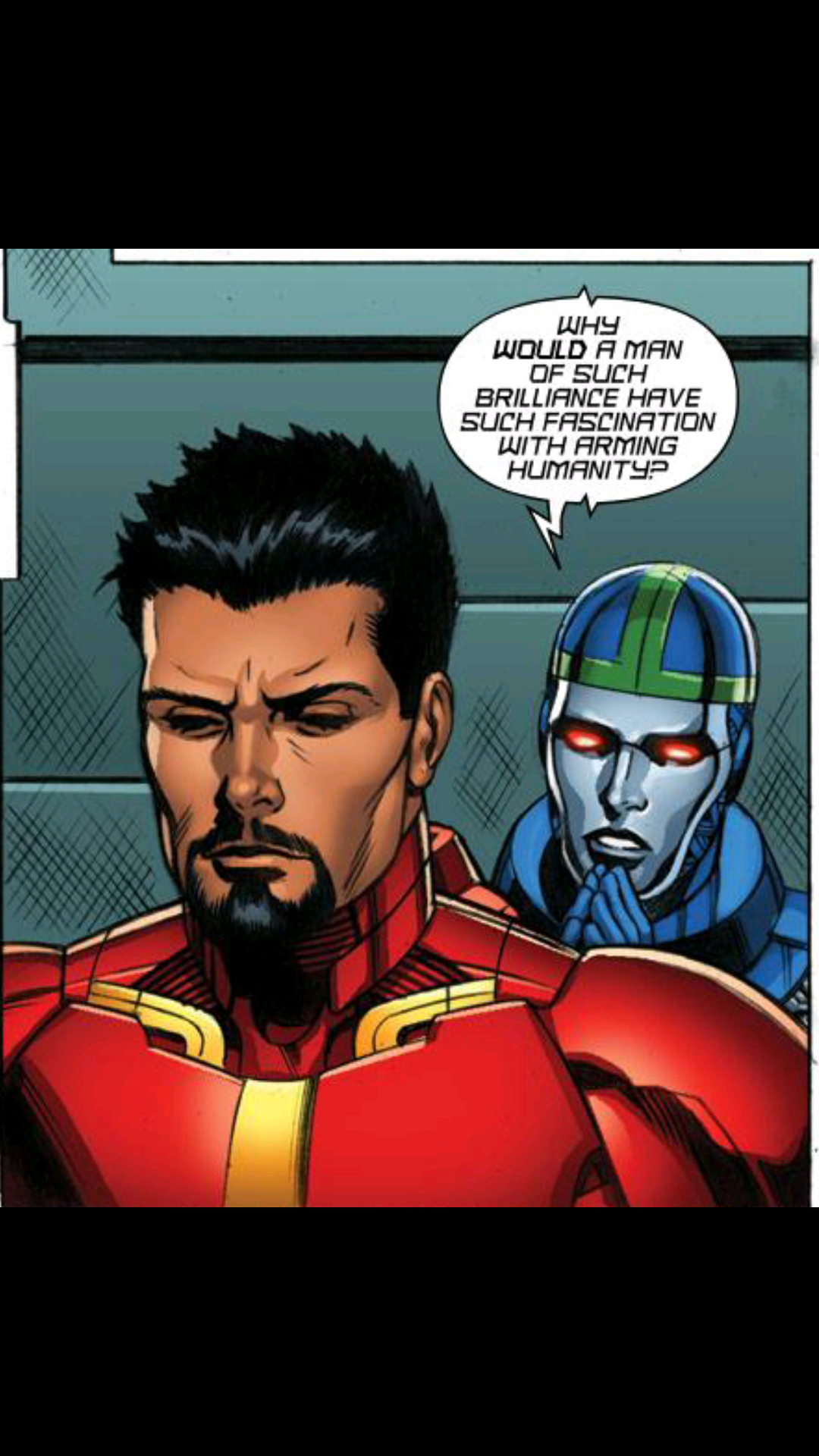 Tony's Adventures in Space and Guardianship Take a Turn
Although as of Iron Man issue #9 Tony is officially teaming up with the Guardians of the Galaxy in that new corner of Marvel NOW!, the events of  Secret Origin deal entirely with Tony's parents leading up to his birth, and Tony's reaction to the news while under 451's controlling imprisonment. As it turns out, 451 planted those seeds in Tony all those years ago as part of a grand and elaborate plan to instill his vision of peace and order to the universe. More importantly, he wants Tony, the ultimate machine pilot, to bond with an armor designed to kill Celestials: The Godkiller armor.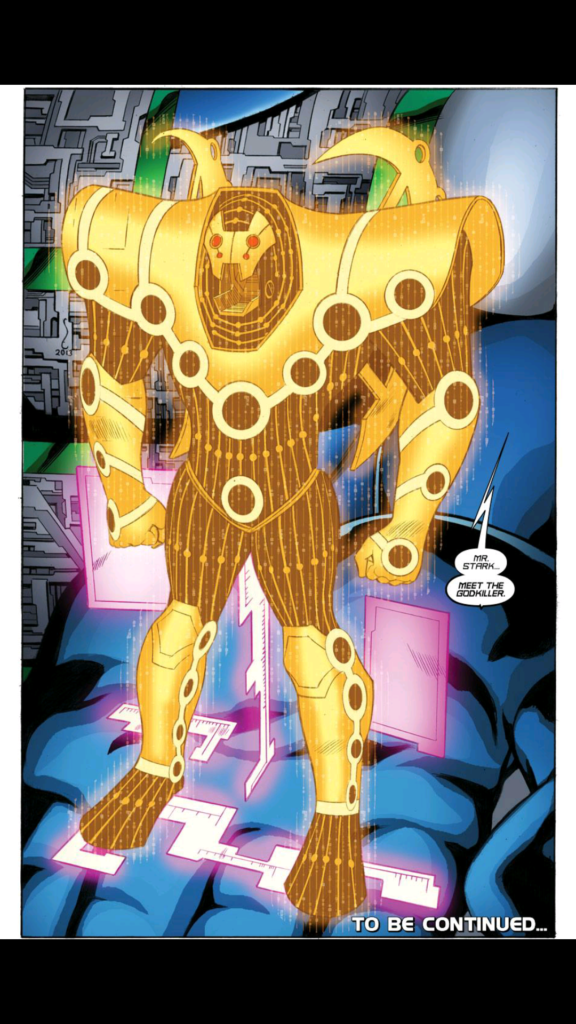 As you'd expect, Tony's not particularly keen on a plan that involves planet-wide extermination and devastation on a galactic scale. Although 451 is technologically superior, Tony uses his wits and a little help from an assassin named Death's Head to even the odds with his newly found nemesis.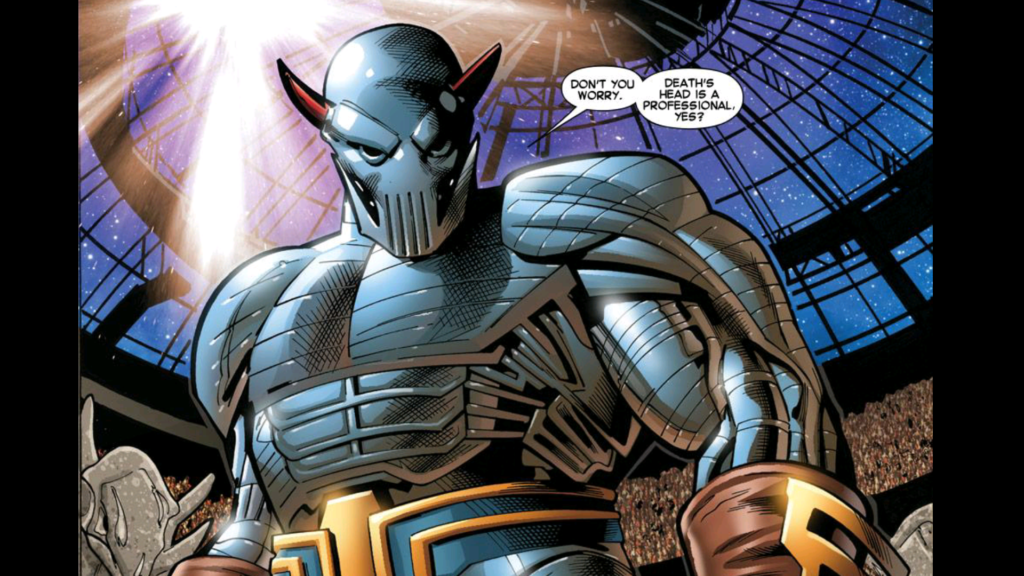 How Do These Secret Origins Affect Iron Man NOW?
Initially, the "Secret Origin of Tony Stark" arc is extremely off-putting. Series writer Kieron Gillen seems to reduce Tony to nothing more than a genetically engineered weapon in the hands of an insane alien robot. Fortunately, Gillen has a twist up his sleeve that infuses a lot of interesting potential to Iron Man that will help restore this title to a higher overall value moving forward.
As is, though, issues #6 – #17 are disappointingly forgettable comics. After reading a series like Kieron Gillen's "Young Avengers," it's clear that this book is taking none of the same inventive risks and instead hoping that the enormity of the "Secret" will carry this book to must-read status. There are plenty of fine ideas (Tony in space, Howard assembling a heist crew consisting of General Thunderbolt Ross and Dum Dum Dugan, the P.E.P.P.E.R. AI in the Iron Man armor) that just never quite elevate to truly standout material. End of the day, it's hard to recommend Secret Origins to anyone other than the most die hard Iron Man fans. There are some major revelations that impact continuity in the future, but otherwise these 11 issues fall flat.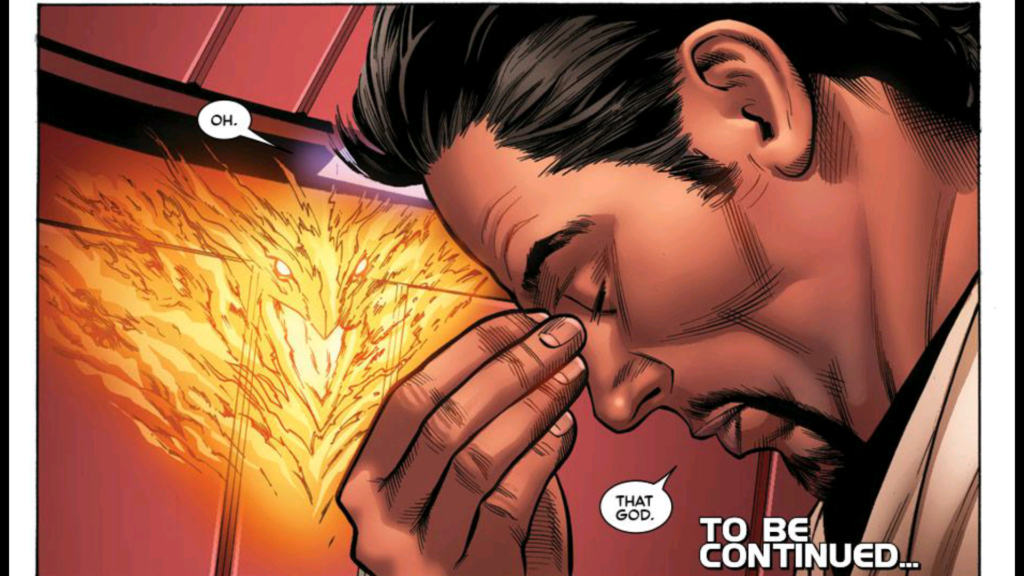 At the end of "Secret Origins" Kieron Gillen writes in a letter that his original plan of Iron Man was "a sort of hard science fiction Deadwood on the moon," which sounds entirely awesome. It's a shame Secret Origin is what we got instead, although I do like the ultimate reveal, and have enough faith in Gillen based on his writing on "Young Avengers" that Iron Man is still in good hands.
CBH Score: 2.4 out of 5
Read on Marvel Unlimited: Secret Origin of Tony Stark vol 2 & vol 3 (issues #6 – #17)
Writer: Kieron Gillen
Artist: Greg Land, Carlo Pagulayan
Publication: March 2013 – April 2014
[schema type="review" rev_name="Iron Man: The Secret Origin of Tony Stark" user_review="2.4″ min_review="0″ max_review="5″ ]