At least once per year, my local comic shop runs a "newer comics" sale, where books that are still on their shelves that came out at least a month ago are all $1.50. It's a great sale, and I typically use it to obsessively collect runs I wasn't pulling in real time, or in some cases to spot up for atypically expensive oversized specials purely based on the savings.
In 2020, I was most excited for the sale as an opportunity to catch up on DC's Black Label books. For the unfamiliar, "Black Label" is an imprint within DC Comics that launched in 2018 with Batman Hung Damned, and offers standalone, (generally) out of continuity stories from A-list creative talent. While the exact marketing can get muddled, I think of it as something like Vertigo for just DC superheroes and villains, with stories that are targeted for more mature audiences and gunning hard for "must read" long-term status.
There's a variety of books that fall into "Black Label," and the point of this guide is to help you navigate the selections, but in many cases "Black Label" comics defy traditional printing standards. For example, Daniel Warren Johnson's Wonder Woman: Dead Earth
 is wider and taller than a standard printed comic, contains 46 pages of story (about 2x standard), and is priced accordingly at $6.99 an issue. I'm far from an expert on defining the particulars here, but "Black Label" comics also feel nicer, printed on better paper, with a quality of product meant to drive collecting value.
Speaking of which, my dreams of $1.50 priced "Black Label" books at my LCS were dramatically dashed when I scoured the shelves and realized these books sell like Aunt May's wheatcakes. "Black Label" is tremendously popular, and honestly says some potentially interesting things about where DC's comics output may be heading. DC's always had an edge on the evergreen "graphic novel" market, at least compared to Marvel, and this feels like a strong move to solidify that standing.
In the meantime, though, you can keep up with DC's Black Label comics here. I'll note that technically DC has committed to rebranding some of their greatest hits as "Black Label" moving forward. So perennial best-sellers like Watchmen
 or All-Star Superman
Support For Comic Book Herald:
Comic Book Herald is reader-supported. When you buy through links on our site, we may earn a qualifying affiliate commission.
Comic Book Herald's reading orders and guides are also made possible by reader support on Patreon, and generous reader donations.
Any size contribution will help keep CBH alive and full of new comics guides and content. Support CBH on Patreon for exclusive rewards, or Donate here! Thank you for reading!
 are now "Black Label" books. I won't be re-listing those titles here (you can find them on the "Absolute Editions" guide linked below, or basically on any DC Best Of guide I publish on CBH), focusing instead on books that have launched as part of "Black Label."
Likewise, there are also imprints that fall under the "Black Label" heading, such as DC's "Sandman Universe" and "Hill House" horror comics. These imprints are large enough to get their own distinct guides on Comic Book Herald!
Related Reading Orders: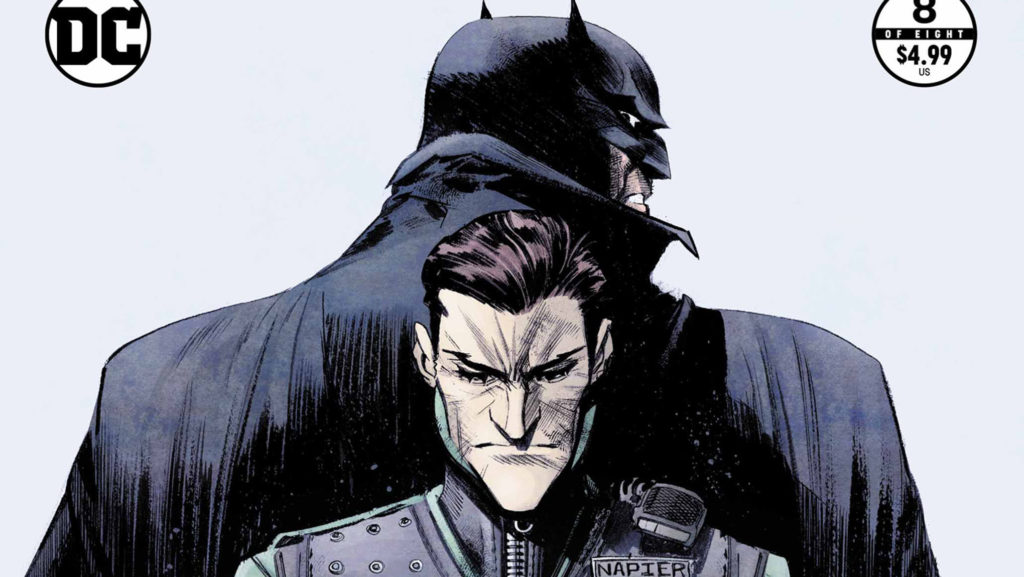 Batman Black Label Comics!
Batman: Damned
3 issues.
By Brian Azzarello and Lee Bermejo, creators behind Joker and Luthor (both of which are retroactive "Black Label" books). Damned got a whole lot more attention for Bruce Wayne's full frontal nudity than literally anything else, which is probably not how DC intended to launch the imprint!
Batman: Last Knight on Earth
3 issues.
By Scott Snyder and Greg Capullo, continuing their fantastic work on Batman that began in the New 52. Last Knight on Earth is the early "Black Label" work that most closely fits into a possible future of the ongoing DC superhero universe, and honestly feels like a very real end point for the Snyder / Capullo vision of Bruce Wayne from New 52 to Metal / Death Metal and beyond.
More importantly, Last Knight on Earth is flipping great.
The Dark Knight Returns: The Golden Child
Frank Miller's Dark Knight Returns universe continues with "The Golden Child" one-shot. In a lot of ways, the iconic Dark Knight Returns
 is – alongside Watchmen – the exact ethos DC is trying to recapture with "Black Label," so including any future additions by Miller and company is a no-brainer.
One-shot by Frank Miller and Rafael Grampa.
Batman: White Knight
Batman: Curse of the White Knight + Batman White Knight Presents: Von Freeze
Two eight issue limited series by Sean Murphy, with the "Von Freeze" one-shot including work by Klaus Janson.
Murphy's White Knight is the honorary "true" launch of "Black Label," as the highly successful original eight issues weren't a part of the line until a retroactive inclusion for the collected edition.
The work imagines an alternate Batman, Joker and Gotham, with Murphy's vision driving many Batman 1989
 elements into the familiar mythos.
Batman: White Knight Presents Harley Quinn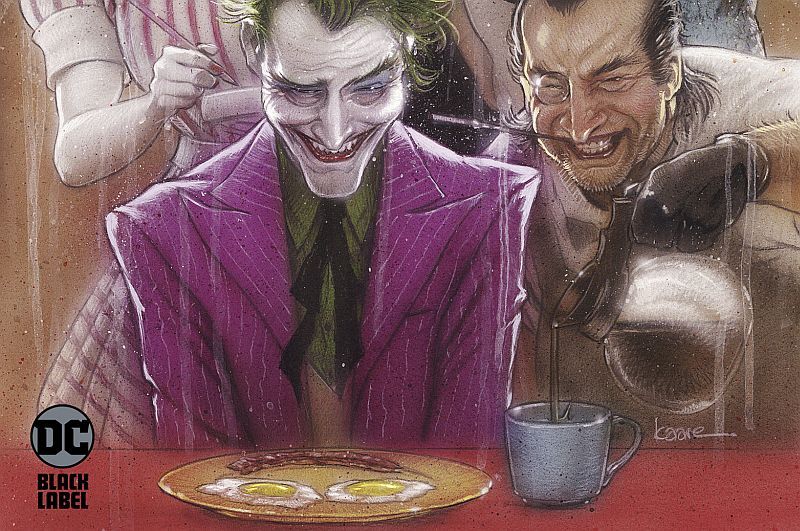 Joker & Harley Quinn Black Label Comics!
Harleen
3 issues.
Written and drawn by Stjepan Sejic. I have to say a "prestige" retelling of Harley Quinn's origins is a big ask, but Sejic pulls it off and then some. It's an essential addition to the Harley canon.
Joker: Killer Smile
+ Batman: Smile Killer
3 issues, and a one-shot.
By Jeff Lemire and Andrea Sorrentino, creators of the Image series Gideon Falls
.
Joker/Harley: Criminal Sanity
By Kami Garcia, Mico Suayan, Mike Mayhew
Harley Quinn & The Birds of Prey
By Jimmy Palmiotti and Amanda Conner, the creative partnership that helped grow Harley's now enormous presence throughout the New 52.
Birds of Prey by Brian Azzarello
One-shot
For the full CBH review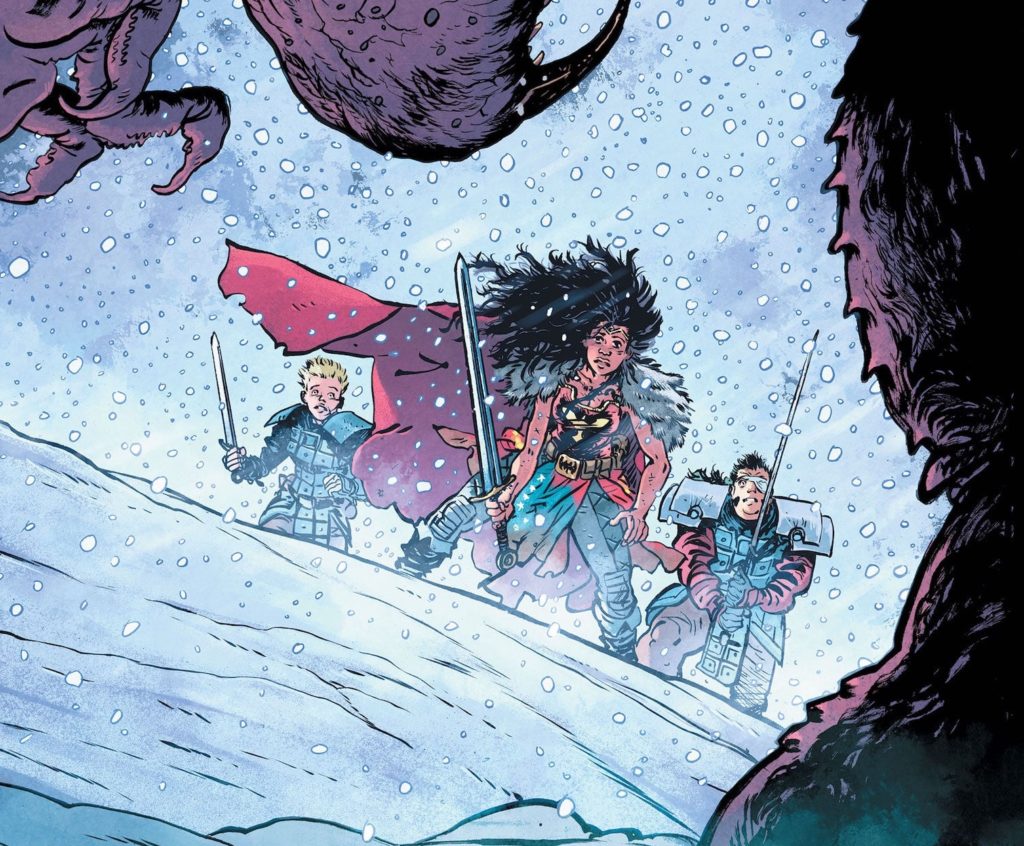 DC Universe Black Label Comics!
Superman: Year One
By Frank Miller and John Romita, Jr.
He hasn't returned to the well since Batman: Year One
, but if Frank Miller wanted to own the "Year One" franchise at DC, it's certainly his to lose.
The Question: The Deaths of Vic Sage
By Jeff Lemire and Denys Cowan, with inks by Bill Sienkiewicz.
Wonder Woman: Dead Earth
By Daniel Warren Johnson
Following Murder Falcon, Daniel Warren Johnson is one of my favorite storytellers in comics, an absolutely incredible artist with the right sensibilities around humor, heart and action.
Strange Adventures
By Tom King, Mitch Gerads and Doc Shaner.
The spiritual and creative follow-up to all-time great Mister Miracle
 will focus on Adam Strange, and launch as a "Black Label" 12 issue limited series.
For the Full CBH Review of the three issue series by Tom Taylor and Darick Roberson.
By Tom King and Jorge Fornes.
The Other History of the DC Universe
Written by John Ridley.
Outside the DCU!
The Last God
By Phillip k. Johnson, Riccardo Federici, and Sunny Gho.
DC takes a stab – heh – at dark fantasy with "The Last God," a sword and sorcery book that seems to share a visual language with the likes of Conan the Barbarian.
Creator Jeff Lemire returns to his classic Vertigo series, Sweet Tooth
.
American Vampire: 1976