Welcome to Comic Book Herald's favorite comic books of 2020. This list was updated quarterly throughout the year, until this final year-end consensus!
As usual, it's worth a reminder that I'm only one stunning package of beefcake, and have not read every good comic. But I read a lot of them, and have picked all my favorites here for you! And just in case, I've also included picks from esteemed Comic Book Herald writers. Below you'll find the best comics of 2020.
Related Best Of Lists:
Support For Comic Book Herald:
Comic Book Herald is reader-supported. When you buy through links on our site, we may earn a qualifying affiliate commission.
Comic Book Herald's reading orders and guides are also made possible by reader support on Patreon, and generous reader donations.
Any size contribution will help keep CBH alive and full of new comics guides and content. Support CBH on Patreon for exclusive rewards, or Donate here! Thank you for reading!
Dave's Faves: The Best Comics of 2020
The below list is ranked by yours truly in descending order. Stay tuned after my pick for favorite of the year for likely better picks from CBH writers!
Honorable Mentions (aka comics that I like that only had a few issues so far this year!): Scarenthood, Barbalien: Red Planet, Stillwater, Decorum, Commanders in Crisis, We Only Find Them When They're Dead, Giga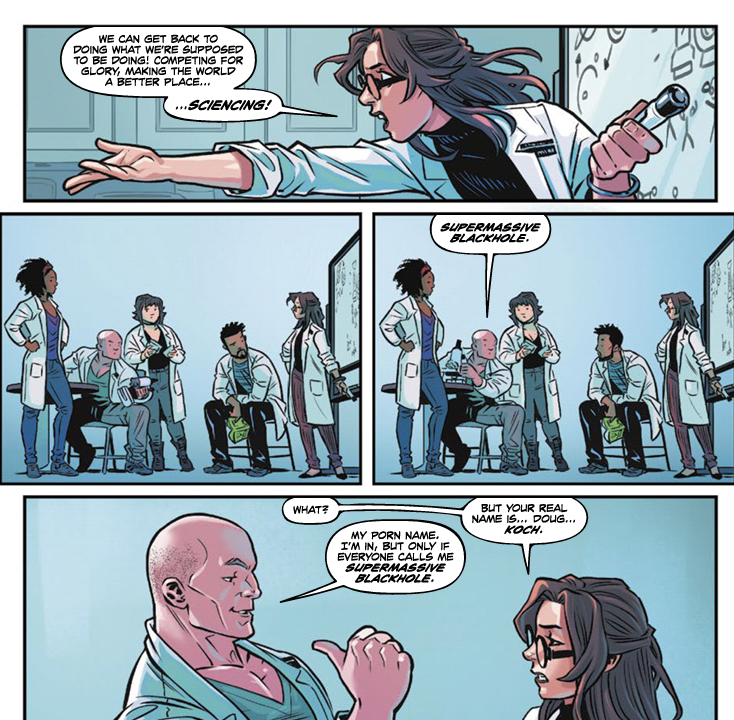 Technically I had Money Shot on my picks for the best of 2019, but this hilarious sex-sci-fi (it's porn… for science!) from Vault Comics is still going to be new to plenty of readers. Written by Tim Seely and Sarah Beattie with art by Rebekah Isaacs and Kurt Michael Russel, Money Shot is very #nsfw and very highly recommended.
Jeff Lemire writes approximately 6,289 new comic series per year, which is impressive and daunting. As a result, I feel like I'm perpetually behind on some of his best work that should be on my best-of lists (I can hear you screaming about Gideon Falls and I know! I'm just behind!).
Family Tree is such a quick, tight, gripping sci-fi thriller, though, that there was no chance it slipped past me. Lemire and Phil Hester start from an infection that turns people into trees (imagine We Are Groot but gross and scary), and from there it's off to the races with a violent chase from mysterious pursuers.
Pairing Robert Kirkman and Chris Samnee is an absolute powerhouse creative collaboration, which goes a long way to elevate a series launch that is very deliberately retelling the origins of Marvel's Immortal Iron Fist in a mildly new way. Kirkman's efforts to reach Walking Dead or Invincible levels of massive comics hit have faltered with Die! Die! Die! and Oblivion Song, but Firepower could easily be the book that becomes a new figurehead from the Image/Skybound comics kingmaker. The second volume is going to be the real test, and I'll definitely be there reading on day one.
It's difficult to know exactly how Matt Fraction and Elsa Charretier's trilogy of graphic novellas will fare until the third and final volume is released, but as it stands, November is a deeply engaging experiment in comic book storytelling, twisting chronology, characters, and expectations into a slowly cohesive whole.
Excellent graphic novel from Declan Shalvey… More inventive Irish cursing than you can shake a Boondock at, Bog Bodies is one night of desolate small-time crime and backstabbing in the backwoods of Ireland.
Stephanie Phillips, Dean Kotz, Jason Wordie and team deliver four issues of captivating, harrowing history, tracking a World War II serial killer largely from the perspective of the French private detectives trying to bring him to justice. It's an insightful period piece based entirely on a true story, and an unflinching account of the day to day complicity humans experience when faced with insurmountable devastation all around them.
At this point, you could show me a pile of mud, and if you said it was part of the Black Hammer Universe, I'd find 20 things to love about it. So yeah, I'm completely hooked Jeff Lemire and Dean Ormston's Black Hammer Universe. Naturally, Skulldigger and Skeleton Boy is no exception, weaving a Punisher esque mythos into the Hammer-verse.
Shouts to world's biggest James Tynion fan (and My Marvelous Year little daddy), Zack, for selling me on giving Something Is Killing The Children another try because once you get rolling this Boom Studios book is damn hard to put down. It's a murder mystery with monster hunters, and haunting darkness that comes with tales of terrorized townsfolk and missing kids. Tynion is writing Batman and generally having a moment, but combined with Werther Dell'Edera I'd say he's producing his finest comics work. Of course, I have a whole lot of Department of Truth
 to catch up on…
I'm far from a Usagi super-fan, which honestly makes it so refreshing to be able to get an ongoing series from Stan Sakai (with colors by Tom Luth) in 2020. I don't think Sakai is capable of less-than-excellent stories, but if you've been on the fence can I entice you with the following words: Sword-fighting samurai Rhino!
Probably the underrated Big 2 book, simply because the expectations that come with a Grant Morrison comic are unreachably high (and yet, he reaches them, time and time again). Do what I did, and dig into Ritesh Babu's The Green Lantern annotations and prepare to have your mind blown.
Take the Untouchables of prohibition-era Chicago and face them off against Al Capone, except this time the world's worried about magic instead of alcohol. That's the excellent premise for Chistian Ward, Sami Kivel, and Dee Cunniffe's Machine Gun Wizard, an underrated gem from Dark Horse Comics. Elliott Ness's crusade against the spread of magic in Chicago brings to mind the confidence and occult fascination of early Hellboy, and that can only be said with the greatest awe.
I wrote my high school senior thesis on this novel, and have been a lifelong Kurt Vonnegut fan from there, and still I was surprised how fresh the graphic novel adaptation by Ryan North and Albert Monteys feels today. It's glorious adaptation work, and while I won't go so far as the hyperbolic reviews claiming it's better than the novel, I definitely enjoyed reading the story again in this specifically well-crafted form more than mere text would have delivered.
Kieron Gillen and Dan Mora (with colorist Tamra Bonvillain) craft one of the more movie/TV-ready series launches in some time with Once and Future, thematically about the history of Britain, but more literally about the history of Britain's monsters.
Since there have been 28 issues of the series released since launch in 2013, it's pretty easy to forget Sex Criminals remains one of the best comics in (semi) regular publication. When they're on, there are few creators who can rivel Fraction and Zdarsky's humor and storytelling genius.
At the start of 2020, the immensely popular Webtoon was an app I occasionally checked just to know what was happening in digital comics (keeping up with the kids!), but now it's an app I open every time I get a push notification for an update to Toaster Dude the ongoing comedy series from @soaporsalad. If you're a One Punch Man fan, you'll likely find a lot to enjoy here in the series' laconic dry humor and the Dude's absurdist devotion to a damn good slice of toast.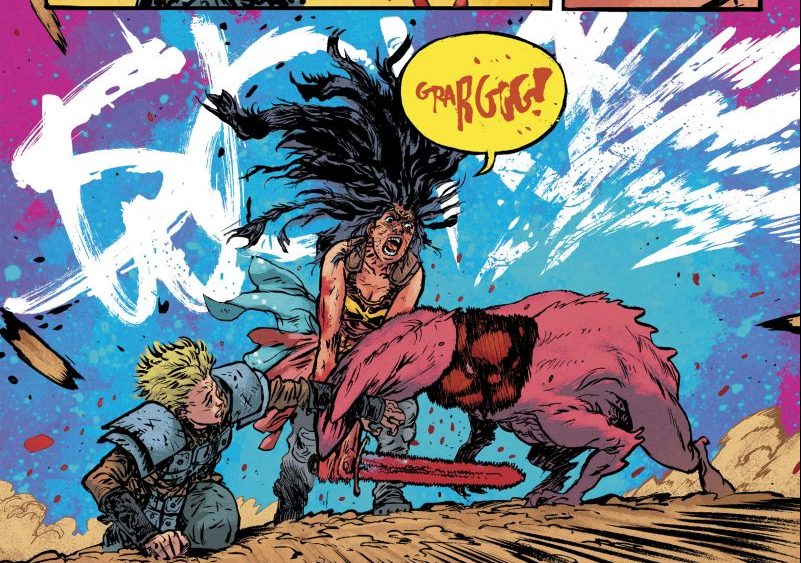 Daniel Warren Johnson is one of my favorite artists and storytellers in the business (Murder Falcon is straight up one of my favorite comics last decade). His DC Black Label dive into the world of Wonder Woman is everything I wanted, bringing Diana into a DWJ post-apocalypse, rather than bringing DWJ's style to a traditionally DC work. It's a strange grim vision of cataclysm, but still a very recognizably loving and protective Wonder Woman.
Rob Guillory's Farmhand is consistently excellent, a worthy successor to Guillory's time on Chew, and a glorious blend of weird, creepy, funny and family.
In large part because X-Men and Hulk are so exciting, it's easy to overlook Chip Zdarsky and Marco Checcetto's work on Daredevil, easily working their way into the pantheon of DD greats that includes Frank Miller, Nocenti/JR JR, Bendis/Maleev, Brubaker/Lark, and Waid/Martin/Samnee!
Cartoonist Tom Scioli expertly distills the incredible life of Jack Kirby to a fast-paced, nearly impossible to put down blend of comic book history, American history, and struggles of a creator to be recognized for their creative works.
Every time I feel confident that Hickman's X-Men is ready to take the Marvel best of crown, Al Ewing, Joe Bennett and company drop an instant classic issue like the 750th anniversary special we like to refer to as Immortal Hulk #33.
Now that the chaotic scene/time hopping structure is starting to cohere, it's becoming increasingly clear that Matt Fraction and Steve Lieber's Jimmy Olsen twelve issue series is exactly the stone cold classic we thought it would be.
When I first heard the hype for N.K. Jemisin writing a Green Lantern comic, I picked up her Broken Earth Trilogy, and let's just say I'm now a fan for life. Far Sector does not disappoint, with art by Jamal Campbell, and a standalone Green Lantern story about emotion, police, rebellion, protest, and so much more.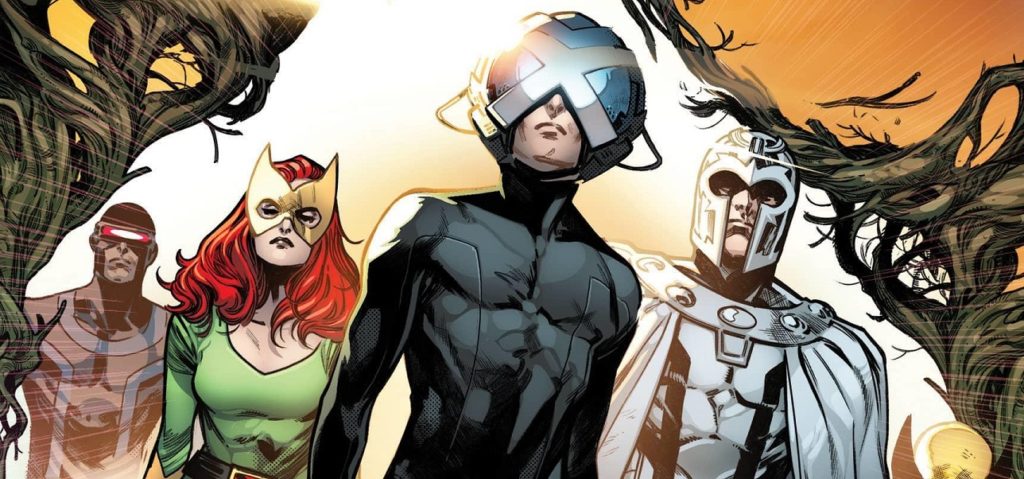 While I was taken with Marauders as my personal favorite Dawn of X launch, throughout 2020 Jonathan Hickman, Leinil Francis Yu, RB Silva, and Mahmud Asrar have solidified the ongoing X-Men as the best in the X-line, and a serious contender for best Marvel Comic. Whether it's the crucible, the Brood, or any time the Quiet Council gets together, I'm all in on the Krakoa era of X-Men.
The relaunched Criminal was among my absolute favorites of 2019, and Brubaker and Phillips show no signs of slowing with Pulp, a standalone graphic novel that takes the "comics about comics" candy of Bad Weekend
 and packages it with honest-to-god cowboys. It's kind of amazing that this far into a creative collaboration that will go down as one of the standouts in the medium, Brubaker and Phillips likely released their tidiest hook-someone-on-comics book so far this year.
Derf Backderf's deep dive into 1970's Kent State massacre of college students by the United States National Guard is touching, harrowing, and 50 years after the incident, tragically relevant. The events of Kent State are both essential history and shockingly full of dramatic suspense, despite the known outcome. Even if you think you know the story, I recommend Backderf's investigation and portrayal, and if you don't know the story, prepare to mutter "no way" for 250 tight pages.
Kyle Starks' mash-up of a former pro basketball tough guy (once finished 7th in the league in steals!) and a vampire hunting legacy is without question the hardest I've laughed at a comic this year.
David F. Walker, Chuck Brown, and Sanford Greene have crafted a special world with Bitter Root, so it makes sense that after one story arc the series would be generating headlines like "Ryan Coogler to produce adaptation of Bitter Root for Legendary." Hate is a monster, and the Sangerye family are hate's hunters. The series was as good as it's ever been in 2020, and the timeliness is rarely matched. I can't wait for the return in 2021.
As we all predicted, an X-Men rendition of DC's Suicide Squad starring Nanny, Orphanmaker, Wild Child, Havok, Psylocke, John Greycrow, Empath, and Mister Sinister is the standout star of the X-Men's "Dawn of X"… wait, what?! Despite the oddball lineup (or perhaps because of it), Zeb Wells, Stephen Segovia, Carmen Carnero and team have built the funniest superhero comic in publication, and what has become my surprise favorite book in the entire beloved X-Men lineup. No ongoing superhero story makes me laugh out loud as often as Hellions, and the harder I think about it, the more challenging I find it to think of an ongoing that ever has.
Dave Chisholm's graphic novel about the life of jazz legend Charlie Parker is one of the best dramatic biographies I've ever read, at once celebrating Parker's legacy and influence while wrestling with the musician's demons. The work is broken up according to different POV characters such as Dizzy Gillespie or John Coltrane, keeping the narrative balanced, fresh, and stylistically engaging as Chisholm shifts in and out of genre. The story itself is more than worth the asking price, but it's Chisholm's inventive artistic approach to conveying music and emotion on the page that makes this an immediate stand-out.
This stunning graphic novel from writer/illustrator Sloane Leong is one of the most gorgeous books of the year, with eye-popping inventive coloring that makes the trip through the coming of age story feel like a night outside with the full spectrum of a sunset. Ostensibly, A Map to the Sun is a sports story, and another entry in the shockingly great year for basketball comics, but really it's a heartfelt coming-of-age story about five young girls and their friendship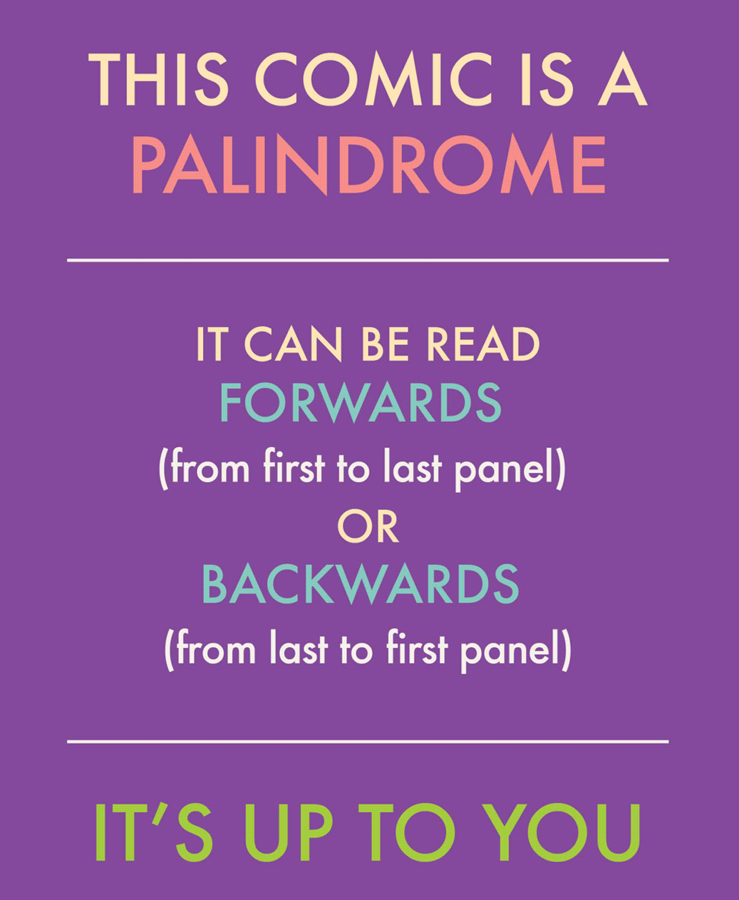 I don't know why I resisted this for so long, but it's time to admit that Ice Cream Man is my favorite monthly comic. It's always the book I'm most eager to read, and most impressed by with each new issue. W. Maxwell Prince and Martin Morazzo are doing more innovative comics work than anything else I'm reading, and literally every issue – whether it's a palindrome, dark children's book parody, or instruction manuel – instantly becomes a contender for issue of the year. Beyond even the brilliance and imagination of the form, though, the heart of this book and the horror stories it tells heave more emotional weight than should be possible in 20+ page increments. Mix in 2020's Quartine Comix, one of the true lifeboats during the early US pandemic shutdowns, and Ice Cream Man is an endlessly fruitful realm of vision. Don't let the bed bugs bite, and remember, "Everything is one thing."
It's hard to quite encapsulate the year Gene Luen Yang is having. I have two of his works on this "best new comics" section, and yet another single issue in my picks for best single issue!
With Superman Smashes the Klan, Yang and Gurihiru take inspiration from the incredible 1940's radio show "Superman vs the Clan of the Fiery Cross," and deliver a modern yet timeless tale of social injustice and doing what's right in the face of great hate. From the gorgeous all-ages designs of Gurihiru to the essays about America, racism, and life as an Asian-American by Yang at the end of each issue, this is as essential a comics work as you'll find.
Elsewhere, all I needed to hear was Gene Luen Yang and "basketball comic" before trying to jam my credit card into the closest apparatus I could find. Published by First Second, Dragon Hoops is an autobiographical account of Yang's time teaching at a California high school on the verge of their first state championship.
Essentially, Yang is not a sports fan, meaning that even though I am, his focus is on the character's, the struggles of crafting new stories, and the way legacies can influence our present. Every moment spent reading Dragon Hoops is pure joy, making it my favorite comic of the year!
Comic Book Herald Writer Picks!
Mark Turetsky: Al Ewing and Juann Cabal took over this title at the beginning of the year, the third creative team to do so since 2017, and in only nine issues have done more to push these characters than any team since Abnett and Lanning. Not content to remain in the shadow of the hugely successful movie franchise or the group's Annihilation-era creation, Ewing and Cabal have embraced the (often obscure and frankly weird) comics origins of the individual characters as springboards for growth. Cabal's (along with fill-in artist Marcio Takara's) inventive layouts and slick character designs, married to Frederico Blee's vivid colors, explore both the cosmic reaches of space and the trippy mindscapes of their characters' interior lives. This series is just getting started and I cannot wait to see how far this team will take it.
Sean Dillon: In many regards, Blue in Green is one of those comics that doesn't come about that frequently. It's a work along the lines of Flex Mentallo: Man of Muscle Mystery, Phonogram: The Singles Club, or Mister Miracle: a cementing of a defining collaboration. A tour de force of style, storytelling, and horror, Ram V, Anand RK, Aditya Bidikar, and Tom Muller cement themselves as a new voice in the medium with a work that at once feels brand new and beholden to its influences in the best way possible. A wonderful ghost story in a year of fantastic horror.
Sara Century: Nalo Hopkinson's incredible Sandman Universe epic House of Whispers drew to a close this year, wrapping up the goddess Erzulie's saga to reclaim her power. House of Whispers has easily been one of the best things to happen to the Dreaming in some time. While a lot of great new stories have been coming out as part of the recent relaunch of the franchise, there was something truly special about the way Hopkinson's knack for emotional horror and the legends of distant gods combined to create something new, even in a world that is so constantly in flux as the Dreaming.
Mark Turetsky: Kieron Gillen and Stephanie Hans' spangly thing has just ended its second year, and with the end of its third arc its characters have achieved new lows, both emotionally and ethically. Let me just say at the outset that we are blessed to live in a time when Stephanie Hans is fully drawing an ongoing series. Her work, often limited to covers and one-offs, has the opportunity to breathe here, allowing her to explore a range of moods, tones and palettes, making Die the most organically visually experimental of Gillen's ongoing series.
This year's five issue arc has explored the tension between RPGs as sets of rules to simulate combat and RPGs as social frameworks in which to roleplay. The emotional journeys we take through play create genuine emotions, but what are the real-world consequences of playing games whose rules systems are set up primarily for fighting? (Spoiler alert: this comic posits that it's maybe not the best thing?)
Since the issue numbers are mapped onto an exploded diagram of a d20 in the book's design, there is a real possibility that there remain only 5 issues, but the more exciting question is what if #20 isn't the end? What lies beyond d20, as a story and as a gaming system?
Sean Dillon: In many regards, this comic by Tom King, Mitch Gerads, and Doc Shaner feels like a reaction to an endpoint of a mode of writing. When faced with an endpoint, there are two ways to go forward without just regurgitating the same thing to increasingly diminishing returns: either do something new (Once and Future) or look back at what you have done and critique it (The Filth). King and collaborators have opted to doing the latter to largely fantastic results. A slow burn of a series (that, admittedly, makes one wonder if this would have been stronger as either a six part mini with double-sized issues or a graphic novel) about the willingness to forgive cruelty in the name of defeating the barbarian hordes, the colonial nature of space utopianism, and whose stories get heard. A very spiky book that might turn on the readers by the end of its 12 issues.
Sara Century: For a lot of longtime TMNT fans, Sophie Campbell's recent run is already achieving legend status. Taking up from where the also-great "City At War" arc left off, Campbell had the work of reestablishing the Turtles in a world without their beloved mentor Splinter. Each of the brothers struggles differently to handle their grief over losing their father figure, and it causes them to lose touch and grow apart from one another. Meanwhile, many new animal-human hybrids similar to the Turtles have appeared and are regulated to impoverished areas of the city so as to not contaminate the greater populace. The punk aesthetic and charged emotions of Campbell's take can't be beat.

Mark Turetsky: The Unbeatable Squirrel Girl established Erica Henderson as a rising artistic talent with great comedy chops, expressive characters and a canny fashion sense. 2019's Assassin Nation with writer Kyle Starks brought Henderson's work to a (slightly more) adult context, with Henderson coloring her own work in this tribute to action movies of the 80s and 90s. Now, teamed with writer Alex de Campi on the original graphic novel Dracula, Motherf**ker, Henderson's work reaches stratospheric heights. Drawing from such diverse inspirations as 70s exploitation cinema and Austrian symbolist painter Gustav Klimt, Henderson's colors tend toward the expressionist and create dazzling spreads with each page turn.
Alex de Campi's script, set in 1970s Los Angeles, tells the story of Quincy Harker (a familiar name for readers of Stoker's Dracula), a freelance photographer covering a series of murders caused by, you guessed it, Dracula. Like all good investigators, he soon finds himself in too deep, caught up in a hundred-year-old marital dispute between Dracula and his brides. De Campi here presents a more nuanced idea of the brides: they are of course the victims of Dracula's abuse, but also not entirely innocent of the trauma that they themselves inflict on the world.
Sean Dillon: Ed Brubaker and Marcos Martin are doing a comic about the teen detective genre featuring cults, witches, ghosts, and awkward teenage drama. What more do I need to say?
Sara Century: Both Red Sonja and Vampirella have had a lot of great comics on the stands over the last several years, and 2020 alone saw such great stories as the most recent Vampirella run and the conclusion of the incredibly fun Vampirella & Red Sonja Meet Betty & Veronica
series. It's hard to choose a single story that we liked the best, but it's hard to beat the sheer sense of fun that leaps off the pages of the Vampirella & Red Sonja team-up book. The dynamic between these two iconic characters is always fun, but there's something to be said for writer Jordie Bellaire's keen attention to the emotional undercurrents at play for both of them while setting up some of the most clever action dialogue of the year.
Mark Turetsky: 2020 marks the year when superstar duo Ed Brubaker and Sean Phillips (with Jacob Phillips on colors) pivoted from single issue monthly comics to original graphic novels with the publication of Pulp and the upcoming (at the time of this writing) Reckless. But before they could dive into those projects, there was one last (for now) monthly story to finish: Criminal 5-12: "Cruel Summer."
At eight issues, "Cruel Summer" may be the most ambitious Criminal story yet told, calling back to storytelling techniques from previous Criminal arcs: the shifting points of view in each issue evoke "The Dead And The Dying," the heist calls "Coward" to mind, and the cycles of familial trauma, substance abuse, obsession and crime call back to, well, every Criminal story.
This is a story that takes ample advantage of the single issue format; a fitting send-off for the format for Brubaker and Phillips(es), and a story that Criminal has been alluding to since the very beginning.
Sean Dillon: Imagine what it would be like if Alan Moore and Bill Sienkiewicz decided to make Shadowplay: The Secret Team an ongoing series rather than half of a graphic novel, and you'll have a pretty good idea what The Department of Truth is like. A modern day Invisibles with the anger one needs to make such a pitch truly shine.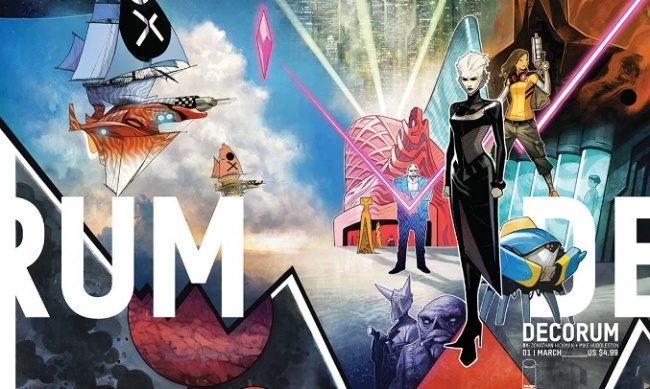 Best Single Issues of 2020
I made a point of excluding titles I've already included in the best comics of 2020 for this section (with one obvious exception), so shout-outs to X-Men #4 and Immortal Hulk #33 for incredible issues that would otherwise have it among the best single issues.
Venom: The End #1
I'm sort of irrationally opposed to Marvel's "The End" premise – it just feels like a cheap Dark Knight Returns knock off? – which made the absolute interstellar excellence of Venom: The End knock me into the solar system. Adam Warren, Jeffrey Cruz, Guru eFX and Clayton Cowles craft a mind-boggling vision of the future that intersects everything from Donny Cates and Ryan Stegman's current Venom run to Jonathan Hickman's vision for Powers of X to Al Ewing's cosmic marvel-scape. If you read only one "The End" comic ever, make it this one.
Sara Century: For years, Storm has been a character that exists in two different worlds; her life in Wakanda as its sometimes queen, and her life with the X-Men. Marauders #13 changed all that as she felt forced to choose sides for the first time. Faced with the question of allegiance as part of the greater X of Swords arc, Ororo Munroe defies Wakandan law and even fights her adopted sister Shuri. This solidly places her back with the X-Men for the foreseeable future, which will hopefully lead to more Storm-centric stories. Marauders #13 has been called one of the best Storm stories in decades by a lot of X-Fans, and watching her make complicated, no-win choices certainly brought to mind some of her most epic stories.
I'm yet to run into a "choose-your-own-adventure" comic I can't fall in love with (shouts to You Are Deadpool and Unbeatable Squirrel Girl), and this entry from Gene Luen Yang and Dan Mora is no exception. The Yang run on Terrifics is a vast improvement on what quickly became one of the most disappointing comics in DC's "New Age of Heroes."
Despite the desire to keep the single issues list to series I haven't mentioned elsewhere, Ice Cream Man #17 is too damn good to keep out. From the Action Comics #1 parody cover, I knew I was in for a treat, but I wasn't quite prepared for such a thoroughly dedicated send-up of All-Star Superman. This series is typically very far from standard superhero comics, but issue #17 shows you what supers could look like through their spider-infested lens.
Sara Century: The Injustice
comics have been some of the better stories coming out of the DC Universe for a while now, and its take on Harley Quinn and Poison Ivy as a complicated, on-again off-again romantic relationship has won over a lot of fans. Injustice: Year Zero #8 saw Harley sadly admit that she felt stuck in a loop with the Joker, never knowing if or when it would truly end. Ivy's response was to physically attack the Joker and assure him that she'd kill him if he went near Harley again. Afterward she proposes to a delighted Harley, giving us what is easily the most underrated wedding of the year.
Jonathan Hickman and Mike Huddleston's new series launch is an eye-opening assortment of raw ideas and design, blending the Powers of X science fiction with a guild of space assassins. Rather than try to break it down using my meager words, I'll let John Galati use smart analysis.
Hedra
Jesse Lonergan's Image Comics one-shot is a remarkable feat of storytelling, and as much a treaty on the capabilities of the medium as it is its own science fiction world. The 48 page wordless story is one of the must-reads of 2020.
I read this issue on a whim, and the story of Superman and Batman having a post Justice League battle argument, only to be interrupted by evil Multiverse dopplegangers is an all-time one-and-done great Supes/Bats team-up. Fantastic work by Dave Wielgosz and Jorge Corona.
X-Men: Marvels Snapshots #1
Snapshots is the Kurt Busiek curated tour of the Marvels
 verse, and this installation from world-renowned X-fan Jay Edidin (of Jay and Miles X-Plain the X-Men fame) and Tom Reilly is easily my favorite of the bunch to date. This is honestly one of the best Cyclops comics I've ever read, and feels like required reading for comics fans digging into Marvel's Silver Age and beyond.
S.W.O.R.D. #1
Mark Turetsky: There is a moment about 2/3rds of the way through December's S.W.O.R.D. #1 where the true potential of the series shines through. The issue starts out like a very good X-Men comic, as we've come to expect from this Krakoan era of the comics line. Magneto is visiting the Peak space station for a personal inspection of Abigail Brand's new mutant space program. Under Valerio Schiti's pen and Marte Gracia's colors, Magneto sheds his imperious statesman affect and looks more like a kid in a cosmic candy store. We meet the cast, a mix of major and fan favorite characters (every character is someone's favorite) and then… a major shift happens; it gets poetic, with unboxed captions that harken back to Ewing's Ultimates2 cosmic voice.
It turns out that in addition to being a book about X-drama and alien diplomacy, about Krakoa becoming a galactic power, it's also about S.W.O.R.D. becoming a cosmic power and pushing the theme of scientific exploration that has been part of Ewing's oeuvre at Marvel since his days writing Adam Brashear, harkening back to the Fantastic Four of Kirby and Lee. S.W.O.R.D. springs from the primordial Kirbon of Marvel comics itself, and from it also what comes next.
https://www.youtube.com/watch?v=CLFjm9gMGLQ