Welcome to Comic Book Herald's favorite comic books of 2020. This list will be updated quarterly throughout the year, until a final year-end consensus is reached!
As usual, it's worth a reminder that I'm only one stunning package of beefcake, and have not read every good comic. But I read a lot of them, and have picked all my favorites here for you! Below you'll find the best comics of 2020.

Related Best Of Lists:
Support For Comic Book Herald:
Comic Book Herald is reader-supported. When you buy through links on our site, we may earn a qualifying affiliate commission.
Comic Book Herald's reading orders and guides are also made possible by reader support on Patreon, and generous reader donations.
Any size contribution will help keep CBH alive and full of new comics guides and content. Support CBH on Patreon for exclusive rewards, or Donate here! Thank you for reading!
The Holdovers
These are the comics that are also on my picks for the best of 2019, and remain great into 2020. I've ordered them by preference within their various categories (for example, X-Men is my favorite Marvel comic book of 2020), but otherwise the list is as yet unordered.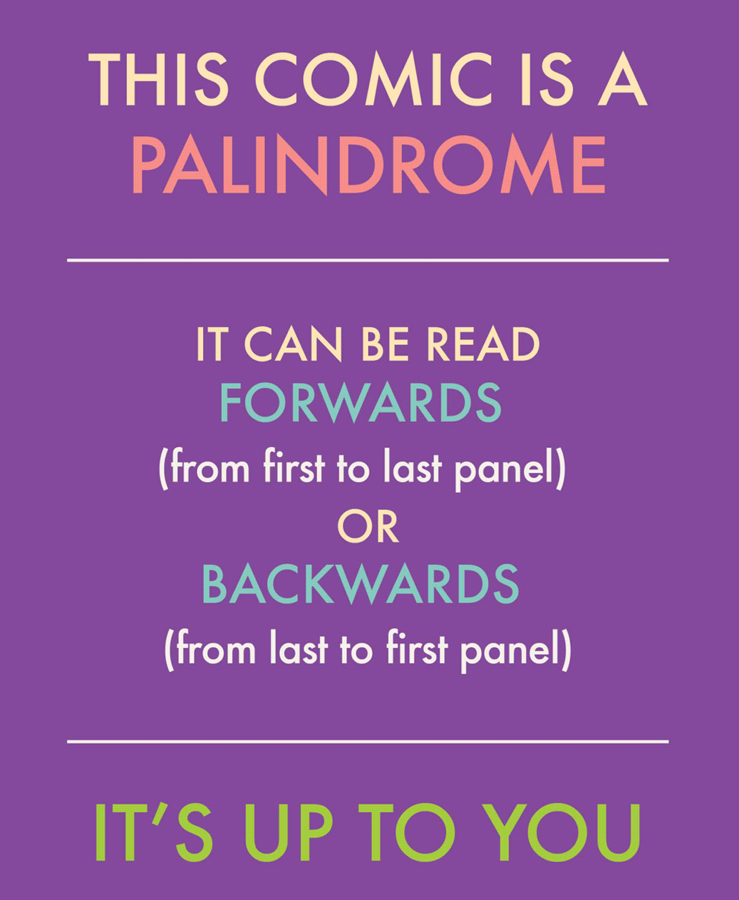 Image Comics
I don't know why I resisted this for so long, but it's time to admit that Ice Cream Man is my favorite monthly comic. It's always the book I'm most eager to read, and most impressed by with each new issue. W. Maxwell Prince and Martin Morazzo are doing more innovative comics work than anything else I'm reading.
Rob Guillory's Farmhand is consistently excellent, a worthy successor to Guillory's time on Chew, and a glorious blend of weird, creepy, funny and family.
David F. Walker, Chuck Brown, and Sanford Greene have crafted a special world with Bitter Root, so it makes sense that after one story arc the series would be generating headlines like "Ryan Coogler to produce adaptation of Bitter Root for Legendary." Hate is a monster, and the Sangerye family are hate's hunters. The series is back in 2020 and as good as it's been.

Since there have been 28 issues of the series released since launch in 2013, it's pretty easy to forget Sex Criminals remains one of the best comics in (semi) regular publication. When they're on, there are few creators who can rivel Fraction and Zdarsky's humor and storytelling genius.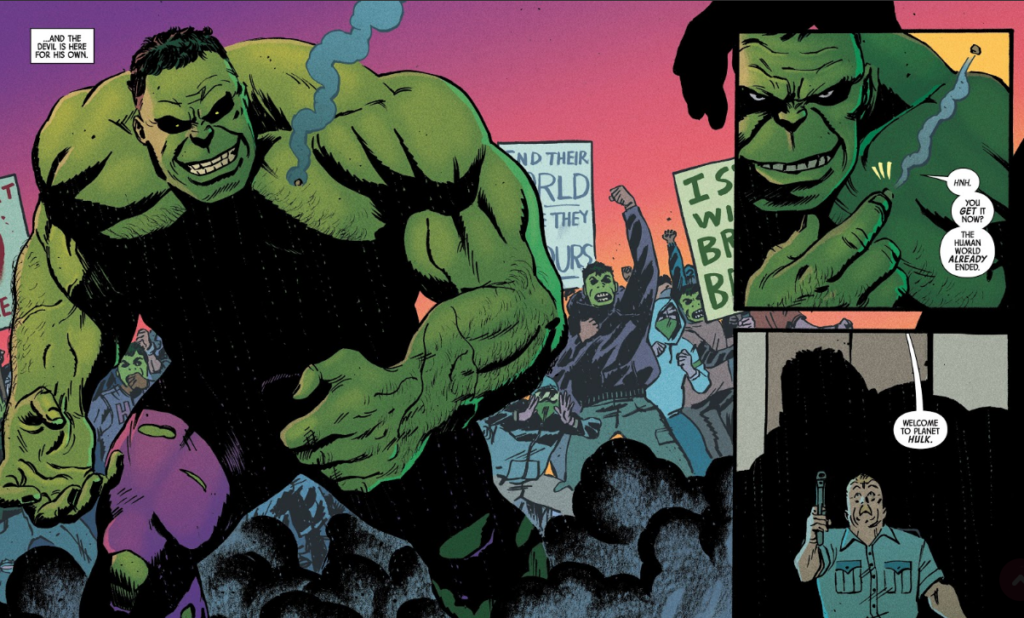 Marvel Comics
While I was taken with Marauders as my personal favorite Dawn of X launch, throughout 2020 Jonathan Hickman, Leinil Francis Yu, RB Silva, and Mahmud Asrar have solidified the ongoing X-Men as the best in the X-line, and a serious contender for best Marvel Comic. Whether it's the crucible, the Brood, or any time the Quiet Council gets together, I'm all in on the Krakoa era of X-Men.
Every time I feel confident that Hickman's X-Men is ready to take the Marvel best of crown, Al Ewing, Joe Bennett and company drop an instant classic issue like the 750th anniversary special we like to refer to as Immortal Hulk #33.
In large part because X-Men and Hulk are so exciting, it's easy to overlook Chip Zdarsky and Marco Checcetto's work on Daredevil, easily working their way into the pantheon of DD greats that includes Frank Miller, Nocenti/JR JR, Bendis/Maleev, Brubaker/Lark, and Waid/Martin/Samnee!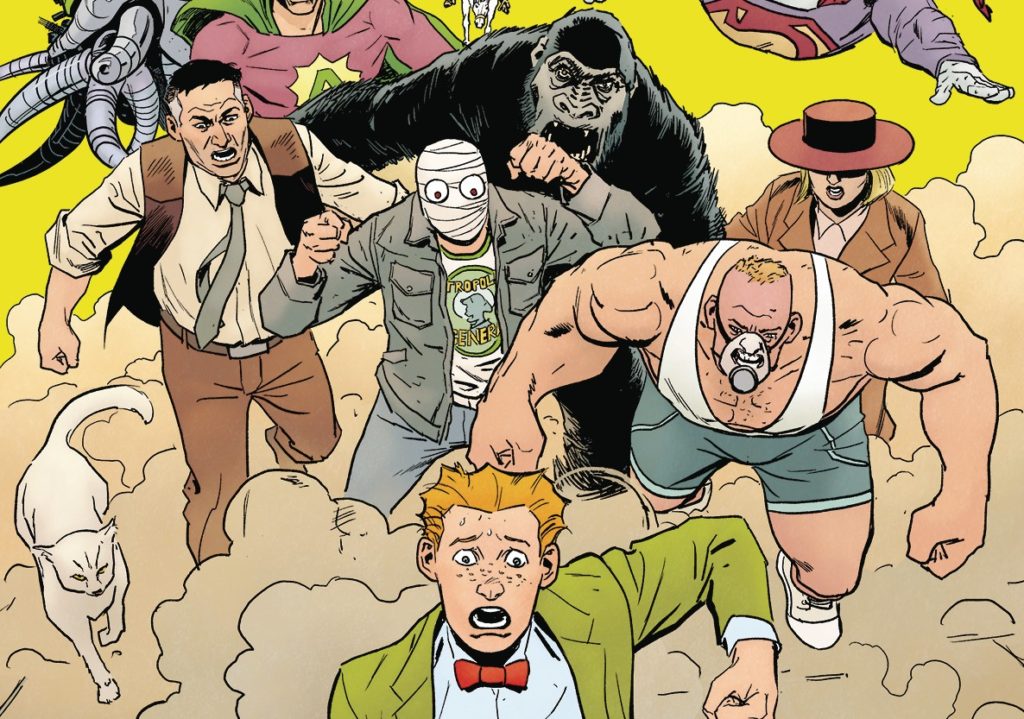 DC Comics
Now that the chaotic scene/time hopping structure is starting to cohere, it's becoming increasingly clear that Matt Fraction and Steve Lieber's Jimmy Olsen twelve issue series is exactly the stone cold classic we thought it would be.
Probably the underrated Big 2 book, simply because the expectations that come with a Grant Morrison comic are unreachably high (and yet, he reaches them, time and time again). Do what I did, and dig into Ritesh Babu's The Green Lantern annotations and prepare to have your mind blown.
The Best New Comics of 2020
Series that either started in 2020, or technically kicked off in 2019 but weren't considered for my best of picks! I'm also holding myself to the arbitrary rule that at least two issues of a series have to be published for inclusion, which is arbitrary but why you'll see some series listed as "best single issues" instead!
DC Comics
It's hard to quite encapsulate the year Gene Luen Yang is having. I have two of his works on this "best new comics" section, and yet another single issue in my picks for best single issue!
With Superman Smashes the Klan, Yang and Gurihiru take inspiration from the incredible 1940's radio show "Superman vs the Clan of the Fiery Cross," and deliver a modern yet timeless tale of social injustice and doing what's right in the face of great hate. From the gorgeous all-ages designs of Gurihiru to the essays about America, racism, and life as an Asian-American by Yang at the end of each issue, this is as essential a comics work as you'll find.
Daniel Warren Johnson is one of my favorite artists and storytellers in the business (Murder Falcon is straight up one of my favorite comics last decade). His DC Black Label dive into the world of Wonder Woman is everything I wanted, bringing Diana into a DWJ post-apocalypse, rather than bringing DWJ's style to a traditionally DC work. It's a strange grim vision of cataclysm, but still a very recognizably loving and protective Wonder Woman.
When I first heard the hype for N.K. Jemisin writing a Green Lantern comic, I picked up her Broken Earth Trilogy, and let's just say I'm now a fan for life. Far Sector does not disappoint, with art by Jamal Campbell, and a standalone Green Lantern story about emotion, police, rebellion, protest, and so much more.
Jeff Lemire
At this point, you could show me a pile of mud, and if you said it was part of the Black Hammer Universe, I'd find 20 things to love about it. So yeah, I'm completely hooked Jeff Lemire and Dean Ormston's Black Hammer Universe. Naturally, Skulldigger and Skeleton Boy is no exception, weaving a Punisher esque mythos into the Hammer-verse.
Jeff Lemire writes approximately 6,289 new comic series per year, which is impressive and daunting. As a result, I feel like I'm perpetually behind on some of his best work that should be on my best-of lists (I can hear you screaming about Gideon Falls and I know! I'm just behind!).
Family Tree is such a quick, tight, gripping sci-fi thriller, though, that there was no chance it slipped past me. Lemire and Phil Hester start from an infection that turns people into trees (imagine We Are Groot but gross and scary), and from there it's off to the races with a violent chase from mysterious pursuers.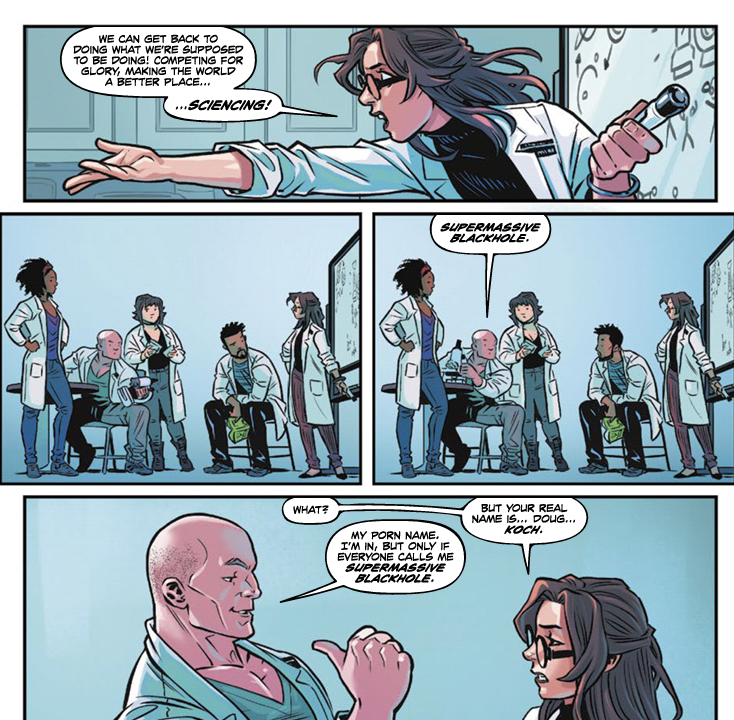 Indies
All I needed to hear was Gene Luen Yang and "basketball comic" before trying to jam my credit card into the closest apparatus I could find. Published by First Second, Dragon Hoops is an autobiographical account of Yang's time teaching at a California high school on the verge of their first state championship.
Essentially, Yang is not a sports fan, meaning that even though I am, his focus is on the character's, the struggles of crafting new stories, and the way legacies can influence our present. Every moment spent reading Dragon Hoops is pure joy.
Take the Untouchables of prohibition-era Chicago and face them off against Al Capone, except this time the world's worried about magic instead of alcohol. That's the excellent premise for Chistian Ward, Sami Kivel, and Dee Cunniffe's Machine Gun Wizard, an underrated gem from Dark Horse Comics. Elliott Ness's crusade against the spread of magic in Chicago brings to mind the confidence and occult fascination of early Hellboy, and that can only be said with the greatest awe.
Technically I had Money Shot on my picks for the best of 2019, but this hilarious sex-sci-fi (it's porn… for science!) from Vault Comics is still going to be new to plenty of readers. Written by Tim Seely and Sarah Beattie with art by Rebekah Isaacs and Kurt Michael Russel, Money Shot is very #nsfw and very highly recommended.
The Butcher of Paris
Stephanie Phillips, Dean Kotz, Jason Wordie and team deliver four issues of captivating, harrowing history, tracking a World War II serial killer largely from the perspective of the French private detectives trying to bring him to justice. It's an insightful period piece based entirely on a true story, and an unflinching account of the day to day complicity humans experience when faced with insurmountable devastation all around them.
Excellent graphic novel from Declan Shalvey… More inventive Irish cursing than you can shake a Boondock at, Bog Bodies is one night of desolate small-time crime and backstabbing in the backwoods of Ireland.
I'm far from a Usagi super-fan, which honestly makes it so refreshing to be able to get an ongoing series from Stan Sakai (with colors by Tom Luth) in 2020. I don't think Sakai is capable of less-than-excellent stories, but if you've been on the fence can I entice you with the following words: Sword-fighting samurai Rhino!
Kieron Gillen and Dan Mora (with colorist Tamra Bonvillain) craft one of the more movie/TV-ready series launches in some time with Once and Future, thematically about the history of Britain, but more literally about the history of Britain's monsters.
At the start of 2020, the immensely popular Webtoon was an app I occasionally checked just to know what was happening in digital comics (keeping up with the kids!), but now it's an app I open every time I get a push notification for an update to Toaster Dude the ongoing comedy series from @soaporsalad. If you're a One Punch Man fan, you'll likely find a lot to enjoy here in the series' laconic dry humor and the Dude's absurdist devotion to a damn good slice of toast.
Kyle Starks' mash-up of a former pro basketball tough guy (once finished 7th in the league in steals!) and a vampire hunting legacy is without question the hardest I've laughed at a comic this year.
Jack Kirby:The Epic Life of the King of Comics!
Cartoonist Tom Scioli expertly distills the incredible life of Jack Kirby to a fast-paced, nearly impossible to put down blend of comic book history, American history, and struggles of a creator to be recognized for their creative works.
Firepower
Pairing Robert Kirkman and Chris Samnee is an absolute powerhouse creative collaboration, which goes a long way to elevate a series launch that is very deliberately retelling the origins of Marvel's Immortal Iron Fist in a mildly new way. Kirkman's efforts to reach Walking Dead or Invincible levels of massive comics hit have faltered with Die! Die! Die! and Oblivion Song, but Firepower could easily be the book that becomes a new figurehead from the Image/Skybound comics kingmaker. The second volume is going to be the real test, and I'll definitely be there reading on day one.
November
It's difficult to know exactly how Matt Fraction and Elsa Charretier's trilogy of graphic novellas will fare until the third and final volume is released, but as it stands, November is a deeply engaging experiment in comic book storytelling, twisting chronology, characters, and expectations into a slowly cohesive whole.
This stunning graphic novel from writer/illustrator Sloane Leong is one of the most gorgeous books of the year, with eye-popping inventive coloring that makes the trip through the coming of age story feel like a night outside with the full spectrum of a sunset. Ostensibly, A Map to the Sun is a sports story, and another entry in the shockingly great year for basketball comics, but really it's a heartfelt coming-of-age story about five young girls and their friendship.
Kent State: 4 Dead in Ohio
Derf Backderf's deep dive into 1970's Kent State massacre of college students by the United States National Guard is touching, harrowing, and 50 years after the incident, tragically relevant. The events of Kent State are both essential history and shockingly full of dramatic suspense, despite the known outcome. Even if you think you know the story, I recommend Backderf's investigation and portrayal, and if you don't know the story, prepare to mutter "no way" for 250 tight pages.
Chasin' The Bird
Dave Chisholm's graphic novel about the life of jazz legend Charlie Parker is one of the best dramatic biographies I've ever read, at once celebrating Parker's legacy and influence while wrestling with the musician's demons. The work is broken up according to different POV characters such as Dizzy Gillespie or John Coltrane, keeping the narrative balanced, fresh, and stylistically engaging as Chisholm shifts in and out of genre. The story itself is more than worth the asking price, but it's Chisholm's inventive artistic approach to conveying music and emotion on the page that makes this an immediate stand-out.
Slaughterhouse-Five
I wrote my high school senior thesis on this novel, and have been a lifelong Kurt Vonnegut fan from there, and still I was surprised how fresh the graphic novel adaptation by Ryan North and Albert Monteys feels today. It's glorious adaptation work, and while I won't go so far as the hyperbolic reviews claiming it's better than the novel, I definitely enjoyed reading the story again in this specifically well-crafted form more than mere text would have delivered.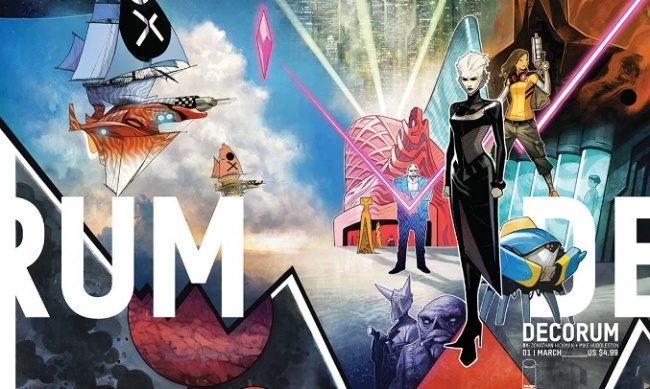 Best Single Issues of 2020
I made a point of excluding titles I've already included in the best comics of 2020 for this section (with one obvious exception), so shout-outs to X-Men #4 and Immortal Hulk #33 for incredible issues that would otherwise have it among the best single issues.
Venom: The End #1
I'm sort of irrationally opposed to Marvel's "The End" premise – it just feels like a cheap Dark Knight Returns knock off? – which made the absolute interstellar excellence of Venom: The End knock me into the solar system. Adam Warren, Jeffrey Cruz, Guru eFX and Clayton Cowles craft a mind-boggling vision of the future that intersects everything from Donny Cates and Ryan Stegman's current Venom run to Jonathan Hickman's vision for Powers of X to Al Ewing's cosmic marvel-scape. If you read only one "The End" comic ever, make it this one.
I'm yet to run into a "choose-your-own-adventure" comic I can't fall in love with (shouts to You Are Deadpool and Unbeatable Squirrel Girl), and this entry from Gene Luen Yang and Dan Mora is no exception. The Yang run on Terrifics is a vast improvement on what quickly became one of the most disappointing comics in DC's "New Age of Heroes."
Despite the desire to keep the single issues list to series I haven't mentioned elsewhere, Ice Cream Man #17 is too damn good to keep out. From the Action Comics #1 parody cover, I knew I was in for a treat, but I wasn't quite prepared for such a thoroughly dedicated send-up of All-Star Superman. This series is typically very far from standard superhero comics, but issue #17 shows you what supers could look like through their spider-infested lens.
Hellions
/ Cable
/ Wolverine #1
Marvel's "Dawn of X" has had some insanely good series launches in 2020, elevating the Krakoa era of X-Men as a whole. If I'm ranking them, I'd say my favorite is Ben Percy/Viktor Bogdonavich/Adam Kubert on Wolverine, Gerry Duggan/Phil Noto on Cable, and then Zeb Wells / Stephen Segovia on Hellions. But in truth, I'm very excited about all of these!
Jonathan Hickman and Mike Huddleston's new series launch is an eye-opening assortment of raw ideas and design, blending the Powers of X science fiction with a guild of space assassins. Rather than try to break it down using my meager words, I'll let John Galati use smart analysis.
This Vault Comics opening issue from Zac Thompson, Emily Horn and Alberto Alburquerque is full of both familiar beats and fully realized world-building. It's a post apocalyptic biodome civilization sci-fi story, focusing on a brother and sister with different visions for "The Green Zone."
Hedra
Jesse Lonergan's Image Comics one-shot is a remarkable feat of storytelling, and as much a treaty on the capabilities of the medium as it is its own science fiction world. The 48 page wordless story is one of the must-reads of 2020.
I read this issue on a whim, and the story of Superman and Batman having a post Justice League battle argument, only to be interrupted by evil Multiverse dopplegangers is an all-time one-and-done great Supes/Bats team-up. Fantastic work by Dave Wielgosz and Jorge Corona.