(What the Hell is Anime? Is a recurring series which no one has yet put a stop to. It takes a look at the beautiful weirdness of manga, anime, and the surrounding culture and packages it up in what we're calling "satir-ucation." Which is all to say that this is both well-meaning and entirely John's fault.)
Hello students, please come in and take a seat anywhere.
As you can see on the chalkboard this is WtHiA-103 and as ever I, your substitute teacher and literary rapscallion John Galati, will be attempting to learn you about Anime. What it is. Where it comes from. How we can stop it. Open up your books to Chapter 30, "Folklore – All of It, All at Once." Read aloud at your own pace.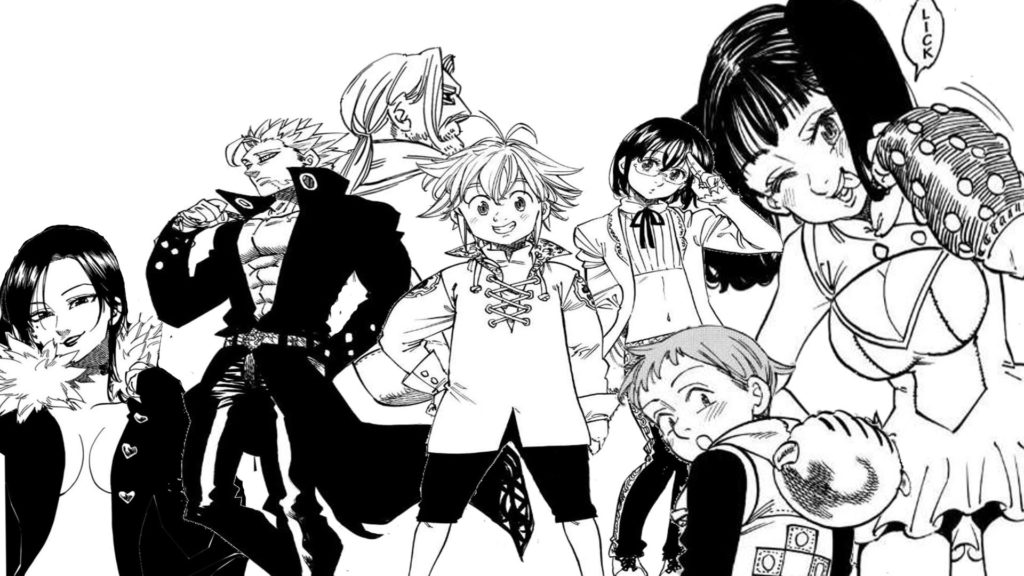 (by Nakaba Suzuki • 36 volumes, ongoing)
Like the best rum, this story is a blend of only the finest spirits: Pirates of the Caribean, Arthurian legend, Christianity DLC, and of course… top-shelf anime nonsense.
Support For Comic Book Herald:
Comic Book Herald is reader-supported. When you buy through links on our site, we may earn a qualifying affiliate commission.
Comic Book Herald's reading orders and guides are also made possible by reader support on Patreon, and generous reader donations.
Any size contribution will help keep CBH alive and full of new comics guides and content. Support CBH on Patreon for exclusive rewards, or Donate here! Thank you for reading!
It's the story of a Pirate ship, the titular The Seven Deadly Sins. She's manned by an ensemble cast of misfits, most of whom are meant to exemplify one of the numerical evils.
The ship's crew include: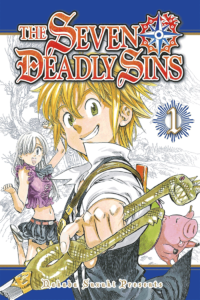 Meliodas, ship's captain (embodiment of the sin of wrath)

Hawk, Meliodas' best friend and talking pig. (Hawk facts: He works at a bar. He's sometimes different colors. He's a pig. He is without sin and is all that is good and true in this world. The book should be called "That good pig and I guess other people if we have time.")

Ban, a punk rock immortal (who's the sin of greed)

King, a fairy man (sin of sloth)

Diane, the giant girl child (envy)

Gowther, a gender-fluid living doll (lust)

Merlin, a half-dressed female mage (gluttony)

Escanor, an olde time knight (pride).
Finally, the last major character is Princess Elizabeth Liones, who's the sin of "princess," apparently.
Naturally, her father is King Liones, rightful ruler of the kingdom which bears their name. Unfortunately, dad was deposed in a coup by the now-evil "Holy Knights." These events make Elizabeth both the reference point for the series and the employer of the Seven Deadly Sins, its crew, and its pig.
The rest of the series reads like a video game plot, wherein each Holy Knight is basically a boss fight, which gives the whole affair a sense of nice level progression as our pirate crew works their way through the story.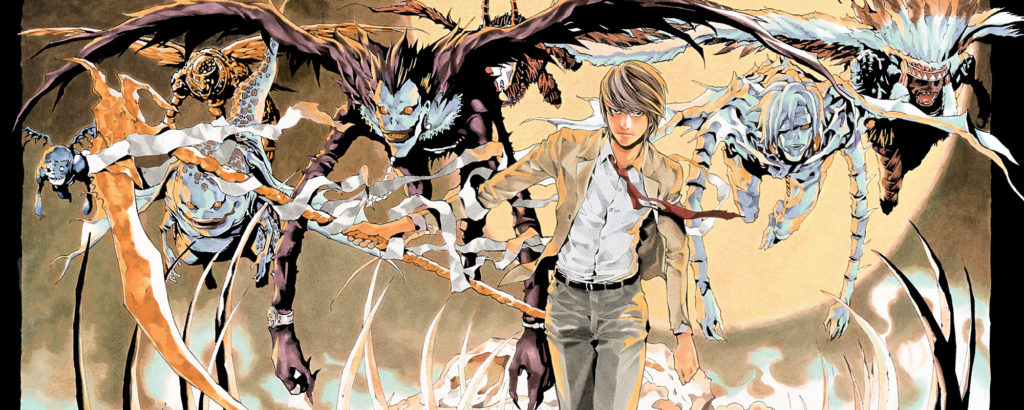 (by Tsugumi Ohba and Takeshi Obata • 12 volumes, completed)
The story begins with high school student Light Yagami finding a "Death Note," the book carried by one of the death demons of Japanese lore. This book contains the master list of those fated to die, along with their time and cause of death.
Like The Seven Deadly Sins, I feel that this begins at an extremely well-trodden place. "High School student finds McGuffin, becomes an incarnation of Death" feels like the formula followed by 200% of mangas and animes on the market.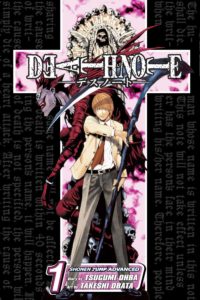 But, like The Seven Deadly Sins, this early reliance on tropes builds into more interesting territory as rules become applied and conventions are messed with.
Light uses the Death Note to create his definition of a "better world." All he needs to do is picture his victim's face, write their name in the Death Note, give the death a time and cause, and like magic, the victim is dead. Light kills a series of criminals in this way, and before long, the media becomes aware of the pattern and whips the public into a frenzy, trying to figure out what causes — natural or divine — are behind these headlines.
When more people gain the ability to alter fate in this way is when things really take off for the series, leading to clever conflicts in various plans and plots all leading to a wonderful tension between Light, his nemesis L, and the demon Ryuk. It also makes this an easy "starter manga."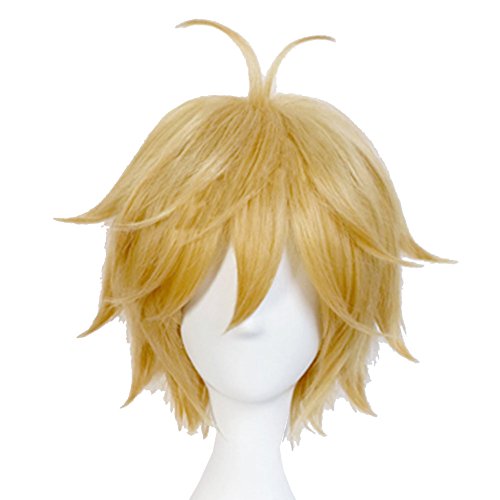 Product Placement
This is the dirty, open secret of the entire entertainment industry. It is the process of shoe-horning in brand advertising alongside fan favorite characters.
This is always bad. Always. But it is not always terrible.
Sometimes product placement results in something relatively innocuous like Steve Roger's iconic Harley or the 1990s Batmobile was based on a Lamborghini.
Or there are moments of unintentional comedy. Legends like the Avenger with the proportional strength and agility of orange juice. Or when, in their time of need, a Subway franchise saved the Justice League. These moments exist like tears in the rain, as brief and stupid as they are beautiful and rare. We are left wondering if Batman's cape smelled like a fresh-baked victory, or Captain Citrus' enemy is toothpaste. For one, dumb instant, our world is bigger.
Sadly, other times, product placement is less good. Not subtle or brief, but instead ham-fisted, 90 minutes long, battle between artistic integrity and "brand synergy:"
https://www.youtube.com/watch?v=3HpIZrOH4zc?t=38&w=941&h=539
The West is no stranger to this last, oppressive kind of product placement. Unfortunately, manga and anime aren't either.
Eastern Examples
Death Note famously contains de-badged Mac products, including the highly recognizable G4 tower, as well as identifiable televisions and other electronic devices. This was likely meant to ground the work in the real world, but it can feel only a step removed from "I-Robot" territory.
JoJo's Bizzare Adventures has plugged everything from Sony Walkmen to Pepsi to Pocky. Pizza Hut paid the creators of Code Geass to feature their billboards prominently throughout its final fight scene. Even Spirited Away, an absolute masterpiece, contains a prominent advertisement for a chain of bookstores.
But most egregious on this list might be The Seven Deadly Sins. This series is not so much a book or a show, but a product placement monster. Every part of it — from the characters to their designs to their constant shipping — has been designed to sell products. Within its first two years of publication, The Seven Deadly Sins had lucrative deals with everyone from hair gel companies to fashion brands. It also had a line of its own products.
The effect four-fold:
Products were sold without disclosure
Products were sold aggressively. This meant The Seven Deadly Sins could effectively steamroll other titles.
The sales practices, alongside the "creative formula," turns everything into an ad, undermining trust in the title
It legitimized these practices and may have even made them standard.
Why This is a Problem
[P]roduct placement can affect what's called implicit self-identification. Implicit self-identification is automatically associating yourself with […] a consumer brand. When we watch a liked character use a brand, we can start to automatically identify with the brand as a way to vicariously experience that character's life. This has happened in experiments even when people were prompted to perceive placements as advertisements and reacted by explicitly liking the placed brand less! […] This means that we might buy products we've seen placed in TV or films even if we view the placements as an attempt at manipulation.
Product placement works. And being aware of it does not help. This isn't something an audience can outsmart, no amount of media savvy or cynical world view is going to keep someone from thinking Reece's PIeces are great because of E.T. or that MacBooks are trendy because of Carey Bradshaw.
And now we can add Tiger & Bunny to the list.
This new title is a logical evolution of formula set by The Seven Dead Sins. Every major character in Tiger & Bunny has a real-world corporate sponsorship, complete with NASCAR style logo placements. Tiger has an enormous SoftBank logo on his chest, Bunny has Bandai and Amazon logos. Other characters have logos from Pepsi, Dominos, and more. like Tiger & Bunny intentionally lean into that quote above. They come right out tell their audience "yes, we're doing this. But we're doing it ironically."
"See?" They seem to say "You're too smart for this to work on you. You're in on the joke." All the while, "the joke" provides justification for why the product placement can be bigger, more frequent, more demanding of your attention. More and more likely to work.
You are not their box office gross
The things I enjoy cost money to make. The pricing model for entertainment is changing dramatically. Crowdfunding, freemium, and subscription services are changing who pays for what, and who owns what. Branding, marketing, and brand partnerships are now crucial for titles to break away from the pack. Fandom and influencers are key. It is not evil to draw a paycheck or to secure that ability in the future.
I understand these things. I even believe that some are necessary. But the mere fact that I, a clown man who lied about being a substitute teacher, can speak casually about someone else's business practices to any kind of an audience shows that something is wrong. It shows that we have all become too familiar with the things we love. We have accepted their encroachment too readily, believed too much in the importance of "box office numbers" and "sales charts," and received too little in return.
We are at the point where Amazon is buying ad space on superheroes on a consistent basis. The things we buy are being formulated to sell us more things, and I feel that this is too great a concession.
I'm not calling for a riot or death threats or a boycott. I don't want you to stop buying things. Instead, I want us all to stop defending this.
Saying "it's all advertising" doesn't change it. Yes, Avengers is a multi-billion dollar property; no, I don't want it selling me hamburgers.
Saying "it's funny" is ridiculous. It's not a joke, it's a marketing technique, and it works no matter how much we laugh.
Saying that product placement is "necessary" to help fund projects is galling to the absolute extreme. This is the most successful global industry the world has ever known with individual IPs ranging in the billions of dollars. The word "necessary" fails to apply at that scale.
Buy things. Love things. Feel good about them. But don't apologize for someone else's profit-based decision.
https://www.youtube.com/watch?v=4uiho8HLI3A&w=1280&h=720