(What the Hell is Anime? Is a hopefully recurring series where we take a look at the beautiful weirdness of manga, anime, and the surrounding culture and package it up in what we're calling "satir-ucation." Which is all to say that this is both well-meaning and entirely John's fault.)
Your mother and I have decided that you're old enough to learn about anime. And as your loving parent it's my responsibility to take you to this casual, sit down restaurant and answer all of your embarrassing question about Goku. I know that you're going through a lot of changes right now — your eyes are getting bigger, you're getting glowing hair in places you used to have non-glowing hair — but it's natural. And having questions about it is natural, too. And maybe your friends have even filled you in a little about the birds and the beedrills, but I want to make sure you get the right information so you can stay safe out there. So now, before your feisty fajita bites get here and we have the most awkward meal of our life, let me tell you about the birds and the bees and the artistic merits of manga and anime.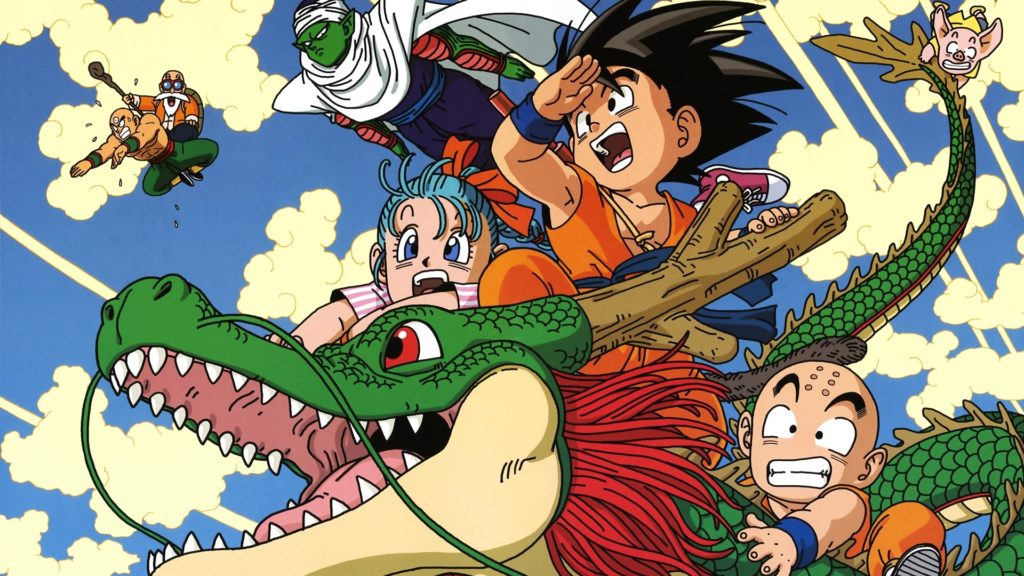 Book One: Dragon Ball
Akira Toriyama's Dragon Ball is probably a mixture of almost every mythology, starting with 16th century Chinese legends and then bolting on elements from Christianity, Native Hawaiian oral traditions, Western superhero comics from the Golden and Silver age, kaiju stories, werewolf legend… and so, so much more. I haven't even gotten to the vegetables yet.
Put more succinctly: combine The Monkey King with Superman, give him a puka shell necklace, and you get Son Goku, the main protagonist of the story and village idiot to the entire universe.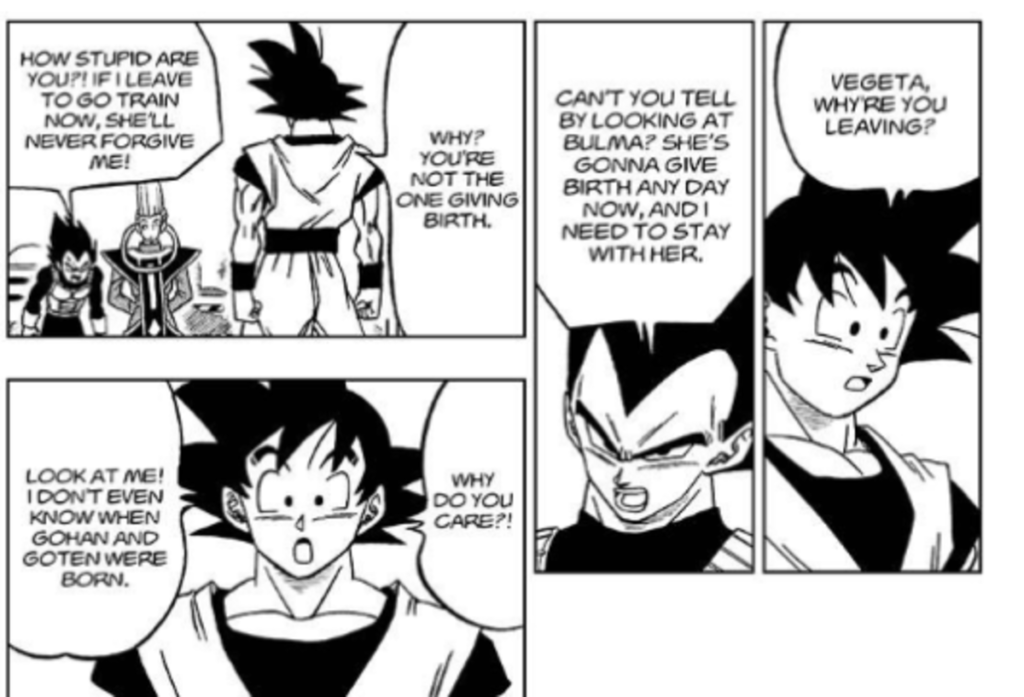 Goku isn't just stupid, he is powerfully stupid. Right from the very beginning, we are introduced to an infant Goku whose spaceship has crashed on Earth, depositing an insanely powerful infant who grows up to save/destroy/save the universe by collecting the mystical and titular dragon balls which, when combined, allow the holder to make a wish. A wish that is usually blown on bringing Goku back to life.
Now some of your friends might be trying Dragon Ball —
Support For Comic Book Herald:
Comic Book Herald is reader-supported. When you buy through links on our site, we may earn a qualifying affiliate commission.
Comic Book Herald's reading orders and guides are also made possible by reader support on Patreon, and generous reader donations.
Any size contribution will help keep CBH alive and full of new comics guides and content. Support CBH on Patreon for exclusive rewards, or Donate here! Thank you for reading!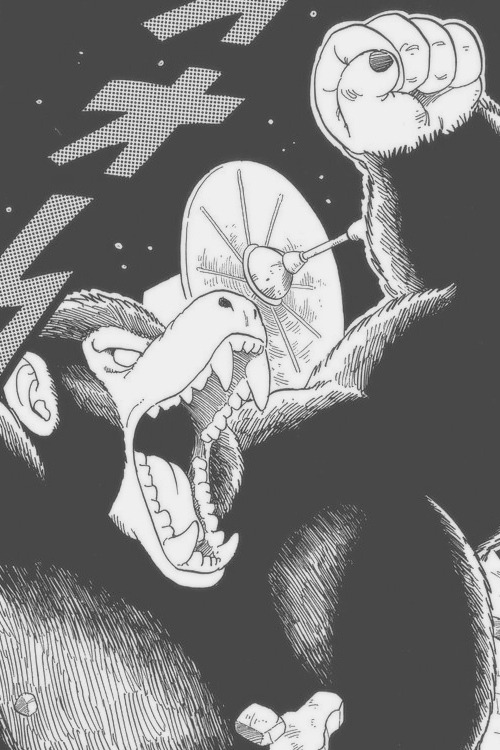 the mangas, animes, and even the OAVs — and they may be selling you with stories about how this is actually a sweet and humorous story about family. The kind you're born into and the kind that you chose. But this is a lie meant to obscure you from the truth about dragon ball, which is this:
Dragon Ball is about two things and two things only: Giant ape violence and waiting around.
For you see, Goku is not merely a wayward space baby and idiotic savior. That's just his day job. At night, he turns into a 40 story tall weregorilla. And naturally, it can shoot laser beams.
As the series progresses, Goku learns increasingly more esoteric kung fu, he is able to turn into exponentially stronger apes (some of which look conspicuously like aryan supermen). Like an allegory of addiction or puberty, these creatures attempt to destroy everything in the universe (from loved ones, to other space monkeys, multiple planets) to make room only for themselves and their endless hunger.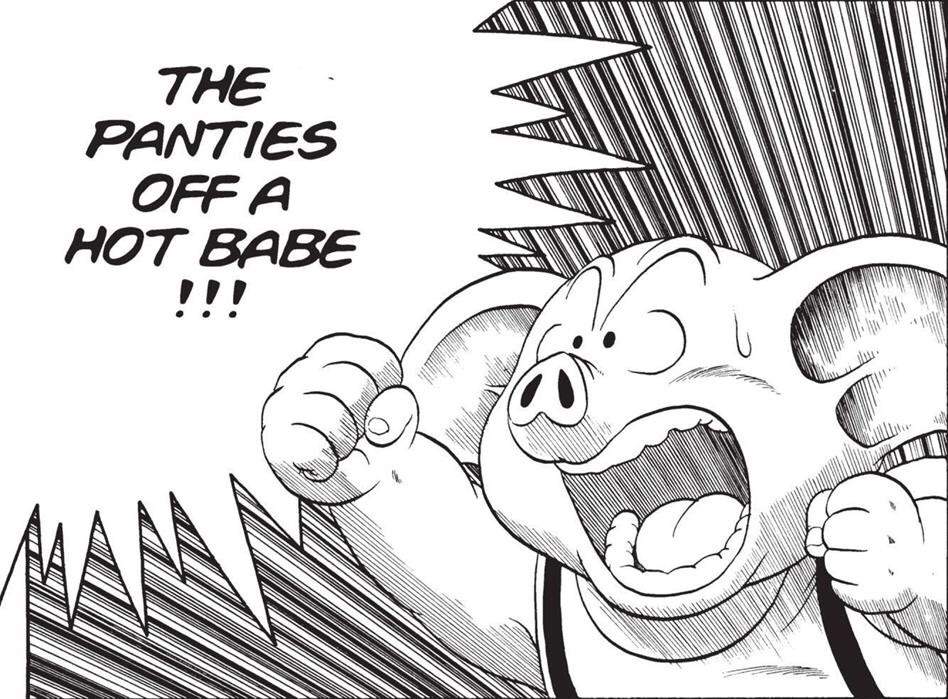 At no point does anyone do a good job of stopping Goku and saying "hey, buddy… we love you. You're a terrible husband and an even worse dad, but you do both in a kind of lovable, doofy way. Like an idiot savant of king kong fu. But look, buddy, you gotta stop turning into these giant monkeys. It's the root cause of every problem in this series and if you don't stop, Chi-Chi is gonna leave you for a pig. A literal pig."
But instead, everyone waits around for this space chimp to throw a fireball. Everyone — the other characters, the readers, Toriyama, everyone — just sits and wait in tortured spectatorship as this absolute simian clod laboriously sounds out the name of a Hawaiian king like he's a child delivering a book report. Except that report is an IED made from the combined life force of the universe.
We sit and wait just long enough to wonder why the target for that death beam is named after the Spanish word for "vegetable" or "radish" or something. Why vegetables? Why Spanish? Why is that dude named after an Italian wind instrument? Hey, how come that pig has a panty fetish in this beloved, children's classic?
The universe provides no answers; only monkeys.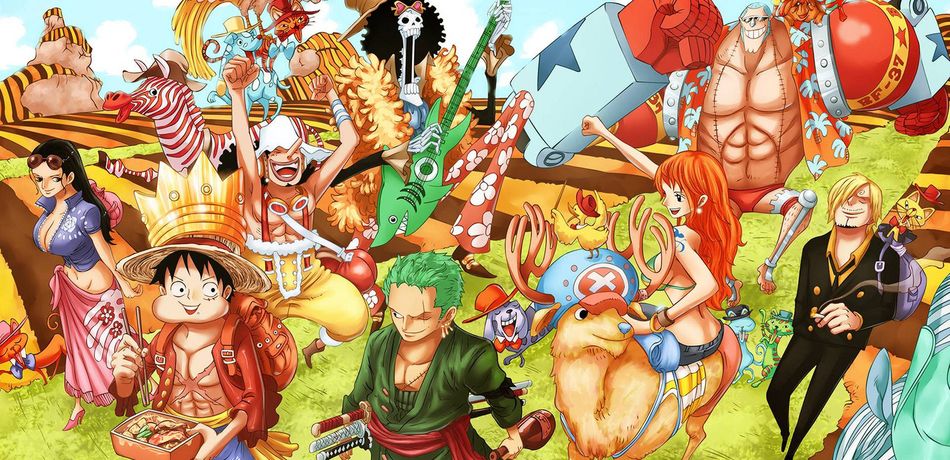 Book Two: One Piece
Eiichiro Oda's One Piece is the best selling manga of all time. It also draws a number of influences from Dragon Ball, having gotten its start in the Weekly Shonen Jump magazine with a story that's high adventure mixed with a ton of existing cultural influences (everything from naming a character after Zoro, to designing an enemy to look like Pennywise, to the protagonist's power being based on Western "squash and stretch" animation of Tex Avery and Chuck Jones)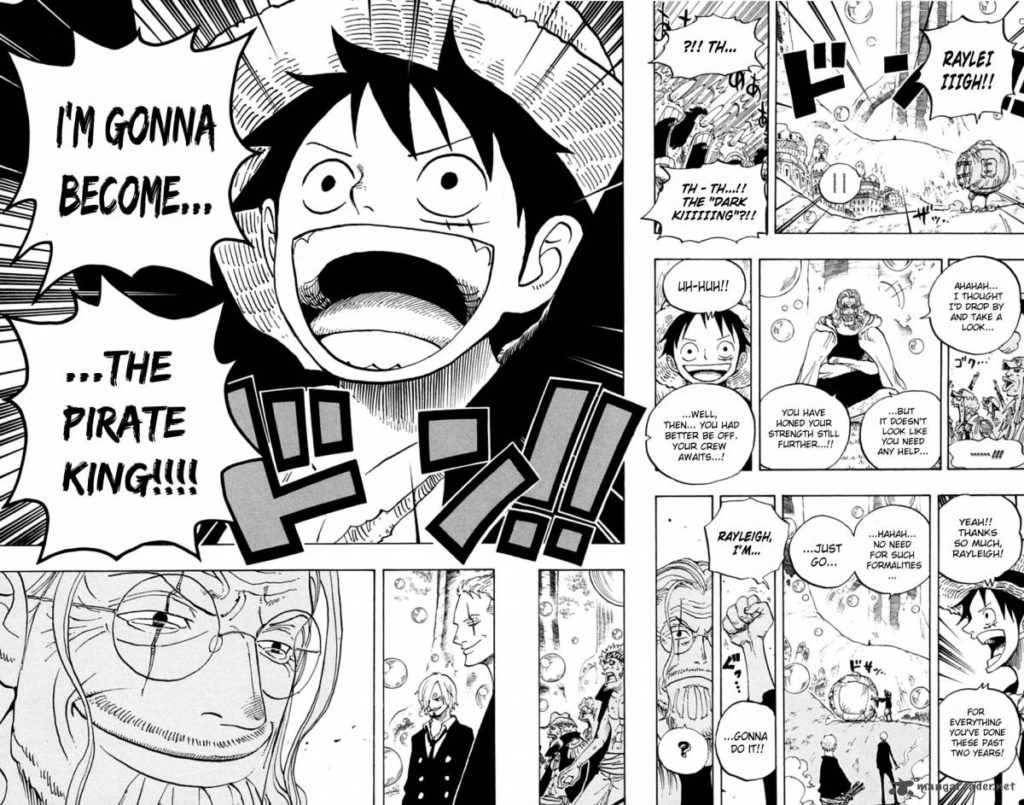 Everything is pirates in this manga. There's a Pirate King who creates an ultimate treasure (the titular "one piece" of gold treasure) that can, naturally, grant wishes. Everyone is after this, most especially our protagonist, Monkey D. Luffy. Like Goku, Luffy leads a rag-tag group in search of the magical McGuffin which. Unlike Goku, Luffy got his super powers from eating fruit in what I can only imagine is another homage to Dragon Ball and it's produce naming conventions.
Luffy gains the power of being rubber but loses the ability to swim (which is sort of a problem for a character who spends his life on boats with the ambition of being the next Pirate King).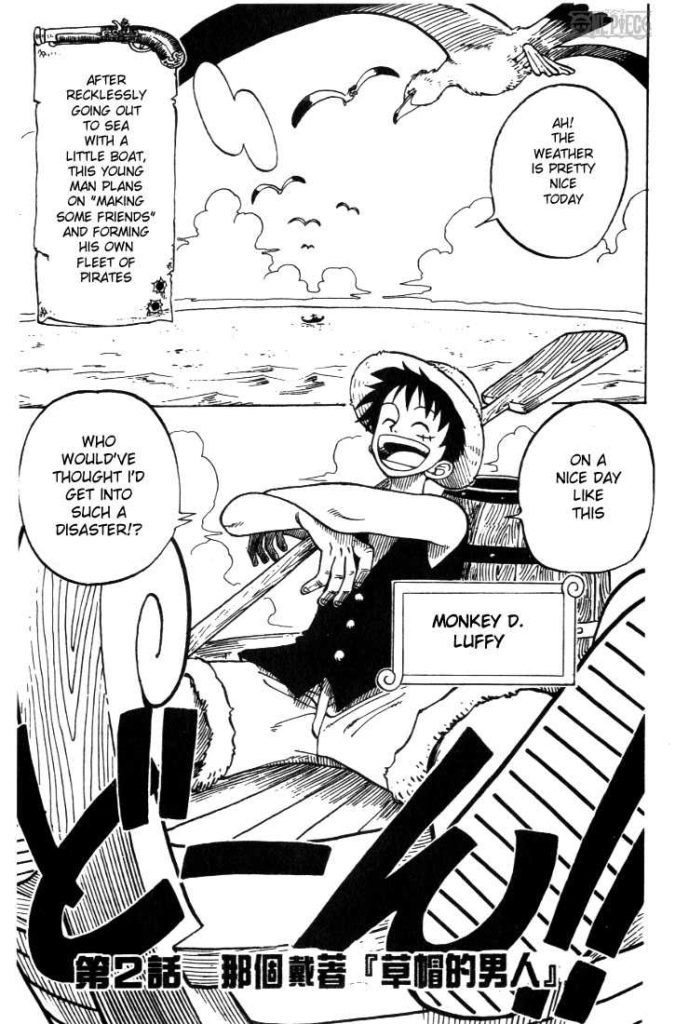 The last point of commonality for Goku and Luffy is a bit of a longer one. We're gonna talk about the necessity of stupidity.
Both Dragon Ball and One Piece are Shônen manga, a style of storytelling created specifically with young boys in mind. This style of manga focuses on adventure, excitement, slapstick comedy, and power fantasy. This can make the books fun to read and leads to some spectacular illustrations… but it tends to do so at the expense of character. Which you would think would be a problem, given that most stories (including those of most other forms of manga) get their narrative progression through characters who grow and deepen over time, marking the passing of chapters with love, loss, struggle, and maturation to go along with the fantastic violence and spiky hair.
Shônen doesn't bother with this. In fact, heavy character development would probably get in the way of the adventure. So instead, books like Dragon Ball and One Piece further the plot by making their protagonists the dumbest human beings to ever live. So stupid, in fact, that it only seems logical that they would fall ass-first into capers and intrigue. In fact, not only "capers" but both moments of improbable fortune and impossible doom.
Of course there are exceptions just as there are scant moments of maturation, but the majority of One Piece are setups that lead Luffy and crew to visiting islands famous for executing pirates. And while that decision seems improbable, it is equally improbable to the idea that the group would not only survive, but inexplicably benefit from the experience in surprising and unintended ways.
This is the magic of a stupid main character. It is also something your mother and I forbid you from doing. When you have your own job you can hang out with whatever pirates you want, but while you live under this roof you will obey your parents and the strictures of human biology.
 
Trope: Gluttony
The trope of food in general and gluttony in particular is found throughout Manga and Anime. It seems to be a signifier showing that a character is a simpleton who is ignorant of social interactions but somehow not entirely unlikable (or at least not irredeemable). The nearest Western analog is "slipping on a banana peel," which is used to show the audience that a character is inattentive, foolish, but not necessarily evil.
Strangely, gluttony often goes without punishment or reprimand where as the banana peel has its obvious, painful conclusion.
As to why this occurs, I've heard a variety of reasons ranging from it being a disruption of Japan's culture of ceremony, to it being a carry from folklore where thoughtless heroes would take food from starving villages, to simple memetics. Personally, I think that it's no surprise that gluttony appears most often in mangas intended for a youthful audience. That these heroes are meant to exhibit childish qualities, such as "eating their parents out of house and home," which is deeply inconsiderate and actually the second thing I wanted to speak to you about.
But first, you have to lie to the waitress and say you're twelve and that it's also your birthday. I'm not paying full price and I demand free cake.