Welcome! Historia is a brand new bi-monthly series that will be examining The Amazing Amazon's rich history. The feature will span the war-haunted Golden Ages in which she was forged, through the sweeping currents of The Silver Age, the shifts of The Bronze Age, the trials of The Dark Age, all the way to The Renaissance and The Prismatic Age of the modern century.
We'll be looking at and discussing the various influences and archetypal antecedents that underlie the Wonder Legend, the power of the conceits it upholds, the politics of the whole enterprise, the terrifying nature of myths and narratives, and how the character and property have changed, evolved, or even regressed. What is this curious little experiment that began under a polyamorous polymath psychologist that became an icon of the feminist movement and a vital corporate symbol? Let's dig in.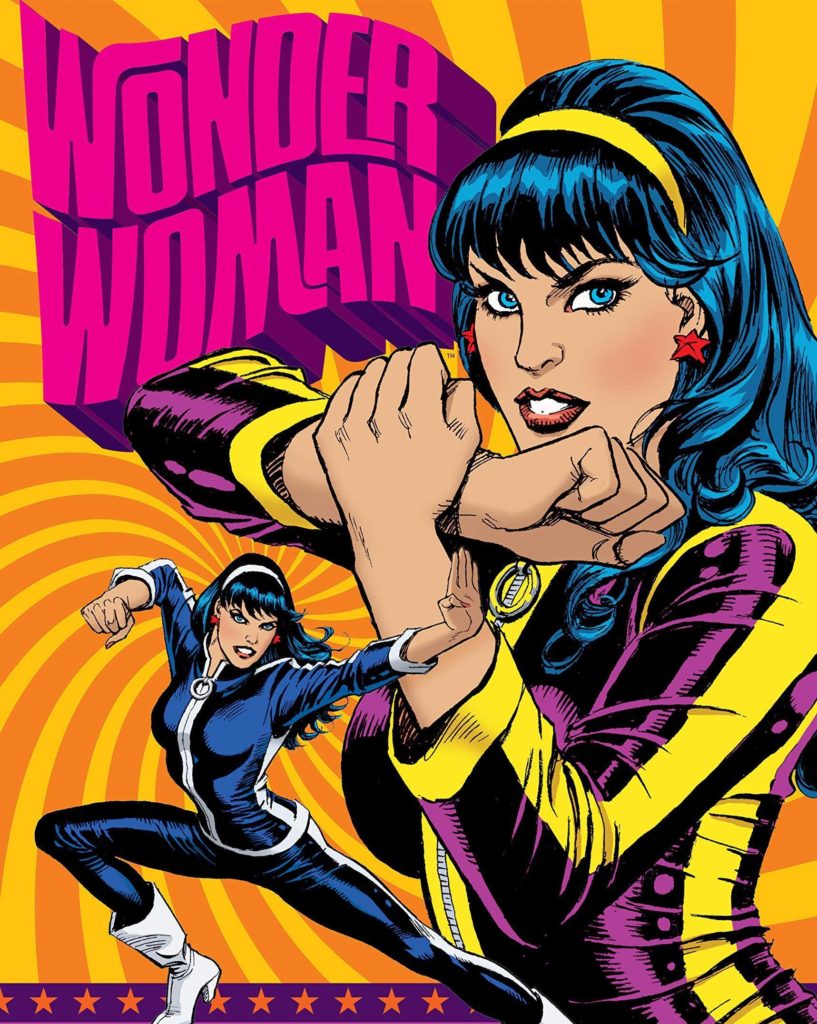 Save Wonder Woman from whom? Save her from what? – Wonder Woman #148
The Kanigher Takeover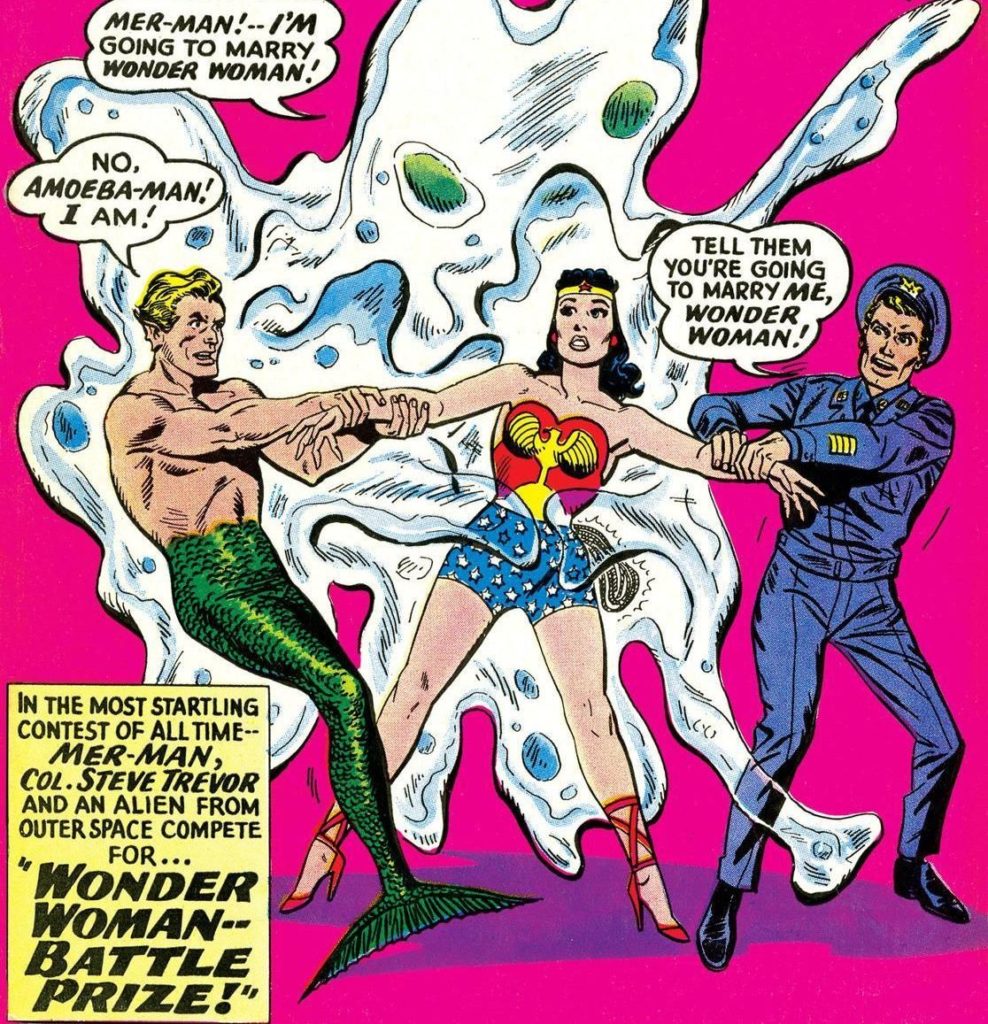 Perhaps no better image exists to sum up this particularly perilous period of Wonder History. William Moulton Marston was gone, taken away in 1947. The popularity of many characters particularly tied to the war was waning. After exploding onto the scene in the early 40s, Diana faced her greatest struggle yet. Not Villainy Incs or Men Of Mars, but the terrifying reality of being a character without any real direction or vision.
Robert Kanigher is a name you might be familiar with. After all, his work debuting Barry Allen in Showcase #4 is considered the very beginning of the iconic Silver Age Of Comics. But before that, Kanigher would go on to be known for two things over the span of his long career: War comics and Wonder Woman. Following the passing of William Moulton Marston, close family friend and the book's Editor Sheldon Mayer would take over, but realizing he just could not fill the shoes of his close friend he moved on. Kanigher was selected to be the new man in charge. Receiving Mayer's gig as Editor, but also Marston's gig as Writer, he would become the joint Writer-Editor of Wonder Woman. A position he would go on to have for over two decades.
Support For Comic Book Herald:
Comic Book Herald is reader-supported. When you buy through links on our site, we may earn a qualifying affiliate commission.
Comic Book Herald's reading orders and guides are also made possible by reader support on Patreon, and generous reader donations.
Any size contribution will help keep CBH alive and full of new comics guides and content. Support CBH on Patreon for exclusive rewards, or Donate here! Thank you for reading!
With the war-centric figures losing their luster, times were a-changing. 1947 may have marked the end of Marston, the great proponent of love and a champion of tales of love, but it also marked the beginning of something else: Romance Comics. Jack 'The King' Kirby and Joe Simon, ever-the-innovators, having done Captain America, had now moved on to forge something new and they'd created a whole new genre of comics. Just months after Marston's passing, Young Romance was out, bringing romance tales to the American Comics industry and public at large. And it was popular, romance was in the air and in this time of flux, Kanigher ceased the opportunity. Thus, a new direction seemed to be underway, as marked by the notable cover of Sensation Comics #94: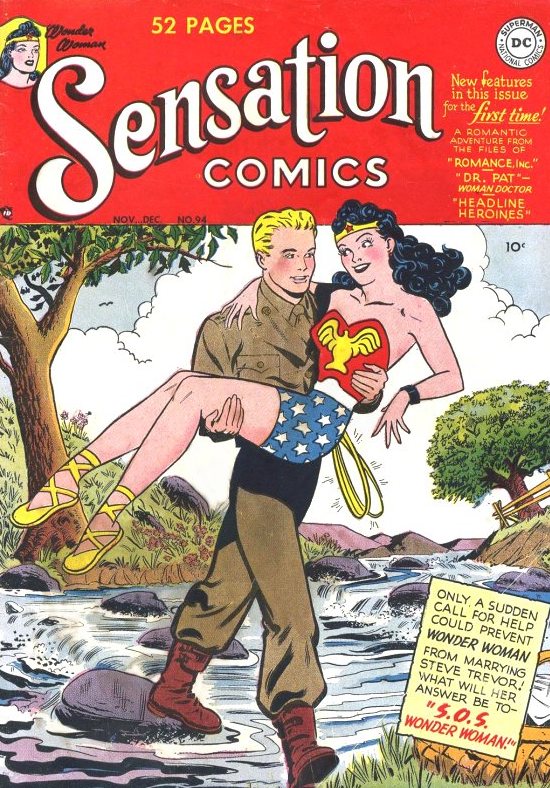 This image would be prophetic, the symbol of all that was to come and as apt a visual to depict the nature of Kanigher's tenure with Diana as any. If Marston's Diana was the woman who would hold Steve in her arms, here Steve was now holding her, as she looked at him in loving awe. If Marston's Diana laughed at the very ridiculous notion of marriage and particularly to a man, even as Steve pleaded with her and regularly proposed, Kanigher's Diana couldn't wait to get married. As the Blurb Box on the cover indicates, a lot had changed. The dynamics had fundamentally been shifted. All the radical power and purpose of Marston's vision, down to the sheer iconography and imagery, was thrown out.
Many assume, understandably and reasonably, that the fate of Wonder Woman in The Silver Age, with all the marriage obsessions, was a result of The Comics Code Authority. And while The CCA deserves blame for a great number of things, Kanigher's Wonder Woman was long headed down the road of conventional sexism and marriage obsessions before they ever popped along.
Kanigher had heard from a number of folks that the cover displeased Elizabeth Marston, which is very understandable, for a plethora of reasons. He took her out for lunch, but being classy as she was, she didn't breathe a word of her complaints. These were different times. The cover was a symbol of that, as it marked the first time someone other than Harry G. Peter, the co-creator and artist of Wonder Woman, had done a cover for Diana.
By the time we entered the 50's, Kanigher had all but nuked Etta Candy and The Holliday Girls, Diana's chief supporting characters and cast of women, out of the book. They had a very clear purpose and reason to be, but Kanigher certainly didn't see it that way. As he once put it, 'Etta Candy! Jesus Christ!'. Etta and The Holliday Girls would never really recover from this massive blow by Kanigher and to this day remain thrown out, with little to no relevance granted to them. As another telling sign of where things stood, the legendary Wonder Women Of History back-up series was replaced with Marriage a la Mode, which was all about the various wedding practices around the globe. Gone were the educational historic comic lessons about great women, real life role models and great achievers to aspire to. In were teachings of marriage, because conservative and backward nonsense is easier than the radical progressive beliefs embodied in the Marston Era.
And so a new era was underway. Desperation was high, as Sensation Comics' sales were no longer doing so hot. Everything under the sun was tried, from Diana selling newspapers and being presented as a model to declarations of Diana's ascension in Hollywood, almost as if in declaration of aspirations, following the path of her peers Batman, Superman and Captain Marvel, who'd all made it to screen by that point. But it all proved to be futile, as by 1952, Diana would lose Sensation altogether, thrown out of the book she once held and built with her iconic power. Instead, Sensation was to be anthology of other characters and story ideas, in desperate hope that something would catch on. Various creators, from John Broome to plenty more, would make an attempt to get a hit. But as it chugged along now as a mystery and horror tales book, it would finally meet its demise in 1953, marking the end of the remarkable legacy Diana spawned. The death of Sensation, this book built by and off of a feminist icon, was to be almost exactly a year before the formation of The Comics Code Authority. If that isn't a sign, what the hell is?
The Silver Age Strikes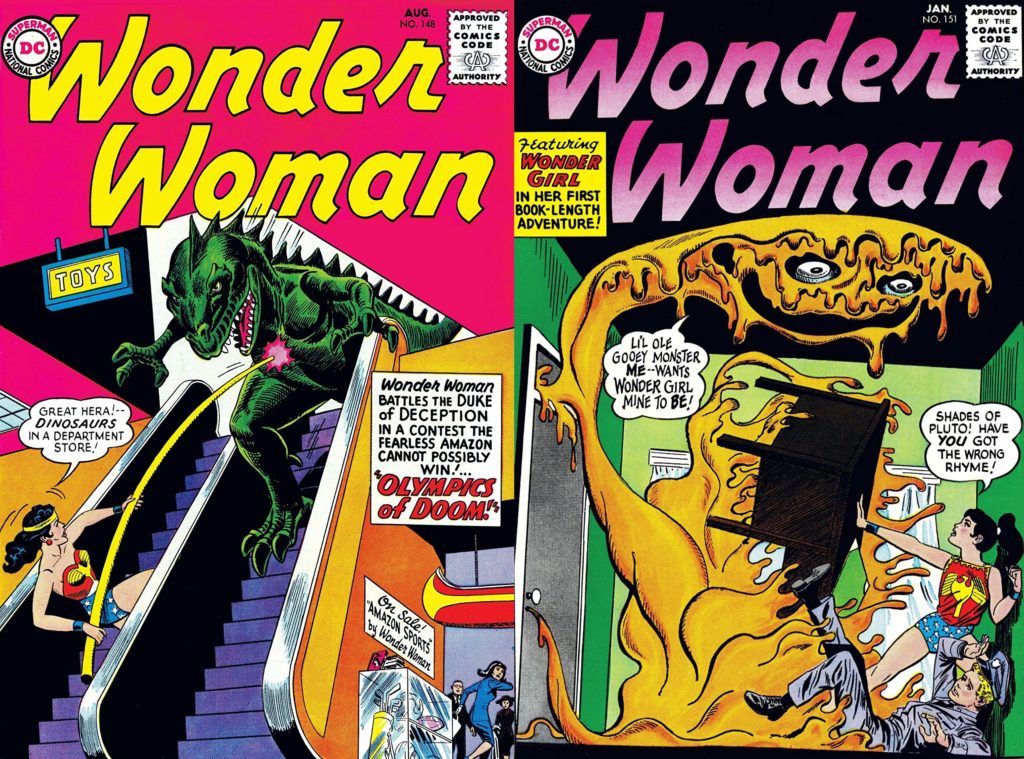 In 1954, the dreaded, sickly menace of Frederic Wertham finally made it big. His book Seduction Of The Innocent struck like lightning, finally burning things up the way Wertham had long been campaigning for, both figuratively and literally. A psychiatrist who was surprisingly progressive in only one regard, his treatment of black patients in a time when almost virtually no was willing to, Wertham was regressive and backwards in all the others. The irony of a man who was progressive, in this singular sense, in reality by actually helping many real people of color, being this raging, repressive conservative losing his mind over funny-books is, of course, massive. But nevertheless, his legacy, what he's ultimately remembered for, is more his irreparable damage to the American mindset than anything else. The perception of comics and the stories that were and could be told in the form for decades are very much a result of his actions. He came in and strangled the living hell out of this medium and its potential to tell stories.
Wertham drew from and was certainly influenced by Freud, much like William Moulton Marston. But the two men couldn't be more different in their beliefs, views and conclusions from said influences. And so, when Wertham made his campaign against comics, he went hard at Marston's Wonder Woman, which he accused of having lesbian overtones. He lost his mind over The Holliday Girls, who he dubbed 'gay party girls', not realizing that the poor girls hadn't appeared in a comic in literal years, thanks to good ol' Robert Kanigher's brand of forward-thinking storytelling.
In any case, with a paranoid, conservative America burning comics and accusing them of corrupting and harming their nation's youth, things changed. The Comics Code Authority was formed (by raging racist Charles F. Murphy, who'd basically wreck EC Comics for daring to publish tales of a black man). Things got tighter, stricter, more white, more conservative, more bland and soulless. Art had to be submitted to committee and not just any committee, but a committee to whom white supremacy was sacrosanct, to whom law and authority couldn't ever be questioned or ever portrayed in any manner of wrong or doubt.
And so if Kanigher was already tearing up the radical ideals, beliefs, iconography, teachings and ideas of Wonder Woman, the CCA just helped cement that and pushed it even further. Thus came a storm of terrible tales, built around the desperation for marriage, as Diana pined and dreamed for marriage and tried to win over the love of Steve Trevor in the form of Diana Prince over Wonder Woman.
Now, in fairness to Kanigher, here are some positive notes: he did attempt to deal with Diana's ability to solve problems without a need for violence by often having her demonstrate her powers or challenging someone to a contest of sorts, which is a reasonable approach. And he would be the one to grant her the now iconic ability of flight, which Marston's Diana, who needed a plane, did not have. But that's kind of where the positives end, really.
Kanigher, marking another big, key shift let Harry Peter go, bringing in Ross Andru to take his place as artist. Andru is a lovely, lovely artist, but nevertheless, it was the last light of that old team being snuffed out. And the following year, Kanigher decided he needed to rewrite Diana and The Amazons' entire history. And so he did in 1959's Wonder Woman #105, The Secret Origin Of Wonder Woman. And this story is…deeply telling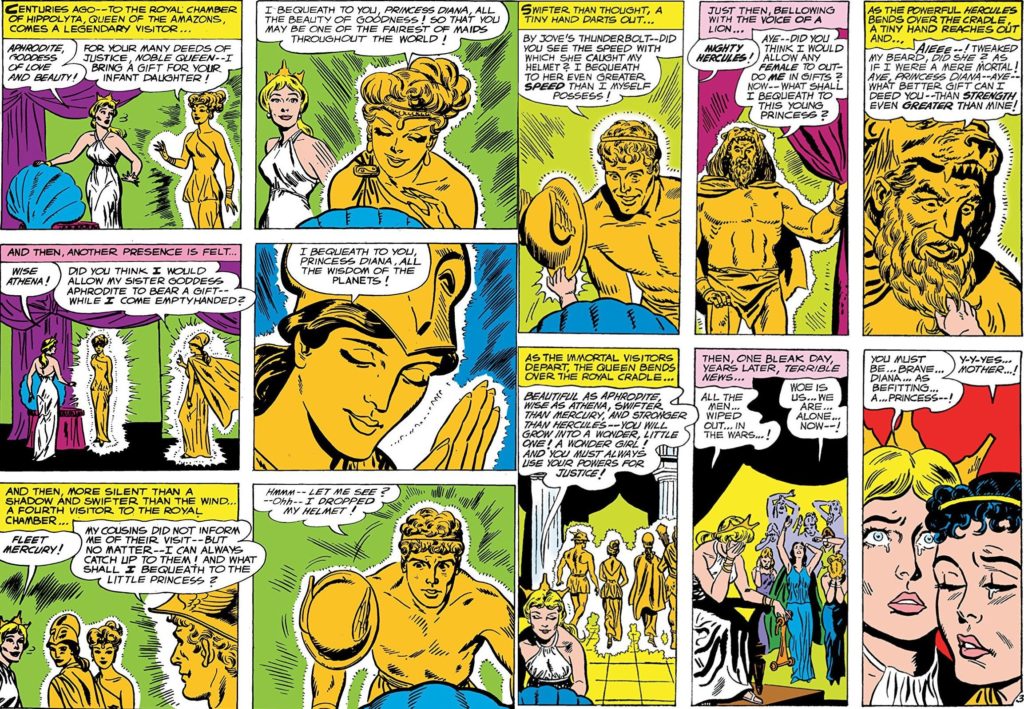 Instantly, Kanigher throws out virtually everything Marston/Peter for something else entirely. Diana is a product of queer conception no more, this child of two women, this result of parthenogenesis, but just a generic girl, who is granted gifts by divine beings. And here, the entire backstory is…wildly rebooted. Hercules, who was a monstrous misogynist, who enslaved and assaulted Lyta and all these women, is now suddenly a cheery good guy, showing up for Diana's babyshower to play with her and grant her the gift of super-strength. Gone is the powerful story of these women breaking their chains and sailing away from the nonsense of Man's World to form their Paradise Island, instead here it's just 'oh no, all the men have died in wars, leaving only the women'. Following that, the women all sob, literally, as the above images display 'Woe is us…we are…alone now!'.
The tale of female empowerment is twisted and warped into that of women sobbing over the deaths of men and being sad that they're alone and men aren't there. The super-scumbag who's done all these terrible things against women is painted as a lovely, good ol' fella, who's invited to babyshowers and hasn't done anything wrong. The only way to describe this whole affair is 'vile', in how it takes a powerful, radical, subversive myth and strips it of all its power and empowerment, all its criticism and warps it into something dreadful. It's a parody of all that Wonder Woman and The Amazons are and were. And the immediate response reading it is just plain disgust. It is absolutely the most definitively Post-CCA comic in existence and the most Kanigher comic to ever Kanigher.
The history of Wonder Woman is a history of many men coming in and missing the entire point, disregarding or not seeing the criticisms and lessons of empowerment offered and trying to make it more appealing for other men, by trying to paint the men in a better picture, whether by cleansing away their wrongdoings, like above, or twisting and warping the Amazons to try and make the case of 'see? these women are really bad too.'. And while the latter hasn't yet happened, it's worth keeping in mind, because Robert Kanigher is nothing if not the start and absolute poster child of the problems and issues that will go onto plague Diana from here on out.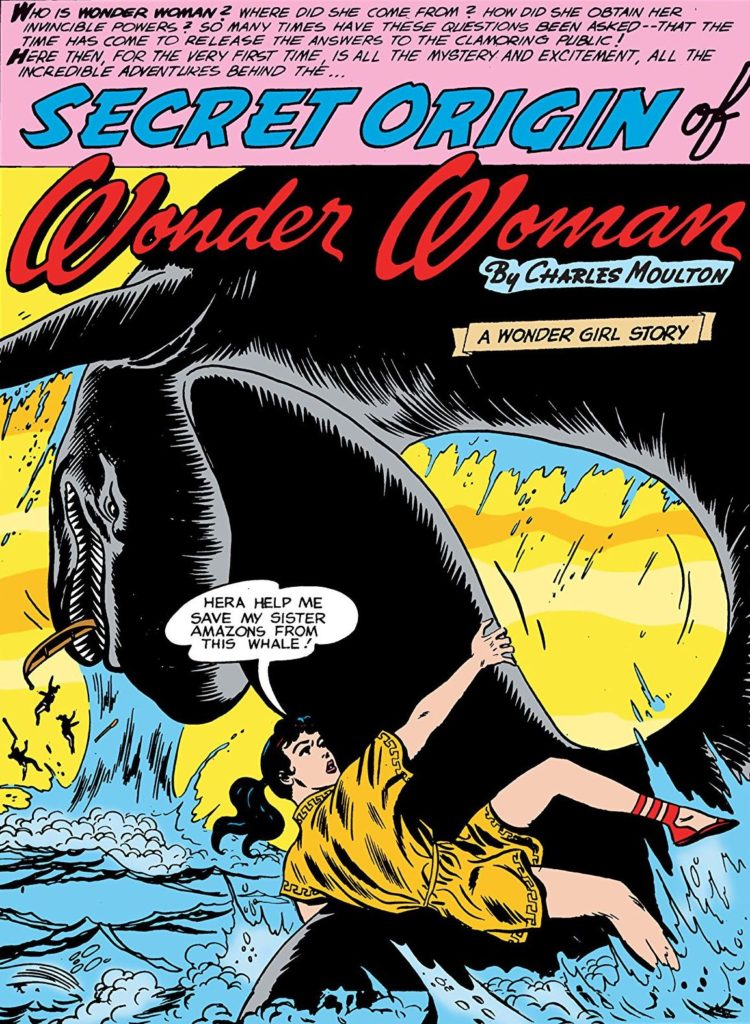 But what does come of this story is a thing most will likely be familiar with: Wonder Girl. Here, rather than The Amazons sailing away on their own, tired of the messes of Man's World, after all the men have died in wars and the women are sad, young Diana builds a ship and steers them onto the isle that will become Paradise Island. Now, if you're confused, since Diana is always born on Themyscira/Paradise Island, well, you're right to be. The story's an absolute mess that lays bare all the weaknesses of this era and Kanigher's Wonder Woman.
From there on, as The Silver Age was firmly underway, with Diana now on the newly formed Justice League (by Gardner Fox/Mike Sekowsky), Kanigher would double down much more, as has been evident consistently here, on aping the success of Superman comics. So having done the Clark/Lois stuff, done Superboy via Wonder Girl, he decided to go a step further and make Wonder Tot, the toddler version of Diana, who'd only do Baby Speak, like some bizarre being dreamed up by George Lucas. Thus Kanigher made up a whole 'Wonder Family', ala Super Family, in a whole slew of 'Impossible Tales', with Lyta as Wonder Queen, Diana as Wonder Woman, Wonder Girl and Wonder Tot.
Following this, the confusing mess, of how all this fit together at all (it didn't) or worked in the slightest (it didn't), The Impossible Tales banner was taken off the stories, as Kanigher just shrugged. And there's something oddly, deeply charming about this, the sort of 'I don't care, figure out your own explanation, I'm just here to kinda screw around and have fun doing it.' approach. There seemed to be a sort of 'Is it neat? Then that's all I need' belief to some of this, which, fair enough. Some of the grandest and best DC Comics have emerged from that, particularly Bob Haney's Brave and The Bold during this period. But this particular Wonder Girl mess between Kanigher and Bob Haney (on Teen Titans), would ultimately lead to the creation of Donna Troy down the road.
But as for Diana as Wonder Girl herself, she had everything from her own kid WW outfit to a kid boyfriend in this very evidently post-CCA world. Gotta assert as hard as possible that the character is as straight as possible. The aforementioned kid boyfriend would be, of course, Mer-Boy. And then, as if out of a trashy romance manga, a rival would appear in the form of Bird-Boy. The escalation here didn't stop, as you had teen Steve Trevor pop up. All this finally clicked somewhere for folks and there was a boost in popularity, propelling Wonder Girl higher and so these tales of people pining after Diana, these romantic rivals, all got folded into the Wonder Woman era as well, as the very first image in the essay here demonstrates.
Now, while Kanigher was deeply regressive and sigh-worthily depressing to read on Wonder Woman, it isn't to say he didn't have fun ideas on the title. He did, as some of the above displays. Were most of them largely bad or at least executed plainly terribly, like someone trying to cash a paycheck? Sure. But there is a sense of 'Well, why not?' that is indicative of this era of Wonder Woman, the flip-side of the foolish regression and lack of direction, with weakening sales, meant you had every issue basically spit-balling whatever, within a set pattern and formula, to desperately try and grab any possible attention and interest. And so you had DINOSAURS IN A DEPARTMENT STORE, Mouse-Man, Paper-Man, Wonder Woman as a Gorilla, a weird Crimson Centipede, a weird alien blob that consumed musical records and used their lyrics to try and woo Wonder Girl, with whom it had fallen in love with, so on and so forth. The sheer clickbaity 'Please read this comic' desperation was louder than any CBR listicle you could come across.
But let's not forget, this is Kanigher, so you also get…Egg Fu. But perhaps the most indicative of the Kanigher brand of The Strange and The Stupid is this well-known cover:
In a fairly ridiculous story, Diana was set to marry a vampire-esque monster man, with everyone gawking at the sheer bizarre nature of this and why Wonder Woman of all people would want to marry this monster. It's a story that decades and decades later, Keith Giffen (alongside Bilquis Evely and Ivan Plascencia) would do a follow-up sequel to and reference in his 2015 Sugar & Spike (amusingly a Sheldon Mayer creation) reboot, if only to solely take the absolute piss out of the whole affair.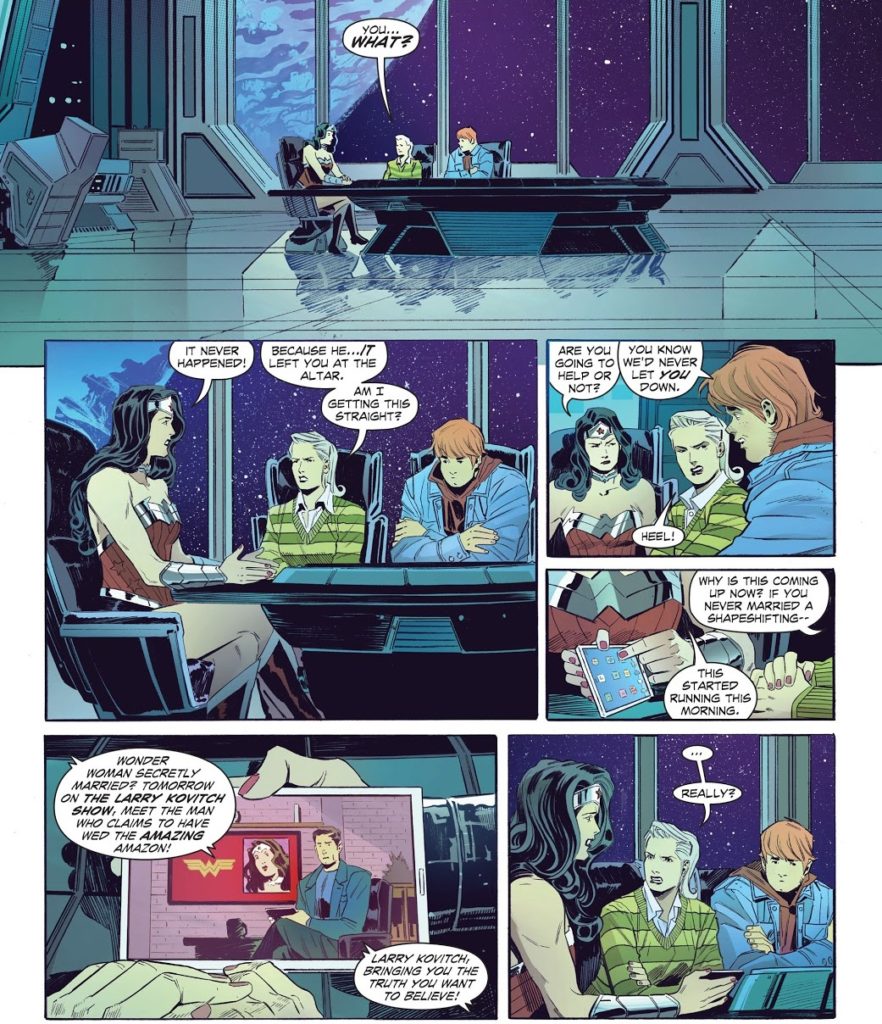 In any case, by the late 60's, Kanigher was merely coasting along, having tried everything from aping Marston and Peter stories, dictating his artists imitate Peter to showcasing his angry haters in the fandom as a mob in the comic. It was evident his time was over. Regime change happened at DC and the new Publisher Carmine Infantino, took the book away from Kanigher, handing it to Jack Miller instead, a man known for romance comics within DC at that point. This meant Kanigher could finally do what he'd always liked to do, preferred to do and wanted to do anyway, really, as he just went back to his beloved war comics. Sgt. Rock and the rest were waiting for him. While I can't speak to the skill or quality of his war comics, it can be agreed that this separation was best for both Diana and Kanigher. They never really were for each other.
Kanigher's era was defined by its Wonder Family, the flight, the gifts origin, the wacky, attempts at the bizarre (and not in the good Marston/Peter way) and campy that didn't always land, even if there were fun notions in there. Now a new era awaited, with a brave new team. Denny O'Neil had entered the picture.
A Bold New Wonder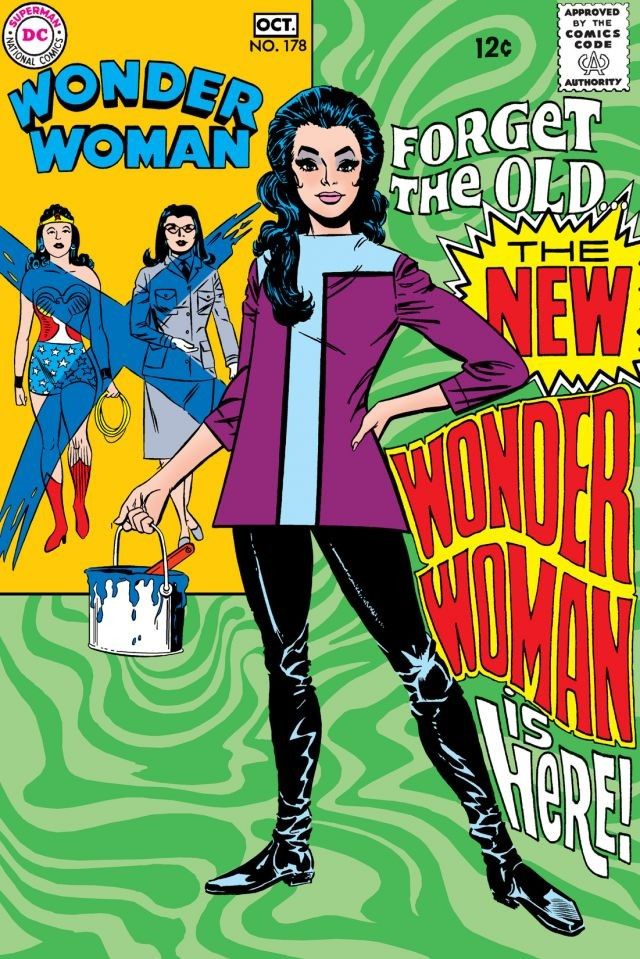 What they were doing in Wonder Woman, I didn't see how a kid, male or female, could relate to it. It was so far removed from their world. I felt girls might want to read something about a super-female in the real world, something very current. So I created a new book, new characters, everything, I did up some sketches and wrote out some ideas. – Mike Sekowsky
Infantino's new team of Dennis O'Neil, Mike Sekowsky and Dick Giordiano was a hell of a line-up. O'Neil was a hot new up-and-comer, straight out of the Marvel School of comicking, preferring the grit and grime of realism over anything fantastical. A man who would go on to complain about the hardships of writing Superman and give Chuck Dixon the Bat-World, while trying to refute Grant Morrison's JLA, because Batman should be 'grounded' and Batman on the moon is too much. Sekowsky, a veteran legend of the field, who co-created and launched The Justice League, was a master. He could do style as well as anyone and he was a pro with a mastery of human anatomy. He's drawn Diana quite a bit for Justice League Of America, alongside Gardner Fox. Giordiano was a legendary inker.
Sekowsky had plans for a new book entirely, as the above quote indicates but was told he was now on Wonder Woman and all his ideas would be going into Wonder Woman. No new character or book, just do it with Diana. And he wouldn't be writing or editing either, like he'd hoped and his ideas were tinkered with a lot, finally producing what we now know to be the new Mod Era of Wonder Woman.
Kicking off in 1968's Wonder Woman #178
, the new direction and concept was Diana stripped off all her super powers, in order to just be a regular mortal gal. A very O'Neil idea, given his penchant and obsession with 'grounded' and 'realistic'. And so you had the Amazons and Paradise Island be taken away, off to an alternate dimension, their magic and power all exhausted now. Thus Diana would stay behind, on Earth with Steve, letting go of her powers via a bizarre ritual. Except…O'Neil would kill Steve off in the next issue, effectively culling away the last and only remaining part of Diana's supporting cast. Everything recognizable about Diana was thrown out.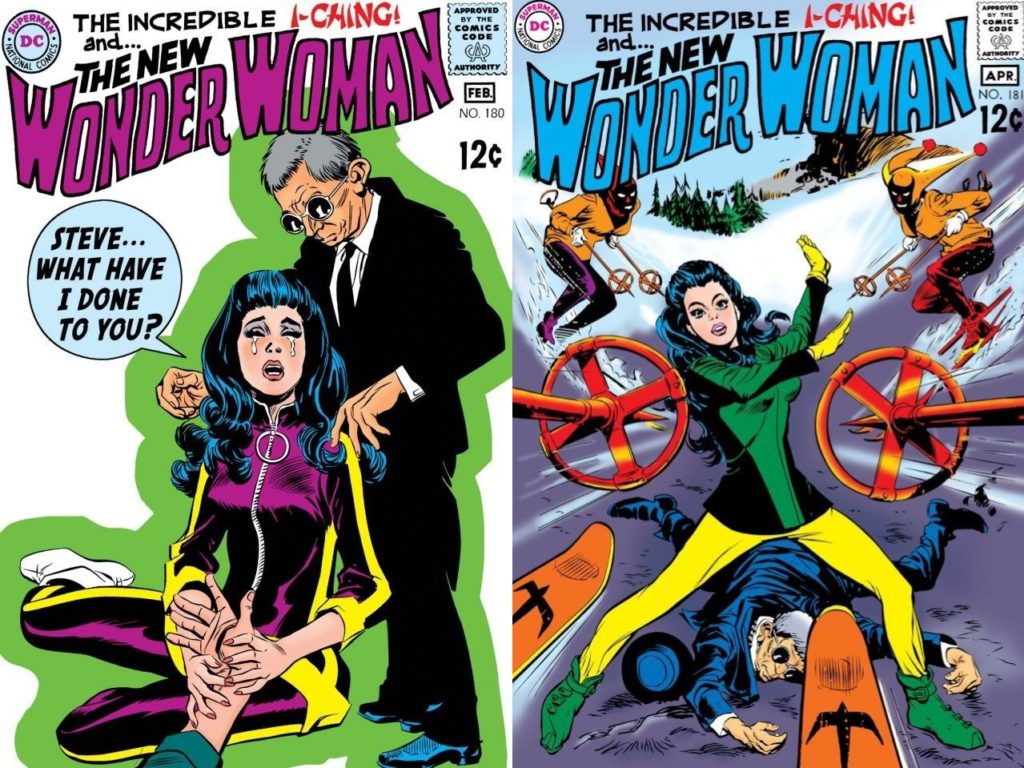 To make up for this, O'Neil would invent an old asian mentor for Diana by the name of I-Ching, a dreadfully poor choice for a name given the nature and stature of the classical Asian text The I-Ching. Ultimately, the goal, especially via Sekowsky's artwork, was clear and evident–Do Diana as, effectively, Emma Peel from The Avengers, an old but popular British TV Show of the time. The end result was very much that, but another way of framing this for those unfamiliar with such references is, to be slightly reductive, this was very much The James Bond era of Wonder Woman. It was her as a super martial artist, training from an even better one, while being a globetrotting super-agent facing secret organizations. And that almost Bond-esque setup and aspect tracks and makes sense, too, given we all know of O'Neil's revitalization and approach to Batman with Neal Adams.
But something interesting was happening here. Mike Sekowsky very quickly, by the sixth issue in fact, became not only just the Editor but also the Writer of the book, whilst being the Artist. He kept building on what had been laid out, while revisiting The Amazons, too, going against the O'Neil approach. The principal figure and threat for Diana, was of course, fittingly a Bond villain. Doctor Cyber, as she called herself, might as well have been leading Spectre. She was a very, very 70's antagonist and the way it played out, she was sort of a Moriarty figure, this head that would keep on coming, for Diana. The whole status quo had found a fandom and sales had risen. There was a genuine style to the book, with Sekowsky's gorgeous people, who looked beautiful and dressed in the most fashionable clothes, to the psychedelic backgrounds and interesting layouts. The book had a personality that it never did under Kanigher for years, despite all the flaws it suffered from. But in the end, there was also massive backlash.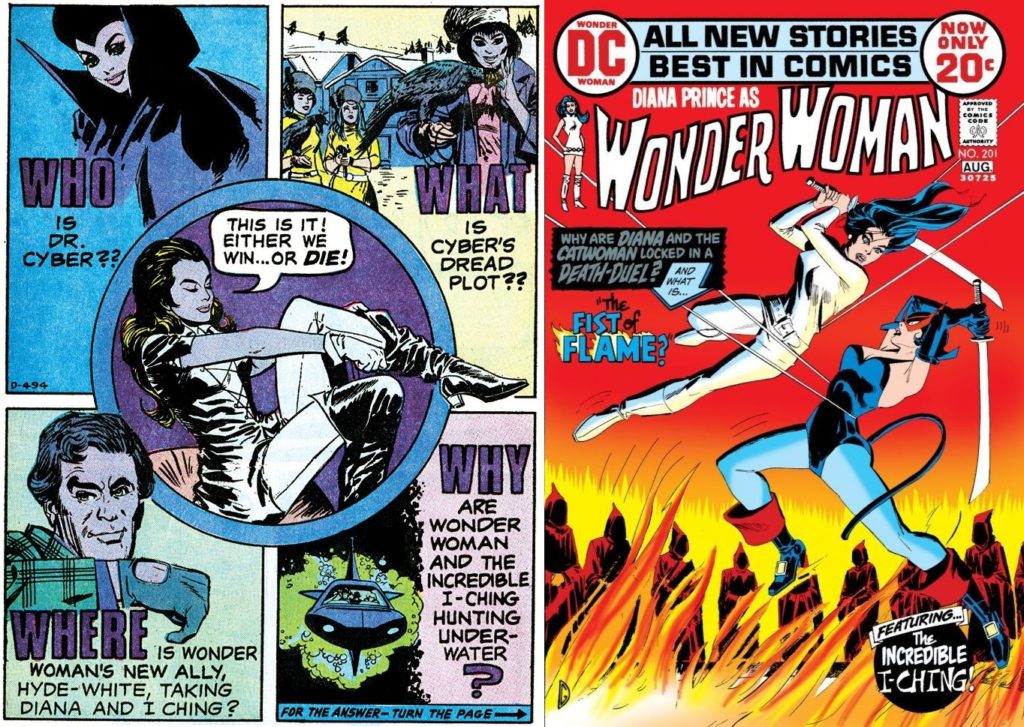 Feminist figure Gloria Steinem's magazine Ms. had arrived in 1972, featuring a gigantic Wonder Woman on the cover in her classic costume, as a Marston reference screamed at any reader WONDER WOMAN FOR PRESIDENT. Diana was becoming a bigger feminist icon at this point, especially as Steinem had grown up with Marston's Wonder Woman and was a big fan from childhood. She became the symbol of women's liberation and the movement that was quickly growing larger. In it, an essay by Joanna Edgar titled 'Wonder Woman Revisited' examined Diana's history and drew sharp criticism at a lot of the changes O'Neil and Sekowsky had made, depowering the character, stripping her of her strengths. Following this, a new collection of 13 original Marston WW stories put together by Steinem, with an introduction by her, came out, offering a sharp contrast to the current work being done, as more criticism was levied. In in the end, it seemed the era's time was up.
O'Neil would return to the title when it arrived at #200, to wrap up the narrative thread of Cyber and would make one last go at things by hiring acclaimed science-fiction writer Samuel R. Delany, who luckily happened to be a neighbor, but it would all be for naught. And that's a shame, as Delany's work here was progressive and interesting and thoughtful. The last two issues of the status quo are a really interesting feminist take on the character. On the whole, while the era stripped away a lot of what made Wonder Woman recognizable, it also expanded the potential and possibility of the concept.
What can't Wonder Woman do?, it almost seemed to ask, by the very nature of its very existence. It proved the resilience and fundamental, foundational strength of the core concept and in the long run, would help add a neat, distinctive chapter to her history. It would display the diversity of Diana's life and bring some really interesting, fun new toys and ideas to the table. While it threw away or broke some toys, it also added things that feel like they expanded Diana's horizons and world beyond the rut her book and character had fallen into for ages. Even visually and in terms of sheer aesthetics, there was wild innovative stuff. Take a look: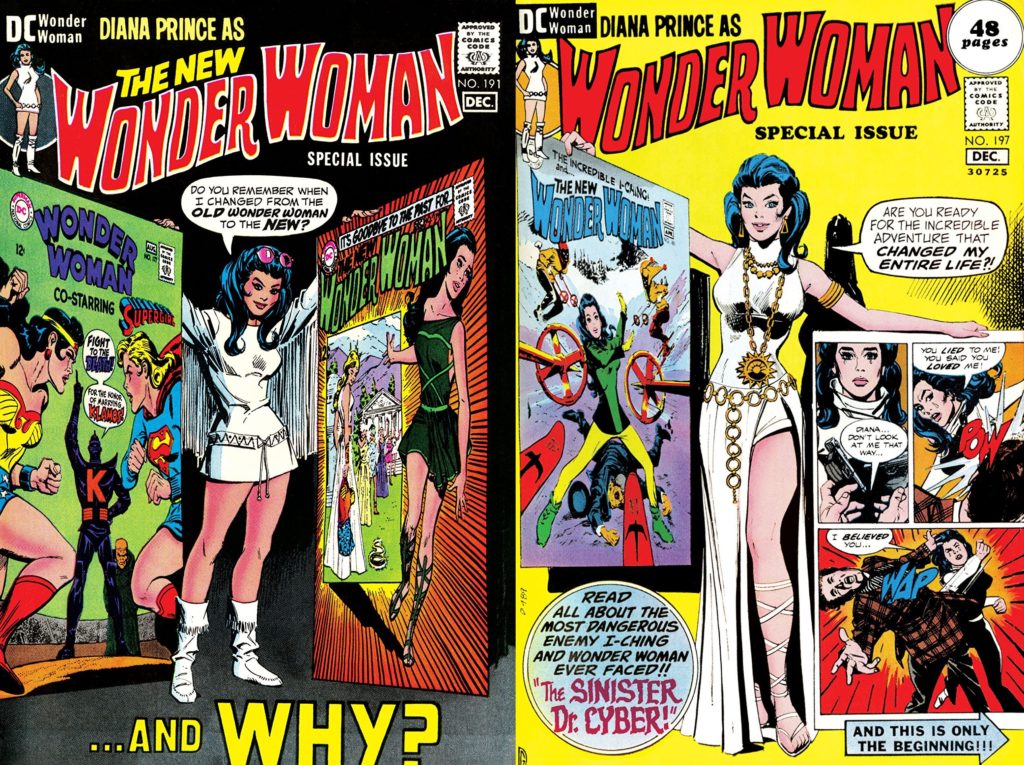 Sekowsky was magnificent. But in any case, the criticism was understandable and O'Neil regretted the whole affair. And so, as demand for 'The Original Wonder Woman' grew bigger and louder, finally, she was set to return, in 1973's Wonder Woman #204
, a year after the publication of Ms. 
But this was no celebratory occasion or moment of joy, this was a horror approaching. A nightmare returning. Dread it, run from it, Robert Kanigher arrives all the same.
The Kanigher Strikes Back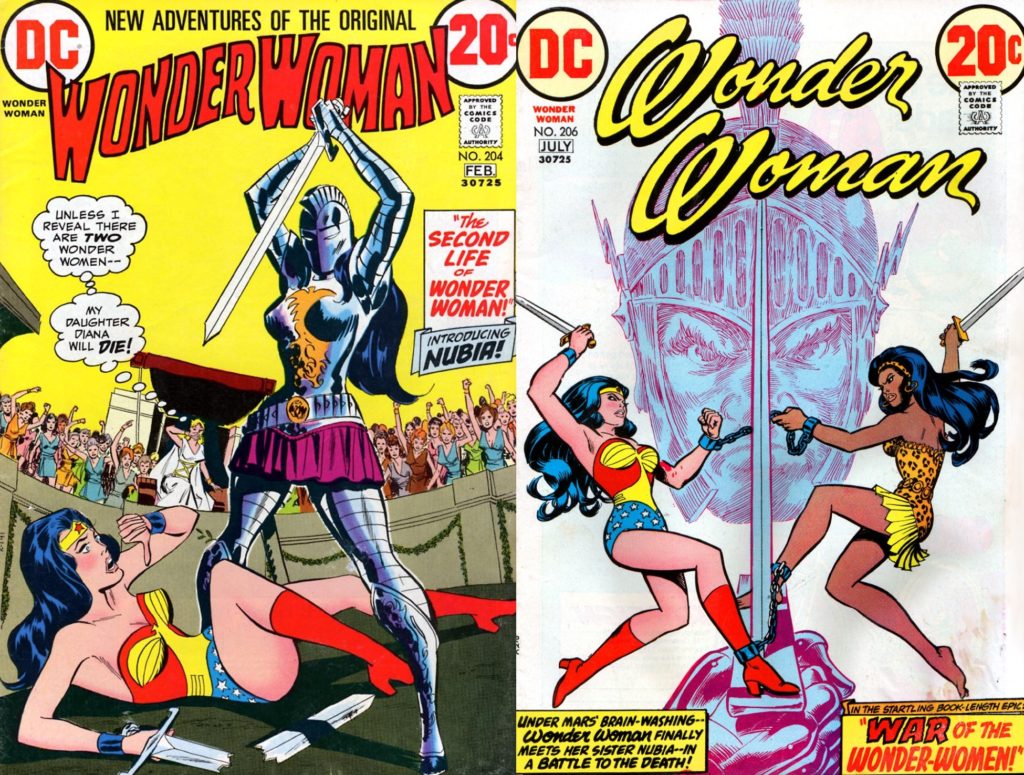 That the feminist outcry and pushback, the call for a progressive, classical Wonder Woman led to the return of Robert Darn Kanigher is maybe the most saddening and tragic thing. The poster child of WW problems and regressive politics and views, he was brought back to 'fix' things, when Delany had in fact been doing some terrific feminist, progressive stories. And of course, Kanigher Kanighers it up to hell with his first story being built on the premise of 'Evil Black Wonder Woman named NUBIA', which…yeah….yeah. It's kinda like watching The Last Jedi be thrown away for a Rise Of Skywalker, albeit with vastly different fan dynamics. The outcry culled the promise of a thing and the conservative powers that be responded with the worst possible thing, leading to an awful outcome.
And so Kanigher kicked things off, with an insane sniper character shooting the living hell out of any and every character he wanted to get rid of, didn't care about and had to throw out. So I-Ching? Yeah, he bit the dust. But notably, the first victim of the shooter is…a woman's magazine editor. Yeah…yeah, that's Robert Kanigher for you, folks.
If you've ever wondered 'Why isn't Wonder Woman's Silver Age talked about all that much in the way other characters are? Why isn't it collected?' Let all this help answer the questions of your soul. Predominantly, it's mostly awful, with few exceptions, written by fill-in writers. While Marvel was having its renaissance, with Jack Kirby doing Thor, Hulk, Fantastic Four, The Avengers, The X-Men, Black Panther and plenty more, while Superman was being reforged by Otto Binder's wild hurricane of ideas, while Green Lantern and Flash had the brilliantly weird and charming John Broome's innovative talents to do seminal work, while even Batman got some neat Bill Finger stories and even Green Arrow made off with some scarce Kirby stories, poor Diana was stuck with Robert Kanigher for, literally, 20 years.
Two decades. That's a lot of time. That's a lot of damage. And even when other voices finally came in to do something, however different or new, the backlash culled that and brought him back again to the point, once again putting his influence all over Diana. (If you'll notice, it's why the only real collection of Silver Age Wonder Woman is this stellar O'Neil/Sekowsky Mod-Spy Era Diana Prince Omnibus, because that stuff is by far the best of the period.)
So if you've ever wondered why Diana's history is the way it is, why she's struggled so much, when others had periods of terrific success, you can basically trace it to Robert Kanigher, whose long tenure with and for the character was deeply, deeply damaging.
Now, that said, the notion of a black Wonder Woman? Great, even if it's the people that came after, that would use her without the baggage and mess of Kanigher. The notion of more representation (which was definitely not one popping up in Kanigher's mind, but is just a side-effect), even if the execution in practice is pretty bad.
Ultimately, the history of Wonder Woman is one not just of a fictional character, but a symbol of progress. And it's a history that demonstrates progress takes time. It's not as simple as growing from a radical, fantastic foundation. There's messes, there's massive regressions and mistakes, as things seem uncertain and the trajectory of things feels troublesome. An openly political figure, with the kind of subversive and radical message that Diana bears, is one that just cannot have the simply, clean history that some others have the benefit and privilege of having. She's not as simple. She's not as easy to write, she's hard. She asks difficult questions, she demands a certain level of careful thought from her creatives and ultimately, it's a book about women, about how women are perceived, treated and understood, laid out across decades, as handled mostly by (usually) straight white men.
The reality of our world is perhaps most clearly reflected in books like Diana's, where you cannot escape those hard questions and premises she poses and raises, a book that isn't about the simple, typical straight white male superhero who can wield violence in a way Diana just simply cannot. The book and the character, if this Silver Age tour has taught you anything, is about the difficulty of progress and just the sheer amount of time it takes and the consistent effort it takes to make things better, in worlds both fictional and real. And how sometimes, even that effort may not be enough. But that doesn't mean we stop trying. We just re-consider, re-evaluate, understand what went wrong and where and try harder and better, because it's what needs to be done, because that's what Wonder Woman represents. The need to be better and do better, even in the face of impossible odds. The desire and love, which is big enough, to want to help and heal that which needs it. And Diana absolutely deserves that.