Alan Moore's relationship with superheroes in the wake of Watchmen has been… contentious, to say the least. This is due in no small part to Alan's relationship with DC Comics. To be perfectly blunt, DC Comics' attitude to Alan Moore can be best compared to an abusive ex-boyfriend who has never gotten over being dumped. So he (DC) routinely calls his former girlfriend (Alan) at the dead of night, engineering schemes to get her back, all the while badmouthing the poor woman to anyone he can pull into listening to him ramble like an incoherent drunk at a third rate bar that doesn't even have any decent rats. All the while the woman is just trying to move on with her life, but everyone from old friends to complete strangers to new co-workers simply won't stop asking her about the ex.

At one point, she's working in the same office as her ex (because the son of a bitch bought out the whole building without her knowledge), and she makes it perfectly clear that she wants nothing to do with her ex. And, for a short while, the guy acquiesces. But when she begins to work on something personal and difficult, something that could get the ex into trouble with the sort of people you should make life more miserable for (and one thing that was so arbitrary, you have to assume he knew it'd piss her off but did it anyways), the ex decides to butt in and make it impossible for her to do the gig. So, naturally, she quits.
Then, one day, the son of a bitch sends one of her old friends—a term used loosely given what's about to happen—to ask her to help with something they did together a few years back. She says that she wants absolutely nothing to do with it, but won't say anything negative about it. Offhandedly, the friend notes, "that's good, he said you would be quietly compliant." At this, she explodes at the world, cuts off most of her friends who stood by the abusive ex while he did unconscionable things to her, and badmouths the sons of bitches who weren't there but think nothing truly unconscionable happened (or, rather, profit off the unconscionable). In response, the ex decides to hurt her best friend, whose brother is in hospital at the time with something that looks fatal.
So yeah, Alan Moore and DC have a rocky relationship, to say the least.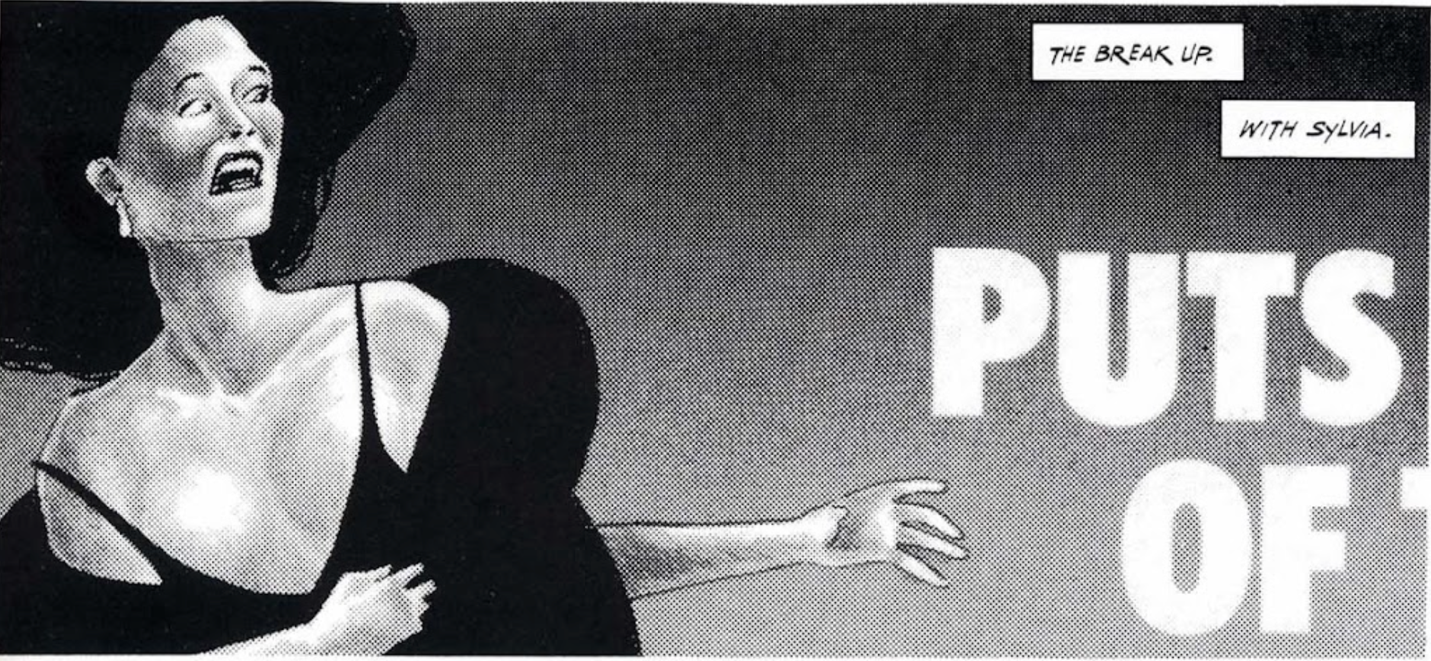 But in the year I began curating this project, Alan Moore released a short story collection, Illuminations
Support For Comic Book Herald:
Comic Book Herald is reader-supported. When you buy through links on our site, we may earn a qualifying affiliate commission.
Comic Book Herald's reading orders and guides are also made possible by reader support on Patreon, and generous reader donations.
Any size contribution will help keep CBH alive and full of new comics guides and content. Support CBH on Patreon for exclusive rewards, or Donate here! Thank you for reading!
. In it, there was a novella entitled "What We Can Know About Thunderman," which, if we must continue this strained analogy, is the sort of tell all that comes from decades of bullshit from a complete and utter fuckboy. It is flagrantly a story about the comics industry that Alan Moore fled from. A corrupt, inhospitable place that attracts either the most vicious and cruel members of society or sad, lonely people who are torn apart and transformed into worse monstrosities. It follows a set of writers from throughout the history of comics as they try to deal with the abomination in their own ways.
It is extremely tempting to approach "What We Can Know About Thunderman" as a sort of one-to-one parable about the comics industry. A sort of "take that!" towards all the people who Alan hates and wants to see suffer for their transgressions. And there are certainly points where this becomes unavoidable (One bit in particular comes to mind wherein a character by the name of Satanic Sam—who is, let's say, not Stan Lee—is approached by an agent of the CIA [who might be a hallucination] to revitalize people's faith in American Nuclear Power by creating heroic mutants. All things considered, Marvel Comics being a CIA psy-op is more plausible than other things comics fans have claimed to be CIA psy-ops).
However, approaching things from this angle ultimately distracts from the core of the story. Yes, there are some pretty funny inside baseball jokes about how much John Byrne sucks or the very idea of Alan Moore spending an entire month watching all of Smallville and then, for good measure, watching the first season of Riverdale before fleeing for the far more sensible landscape of Northampton decay. But the heart of the story is simply not there.
There are two fronts on which one can note Moore's critique not being (completely) the case. The first and most obvious one is that I am not hurt when I read this novella. I am a fan of superhero comics who has spent years of my life writing reviews, fan fiction, and books based on or around characters within the superhero sphere. And while I see several aspects of fans I have encountered in the past (especially the inker from Part 3 who murders his girlfriend because he doesn't want to give up his decades old comic book collection), I am not among the cast of characters.
I should note that I am not asking for a comics reviewer to appear in the novella. Rather, I am thinking about the motion picture, The Banshees of Inisherin. The movie explores the relationship between two Irish men from the beginning of the 20th century and how their relationship falls apart. It is a movie in which I am literally as far away from the two protagonists as I can get. However, I have been both of these men. I have been the cruel son of a gun who has shut out people I was once close to for, frankly, no good reason whatsoever. And I have also been the pathetic dweeb who has made things worse simply out of my desire for closure and reconciliation, if not explanation. I have hurt people and, in watching what is my second favorite film of 2022, I am hurt by this mirror.
By contrast, "What We Can Know About Thunderman" is very much within my wheelhouse. It is a novella that—were its core interest to hurt everyone who ever wanted to be a writer, artist, or what have you over at Marvel/DC—should be blatantly capable of hurting me. It should hurt the people who are trying to say capes comics can be more than the equivalent of a crap wank fantasy or a heroin addiction. And yet, it doesn't. Instead, it makes me look down upon the sad, lonely, often terrible people with, at best, pity. All of which is to say, if you're going to damn the whole industry, you might as well damn the people who want their cake and to eat it too.
The second is rather more critical of Alan Moore, and that's with regards to his claim that Superheroes are responsible for the rise of fascism in early 21st century America.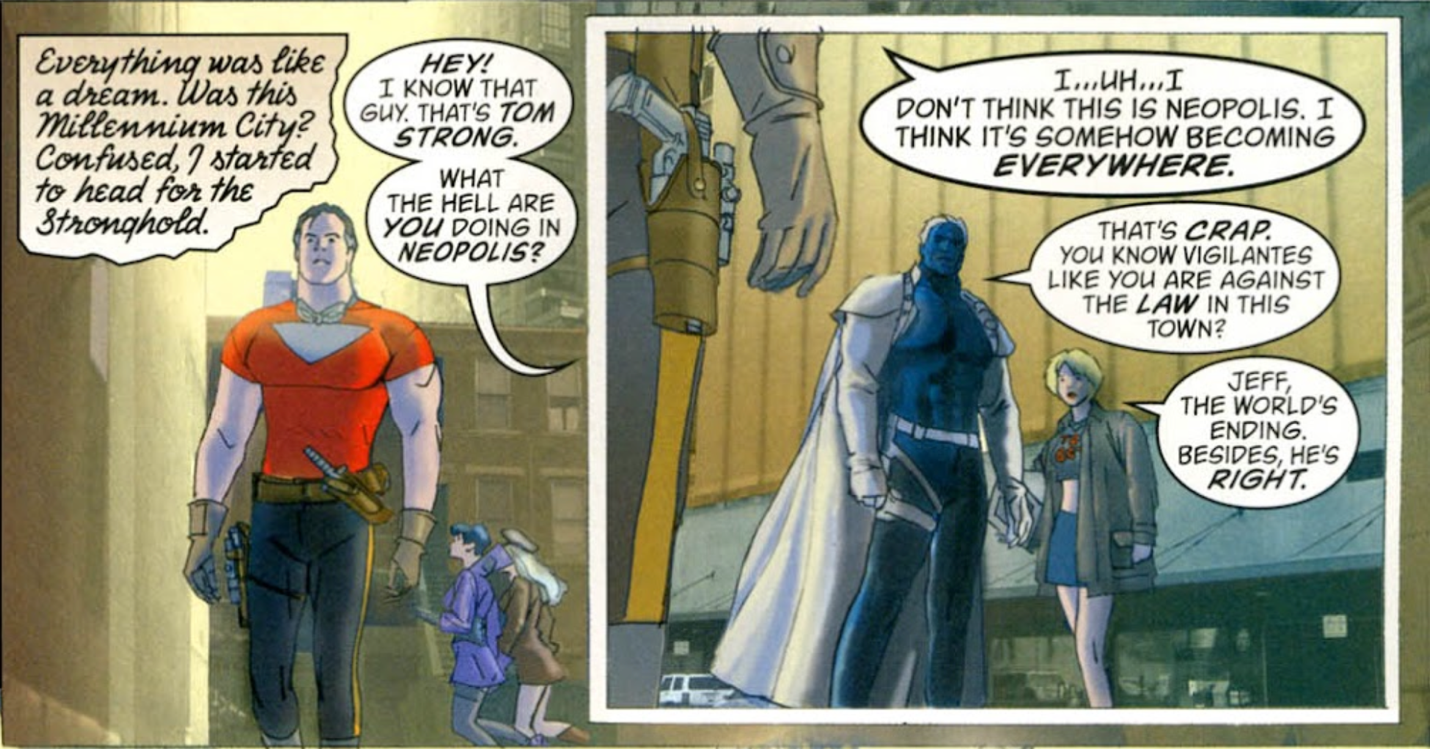 I should note that Alan is not wrong per se about the nature of superhero fiction having a tie to the rise of fascism in the early 21st century. While many comics fans would love to disclaim the superhero as being by any means tied to fascism—often citing stories about Captain America being the Nazi ideal turned against the fascists or repeating the word hope over and over again until the critic leaves to talk to a human being—the fact of the matter is that fascists love superhero stories. They love the tales of Frank Castle mowing down filth. They cheer as Bruce Wayne fights anarchists. They're thrilled while Tony Stark declares himself to be Iron Man before committing mass genocide. And, well, a lot of them cosplay as their heroes.
Rather, Moore's critique of the superhero field is a bit of an overreach. The core of the argument comes towards the end of the book in the form of an essay by a minor character, Milton Finefinger, called "A Spandex Wrapper for the Naked Lunch," wherein, as the title suggests, Moore compares comic book fans to drug addicts (Though, in practice, not enough space is spent engaging with the implications therein, thus making it a pithy, catchphrase version of a concept Garth Ennis portrayed with a single panel. Indeed, most of the argument hinges on the aesthetics of Superheroes rather than what most fans would be addicted to: serialized storytelling). But more noteworthy is when the chapter takes place: January 2021. More specifically, it takes place during the attempted coup that took place that month.
Moore makes no bones about the implications of the contrast between these two elements. Indeed, in one of the more overreaching sections, Moore has a Reddit user muse that the QAnon conspiracy has its roots in an issue of Thunderman. Moore likewise cites the history of masked avengers, including revisiting a point from his last interview by noting that Klansmen also fit within the Masked Avenger mold.
Perhaps the most biting of these engagements is the nine-panel script explaining the entire history of Thunderman, focusing on the creators of said character who were fucked over by the industry in order to get all the profits. In turn, as Moore notes in the thoughts of that script's writer, Dan Wheems, "In Thunderman, he had a microcosm of the comics industry, while in the industry he had a microcosm of America."
The problem, given that Moore has approached the critique outside of the context of "What We Can Know About Thunderman" with little to no change, is that the microcosm is not the whole. The rise of fascism, as with many things in the world, is a complex situation wherein a variety of interrelated, unrelated, and/or counter-related elements combined into a mess. There is no rudder to place the world under and god help those who think they can.
Consider, for example, the riots on January 6, 2021. While it's certainly true that many of the people following Q and Donald Trump into an attempted coup were fans of superhero comics, it's also true that many were into video games. Indeed, one could argue that video games—a medium superheroes spent decades infamously ill-equipped to exist within (Superhero games still can't make Superman work)—are more actively responsible for the rise of fascism in the early 21st century than comic books.
After all, #GamerGate laid the foundation for Steve Bannon to develop a voter base for Donald Trump. Even before then, video games were (and still are) awash with military fantasies wherein the player actively participates in mass slaughters in order to progress through the level. The Call of Duty franchise alone has players drop nuclear weapons, use drones to strike combatants, and murder civilians (Indeed, the Call of Duty franchise was created to tell stories about the nobility of soldiers with a frequent emphasis on Western powers. The antagonist are often characterized as a horde of faceless monsters to the point where an entire campaign makes this literal). And all of it is justified in simplistic tales of good and evil that sometimes—though not often—frame themselves as being morally grey because the characters are more brutal. By having the player control the character, they—more than in any inactive media—identify with the soldier, the CIA agent, the committer of genocide to such a degree that narrative isn't even necessary.
(It is tempting to engage with the fact that among #GamerGate's direct to video sequels was the #ComicsGate movement, however #ComicsGate was one of those movements that tried to be a thing so many times that engaging it would be akin to trying to make fetch happen.)
One could note that this is a simplistic framing of the video game medium, that there are games outside of the big budget first-person shooters. The same could be said of Moore's critique of comics. But, as with Moore's specific critiques, there's worth to engaging with what many people think of when they consider video games. For many, the first-person shooters are video games. Just as superheroes are comics. The point is that there's a larger context to consider. As above, so below. But the below is so much larger than merely comics.
In some regards, the failures of Moore's critique of the superhero are akin to what ultimately breaks the critiques of Noah Berlatsky. It's not being wrong that's the problem (indeed, Berlatsky's wrongness in claiming things like "Crisis on Infinite Earths is about American homogeny as demonstrated by this inexplicable tangent where Uncle Sam explains freedom" is ultimately what makes him a fascinating and worthwhile critic in contrast to a Bob Chipman, whose wrongness merely highlights what not to do), but rather how he got to that point. Moore is getting it wrong without ever once being wrong about superheroes at any specific moment.
Indeed, the core failing of Moore's critique is, ultimately, one many a critic (myself included) has fallen into: he emphasized the wrong bit for the sake of a clickbaity headline. While there is an accuracy to arguing the relationship between fascism and superheroes, there's a degree to which this simplifies the argument by placing it at the core. Moore certainly engages with what should be the crux of the argument (more on that in a bit), but his framing of it in terms of the concept being inherently fascistic misses the ways in which it can avoid being fascistic in works like Kieron Gillen and Jamie McKelvie's Young Avengers.
(That said, Alan's deeper look into the industry of developing superhero comics as one of a decaying hellscape from which the only escape is a false one—that there is no exit strategy, no way out, no way forward, by design; where even getting out the way Alan supposedly did is impossible (it will always come back)—is completely apt and on point. If anything, Alan Moore doesn't go hard enough.)
But as I've said, "What We Can Know About Thunderman" isn't about Superheroes or even the writers, artists, inkers, and editors who work on them.
So then, what is it about?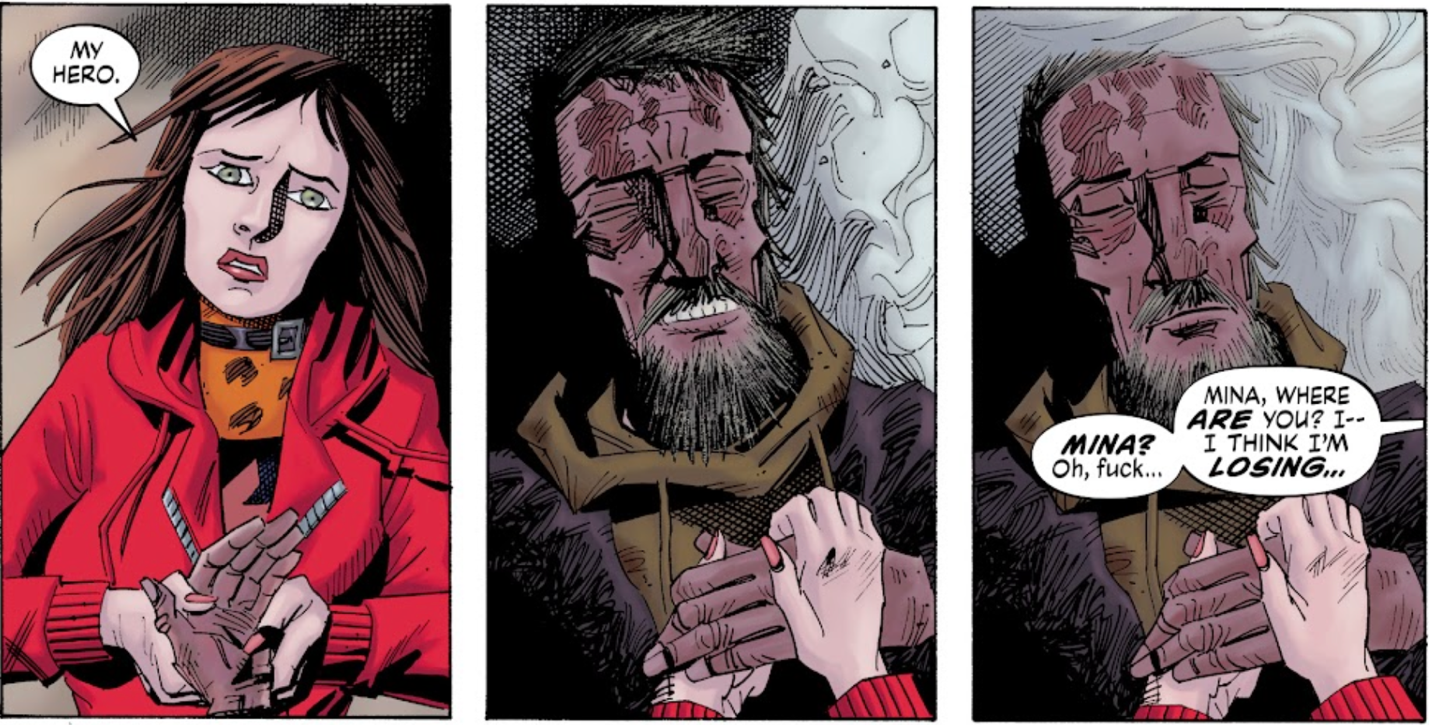 Stories.
More specifically, it's about how stories are horrific and monstrous and will kill us all if we're lucky. How, despite our claims to the contrary, our lives are controlled by stories. In some regards, it's the dark mirror to Jerusalem
. Where Jerusalem, in its 1,266 pages, frames the act of storytelling—of creating art—as a means of preservation, "What We Can Know About Thunderman" views it more critically, more like an addiction or a prison. Something you can never escape, no matter how much you want to. A ship in a bottle may be preserved, but it can never sail the seas without defeating the purpose of putting it into a bottle. And even then, sometimes what's preserved is a fucking monster that has corroded into something worse and worse.
It's all over the novella. It's in Julius Metzenberger claiming to identify with Thunderman before shunning the comic as anything other than "a story" when some unfortunate implications are brought up. It's in the tragic, self-destructive fall of Dick Duckley, who believed every story everyone told him, right up until it killed him. It's in the ascension of Worsley Porlock into the upper echelons of comics publishing (with all the grandeur and monstrosity that entails) and the daydreams of Satanic Sam Blatz. And it's in the most cutting of Moore's critiques of the superhero:
Popular culture is the only glue that holds America together, and I guess that's why it all needs stealing from the people who created it, and gifting to some big, trustworthy corporation with capitalism's best interests at heart, and who'll guard these valuable properties more closely than some writer or some artist with their crazy ideas and their crazy politics. You wouldn't want these national assets to be in the hands of radicals, or black people, or women — not unless they were already corporate mutants such as Mimi Drucker or whatever it is that Gene Pullman's meant to be, where the class and race and gender stuff is no big deal next to the tentacles and Cyclops eye.
Were this the crux of Moore's argument—the necessity for the superhero to be an agent of the status quo rather than a radical, mask-wearing anarchist—then his argument would be much stronger. Indeed, it is this very reason why the superhero often curdles into fantastical fascist fantasia: because the status quo often hews towards conservativism and, subsequently, fascism. It's not that Moore isn't aware of this—he blatantly is—but rather he emphasizes the consequence rather than the cause.
As such, the more apt comparison for the superhero that highlights the rotten core at the heart of its failure isn't the Neo-Nazi storming the capitol maskless, but rather the manufactured pop idol typically seen on the Disney Channel who has the potential to become something else entirely once freed from the shackles of their corporate masters. But the system — corporate entities comparable to Dr. Luke or Col. Tom Parker — refuses to allow them to be anything more than a cute slab of poison. So, often though not always, they collapse into something that feels wrong.
But perhaps the most vital of the characters to understand this, the one who highlights this theme, is Dan Wheems. Dan, for as relative as this sounds, is a sympathetic character. He's someone who spends the majority of the book horrified by the various actions going on (though still complicit in some of them), oftentimes unintelligible due to a tendency to bite his lip. By the time he's uncovered a porn archive bigger than most libraries—complete with collection of jizz rags—and been an active participant in burning said archive so as to avoid controversy, Dan has become disillusioned with the industry. He can't help but think of the madness and horror people go through and turn into by being a part of the industry. He wants to quit, he wants to get out. And so, he does. He writes a comic script, releases an interview with a beloved and dead editor, and he disappears from the industry entirely.
And, for the first time in decades, he's happy. He feels as if a great weight has been lifted off his shoulders. He can do anything now. He has ideas—actual ideas, and not someone else's ideas done shittier (or, as Worsley Porlock demonstrates, somehow less than that [though, sadly, not as effective at demonstrating this as Dark Crisis on Infinite Earths])—that he can use to write a non-graphic novel. Dan can even speak without sounding like a drowning hippo! He moves back to the mid-west, to a small, isolated town in Indiana. Basically only two houses. There's a man next door, working in his garden. They talk for a bit, and Dan recognizes him.
The man was Frank Giardino, the nephew of a gangster who used the comics industry as a front for bootlegging (The industry hasn't changed much since then). Supposedly, Frank died some years back, but there are those who claim he's in Witness Protection. So when Dan notes that the man working the garden looks like Frank, and is just vague enough not to make clear what profession he was in out of embarrassment, Frank thinks for a moment. The two enter Frank's home and have a nice chat. Then, something that sounds like a cough is heard.
At the end of the day, there is no escape. No chance to become someone better. The world has been consumed by an imaginary story (Which may never happen, but then again may) about a perfect man who came from the sky and did only good. And it's horrifying to behold. All of our lives revolve around this shitty story and all the stories like it. We are—all of us—consumed by our stories. Be they the ones we tell ourselves, the ones we tell to children, or the ones we wish were true. Or, for that matter, the ones that are.
Even the so-called adult stories turn out to be just as vicious and cruel as the childish ones many of us cling onto. Stories about gangsters who kill people for fun and profit. People who could do whatever they want without having to face the consequences. It's a game where the rules are just as simplistic as the morality. It should be noted that one of the most famous gangster stories is about the horror of a childhood fantasy coming true.
At the end of the day, the superhero—as we know it now—is just an attempt at repackaging our childhoods with a new coat of paint. The problem is that not everyone had the same childhood. As a result, you end up with all these maladjusted adults pretending at adulthood with no idea what the real thing is. Only the negative space, only the thing that it isn't. And by the time we find something truly adult, we fail to recognize how childish it all is. Because there are no adults in the room—not anymore. Where they went, who the fuck knows.
The fantasy might be different. For some, it's superheroes. For others, cowboys. Toy soldiers. Spies in disguise. Cops and robbers. But the result is still the same. We live in a world of children where tantrums are resolved through placation rather than engagement. Where motivations for cruelty are often arbitrary—existing solely to justify the cruelty. Where no one truly has any idea what they're doing, and they just keep doing it because it's always worked. Because we can't imagine anything else.
We are going to be murdered by fucking children because none of us knows what the fuck an adult is.
This is Watchmen's Legacy.

For more in "Who Watched the Watchmen"…
And yet…
I know that's not true. It's an easy answer, far too easy to lay at Moore's feet. To blame the failures of the world on some comic that people misread and treated as if it was either gospel or heresy. To damn Moore to the hell of being the man who must always talk about some stupid comic. And, more than that, if there is one thing that defines adults, one thing that can never be childish, it's complexity.

Not merely the convolution systems of cruelty desire us to embrace. Those merely force the mind to shut down and simplify things further so as to not have to look at the mind numbing madness of the system. To reject watching entirely in favor of mindless consumption. Rather, complexity is the layers added to a story. The contradictions, the mess, the failures and successes, all of these and so much more make up this stupid, absurd world of ours.
As much as "What We Can Know About Thunderman" rails against the industry as it is today, there's a complexity to its engagement. Dan Wheems, shortly before leaving the industry for good, decides to read the work he did back in the nineties on The Vindictives.
He found that he still enjoyed them, couldn't put them down, so it was nearly three o'clock before he got to bed. He remained proud of all his work, which in the early nineties had been so innovative. That scene where he'd had the original Vindictives meeting up again after some years, as older individuals. The atmosphere and the comparative realism of his dialogue, like the famous interchange between Ormazda and the Brute – nobody else had been attempting stuff like that back then. He could be justly satisfied with what he'd done, and yet…

And yet, the work, it wasn't really his. He'd not created the beloved characters that everybody bought the book for, the established icons that lent all Dan's knowing modern riffs their resonance. He hadn't come up with the National Guard, the Brute, the Human Tank, Ormazda, Miniman and Minimaid, or the idea of sticking them together in one book called The Vindictives. That was all Sam Blatz and Joe Gold, which was just the same as saying it was all Joe Gold. A tough kid from the tenements, blessed with a comic book imagination more fertile than anyone had ever seen, who'd had everything taken from him by Sam Blatz and Massive Comics, and who, if you added up the billions that the Massive superhero films had made already out of his creations, was a victim of the single biggest theft from any individual in human history. Was this, then, all that Dan was proud of, his complicity in robbing someone genuinely talented of what was theirs? Was this the best that today's industry professionals could say about themselves, about their work? He took these thoughts to bed with him, and, in the morning, saw he had no choice: he knew he couldn't take it any more.
The failure isn't simply that superhero comics are bad, have always been bad, will always be bad. Rather, it's in the notion that nothing new is being made. There is a contentedness in the work itself, but the context that it exists within is viewed with nothing but contempt. Of exploitation and horror and cruelty. It's the same shit being regurgitated over and over again. That's where the problem lies. As the late Denny Wellworth notes:
The comics business made the same dumbass mistake that all industry made, which was assuming the resource they were exploiting to be infinite and inexhaustible. They figured that they could beat up and rob a Joe Gold with impunity, because there'd be another talent just as good and just as robbable along within a year or two. Now, you and I both know the sun will have grown old and dim and there still won't have been another Gold, but management are not creative individuals and they have never understood the first thing about how creators work. So, when a new Joe Gold fails to show up, you give his books to artists who can do lame versions of Gold's style, but can't invent a single thing that's new. And when there's no replacement Sherman Glad, because he tried to form a union so they fired him, then they're just left with the eager-beaver fans they hired to take the place of Sherman and Heinz Messner and the rest, people like Brandon Chuff. These people, they're not artists, they're not writers, they're just fans of artists and of writers, and the generation that comes after them will be the fans of fans, and so on, to the directionless mess we're in at present.
By attempting to make things work by force, by treating the world with simplicity, the superhero—an idea built for children—is the fountainhead of something extremely childish. To be an adult, then, is to accept that the world is more complicated than some made up bullshit like if Superman is a cop or how much a bottle of water costs.
And that, ultimately, is what Watchmen did: it complicated things. It had a primary mover who's a real piece of shit, but whose moralistic perspective belies a number of pathologies and complexities worth diving into. It told a story of a man who desired a better world, who genuinely desired that better world, did monstrous things to achieve it, and (however briefly) won. It focused not just on the giants whose epic battles determined the fate of the world, but also on the little people. The people who, ultimately, were there for one another when things went horribly wrong.
More than anything else, Watchmen wanted to make the superhero complicated. The problem was that many fans—be they readers, writers, or critics—despise complexity. Look at the view counts on video essays with "X Explained" in the titles. How much of the criticism of the modern era is nothing more than someone "explaining" why a movie sucks, a comic is bad and should be burned, why the woke SJWs are ruining cinema, or even something as small as what the plot was about, as if fiction can be sieved down to a Wikipedia article. There's no room for the ambiguity of something like The Wall or Inland Empire or even more traditional fare like Final Crisis or Watchmen.
Everything has to be packaged neatly into the canon of what was, like a museum of cum rags dated for each moment of ejaculation. Everything has to be explained or else destroyed. Everything must be ideal. Everyone must be good. Any bad must be removed on sight. That's why Doomsday Clock exists and why many comics fans can see it as ambitious for attempting to "be about reconstructing superheroes and be an influential story about what Watchmen had done to superhero stuff."
And that's why, ultimately, Superhero fiction veers towards fascism. At the end of the day, fascism is a childish system built on simplicity. It tells us that all the world's problems are their fault (whoever they might be) and that the solution is to destroy them totally. It's a simplistic mindset that many a comics fan embraces. Because we want to hold our fictions with us but refuse to allow them to change with us, and as such refuse to change ourselves.
Consider the end of "Thunderman," where the last of the protagonists finds himself ascending to the heavens, to the horrible land of his dreams. Where Thunderman stands unchanging from his childhood. And it's horrifying. It's monstrous and awful. It's everything he has ever wanted, and it's all so horrible. Because nothing was allowed to grow.
What, then, is the ultimate legacy of Watchmen? I truly cannot say. There is heartbreak and horror and cruelty in its legacy just as there is beauty and wonder and joy. But more than that, there are complexities. And, for all my misgivings with the world as it is right now, all my sorrow, all my rage, all my terror, there is also beauty and wonder to be found within it.
All you have to do is see it.