"With great power must come great responsibility" feels more ripe for a high school graduation gift card than the backbone of a billion-dollar piece of intellectual property at this point, but the creative powers behind Spider-Man continue to hammer it home. 60 years into his existence, from the funny pages to animated films to the last vestige of the Hollywood blockbuster, Peter Parker still adheres to the ideal that readers and fans have seen across every medium.
The presence of multiple Spider-characters simultaneously on screen and on page has exploded since 2014's "Spider-Verse
" storyline in Marvel's The Amazing Spider-Man. Now even the youngest of superhero fans know that there are multiple spider-folk due to the cinematic adaptations Spider-Man: Into the Spider-Verse and Spider-Man: No Way Home in 2018 and 2021, respectively. That overarching philosophy of selflessness in the face of the grimmest of circumstances still remains true throughout the entirety of the multiverse. No Spider-Men are afraid to make the ultimate sacrifice.
The 97-page The Amazing Spider-Man #700 from 2012 stands as one of the biggest Spidey comics in the character's history, both literally and in terms of sheer magnitude for that clumsy kid from Forest Hills, Queens. In an issue where Peter "dies," as Doctor Octopus pulls off the greatest heist of all when he inserts his consciousness into Peter's body, that Parker ethos transcends the hero-villian line. With a creative team of Dan Slott, Humberto Ramos, Victor Olazaba, Edgar Delgado and VC's Chris Eliopoulos, the controversial issue that saw Peter displaced as Spidey
hits harder at the central essence of the character than perhaps any other.
A final battle ensues when Otto Octavius nears total control of Peter's body. Peter is stuck in Octoavius' decaying body, nearing a vegetable-like state as the villain attempts to cheat death. When "Spider-Man" fights "Doctor Octopus" and Scorpion, Octavius, while inhabitating Peter's body, begins experiencing "flashbacks." These memories, however, are not of his own, but of the trials and tribulations that Peter has faced during his time as Spider-Man. Ramos, as the penciler, expertly adds to the psychic twist of Slott's plot, depicting Octavius in his true form in place of Peter in his escapades throughout the years. Readers see Otto going through Peter's greatest struggles: the deaths of Uncle Ben, Captain George Stacy and Gwen Stacy, the Venom symbiote consuming him, and the iconic scene of him trapped under heavy machinery in The Amazing Spider-Man #33.
After battling Peter for decades, in publication years time, at least, Otto realizes the totality of Peter's past. No event, no matter how dire, would derail Peter from using those radioactivite spider abilities he was gifted for the greater good. What Peter endures inspires Doctor Octavius, one of the greatest and most ruthless villains in the Marvel universe, to see the light.
Support For Comic Book Herald:
Comic Book Herald is reader-supported. When you buy through links on our site, we may earn a qualifying affiliate commission.
Comic Book Herald's reading orders and guides are also made possible by reader support on Patreon, and generous reader donations.
Any size contribution will help keep CBH alive and full of new comics guides and content. Support CBH on Patreon for exclusive rewards, or Donate here! Thank you for reading!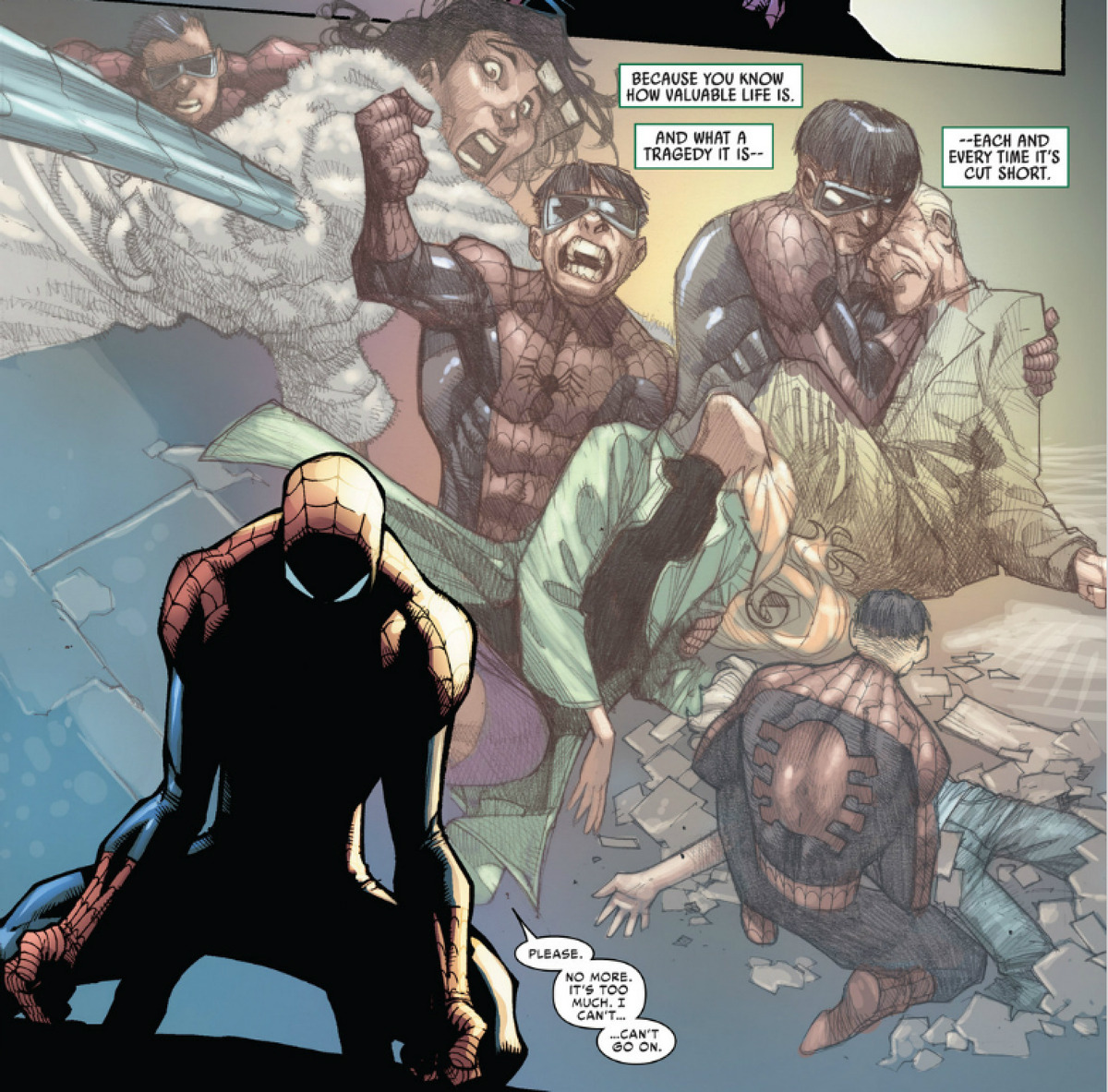 Towards the issue's end, Slott has Peter and Otto exchanging narrations, going back and forth until Octavius' psyche fully entrenches itself in Peter's body.
Otto: "No! This – everything you're showing me – it's impossible!"

Peter: "I know. But you do it anyway."

Otto: "And I can see it – I can feel it. You would do it all again?!"

Peter: "Yes, Otto."

Otto: "Even me? Saving my life? Even with all that's happened?"
Peter, as each and every breath from Otto's body brings him closer to death, responds, "Yes! It's who I – we are."
Otto claims he wants nothing to do with the newfound duty that comes with donning the Spider-Man costume.
Otto: "I-I don't want this."

Peter: "Too late. Careful what you wish for… Spidey."

Otto: "Tell me, why do I – how can I do this?"

Peter: "Because you have to. Because… with great power…"

Otto: "… Must come great responsibility."
Peter Parker ceases to exist in the physical realm shortly after this exchange, one that combines 700 issues' worth of ethics into two lines of character dialogue. As Otto completely undertakes Peter's body, he's just as revitalized psychologically as he is corporeally. Otto vows to become "The Superior Spider-Man," bridging his ego and intellectual drive with the moral compass Peter has instilled in him. Peter is gone, yet Spider-Man, the ideal, the figure, the hero, lives, his mantra motivates both the characters around him and the fans who hold him so dear.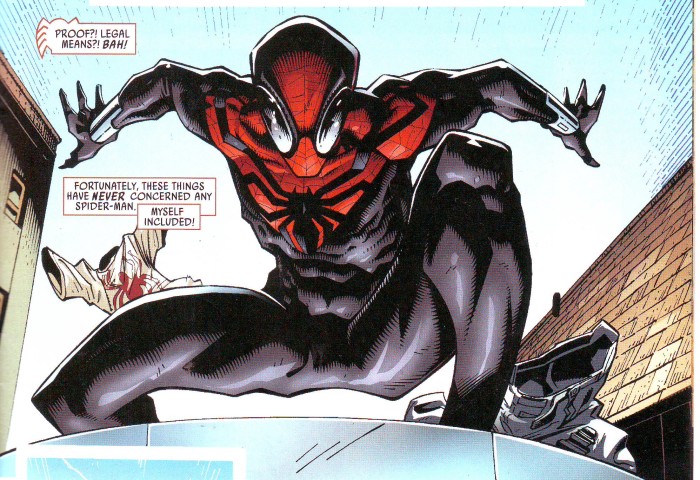 What makes Octavius such a prime candidate for the creative team to become the next Spider-Man and foster those ideals upon is that he isn't a stereotypical villain. He's not a low-level, D-List antagonist concerned about his next bank heist in order to stay afloat. He's not attempting to maintain a criminal empire like Kingpin. He doesn't have that chaotic, psychopathic bend that makes him want to completely annihilate Peter like the Green Goblin. A brilliant nuclear physicist, Octavius sways between mad scientist tropes and a belief that his actions are for the benefit of mankind, though he is quite myopic in that regard.
Octavius' troubled upbringing scarred him during those young, vulnerable formative years, putting him on the path that would lead him to becoming one of the most notorious villains in the Marvel Universe. One can't help but wonder that if Octavius' youth was different, possessing a virtuous father figure like Ben Parker, he could've put his intellect and drive towards bettering the world, as Peter did with that nurturing and those qualities. Those layouts from Ramos that have Octavius reenacting moments of Peter's life only hammer it home that he could've chosen a more noble path in life if had those classic Peter experiences.
The legendary line about power and responsibility crafts this belief system that anyone could be Spider-Man if they hold fast to that belief. Look no further than the most famous multimedia adaptations of Spider-Man. There's Peter's beaten down body being carried through a New York City subway car in Spider-Man 2, as the train riders realize that Peter is just a kid. He could've been their son for all they know. That's taken to the next level in Spider-Man: Into the Spider-Verse where audiences are treated to Spider-Men of different ages, races, genders and species. Those are celebrated works in the Spidey canon.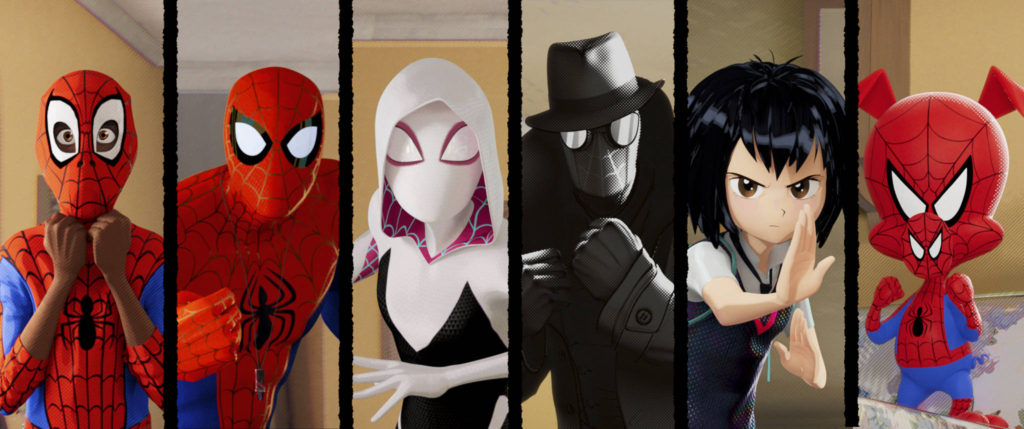 Despite that, there's an odd dichotomy that rears its head in Spider-Man fandom. It's clear that not only can anyone be Spider-Man, but there are a lot of people who are Spider-Man throughout the multiverse both on page and on screen. There still remains a segment of fans that are absolutely opposed to anyone other than Peter donning the costume and having the Spider-Man mantle. Look no further than to the death threats Slott received when he was writing Amazing Spider-Man #700.
That chaos aside, these new, non-Peter iterations of Spider-Man continue to pad the pockets of Marvel, Disney and Sony. The 2011 "Death of Spider-Man" storyline for the publisher's Ultimate line gave way to the introduction of Miles Morales. Adding a much-needed dose of diversity as a young, African American-Puerto Rican hero, Miles was introduced shortly later in Ultimate Fallout #4. The turnaround from that 2011 debut to Miles becoming an evergreen character with wide appeal in the aftermath of his starring role Spider-Man: Into the Spider-Verse just seven years later is unprecedented in mainstream superhero comics.
Spider-Gwen, an alternate universe version of Gwen Stacy where Peter perished and she took up the mantle, debuted on the page in 2014's Edge of Spider-Verse #2 before sharing the big screen with Miles. If there are fewer than five years in between popping up in the second issue of an event prelude miniseries and then seeing that character become a sought-after Halloween costume, the worries over a non-Peter figure being Spidey shouldn't be a problem.
Marvel is in the middle of publishing a short-lived Spider-Man storyline "Beyond
" where infamous clone Ben Reilly becomes Spider-Man with the financial backing of a powerful corporation while Peter recovers from a coma. These issues of Amazing Spider-Man have sold well with four of them being in the top-20 most-sold comics for December 2021, but Peter can only be sidelined for so long. Still, it's clear that things don't completely fall apart when Peter isn't the only Spider-Man in town.
If the content is good enough and the characters are well developed, anyone can succeed under the Spidey mask if they have an idea about what comes with great power.