Spider-Gwen is one of the most successful "new" Marvel universe characters created in the 2010s. We put "new" in quotation marks because Spider-Gwen is more of a character-remix, one that completely reimagines and reinterprets the original Gwen Stacy into an exciting and fresh new character.
Spider-Gwen's popularity has far and away transcended the panels and pages of the Marvel comic book universe, becoming a cosplay icon and, most notably, featuring heavily in the jaw-droppingly gorgeous Spider-Man: Into the Spider-Verse animated film.
Below you'll find a complete guide to the Spider-Gwen comics that have been released and collected, in the order they are meant to be read. Due to her recent introduction into the Marvel Universe, it's very easy for fans (particularly those using Marvel Unlimited) to consider reading every comic she's been in to date.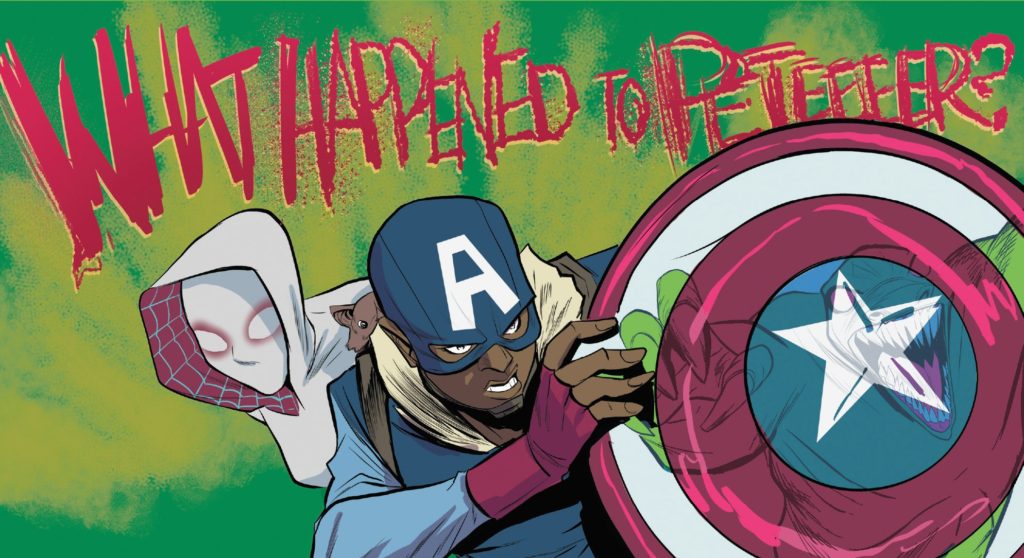 Related Reading Orders:
Support For Comic Book Herald:
Comic Book Herald is reader-supported. When you buy through links on our site, we may earn a qualifying affiliate commission.
Comic Book Herald's reading orders and guides are also made possible by reader support on Patreon, and generous reader donations.
Any size contribution will help keep CBH alive and full of new comics guides and content. Support CBH on Patreon for exclusive rewards, or Donate here! Thank you for reading!
Guide updates via Robert Quinn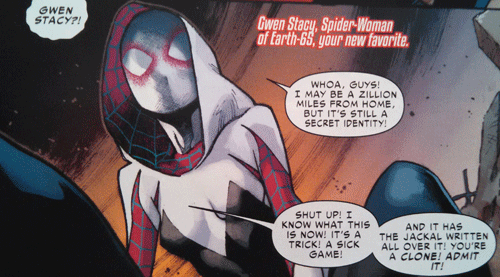 Amazing Spider-Man: Edge of Spider-Verse
Collects: Edge Of Spider -Verse 1-5
There's a reason the trade paperback collection of these issues features three profiles of Gwen Stacey, aka Spider-Gwen, and that's because she's the breakout spider-star of this Spider-Verse prologue. Spider-Gwen's origins are detailed here, reimagining the classic Spider-Man story from Amazing Fantasy #15, and giving Gwen Stacey an entirely new direction in the process. Creators Jason Latour and Robbi Rodriguez absolutely nail the design and tone of this alternate reality Spider from jump, and you can enjoy it here.
See below for the amazing visual Spider-Gwen reading order via @automeru
Collects: Amazing Spider-Man (2014) #7-15, Superior Spider-Man #32-33, Spider-Verse #1-2, Spider-Verse Team-Up #1-3, Scarlet Spiders #1-3, Spider-Woman (2014) #1-4, Spider-Man 2099 (2014) #6-8 And Material From Free Comic Book Day 2014 (Guardians Of The Galaxy) #1
Spider-Gwen Vol. 0: Most Wanted?
Collects: Spider-Gwen 1-5
Following the conclusion of Spider-Verse, Gwen gets her own bite-sized ongoing, a 2015 series that lasted 5 issues prior to a Secret Wars induced relaunch. This creates the face-palming rarity of two series with the exact same title (Spider-Gwen) starting in 2015. Just know that the first 5 issues you want to read are the *only* five issues in the first 2015 series. The second version carries on for dozens!
The "Most Wanted?" storyline offers a clean jumping on point for anyone interested in Spider-Gwen, quickly establishing her origin-story before jumping headfirst into an exciting and very 'Spider-Man' feeling story arc.
With Rico Renzi's surreal color choices, artist Robbi Rodriguez renders Gwen's story in fluid and stylish fashion, while writer Jason Latour gives us a story that reinterprets a number of Marvel universe characters in exciting ways. This opening arc gives us Vulture, Rhino, Daredevil and Punisher alone, all given fresh and sometimes shocking roles to play in Gwen's story.
Gwen proves an excellent and relatable protagonist, dealing with the guilt of the death of her universe's Peter Parker (horrific amounts of guilt, of course, being a core tenant of the Spider-person identity), the dynamic of being a vigilante and the daughter of the chief of police, and the trials and tribulations of just being a teenager.
If you want something close to the 'definitive' Spider-Gwen story, this is it!
Spider-Gwen Vol. 1: Greater Power 
Collects: Spider-Gwen 1-6
Collects: Silk 7-8, Spider-Gwen 7-8, Spider-Woman 6-7
As is par for the course with Spider-Gwen, "Spider-Women" sees Gwen crossover with fellow cross-dimensional spider-folk Spider-Woman (Jessica Drew) and Silk (Cindy Moon). The crossover sees the three heroes going up against Gwen Stacy's Earth-65 version of Cindy Moon, leader and mastermind of the evil organization S.I.L.K.
With appearances by Earth-65 versions of Doc Ock, Reed Richards, and Jessica Drew (well, Jesse Drew, "Spider-Women" is a great showcase of Spider-Gwen and the creative liberties taken with her universes versions of normal Earth-616. All three heroes get a great showcase in this series, and for those unfamiliar with Spider-Woman (Jessica Drew) and Silk, this crossover offers a good idea of what makes those characters interesting.
Lest anything in comics remain simple, Spider-Gwen's series crosses over with Silk and Spider-Woman during the seventh and eighth issues of her comic book. The story will make a lot more sense if you read those other series. The order is:
Spider-Women Alpha
Spider-Gwen #7
Silk #7
Spider-Woman #6
Spider-Gwen #8
Silk #8
Spider-Woman #7
Spider-Women Omega
Spider-Gwen Vol. 2: Weapon of Choice
Collects: Spider-Gwen (2015B) #9-13
Spider-Gwen Vol. 3: Long Distance
Collects: Spider-Gwen 14-15, Annual 1, All-New Wolverine Annual 1 
Spider-Man/Spider-Gwen: Sitting In A Tree
Collects: Spider-Man (2016) #12-14, Spider-Gwen (2015B) #16-18
In this snappy and energetic crossover, Spider-Gwen and Miles Morales have their first proper team-up.
With Brian Michael Bendis supplying the Miles portion of the story, and the Latour continuing writing duties for the Spider-Gwen's half of the tale, Spider-Man/Spider-Gwen: Sitting In A Tree is a youthful and fun series that showcases what makes both title characters so fun to read.
The Spider-Man portions of the story are drawn by the incredible Sara Pichelli and co-creator of Miles Morales, along with writer Brian Michael Bendis. As always, she delivers incredible work in this series, dynamic images that are worth the price of admission alone.
The series sees Gwen getting involved with more reality-hopping shenanigans, all the while planting seeds for a budding romance between Gwen and Miles Morales. Plus, we get an exciting Earth-65 interpretation of Scorpion, a villain whose identity hits especially close to home for Miles Morales.
Spider-Man #12
Spider-Gwen #16
Spider-Man #13
Spider-Gwen #17
Spider-Man #14
Spider-Gwen #18
Collects: Spider-Gwen 19-23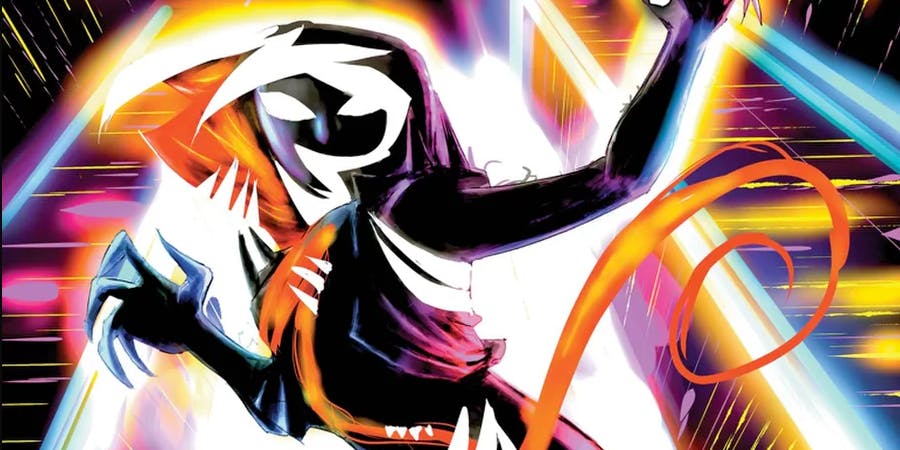 Collects: Spider-Gwen 24-29
Spider-Gwen Vol. 6: The Life and Times of Gwen Stacy
Collects: Spider-Gwen 30-34
Collects: Spider-Geddon 0-5, Spider-Geddon: Vault Of Spiders 1-2
For the complete reading order, check out Comic Book Herald's guide to Spider-Geddon.
Spider-Gwen: Ghost Spider Vol. 1
Collects: Spider-Gwen: Ghost-Spider 1-4
Launched during the crossover Spider-Geddon, this newly titled series sees longtime creators Jason Latour and Robbi Rodriguez leave the world of Spider-Gwen, handing over creative reigns to writer Seanan McGuire and artist Takeshi Miyazawa.
The events of Spider-Geddon send Gwen sliding into an unfamiliar parallel universe (a big shocker Gwen, we know), stranding her without a way of escape, all while her friends and comrades struggle against the Inheritors. In this new reality Gwen finds herself trapped in, Gwen must confront strange new versions of Peter Parker, MJ, and even…another cleverly named Gwen Stacy(the Gwen Goblin).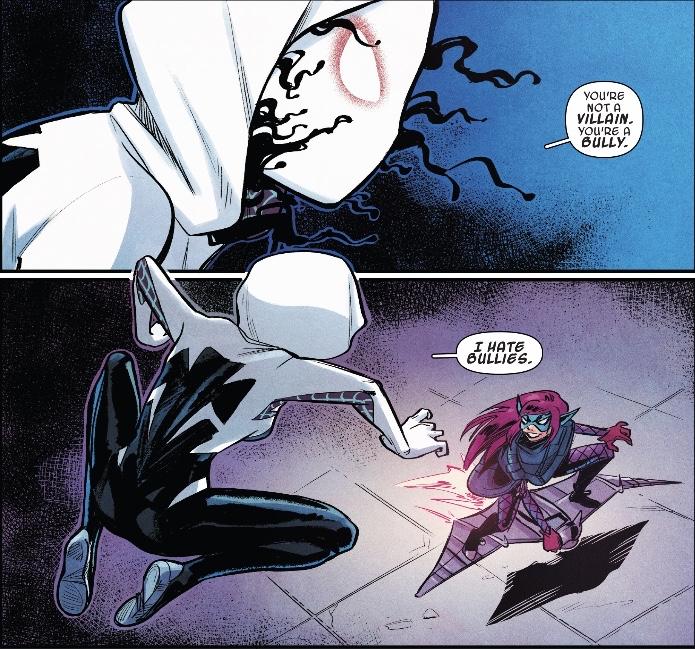 New codename. Same Gwen.
Spider-Gwen: Ghost Spider Vol 2
Collects: Spider-Gwen: Ghost Spider #5-10.
Gwen takes a break from dimension hopping (mostly) and spends some quality time as her hometown's Spider-Woman. Of course, that comes with its own set of Peter Parker-esque problems. Gwen has to work on balancing band practice, date nights with her universe's Harry Osborn, and even starting her own small business performing Spidey-tasks around the city.
Gwen must also go face to face with her universe's Man-Wolf, a beastial mob boss with his eyes set on Gwen and her friends. And if all that weren't enough for poor Gwen to handle, her usually tame symbiote seems to be acting up (never a good sign).
And after 10 issues, Gwen finally settles into her new superhero identity: Ghost-Spider.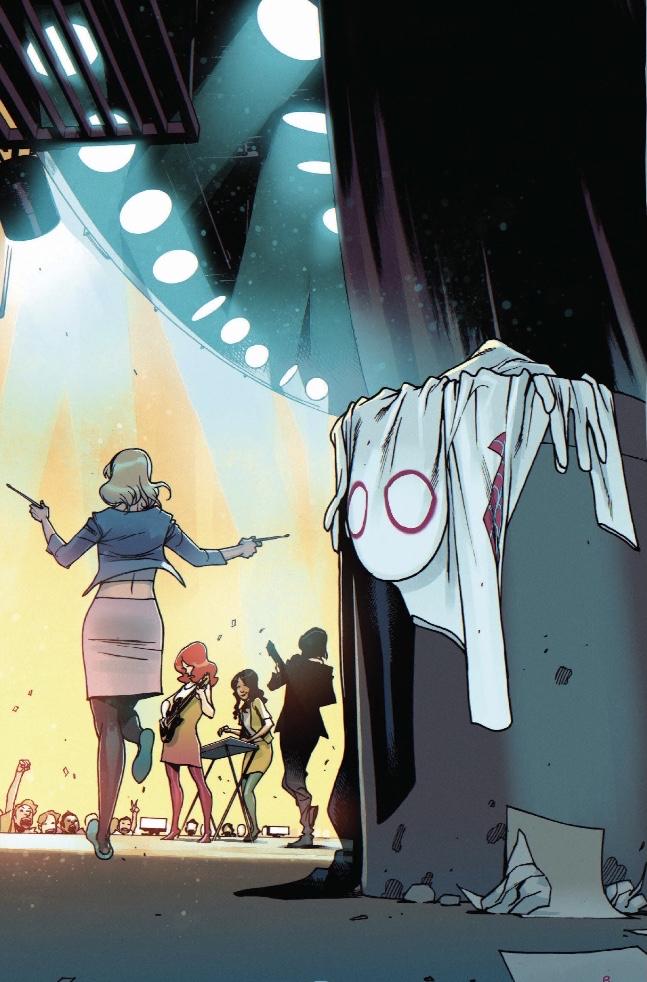 Collects: Ghost-Spider (2019) #1-5.
Collects: Ghost-Spider (2019) #6-10.
King in Black miniseries tie-in.