Ladies and gentleman, children of all ages, we are gathered here today to mourn the death of the nuclear family. Our finest television preachers and our sweatiest politicians spent decades warning us that we were headed this way. They decried music, drugs, and dancing, and we eradicated those things. But what they could not have known was that the true destruction of the familial unit was magic. Our children have turned to godless magic and now all is lost.
So today, brothers and sisters, we gather here to witness the fourth installment in What the Hell is Anime, and we examine where it all went wrong. Families up front, let your feet stomp to the spirituals.
Two brothers, Edward and Alphonse Elric, have lost "portions of their bodies" in an attempt to bring their dead mother back to life. Now, the two brothers are on a quest for the legendary Philosopher's Stone, the source of supreme alchemical power in the world (and McGuffin throughout the story.)
What follows is a story about sacrifice and guilt. It's also a story about greed and hurting people. Above all, it's a story about the ever-rising cost of trying to get what we want and living with the consequences of our actions either way. There's some fantastic pathos throughout the story, with the relationship between the two brothers really driving the book, page-by-page. There's also some fantastic moments of humor, especially whenever Armstrong is around.
It's impressive when "alchemist" is in the title, but that's often the least critical part of the story. Fullmetal Alchemist is one of the best Shonen mangas for a reason.
Support For Comic Book Herald:
Comic Book Herald is reader-supported. When you buy through links on our site, we may earn a qualifying affiliate commission.
Comic Book Herald's reading orders and guides are also made possible by reader support on Patreon, and generous reader donations.
Any size contribution will help keep CBH alive and full of new comics guides and content. Support CBH on Patreon for exclusive rewards, or Donate here! Thank you for reading!
But it's also very much manga, and it trades hard on those tropes. This is beloved by fans, but if you're new to the medium, be aware that there is some load-bearing kawaii prattle that props up every chapter. You may find yourself wondering how appropriate or practical it is to draw the cliche sweatdrop next to a bodiless kid. You might wonder the ethics of showing children sing "magic rules everything around me," or why mutilated people also make chibi faces.
But then they introduce a character named "Col. Roy Mustang" and you forget any other fact in your life.
This is a story about orphans, which means you should stop reading this review. You should stop reading because there are only two possible outcomes:
I spoil a gorgeous and surprising story for you

I depress you into a coma
If you're still reading, then you have accepted that I'm actually going to do both. This is a story about Emma, a precocious young orphan, and her equal clever friends playing fantasy detectives. Together, they're working literal puzzles in an effort to solve the actual murder of another child.
Spoilers for Chapter 1
There's a twist early on where our little prodigies discover that they are being farmed by demons. For meat and, in particular, their brains. So these deadly puzzles exist to make these kids tastier. Think of it as part Ender's Game, part Cube, part Doom (especially the gore).
That's how this book starts. Not since Grave of the Fireflies has an illustrated medium decided to weave a tale of soul-affirming human moments, and then dropkick its audience into a hellpit of crippling sadness. Preteens giving testament to those burned as they play their positions in the game of life.
In terms of storytelling, The Promised Neverland is a mix between "labyrinthine" and "puzzle box." So readers will have to work at it more, but the revelations and discoveries can be deeply rewarding. Or they can make you want to curl up on the bottom of the shower.
Trope: Where Are the Parents?!
Ash Ketchum leaves home at 10 to do dog fighting professionally, and his mom just packs a lunch? Other adults sell him things to help? Why does no one ask questions about where he's getting this money and why he's covered in Weedle? Naruto, Love Hina, Yu-Gi-Oh, same deal. Just whole economies based on the blood and nightmares of children.
But Fullmetal Alchemist really takes the cake. Alphonse Elric, age 14, loses his entire body by playing around with necromancy. Now Alphonse's soul is confined to a suit of armor.
We've gone too far.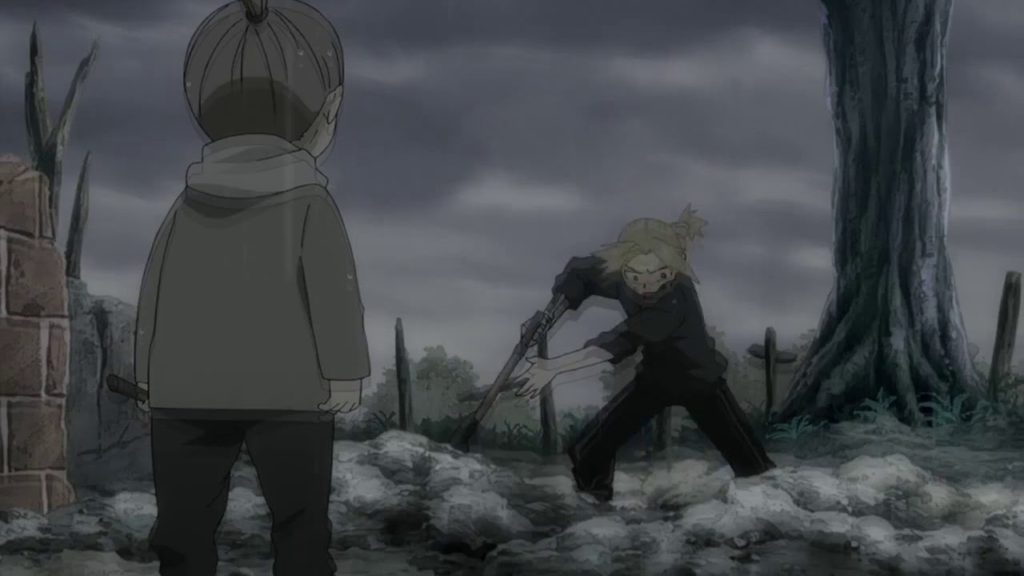 I once pushed my sister while playing He-Man and we scratched the TV cabinet, and we both got sent to military boarding school in Lithuania.
I cannot imagine what would have happened if I'd done something to her soul. Even if my parents were dead like the Elric brother's, even if I were an orphan, I imagine that the State would have issued me parents just so that someone, anyone, would send me to my room at the bottom of the ocean.
Think about how far every aspect of society has to fall where "child necromancy accident" doesn't merit a week on Magic News Network. How is trade happening here? How is anything working? You have kids losing their whole body and there isn't even a time out?
I realize that this trope comes from the experiences of the audience. That after the 1960s — and especially after the 1980s — there was a whole generation of kids whose parents worked mandatory overtime, making these kids feel alone and without strong parental influence. And that maybe these kids wanted to see this reflected in their medium if only abstracted by the funhouse mirror of fantasy. Or maybe it was a lack of security and stability that caused them to reach out to their conceptions of adult power: greed and magic. If so, then it's understandable.
But losing your brother's body?!
Please, my friends, turn away from the dark arts and embrace music, dancing, and that other thing I said. Because only one thing is for the children.