(What the Hell is Anime? Is a hopefully recurring series where we take a look at the beautiful weirdness of manga, anime, and the surrounding culture and package it up in what we're calling "satir-ucation." Which is all to say that this is both well-meaning and entirely John's fault.)
Hello and welcome back to the show which asks the only question that matters: How many pushups can  you do before you destroy the Earth?
As a brief recap for those who missed part one in this series, Anime (pronounced "HA-nee-may") was first discovered by Jeff Gerstmann in or around the year 2001, and then again in 2018. In between those years — and before them — Anime was a naturally occurring art form which grew primarily between the Kurile and Izu trench. Today, it can be found just about everywhere, including in this here article, where we're going to tell you how to identify two species of Anime from the genus "action." Come with us, won't you?
One-Punch Man is either the the wild extrapolation of a famous Bruce Lee quote or else it's the manga adaptation of Forest Gump. Take your pick. Once again, I will attempt a synopsis, this time without the aid of a famous rap star.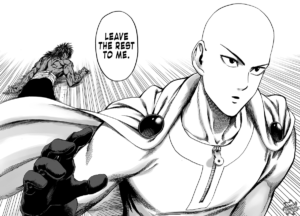 An enormous super-continent which is totally not Japan is suddenly having a real problem with monsters. As such, it's in need of super heroes, although it overdoes it a bit until they're basically over run with those too, leading the super-continent to start ranking the super heroes as one might students, from Class C to Class S. Again, totally not Japan.
Support For Comic Book Herald:
Comic Book Herald is reader-supported. When you buy through links on our site, we may earn a qualifying affiliate commission.
Comic Book Herald's reading orders and guides are also made possible by reader support on Patreon, and generous reader donations.
Any size contribution will help keep CBH alive and full of new comics guides and content. Support CBH on Patreon for exclusive rewards, or Donate here! Thank you for reading!
Out of this whole mess comes an unranked super hero named Saitama, who will become our protagonist. Saitama is self trained, having done so many push ups, standing runs, and practicing only a single punch so perfectly that he now has the power to destroy a solar system. He also looks a mildly concussed egg, which may or may not be part of his power, this part is unclear. What is clear is that he's now mentor to a student who's half-man, half-robot and all resentment — his own personal Lt. Dan. Saitama teaches him in the ways of calisthenics, monster thrashing, and occasionally shopping for groceries.
Like Akira, One-Punch Man is a commentary on the state of society and our desire for power. Not only does it lampoon western and eastern comics with its portrayal of super heroes and kaiju, it's also a mediation on just how lonely this generation finds the world. How distant we are from one another and how we try to fill that gap with even more isolation. Even Saitama's self training and narrow focus, the very seeds of his power, could be seen as a depressing indictment of a world that is retreating in on itself in as it grows more colorful and amazing.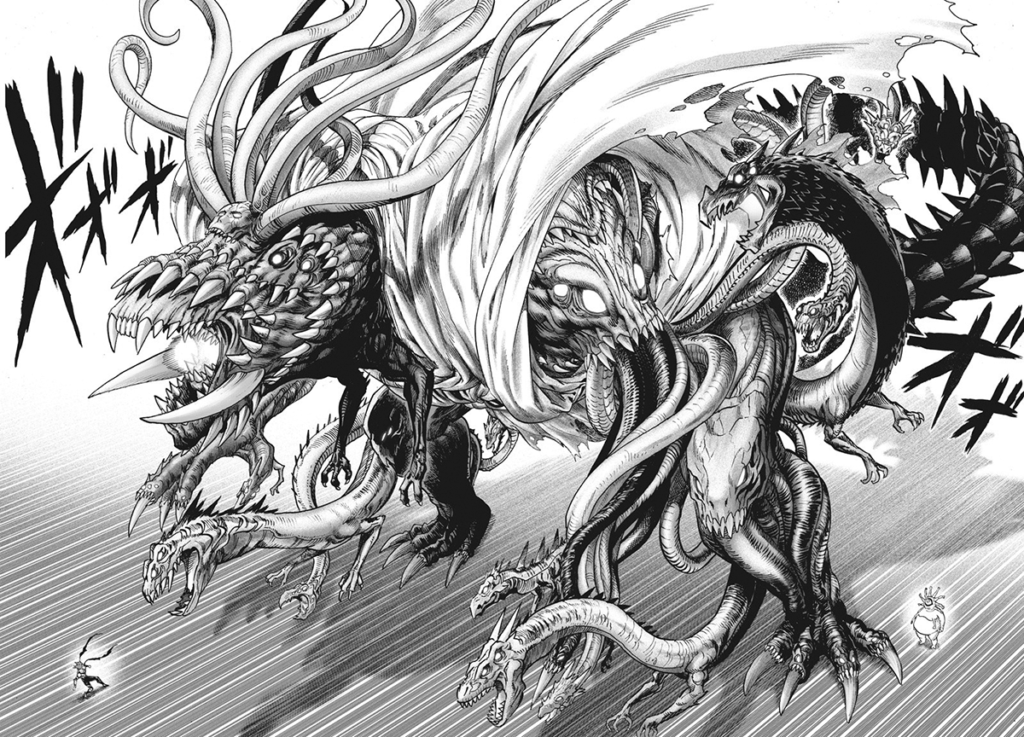 As Saitama quests to find a worthy adversary, we are left wondering what the point of a power fantasy is when it's all goal and no journey. We're also left wondering why Saitama started that shrimp company, and how an egg can even run a culinary empire.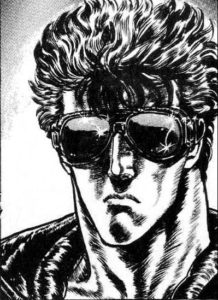 "If you want a vision of the future, imagine an electric guitar melting a human face forever."
George Orwell, 199X
The 1970-80s were the high point for the end of the world. You had gas shortages, thermonuclear tension, hostile take-overs, and cocaine paranoia pushing everyone to the point they wanted to see it all come down… Preferably at the hands of extremely sweaty men who wander this new wasteland, beating up everything in sight. It was the most metal of all possible time periods.
This brings us to Fist of the North Star. It's a story about a post apocalyptic world where the only things of value are food, water, women, and violence. It's a world overrun by mad men and demons, and it's looking for a savior.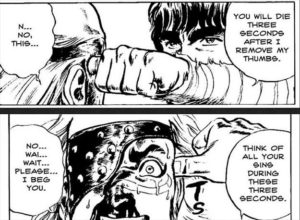 Enter Kenshiro, possessor of a secret martial art which gives him the power to — according to Wikipedia — "kill most adversaries from within through the use of the human body's secret vital points." Meaning Kenshiro can kill men in ways others can only imitate, such as this scene where our "hero" punches a man's chest
out of his chest.
If Kenshiro hits you, it's like those scenes in a cartoon where Wiley Coyote leaves a perfect outline in a wall… only in this scenario the "wall" is "all of your organs." Needless to say, this series was the watershed in bloodshed for a very, very long time and it went on to inspire countless mangas including the
Dragon Ball
series,
One-Punch Man
,
Berserk
, and even
Jo-Jo's Bizarre Adventures
. You'll even see it's bloody hand prints on a fair amount of Hollywood films.
This book is not remotely safe for work and, frankly, hasn't exactly aged well in other regards. But as a culturally important source of ultraviolence, it is still unsurpassed. And if that's your bag, it's a lot of fun. Just be forewarned, I wasn't joking about those four sources of value…
Trope: The Dim-Mak, aka The Touch of Death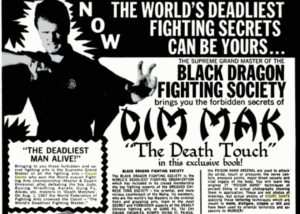 What is it about the concept of a "death touch" that we find so universally appealing? I mean, beyond the idea that we could have the ultimate power of life and death and be supremely lazy over it?
It can't just be that. In fact, I think it's for therapy reasons.
The death touch isn't just the unholy Grail of Kung Fu, but rather an old human coping mechanism, no different than the anvil in a Looney Tunes cartoon (if a bit more blood geyser-y). Merry Melodies came about during a time when America was sending loved ones off to a far away land, possibly never to return. The horror of this was so great, that we needed it brought a little closer and made harmless. This is why you found a rise in violent media during the 70s and 80s as the Cold War was at its most terrifying, and it's probably why the world needs Saitama now as it careens towards a new apocalypse.
It turns death into the ultimate joke. A car in the shape of an accordion. A Saiyan with a hole in him. A hero turning demons into paste.