Stan Lee, as he so often does, takes credit for coming up with the name "Ms. Marvel." In 1977's The Superhero Women, a collection of female-centric Marvel tales, he says that he wanted Marvel to have a signature lead female character; he and Roy Thomas proceeded to come up with the name "Ms. Marvel" for that character. The "Marvel" portion was a nod to the company, of course, and "Ms.", in Stan's words, "represented the new, liberated, upbeat spirit that we wanted the strip to represent." But neither Stan nor Roy Thomas would be involved in the actual creation of Ms. Marvel, the character. That would fall to writer Gerry Conway and artist John Buscema. And while Conway and Buscema are credited as the creators of Ms. Marvel, neither would stick with the character for long.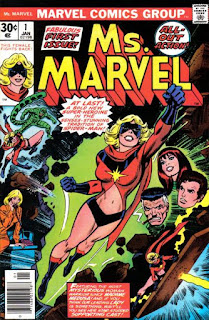 Instead, the creative voice that would most come to define the initial iteration of Ms. Marvel—and, ultimately, guide the character for roughly fifteen years—is Chris Claremont's. Best known as the definitive X-Men writer, Claremont took over Ms. Marvel's series from Conway with issue #3 and stayed with it until its somewhat complicated end. In the course of his run on Ms. Marvel, he would define Ms. Marvel as a character, developing an affection for her such that, even after the series concluded, he continued to write her as an occasional supporting player in his X-Men stories, and introduced several characters and concepts that echo louder in comic book history than the events of the series itself. While Ms. Marvel would eventually become the character Stan Lee wanted her to be in terms of her place within the Marvel pantheon, her original series is ultimately more notable for the way it impacted the storylines of the X-Men—and the ways it didn't—while leaving the actual ascendancy of Ms. Marvel to superstar status for later.
Related:
"This Female Fights Back!"
When Gerry Conway launched Ms. Marvel, it came following his brief stint as Marvel's editor-in-chief. As he said in Back Issue #54, he was concerned about taking work away from other creators. Eager to launch a new series, he went to Stan Lee, who suggested he do something with the "Ms. Marvel" name. It was Conway who took the name and applied it to Carol Danvers, former supporting cast member and love interest to the alien Captain Marvel. In Captain Marvel's comics, Carol had been the security chief of a NASA base; in Ms. Marvel #1, Conway relocated her to New York and made her the editor of a female-oriented magazine called Woman, published by J. Jonah Jameson, a clear allusion to Gloria Steinem and Ms. magazine. The change was presumably meant both to boost the book's feminist credentials and to shore up the series' storytelling engine by putting the character in the heart of the Marvel Universe and just down the hall, so to speak, from Spider-Man. In fact, Spider-Man appears in issue #1 (or at least, his alter ego Peter Parker does), and Carol Danvers strikes up a friendship with Mary Jane Watson, who is poised to become part of the series' supporting cast.
Support For Comic Book Herald:
Comic Book Herald is reader-supported. When you buy through links on our site, we may earn a qualifying affiliate commission.
Comic Book Herald's reading orders and guides are also made possible by reader support on Patreon, and generous reader donations.
Any size contribution will help keep CBH alive and full of new comics guides and content. Support CBH on Patreon for exclusive rewards, or Donate here! Thank you for reading!
On the superhero side of things, the most notable element in Ms. Marvel's initial adventures is the fact that the superhero Ms. Marvel and the magazine editor Carol Danvers don't know about their shared connection; Carol Danvers hears of the exploits of the new hero in town, but doesn't know that it's her in a costume. Perhaps inspired by how the "Ms. Marvel" superhero identity was developed separately from the character who ultimately wields it, it's an intriguing and unique if somewhat awkward setup for the new character.
The other defining element of Ms. Marvel is, of course, its status as a female-forward series. Certainly for its time, it is groundbreaking in some ways. The first female-led Marvel comic since the short-lived The Cat ran for four issues in 1972, the book was consciously written with the goal of attracting a wider (i.e., more female) audience. In the first issue, Carol pushes back against Jameson's traditionally conservative notions of what women want (or should want) in a magazine, while as Ms. Marvel, she inspires a young girl watching her in action to declare she wants to be a superhero herself when she grows up, in what is arguably the best moment of the inaugural issue.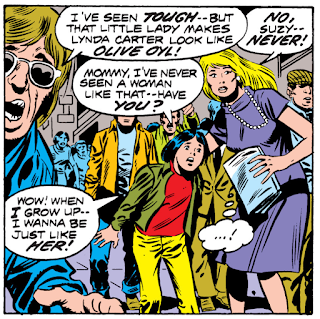 Yet for all those moments, the book is hardly a bastion of feminism—a sentiment best expressed by the character's initial costume, featuring a bare midriff and booty shorts, clearly drawn from the male gaze—something Conway cops to in the introduction to the first Marvel Masterworks volume collecting the series, saying,
"I've been embarrassed by what I came to see as the insensitivity and clueless arrogance of my assumption that I was 'qualified' to create a super-heroine, at the same time I claimed there were no female writers 'qualified' to write a super-hero. Even then I knew this was a canard, though I would have defended it. For a long, long time, I kept my head down whenever Ms. Marvel was mentioned, offered an embarrassed self-deprecating smile, or murmured some apologetic 'you had to be there' deflective remark. Honestly, I was a bit ashamed. I felt like I'd missed an opportunity to do something worthwhile, and that I'd revealed myself to be less than the man I wanted to be."
Ultimately, Conway would not be long for the series. After fully writing the first two issues, he plotted the third, leaving the scripting duties to the writer who would succeed him on the title and become the definitive scribe of the character for a generation: Chris Claremont.
The Coming of Claremont
Joined by new series artist Jim Mooney (perhaps best known for his work on the female-focused Supergirl for DC Comics), Chris Claremont, to his credit, didn't immediately abandon everything Conway had set up for the series, even as he began to put his own stamp on the book. Mary Jane was quickly phased out as a supporting character, replaced by the staff at Woman magazine, but Doctor Michael Barnett, Carol's psychiatrist/boyfriend, unfortunately stuck around, and became the signature romantic relationship of the series (an element that has aged terribly). Claremont also continued the plot Conway began involving the evil scientific organization AIM, bringing in everyone's favorite giant head, MODOK, to battle Ms. Marvel. While Claremont quickly ended the "Ms. Marvel and Carol Danvers don't know they're the same person" bit, he didn't wholly abandon the exploration of dual identities, continuing to present both characters as different personality-wise and often in conflict with one another well into the series' first year.
Claremont also broadened the world of the series, taking the character out of New York on occasion, bringing in guest stars such as the Avengers' Vision, and drawing villains from some truly dusty corners of the Marvel Universe such as the largely forgotten Living Mummy serial in Supernatural Thrillers. He also brought back Grotesk, of all characters: the subterranean villain responsible for killing (briefly) Professor X during one of the X-Men's pre-Claremont Silver Age adventures.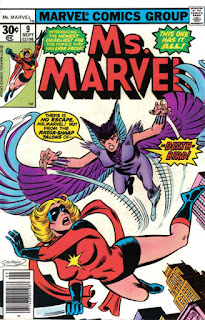 In broadening the world of the series and the kinds of foes Carol faces, he also introduced a pair of villains who would go on to significantly larger things. The first was Deathbird, introduced in issue #9 as a vaguely alien avian-themed henchperson of MODOK. She would, of course, get looped into the wider world of the X-Men when Claremont later revealed her to be one of the alien Shi'ar, specifically the sister of their empress Lilandra, who also happens to be Professor Xavier's girlfriend. In issue #16, Claremont began to tease a subplot involving the machinations of a villain named Mystique. In issue #18, she makes her first full appearance, revealing her shapeshifting abilities. Claremont's intended goals for the character and her plotline in Ms. Marvel would be ultimately cut short, but the character would nevertheless go on to have a profound impact on Carol Danvers before settling in as one of the X-Men's signature villains (and their occasional ally) as the leader of a new Brotherhood of Evil Mutants and the government-sponsored Freedom Force.
Another notable contribution to the Ms. Marvel mythos comes in issue #20 when Claremont teamed up with penciler Dave Cockrum, his former partner on X-Men who helped launch the "All New, All Different" era of that team. Cockrum brought a fresh new design for Ms. Marvel's superhero look, the classic "black with a lightning bolt bodysuit, red sash, and thigh high boots" uniform that would define the character until her elevation to the title of Captain Marvel in 2012. While the bare midriff portion of her earlier costume had been quietly filled in shortly after Claremont and Mooney took over and her new costume doesn't lack in sex appeal (according to Cockrum in Comic Book Artist #6, when he showed the design to Stan Lee for final approval, Stan remarked, "that's what I like: shiny leather and tits & ass!"), the new look immediately reinvigorated Ms. Marvel, helping sell her as a character in her own right and not just a female-derivative of Captain Marvel wearing a variation of his attire. Unfortunately, neither that reinvigoration nor Cockrum's work on the book would last.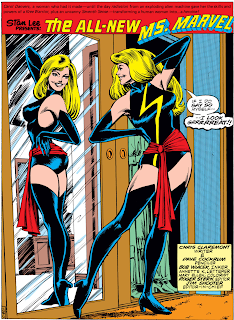 Teeth, Brotherhoods, and Circles
Ms. Marvel never really tore up the sales charts, and by issue #16 (the one in which Mystique makes her first brief appearance) the book shifted from monthly to bi-monthly publication, never a good sign of a series' chances for continued longevity. By issue #23, the series was canceled. Ms. Marvel would shortly thereafter join the Avengers, and become a regular, if underused, fixture in that book before being written out in the infamous Avengers #200 (in which the Avengers stood by smiling while Carol went off to live in a timeless dimension with the man who basically drugged, raped, and impregnated her). But while Ms. Marvel the series was done, Chris Claremont wasn't quite done with it. The cancellation came about so abruptly that not only was Claremont unable to write much denouement for the character or the series into its final published issue, but the series was also left with nearly two finished issues in the drawer (what would have been Ms. Marvel #24 and #25). Those nearly complete but unpublished stories would remain locked away until 1992.
Why 1992? Well, it turns out that Claremont had featured Sabretooth as the villain in his intended issue #24. Back in 1979, when Claremont wrote the story, Sabretooth had only appeared once before, in Iron Fist #14. His appearance at that time in Ms. Marvel would have given the book, in hindsight, one more element to its "introductory ground for future notable X-Men villains" reputation, but that's about it. But in 1992, nothing was hotter than the X-Men, and by then, Sabretooth had become one of their most notable villains. Thus, Ms. Marvel #24 finally saw the light of day in the tenth issue Marvel Super-Heroes, a quarterly giant-sized anthology series that ran things like unfinished issues or out of date inventory stories.
The Ms. Marvel unearthing continued in Marvel Super-Heroes #11, as the last bit of story Claremont wrote for Ms. Marvel featured a fair number of connections to the best-selling X-Men as well. But while Sabretooth's intended appearance in the unpublished Ms. Marvel #24 would have ultimately resulted in a minor footnote in the character's journey towards super-villain stardom, the events of Ms. Marvel #25 would have greatly upended the history of the X-Men as it is known.
In it, Claremont brings the Mystique subplot seeded earlier in the series to the foreground as Ms. Marvel gets drawn into a conflict between Mystique's new Brotherhood of Evil Mutants and the villainous Inner Circle of the Hellfire Club, with Mystique's previously depicted hatred of Ms. Marvel revealed to be tied to the fate of her step-daughter, Rogue. Over the course of the issue, Brotherhood members Pyro, Avalanche, and Destiny, Inner Circle members Sebastian Shaw, Harry Leland, Donald Pierce, and Tessa, as well as future X-Man Rogue, all make what would have been their first appearances. Had the story been published as intended on the series' regular bi-monthly schedule, it would have been on sale at roughly the same time as Uncanny X-Men #124, five months before the actual debuts of the Inner Circle in Uncanny X-Men #129 (the beginning of "The Dark Phoenix Saga"), seventeen months before Pyro, Avalanche, and Destiny's debuts as part of the new Brotherhood in Uncanny X-Men #141 (the beginning of "Days of Future Past"), and twenty-seven months before Rogue's debut in Avengers Annual #10.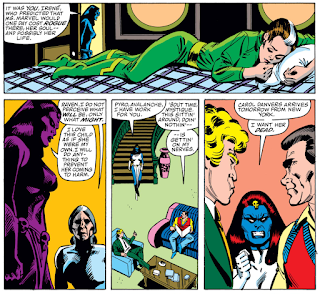 Had Claremont been given enough lead time to end the series with this story, it would have undoubtedly been a poorer ending to Ms. Marvel than even the abrupt one it got; the Mystique/Hellfire Club/Ms. Marvel melee is very clearly the start of a larger story, and not conclusive at all. As a result, it would have left readers at the time even more confused and unsatisfied. But it's wild to imagine how much the history of the X-Men might have changed had Ms. Marvel #25 been published in 1979. Would the introduction of the Hellfire Club in "The Dark Phoenix Saga" feel as sinister and foreboding if they were an already-established presence? At one point, Harry Leland uses his mass powers to cause Ms. Marvel to sink through the floor and into the sewers below; would Claremont have had Leland use the same trick on Wolverine in Uncanny X-Men #132, setting up the iconic "Wolverine: Alone" events of the following issue, if it had already appeared in print? Would Rogue's introduction as a mysterious figure who robbed Ms. Marvel of her powers and singlehandedly took out the Avengers be as captivating and impactful if she'd already been introduced as a scared teenage girl under her stepmother's oppressive thumb?
Further Faster Sooner
While much of the legacy of the original Ms. Marvel series—even without the inclusion of the long-shelved issues #24 and #25—rests on its role as a proving ground for characters and ideas Chris Claremont would later explore and deepen in Uncanny X-Men
, that is fortunately not the legacy of Ms. Marvel the character. Even beyond the unpublished stories he wrote, Claremont would continue to work with the character beyond the end of her series, doing his best to rescue her from the mishegas that is Avengers #200, setting her up as a supporting character to his X-Men, and eventually transforming her into the cosmically powered Binary, after which she would join the space-faring Starjammers. He established a history between her and Wolverine (something else teased in the unpublished Ms. Marvel #25), and kept her memory alive through Rogue's struggles to contain the part of Carol Danvers she inadvertently absorbed in her first (published) appearance. All of which prevented Ms. Marvel from fading entirely into the dustbin of comics history, allowing her to be brought back into the Avengers fold and eventually paving the way for her ascendance to the title of Captain Marvel—and her role as, at long last, the preeminent female superhero at Marvel (to say nothing of her billion-dollar-grossing turn starring in the first female-led MCU film).
Thus, it's easier to accept the 1970s Ms. Marvel series for what it is: a flawed but well-meaning effort to launch a female-forward superhero series by Gerry Conway and John Buscema, a place for Chris Claremont to develop affection for what would eventually become one of his pet characters while introducing and playing around with others he would later make far more interesting and successful elsewhere, and the birthplace of one of the most iconic and sharply designed superhero costumes of all time. It is, in short, a series whose parts are better than its whole. It's easier to not lament its failures, knowing that Carol Danvers would eventually come into her own and find success as a character. Yet at the same time, it's hard not to wonder "what if?" (even beyond the impact on the X-Men if Claremont's issue #25 script had been published in 1979): what if the series had been slightly more groundbreaking, more of a hit, attracted more readers and lasted longer? Would Carol's ascendancy have come sooner? Would it be remembered less for its intentions and more for what it actually accomplished? Would it be known less as a historical curiosity and more as a significant part of comic book history? We will never know, but that wondering is perhaps the series' greatest legacy.