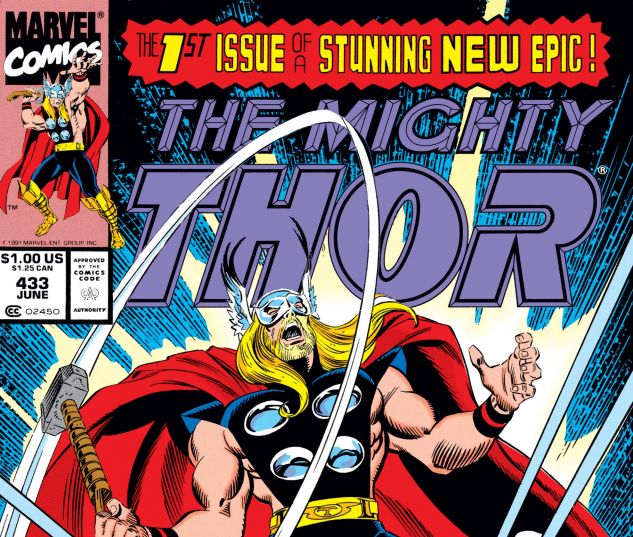 What do you get when you cross the Thor mythos with grunge aesthetics? You get Thunderstrike, a new Thor variant made by the 90s, for the 90s. A beefier hero who traded his classic hammer in for an Asgardian mace. It's a classic epic of a leather jacket fighting other, larger leather jackets.
First introduced as a side character in the pages of Thor, Eric Masterson quickly became the Thunder God's new human alter ego (yes, the title was still doing the secret identity thing by the late 80s if you can believe it), before forging himself a new identity as Thunderstrike.
Created by Tom DeFalco and Ron Frenz in 1988, Eric Masterson is a rare example of a Marvel hero who not only has a clear beginning and end to his story, but has also maintained a pretty consistent creative team throughout his comic book history (with DeFalco writing virtually all of his comics, and Frenz drawing most of them). In 2011, more than a decade after Thunderstrike's death, the duo even came back to continue Eric Masterson's legacy in the form of his teenage son Kevin, who inherits his father's mace and becomes the new Thunderstrike (still active today, as of his last cameo apparition in the pages of Annihilation Scourge: Omega).
Related:
Support For Comic Book Herald:
Comic Book Herald is reader-supported. When you buy through links on our site, we may earn a qualifying affiliate commission.
Comic Book Herald's reading orders and guides are also made possible by reader support on Patreon, and generous reader donations.
Any size contribution will help keep CBH alive and full of new comics guides and content. Support CBH on Patreon for exclusive rewards, or Donate here! Thank you for reading!
Stolen Thunder
Thor Epic Collection: War of the Pantheons
Collects: Thor #383-400
Eric Masterson is first introduced as an architect for a building that Thor (in his secret identity of Sigurd Jarlson, construction worker) is hired to help build.
Masterson is a single father in a legal battle with his ex-wife over the custody of their son Kevin, which will remain the crucial aspect of his personal life during his entire Marvel history. We're also introduced to some members of his surrounding cast of secondary characters and love interests, including his assistant Susan Austin, as well as flirty rival architect Jackie Lukus.
When supervillain Mongoose attacks the construction site, Eric already shows traces of heroism when he hurts his leg saving the life of one of the other, non-Thor) construction workers. From that point on, he starts using a walking stick, much in the same way Thor's first human alter ego Donald Blake used to.
Thor Epic Collection: In Mortal Flesh
Collects: Thor #401-418, Thor Annual #14
Masterson quickly goes from being the Mongoose's prisoner on Wundagore Mountain, to lifting Mjolnir and defeating his captor, then joining a rescue mission to the Black Galaxy to save both Hercules and the High Evolutionary. That's a lot for a mortal, and it nearly kills Masterson. But as lies dying, Thor saves his life by asking for Odin's divine intervention, and the All-Father binds his son's essence to Eric's, making him Thor's new mortal alter ego.
Back on Midgard, Masterson takes a roommate — Hercules, who's living under the genius secret identity of Harry Cleese — and is in trouble for missing work. A thing Masterson will do a lot as Thor, fighting Doctor Doom and the Juggernaut; pushovers compared to Eric's battle against child welfare as he desperately tries to keep custody of his son.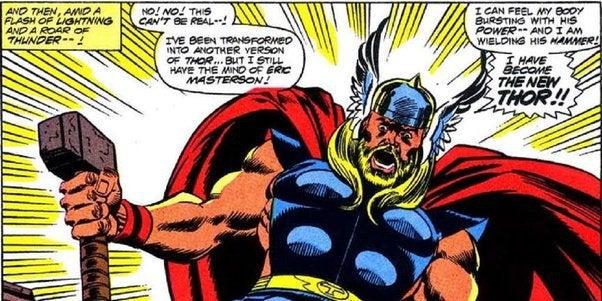 Thor Epic Collection: The Black Galaxy
Collects: Thor #419-436, Thor Annual #15
Caught in a conflict between the Celestials, the High Evolutionary, and an alien named Stellaris, Mast-Thor-son have must return to the Black Galaxy. Realizing that his responsibilities as Thor's alter ego mean that he can't be the father he wants to be for his son, Eric Masterson relinquishes custody to his ex-wife Marcy.
Eric and Thor are temporarily separated by the Red Celestial, rejoined to save Asgard from the giants Surtur and Ymir, and finally banished from Asgard when Thor must kill Loki to save Masterson's family. The result is that Eric can still turn into Thor, but he now retains the same mind in both forms, with the original Thor nowhere to be found. After appearing in the pages of Infinity Gauntlet, Eric goes to Asgard to try and free the original Thor. There, he has to help fight Annihilus, who has captured Odin.
Thor Epic Collection: The Thor War
Collects: Thor #437-450, Thor Annual #16-17
When the villain with the best name in the entire Marvel universe, Zarrko the Future Man, manipulates the Thor of his time (named Dargo Ktor, which is equally as delightfully ridiculous) into attacking Eric which necessitates a third Thor, brother-in-arms Beta Ray Bill, to separate their fight. Together, the three heroes unite against a time-displaced Loki.
Later, Eric is tricked by Mephisto into temporarily giving up his powers. He also goes to space as Thor with the rest of the Avengers during Operation Galactic Storm, in which his short temper puts the team in a difficult position more than once. Around the same time, he also appears in Infinity War alongside literally everyone else in the Marvel universe.
As a literally more human version of Thor, Eric makes some decisions that cause his judgment to be questioned by Captain America and the Avengers, including when he helps the Absorbing Man plan a failed heist at the Guggenheim Museum to scare Titania off from her life of crime.
You've Been Thunderstruck
Thor Epic Collection: The Final Gauntlet
Collects: Thor #451-467, Thor Corps #1-4
Eric meets his nemesis in the form of Bloodaxe, a vigilante that slaughters drug dealers with his superpower, "being possessed by Skurge the Executioner's old battle-ax." Meanwhile, on Asgard, Eric risks his life by bringing back the original Thor. However, the true god of thunder decides to stay on Asgard for a while, leaving Eric, the mortal one, to protect Earth as Thunderstrike with a new mace forged by Odin himself.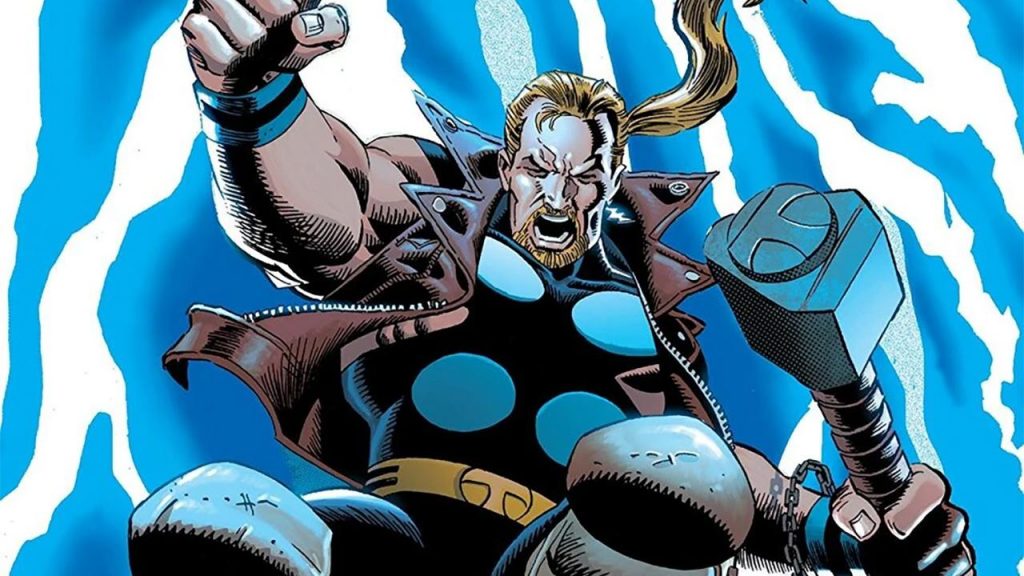 From that point on, Masterson leaves the main Thor title and gets his own 24-issues ongoing series, Thunderstrike (which, sadly, isn't collected anywhere). He also appears in the Thor Corps mini-series alongside Dargo Ktor and Beta Ray Bill, as well as in Avengers: The Terminatrix Objective alongside War Machine and US Agent, in both cases getting involved in time-traveling shenanigans. In his solo series, Thunderstrike gets a new look complete with a leather jacket and lightning earrings to make sure no one forgets that these are, in fact, the 1990s.
Eric's superhero life and his personal one collide once more when he starts suspecting Bloodaxe might actually be someone he knows. Especially since Masterson's ex-wife's new husband, Bobby Steele, starts acting more and more unhinged. However, the actual Bloodaxe turns out to be Masterson's architect friend and love interest Jackie Lukus, whom he saves from the ax's powers before succumbing to the weapon himself. After a climactic battle with the Egyptian god Seth, the Avengers, and the Original Thor, Eric manages to fight off the axe's will and dies a hero.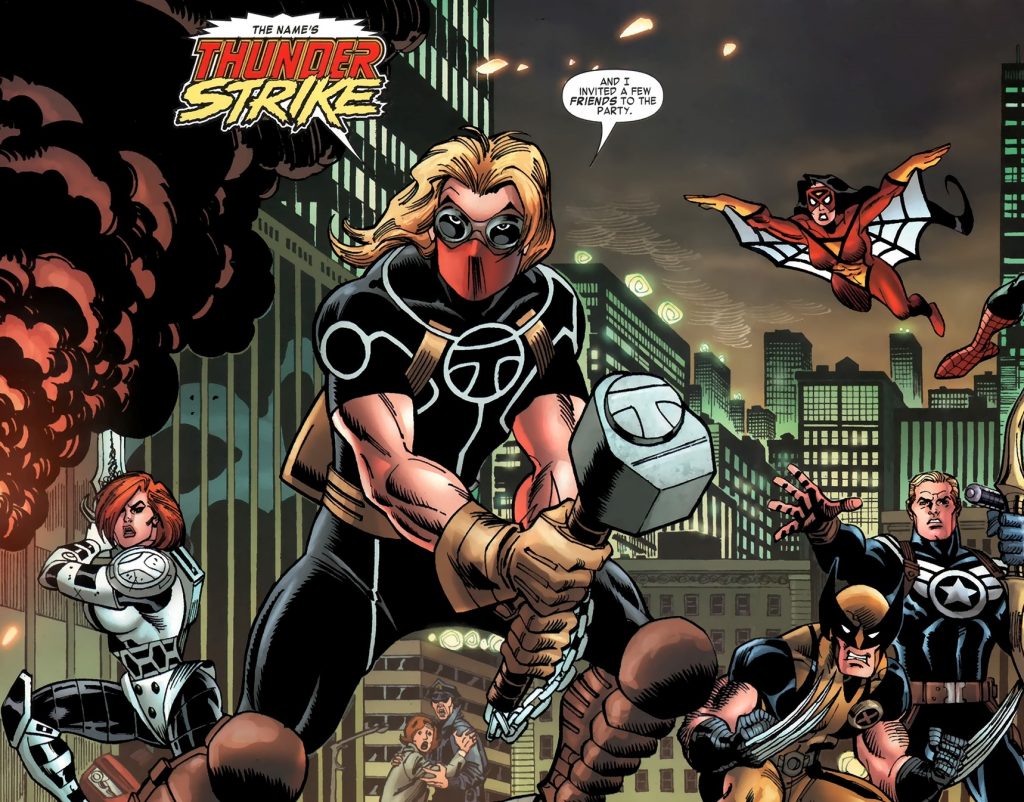 Sometimes, Lightning Does Strike Twice
In the Tom DeFalco-led "Marvel Comics 2" imprint, which shows a possible future for the Marvel universe (in a timeline known as Earth-982), There Eric's son. Kevin Masterson takes on his father's name and mantle (with help from Edwin Jarvis,) and becomes a member of A-Next, Earth-982's Avengers.
Thunderstrike: Youth in Revolt
Collects: Thunderstrike (2011) #1-5
Back on Earth-616, Steve Rogers gives Thunderstrike's mace to a now teenage Kevin Masterson. Bitter towards superheroes, and especially towards his father for getting killed, the adolescent is nonetheless forced to learn how to fight from a Valkyrie named Gruenhilda. Eventually, the new Thunderstrike joining forces with Thor and the Avengers to fight off the Mangog.
Collects: Fear Itself: The Home Front #1-7
During the Fear Itself event, Kevin teams up with other teen heroes to fight some shark people in the middle of the ocean.
Asgardians of the Galaxy Vol. 1: The Infinity Armada
Collects: Asgardians of the Galaxy #1-5
When Nebula threatens to bring about Ragnarok, Angela — along with, secretly, a reincarnated Kid Loki — assembles a team of Asgardians to go on cosmic adventures, including warriors like Skurge, Valkyrie, Throg… and Thunderstrike. The book quickly becomes a lead-up to the War of the Realms.
Asgardians of the Galaxy Vol. 2: War of the Realms
Collects: Asgardians of the Galaxy #6-10