Aquaman is great. Well, okay, he actually kind of sucks, but that is why he is great. In a universe full of noble heroes, tortured vigilantes, and paragons of justice, Arthur Curry is an angry dude with a crown. He's a hero, of course, and does the best he can, but the King of Atlantis is, at his heart, a man thrust between two worlds he will never fully belong to and can barely keep it together most of the time. Lord of the Seven Seas, off-and-on monarch over 70% of the world's surface, and hopeless romantic. Arthur Curry ain't a normal, charming superheroic lead, and that has led to a lot of confusion over who the hell Aquaman is and why you should care. That's where I come in. So, here's the 10 Best Aquaman Stories of All Time to clear things up!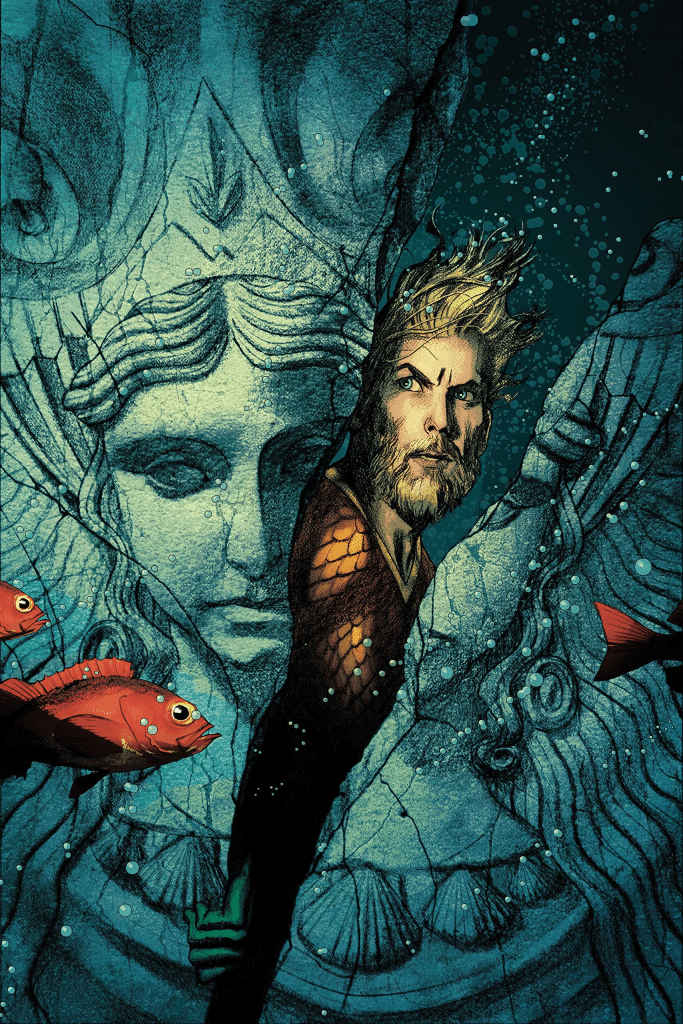 Starting out with one of the more recent stories on this list, "Underworld" continued series writer Dan Abnett's run on Aquaman while bringing in Stjepan Šejić on art duties. The soft-relaunch of the title shook off the lingering taste of Johns' multi-year run and unfocused direction and revitalized the title as one of DC's best and most beautiful titles until Abnett's departure in late 2018, recasting Arthur Curry as a fantasy-tinged urban legend-turned-folk hero amid an oppressive Atlantean regime.
Šejić's art steals the show, creating the single most striking and memorable depiction of Atlantis and its people in Aquaman's 75-year history. The revitalized supporting cast, from standbys like Mera and Vulko to reimagined classics like Dolphin, gives the book an energy it lacked in its previous 24 issues and proves itself as one of the most robust visions Aquaman has ever had.
While not exclusively an Aquaman story, JLA: Year One, from Waid, Augustyn, and Kitson, features Arthur as one of the team's founding members and gives him well-deserved time in the spotlight. This book retcons Aquaman's early years in a charming but effective way that paints him as a lonely young man venturing out into the world and attempting to make his first real friends.
The series itself is terrific, giving the team a far more stripped down and character-focused origin than most incarnations, and is well worth reading entirely on its own merits. When approaching it as an Aqua-Fan, though, it stands out as a uniquely vulnerable and funny take on the Sea King's earliest days as a hero and provides a welcome contrast to his fully-formed self.
Support For Comic Book Herald:
Comic Book Herald is reader-supported. When you buy through links on our site, we may earn a qualifying affiliate commission.
Comic Book Herald's reading orders and guides are also made possible by reader support on Patreon, and generous reader donations.
Any size contribution will help keep CBH alive and full of new comics guides and content. Support CBH on Patreon for exclusive rewards, or Donate here! Thank you for reading!
Geoff Johns' impact on Aquaman is still felt to this day, and that's not necessarily a good thing. The longtime DC architect (his presence at the company now much diminished, following multiple allegations of abuse from Ray Fisher) had a 25-issue run with Arthur, on top of spotlighting him as a member in Justice League. The Johnsian brand of storytelling, filled with violence, rejection of whimsy, and reverence of Being Cool, was present throughout his time on the series and mainly made it a slog to read. Luckily, Aquaman #5 breaks that mold.
Paired with Ivan Reis' rock solid and expressive pencils, "Lost" tells a done-in-one tale of Aquaman stranded in the worst possible place for him: a desert. Running the gambit from funny to tragic, the issue overcomes many of Johns' worst tendencies as a writer. It delivers a deeply satisfying personal tale for Arthur that gives a taste of what the rest of the run possibly could have been.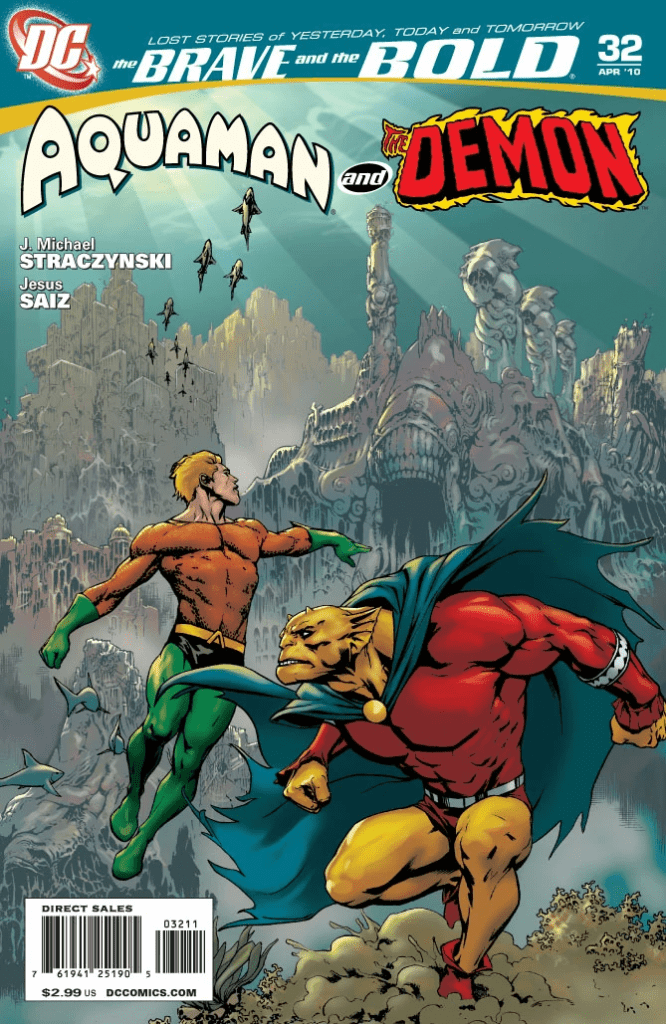 Aquaman and Etrigan! The World's Finest! Everyone's favorite superhero duo! JMS and Jesus Saiz's pairing of these two mismatched heroes might seem like, well, mixing fire and water, but somehow it manages to be one of the most striking Aquaman stories ever told.
Told from the perspective of a half-crazed sailor, the tale follows a previously-unknown yearly tradition between the two heroes. Once a year, they stand alone against the rise of an eldritch old god who is Very Definitely Not Cthulhu. Despite the usage of the most over-exposed elder god in fiction, the story trades in the murky horrors of what lies beneath the waves more than most Aquaman tales, to great success. In particular, a full-page splash from Saiz is one of the most iconic images of Aquaman ever put to paper.
One of the more wild overhauls in DC's post-Infinite Crisis One Year Later initiative, Sword of Atlantis brought in legendary writer Kurt Busiek, along with Butch Guice on art, to completely revamp Aquaman's status quo. Starring a new Aquaman, Arthur Joseph Curry, and injecting a high-fantasy vibe more akin to Busiek's work on Conan the Barbarian than any other DC title, the new series immediately carved out a place in Aquaman history.
Rebuilding the undersea realm of Aquaman as a lawless fantasy world of bandits and rowdy taverns, the series presents an incredibly compelling pitch for what Aquaman could be, one that was left sadly after a handful of issues. From bringing in the shockingly likable murder machine King Shark and the mysterious Dweller in the Depths as the new Aquaman's supporting cast to refreshing old DCU concepts like The Sea Devils, Sword of Atlantis is one of the more inventive takes on Aquaman and deserves far more acclaim than it receives.
A one-off tale by guest creative team John Ostrander and Tom Grummett, Aquaman #14 tackles a classic superhero story archetype to great success: Rashomon-esque differing accounts of what the hero is like. Focusing on Vince Wolfe, a writer for the superhero magazine Meta, who is upset to find himself having to write a piece over Aquaman.
What follows is a series of different tales about Aquaman, ranging from a Superfriends-tinged childhood fantasy to a boastful fake hook-up by a jealous ex. The two honest accounts, one from a fireman whose crew were aided by Arthur, and the other from a suicide attempt survivor that he saved, are what push the issue beyond charming fluff. Pitch-perfect looks into Aquaman's character that don't sand down his, often quite harsh, edges while still show he is undeniably a hero with a kind heart. The ideal guest team issue and an Aquaman classic.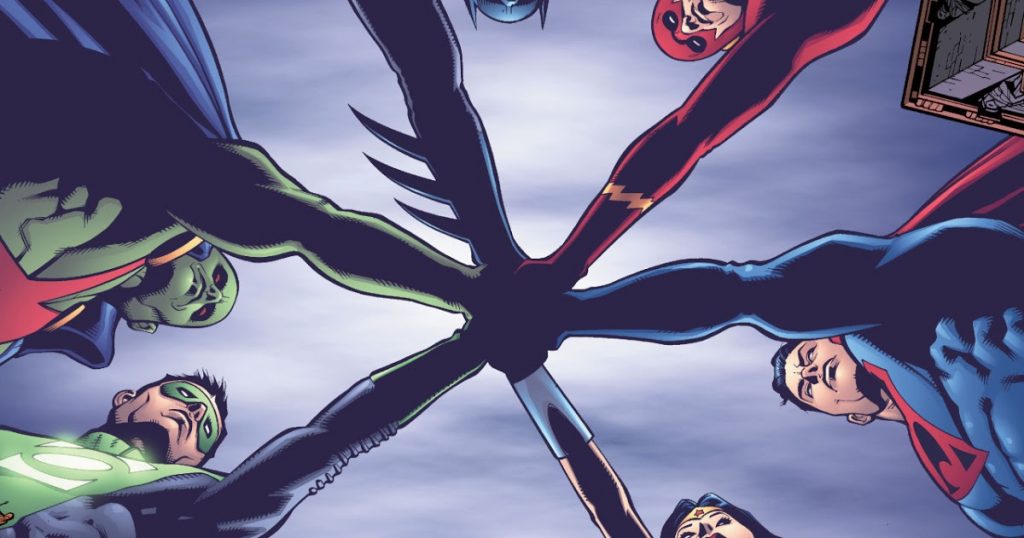 Okay, this one is a bit weird, but bear with me. Despite being subtitled THE SEARCH FOR AQUAMAN, Arthur Curry is not a massive presence in the story and doesn't fully appear until the final two issues. With that in mind, the impact his sheer presence has on the absolutely fantastic story as well as the strength of his eventual return do enough to earn it a spot in the rankings.
One of Joe Kelly's strongest storylines while at the helm of JLA, along with some of the most potent art in Doug Manhke's career, "The Obsidian Age" is a hell of a story. The story is split between two narratives: the prime JLA team in Atlantis' ancient past and the new replacement team (led by Nightwing and including the likes of Jason Blood and Halo) trying to fill their shoes. Expertly paced with plenty of genuine surprises and an absolute thriller of an Aquaman-heavy ending, it manages to be both a classic Aquaman and Justice League tale. No mean feat.
After a somewhat poorly received mystical-heavy relaunch, Will Pfieffer and Pat Gleason took over Aquaman with one of the most shocking introductions from a new creative team I can think of: sinking an entire major American city. San Diego becomes Sub Diego in this run, with the survivors of the disaster finding themselves newly aquatic and unable to return to the surface without drowning. A far more grounded and gritty tone than most Aquaman tales, the series injected a modern sensibility and new sense of focus to a character that had long-since struggled to maintain them.
Introducing a new Aquagirl in Lorena Marquez and giving Arthur a new home and group of people to take care of, it makes for one of the strongest status quos Aquaman has ever had. Pat Gleason's art defines the run, dynamic and energy-filled when action calls for it, and expressive and weighty when emotions are the focus. An absolute thrill to read and a powerful entry into Aquaman history.
Jeff Parker's run on Aquaman is underrated, y'all. Immediately picking up after Johns' departure and keeping the rock-solid art of Paul Pelletier along the way, it is filled with a sense of adventure, fun, and love for the DC Universe that few other series were offering in the doldrums of the New 52. Nowhere is that more apparent than in his final arc on the book, "Maelstrom."
Offering both a whirlwind tour of some of the DCU's more obscure favorites (including Gorilla City and a spectacular guest appearance by Martian Manhunter) and earth-shaking revelations about Aquaman's past, it is an outstanding tale from start to finish. Maybe the most impressive feat in the entire story is the overhaul of Arthur's mother, Queen Atlanna, from barely-extant plot device to competent, badass warrior queen with a full sense of agency. One of the handful of utterly successful New 52 reimaginings in a story that more than deserves it.
The de facto finale to Abnett's run (the subsequent Suicide Squad cross-over and Justice League tie-ins do little to conclude his plots) and an absolute masterwork of pacing and execution, " The Crown Comes Down" is one of the best DC stories in the past decade, and easily one of Aquaman's best. Replacing Stjepan Šejić with the phenomenally talented Riccardo Federici and guest-spots from Robson Rocha and Kelley Jones, Abnett's conclusion builds off the momentum from "Underworld". It is every bit the stirring fantasy epic you could hope for.
Juggling everything from epic magical duels to questioning the structures of monarchy, it is a story that tackles both who Aquaman and Atlantis are at their cores. Thrusting Mera into a fully-fledged co-starring role and giving her a tie-in miniseries and sporting jaw-droppingly beautiful art, the story modernizes and builds on every aspect of Aquaman and delivers the most definitive take on the hero and his corner of the DC Universe that has yet been told.