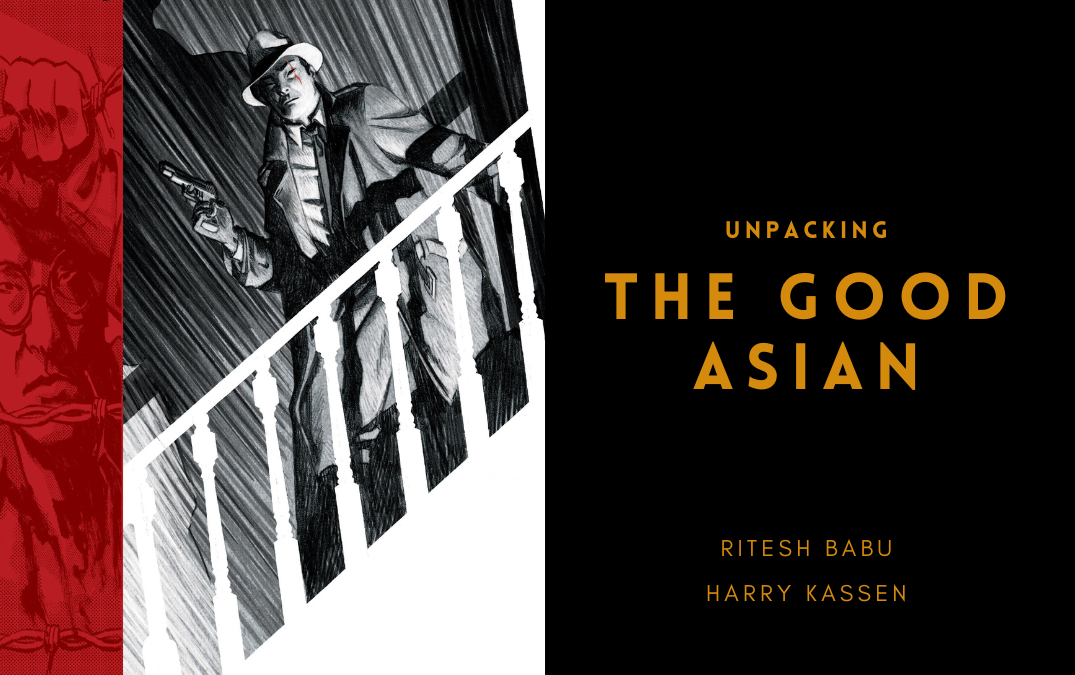 In 1882, the United States passed a ban on Chinese immigrants, blaming them for the 1874 Depression. In 1924, the Johnson-Reed Act expanded the ban to include Asians and Arabs. By 1936, over a half a century after the original ban…the Chinese were the first generation to come of age under an immigration ban.
Following Edison Hark—a haunted, self-loathing Chinese-American detective—on the trail of a killer in 1936 Chinatown, THE GOOD ASIAN
is Chinatown noir starring the first generation of Americans to come of age under an immigration ban, the Chinese, as they're besieged by rampant murders, abusive police, and a world that seemingly never changes.
Two Asian critics- Ritesh Babu and Harry Kassen discuss and dig into the ambitious Asian-American Noir drama.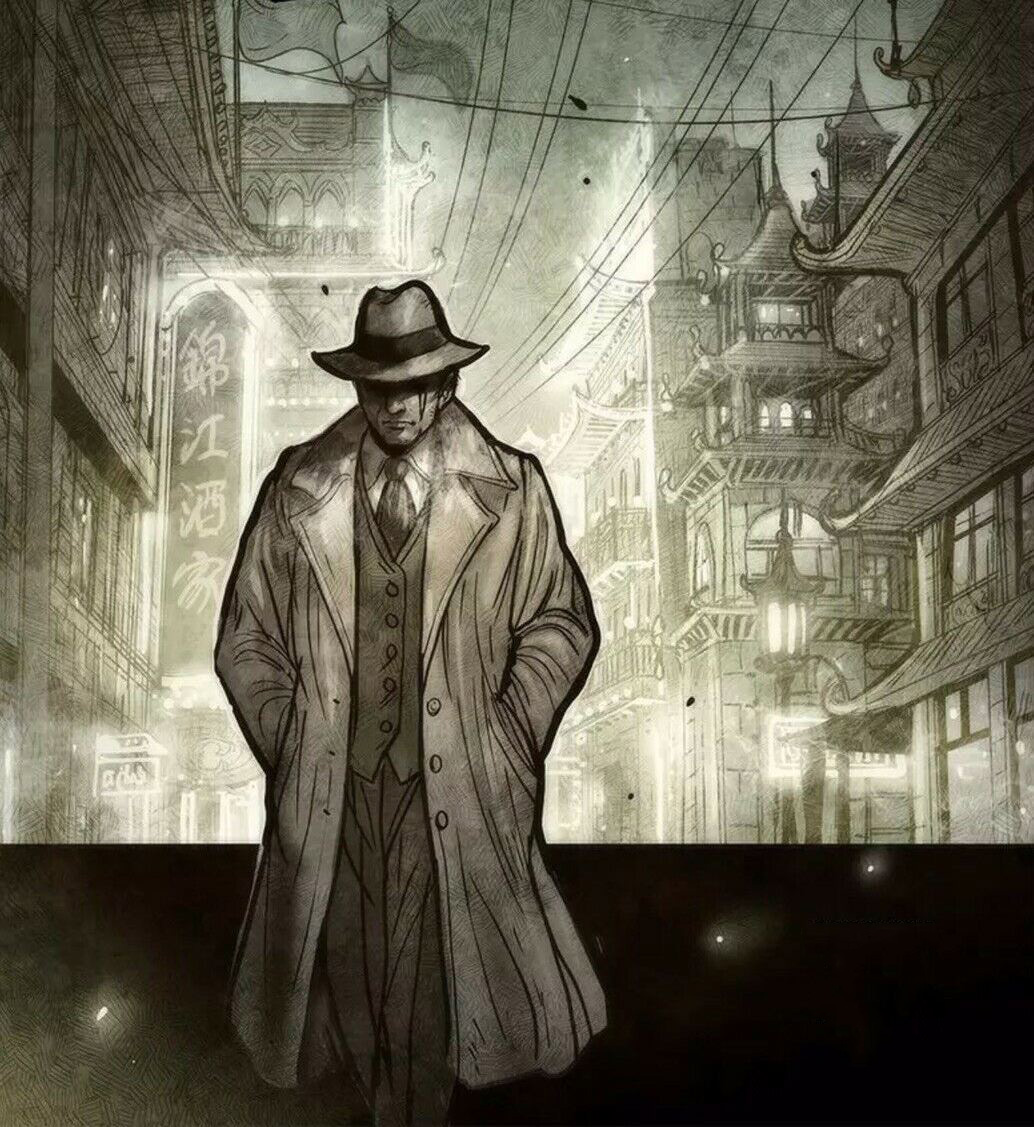 Ritesh Babu: And here we are! Sitting down to discuss what is probably the mainstream creator-owned American comics title of the year! It even (very deservedly) won the Eisner for Best Limited Series. And given that it's now a completed work that's collected in two trades and can be examined as a whole, it feels right to just sit down and dig into the book.
Harry Kassen: Yeah, absolutely. I think this book, even more so than others, really benefits from examination as a whole work. It sits in that early pre-WWII hard-boiled detective tradition, in that it was originally serialized, but will likely find its greatest popularity and appeal as a gestalt work.
Support For Comic Book Herald:
Comic Book Herald is reader-supported. When you buy through links on our site, we may earn a qualifying affiliate commission.
Comic Book Herald's reading orders and guides are also made possible by reader support on Patreon, and generous reader donations.
Any size contribution will help keep CBH alive and full of new comics guides and content. Support CBH on Patreon for exclusive rewards, or Donate here! Thank you for reading!
Ritesh: We tend to think about and talk about comics as a bastard medium. There's the 'cinematic' comics, like, say, the Ultimates, which is very much filmic stuff. It's Comics taking from Film. And in the past few years, particularly with the 2010s Image wave on, we've seen a great deal of Comics as Television. So many comics out there can sometimes feel like media-savvy pitches, usually being around 6 issues and out. Millar feels like the ultimate symbol of this approach-even though his process has been reversed now, as he now makes the comics based off the TV/Film idea he already came up with and put into development as a Netflix Exec.
We have a lot of Comics as Film/TV. And certainly, one could argue The Good Asian takes from TV, as its 10 issue run feels like a Prestige TV season arrival. And certainly, I've noted that myself. But looking more deeply at it, I think it intentionality skews closer to the classic Alan Moore prestige works. It's very much a comic that wants to be a comic above all else, satisfying you with each single issue installment.
But beyond all that, I think it embodies a pathway of comics that many aspire to but don't always nail- Comics as Novels. That's really what this is. It's very much a work going for that sense of being a very 'complete' work. It's a self-contained unit that just works.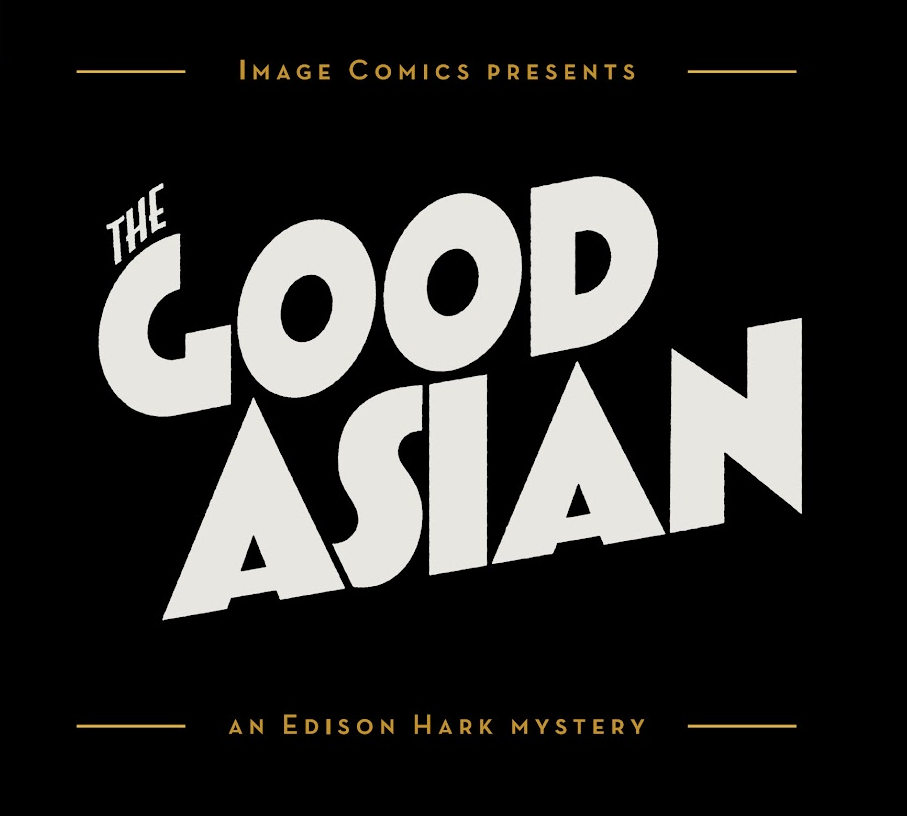 Harry: Agreed there for sure. Delving into the idea I mentioned earlier, of authors like Dashiell Hammett and those other pre-war detective writers, with the early ones you see these works that on some level clearly want to be novels, and writers who want to be novelists, but due to the constraints of the genre, they're publishing short fiction in pulp magazines. They make use of this and publish novels in four or five installments, the sort of Dickensian model, which allows them to get those more longform works out in a more serialized market. Which in many ways feels very similar to how this era of comics works, where the vast majority of the Mainstream American market is made up of finite stories told in some number of periodical installments.
While this is true, though, I think it is important to circle back to what you said about Comics as Comics, the Moore model if you will, and to comics as bastard medium. Because there are so many elements of this book that can be compared to one thing or other. It has its roots in fiction like Hammett's Continental Op or Raymond Chandler's Phillip Marlowe, even echoing that publication format like I mentioned, but it also has a 'seasonal' TV-like model too, with that last issue promising that "Edison Hark will Return." I also think that Tefenkgi's art engages in that cinematic tradition as well, though filtered through a noir genre lens, rather than the Millar/Hitch action blockbuster angle in Ultimates. And that to me is what makes comics comics. When it's impossible to point to one tradition that a comic is operating in, that's what makes it irreducibly comics to me.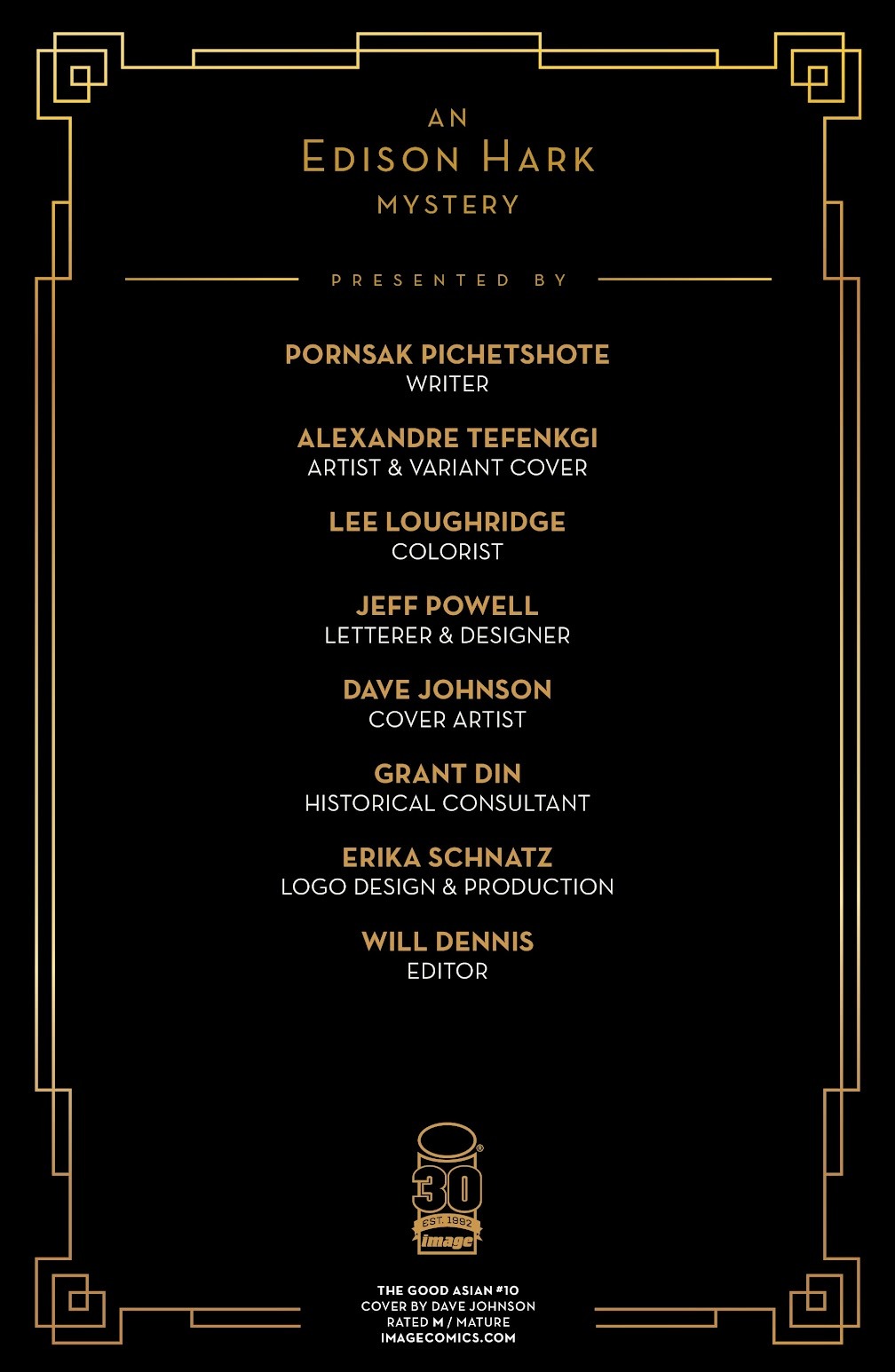 Ritesh: Yeah. The prismatic quality is really the draw. And the topic of pulps is really interesting here to me. Because you look at mainstream American comics, and it feels like Ed Brubaker's really kind of cornered that market, yeah? I mean, obviously he's not exactly doing The Shadow or Doc Savage or even a Howard-style fantasy or a Lovecraft thing, but his crime work feels really rooted in those pulp sensibilities. It's there in a ton of his collaborations with Sean Philips, but is perhaps most evident by the time of their latest collaboration in the form of Reckless. Those are Graphic Novels and they too try a bit for that novelistic quality, albeit a bit differently. They're less the 'serialized in pulp magazine' sort and a bit more 'Airport Novel' or one of those pulpy novels you just pick up and burn through. So it's pulp filtered through that.
And meanwhile you have someone like Matt Kindt filtering the pulps and pulp archetypes through 70's and 80's TV influences, ala Knight Rider, in his book Bang!. So the terrain has some players and has been broached, but not quite like this. Pichetshote and Tefenkgi's book really returns to those original roots and feels like a closer reflection, but done for our 2020s. That spirit is reflected very clearly even in its premise- What would happen to a classic noir if we put an Asian-American lead in it and it wasn't a Charlie Chan situation? What if we, a bunch of Asian voices created something new to examine that period and genre and play with its classic trappings? So it ends up carving a very clear place and niche for itself. You say 'Crime Comics' in the American mainstream space, and it's Brubaker/Phillips. But this stands apart. You could never mistake it for anything else. It's something special.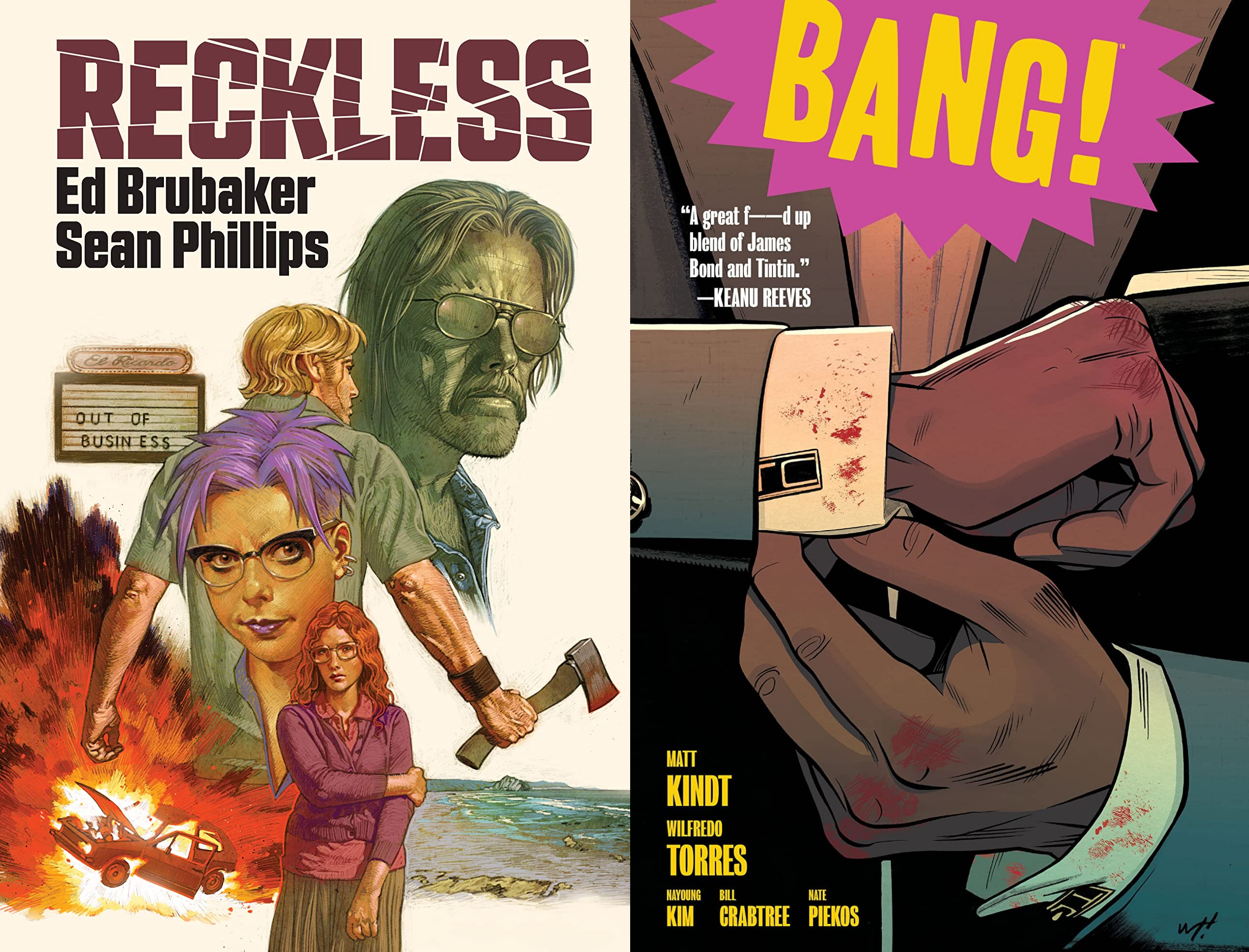 Harry: Yeah, I think you just pretty neatly laid out exactly what makes this book so special, at least conceptually. We'll move into what it's actually doing on the page shortly, and that's really unique as well. But you're absolutely right that Brubaker/Phillips are the big team in crime comics, but their work is distinct from this because it really is pulling from the later eras of crime fiction, the 50s-80s paperback detective stuff, Lew Archer and Spenser and all that, especially when looking at something like Reckless.
The Good Asian is closer to the pulps in several ways: first, it's set in 1936, which is important for the backdrop it uses, the Chinese Exclusion Act, but also because that's when these pulps were at the height of their powers, and so it can fit right in with those classic crime works, because they're all set around the same time. I also think there's a difference in the way the lead is portrayed. Ethan Reckless is a troubled, troubling man for sure, but he's your classic scoundrel-with-a-heart-of-gold archetype. He's rough, he's violent, but he's ultimately a good, caring person, looking to do the right thing. Edison Hark, on the other hand, is a different kind of character.
Reading The Good Asian, you regularly see him make decisions that hurt those around him and himself, and while he expresses remorse on occasion, he's much more calculating and ruthless than Ethan Reckless and other heroes of that type. Hark, and the pulp detectives he's modeled on, are dogged in their pursuit of their goal, even if that means letting harm come to the people around them. Which, in the context of the book's racial dynamics, and particularly the ending, where he concludes that Ivy Chen, the book's macguffin, was just another Asian trying to survive, takes on a different valence. Hammett's Continental Op is a machine, of sorts, and he never shows what the job does to him, but Hark is visibly worn down by what he has to do. He just doesn't see an alternative, because that's what it takes for him to survive as a Chinese-American in 1936. So I think the pulp detective tradition is vital to understanding the construction of The Good Asian, and it's that casting of it through a different light that gives the book its power.
Ritesh: Absolutely. The way the classic 'Oh he's a bastard' idea plays and is (re)constructed for us through the context of both the world around him and how his identity informs how he engages with said world, that's what is fascinating. The entire book kind of revels in taking the classic expected tropes or archetypal figures of noir and altering the meaning and playing with the expectations. Like Victoria Calloway is in many ways The Femme Fatale figure of the book, but the general misogyny and problems of just reproducing that notion uncritically are avoided by the book interrogating the relationship and power dynamics involved between an Asian-American man and a White American woman. Race is a huge component to how you interpret this book. It is explicitly about how it can never be ignored and it defines and shapes everything, as the book opens on the material impact of its systems, as it is written into law.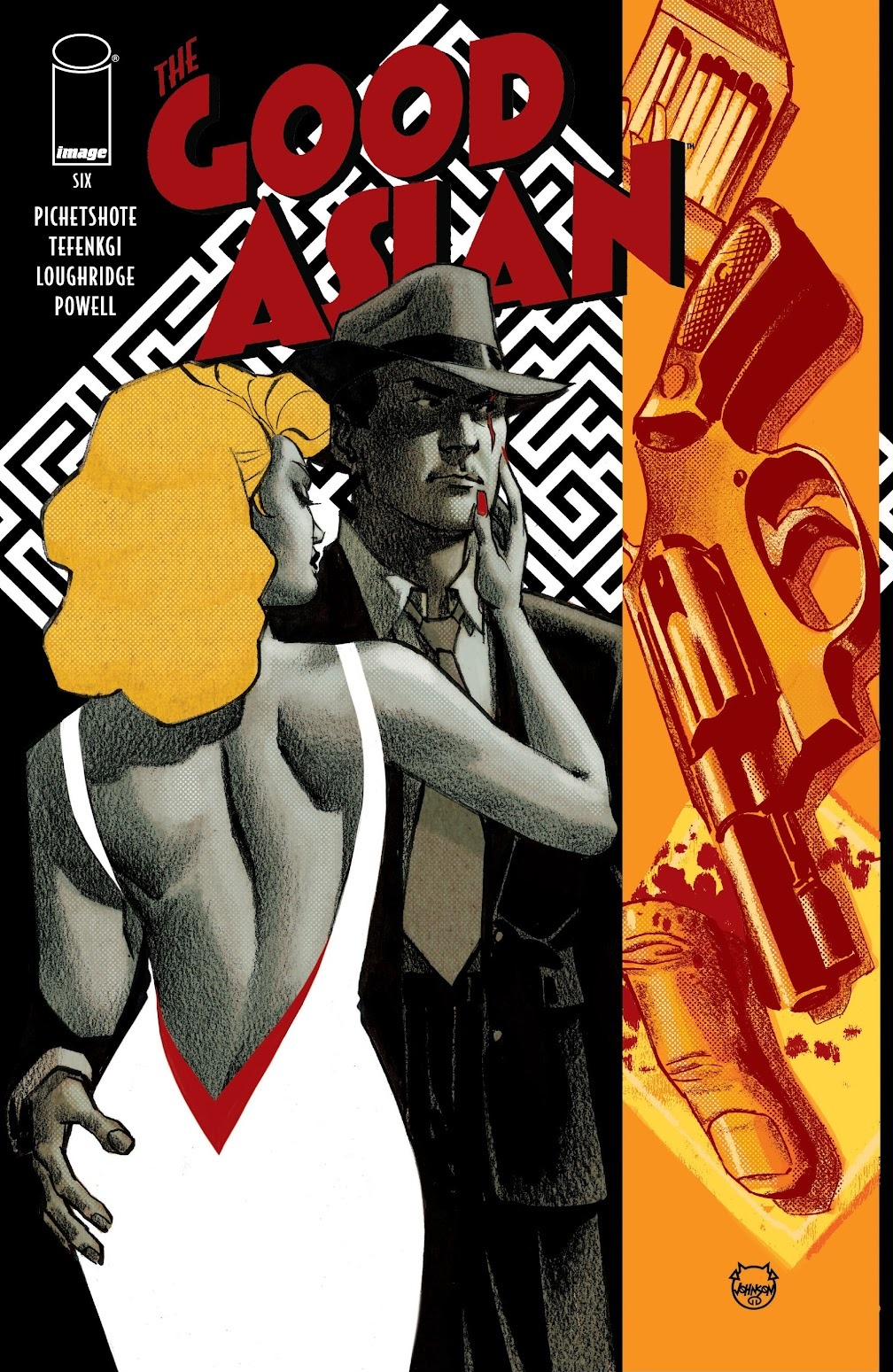 The book deals heavily in complicity. It's there in someone like Victoria, who wants to be Oh So Good but just keeps getting her hands dirty given the immense amount of power she wields. But it's also there in Edison Hark, an Asian-American man who is directly at odds with the system, the law, that he has turned himself into an active agent of. A path that puts him right at odds with his own people, as he's used as a hunting dog to hurt and snuff out his very own. And complicity and guilt and that nagging sensation of unclean morality, the ambiguity, they're all classic noir.
Harry: Yeah, I think for this we can look to the book's rather provocative title. Who is The Good Asian, or more likely What is The Good Asian? Because that's another thing that got to me as I was reading this book. Hark is trying to do the right thing, but that's so tangled up in the racism of the US, the privilege he achieved as an adopted member of the Calloway family, that it's hard to understand if he is The Good Asian. His role as a police officer puts him at odds with members of his own community, though in a wide variety of ways. He's looked up to by children, laughed at by aunties, disbelieved and feared. And there's his own self-loathing to factor in as well. Early in the series he blames violence against Asian communities on their own behavior, despite having seen firsthand how the violence will occur regardless.
On the other side of that equation, though, we have the leaders of Chinatown's economic and cultural life who are working to change the image of Chinatown. To make it "safe" and welcoming (read: acceptable to Whites). And ultimately, if you know history, this is the vision of The Good Asian that has won out in American culture. It's an interesting part of this book that you can watch the birth and propagation of the Model Minority Myth, which we understand to be harmful now, to Asians and other marginalized communities, but at the time looked like a good way of protecting themselves from White violence.
The idea of what it means to be a Good Asian is a contentious one, and it's far from settled business even now. But showing these flawed archetypes is an important part of that discussion, I think. And the book does offer a less flawed archetype in Lucy Fan, who wants to help her community, though not necessarily through appealing to the gweilos as the other female characters in the series try to do. She's distrustful of the law, and initially refuses to work with Hark after discovering the harm the law, as carried out by a Chinese police officer, can still do. She's willing to fight for what she thinks is right too, and she's smart, even tapping into the sort of "detective vision" that Edison Hark is shown to possess throughout the series. In essence, she's a character who puts the needs of her community members first, rather than the idea of the community or purely her own self interest. She offers a vision of Asian-American solidarity within the confines of a racist world that allows us to retain our values and identity.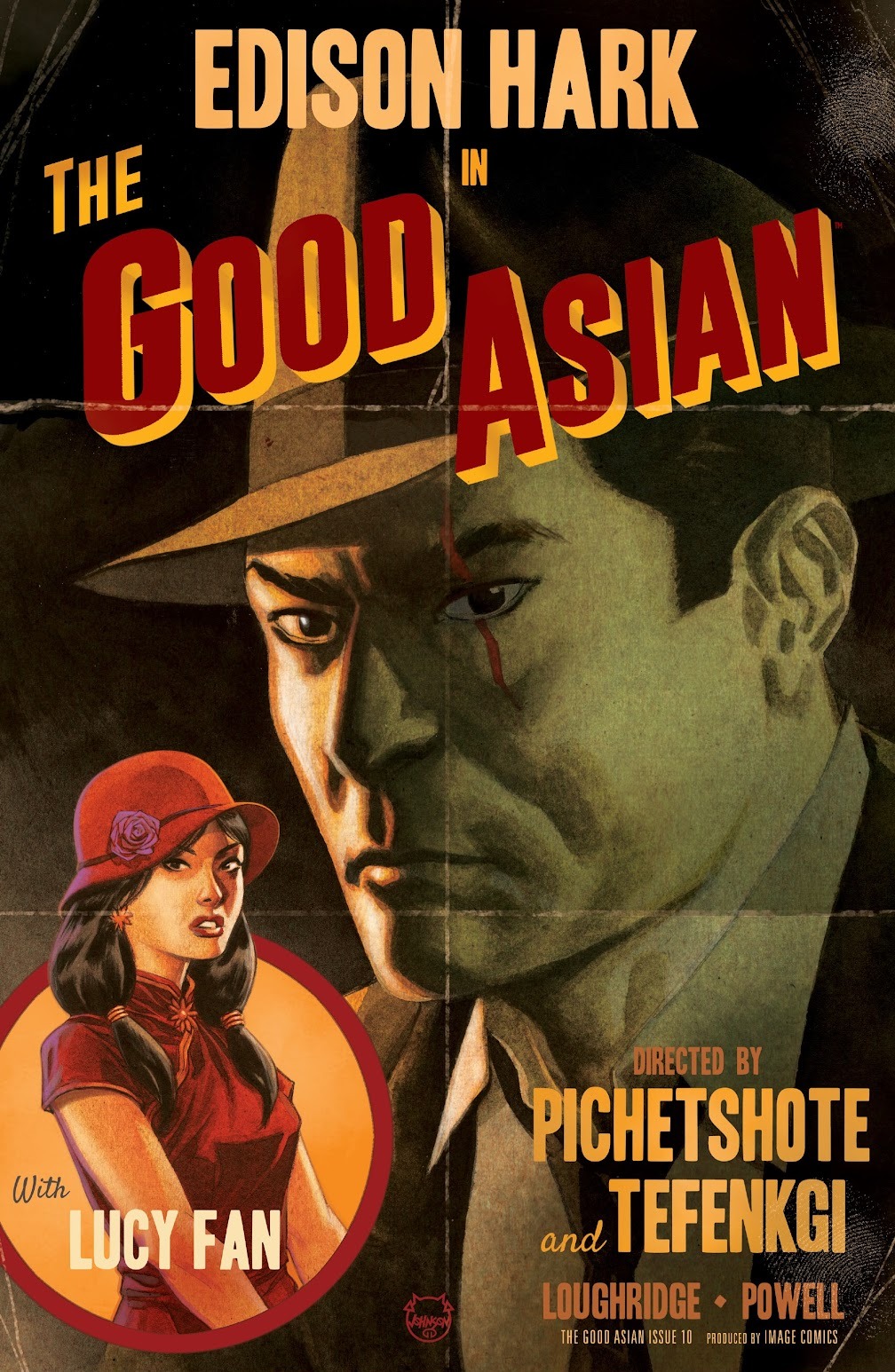 Ritesh: It's telling that Edison Hark spends the whole series trying to crack this case…and he fails. He absolutely, completely, disastrously fails, to the point that 'Edison Hark' itself must die. His very identity is burnt away, shed away, and Edison Hark is a failed man. Or at least, Edison Hark as he was. He only really begins to piece things together properly after surviving and becoming, essentially, a 'blank slate' working with Lucy Fan. She does detective work and operates for him and is his ally. And it's only in working with her that he really puts the puzzle together. Edison Hark the clever lone wolf and bastard couldn't hack it. The husk of Hark working with Lucy Fan could and did.
And in so doing, he is transformed. He emerges, by the end of the book, a man reborn. Who is he to be now, unburdened and unbound to his past identity and obligations, as he's experienced identity death? What is he going to be now that he is, as he puts it, just another Chinaman, as opposed to Edison Hark, the privileged ward of the mighty and rich Calloway family and the special cop? That's an open question. And it's one that hits at that central idea the title alludes to in a charged manner. What is a Good Asian? Well, it's not something settled and cemented at least. It's something in a constant state of death and rebirth, eternal flux. Fixed and yet also a blank slate. And what is its future to be? We'll find out, I suppose. We don't know. The book feels like it wants to very much be a part of a larger conversation, which is always useful with art. It's not offering concrete answers as much as saying 'Here's how all it feels, and here's all these myriad of perspectives on this, now let's figure this out together.' And I really appreciate that. That openness it has, and the way it invites that sort of complex engagement.
Harry: I definitely agree, and I think that's another part of what makes this such a compelling detective story. One of my major pet peeves is when people conflate mystery and detective stories. To me, those are distinct genres. Mysteries are about amateur detectives usually, often revolve around a murder, and offer an expectation of fair play. Think Sherlock Holmes or Agatha Christie. They emphasize intellect, deduction, and thinking through a solution based on observable clues. Detective stories on the other hand, hard-boiled detective stories, are not always a murder. The Good Asian doesn't start that way. Hark is a professional detective, at least initially. There's also a fair amount of legwork involved in solving a case in detective stories. It's not the kind of thing that could be resolved in the proverbial drawing room after sufficient observation of the crime scene. It involves going out, talking to people, chasing down leads, that sort of thing. It's not a pristine science, it's inherently a disruptive act. So in mysteries you get this sense that there's a single explanation that accounts for every clue and that somehow you could solve it before reading to the end. Detective stories are very different. They're not about that sense of fair play, and so the answers often aren't available to you as you read. More importantly though, the solution isn't some kind of neat and comprehensive thing that takes everything into account. It's messy.
Mapping social issues, the sort of deeply entrenched social issues at the heart of The Good Asian, onto these detective fiction tropes makes the kind of thing you're talking about not just possible, but formally necessary. If the problem is inherently one of race, the messy, partial, unsatisfying solution, must also be racial in nature. What the book does, though, is marry the noir trope of the "good enough" ending, where the detective has solved the case in a pyrrhic way, losing more than he gained, but achieving a sort of enlightenment that comes with a question answered and a job well done. It does this for these profound racial questions though, offering the idea that there's not a perfect solution to be found, but that somehow, change is possible. Satisfaction, however partial and fleeting though it may be, is possible.
Ritesh: The catharsis here is less built around the mechanics of mystery-solving and its details and more so the larger meaning it unveils and exposes and the overwhelming horror/dread of that. The way the creative team (Pichetshote/Tefenkgi/Loughridge/Powell/Din) use genre to really create an elaborate portrait of the San Francisco Chinatown is more interesting than any specific detail about how a crime was committed. In fact, rather than anything elaborate or impressive, all the revelations cast things as extremely mundane, obvious, petty, and not all that special. The mystery isn't some elaborate and romantic thing to be solved. It's not even a scary terrifying thing of impossibility. It's just an expression of another day in reality. Another day, another oriental girl goes missing. It takes and runs with that idea, with the missing woman Ivy Chen being presented to us in various ways, from various perspectives.
We're bombarded with so many assumptions and guesses on Ivy and who she was, what people believed of her, and what they didn't. Victoria portrays her as a victim in a tragic scenario, others like Holly Chao present her as much more manipulative, while folks like our principal serial-killer/threat in the book Silas Woodward idealizes her and views her as saintly. All of these feel like reductions and projections.
The book, in this sense, reminded me a great deal of Wayne Wang's classic Chan Is Missing. It's brilliant noir, and we wander all over the place trying to figure out who Chan even was or meant, and everybody seems to have a different view and answer. And by the end you don't even 'solve' the mystery and you have no real clue what truly happened to Chan. It's almost using negative space to etch out a figure, in a way. And while The Good Asian never goes quite that far, it is a book that tries to argue both Ivy Chen and Asian-American identity are things that while easy to reduce or draw simplistic assumptions about…are far more complicated. Not everything is as it seems. There's more there.
'You cannot just reduce them, us' the book seems to effectively say, in exposing the complex, messy web surrounding just one missing girl.
Harry: Yeah, it is really important that the more Hark investigates and discovers, the more he learns that there was no plan or conspiracy at play. It's a story as old as time, to someone like him. Chinese get wrapped up with White people and then they pay the price. And that's what feeds that realization about Ivy at the end, that she was just trying to survive. It was never her game. Ivy, out of all of the players, was the one who didn't have an angle. But all the others, with their Whiteness or proximity to it, kept pushing and twisting things, and it was Ivy, the Chinese woman, who paid the price for the machinations of the White woman, the White men, the Chinese men. And that's important, to see the way that Terence Chang or Silas Woodward exist in both the Oriental world and the White world. Terence Chang trying to push the understanding of Asian-Americans closer to Whiteness, closer to White America, and Silas Woodward acting as an almost perfect foil to Edison Hark. Hark was born Chinese and taken in by a wealthy White family, only to turn from that and become a police officer (only possible because of the privilege he gained as a member of the Calloway family) where Woodward, White presenting, grew up around Whiteness, only to be shut out from his wealth.
Ultimately Woodward, with his White face, despite all of his talk about loving and looking out for the Asian-American community, only serves to make things dangerous for them, harder for them, unable to escape that White perspective he knows. Hark, conversely, has all of that privilege stripped away, his wealth, his connections, his name, even, and is reduced, as you said above, to that Asian identity, to his Chinese face.
It's in these reductions though, that the complexities start to come out. Hark's most effective work as a detective comes when he teams up with Lucy after losing his face and his identity. It comes with his return to being "just another Chinaman" and not a police officer at a remove from the community. He's more of a man then than he ever was before because he's not working against his own identity as much. He's living in the complexity of his life as a Chinese-American, rather than reducing himself to a stereotype to fight.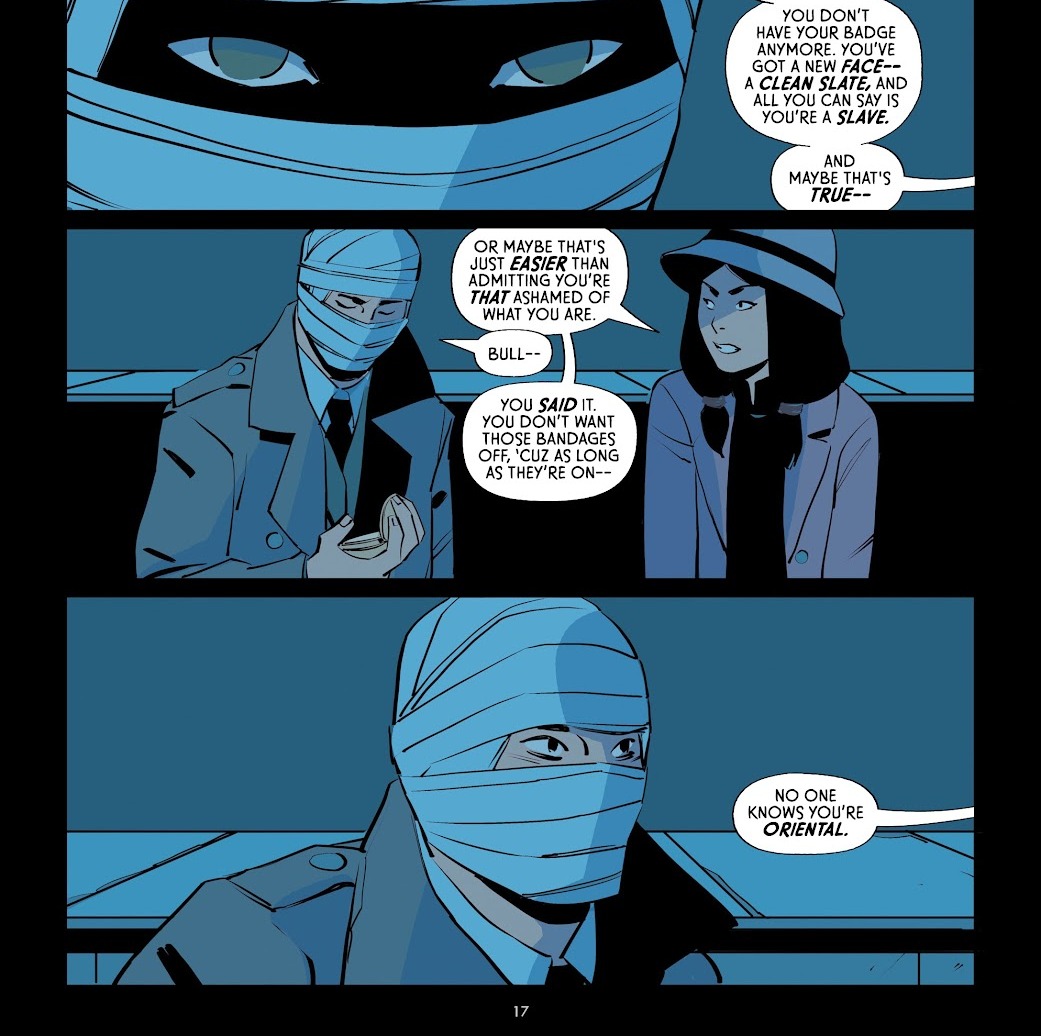 Ritesh: Yeah. It's revealing, I think, as you said above, that all this happened due to the White woman and the Asian-American men around her orbit. It was all about protecting Terence Chang, and what he represented. At the end of the day, when the story's over, Terence Chang gets to continue on being the much-protected heroic figure of his community, whilst the women of that same community are not afforded such a luxury or a consideration. Lucy Fan or Ivy Chen could never be a Terence Chang, not really. The world would never grant them such treatment.
So there's some fascinating and insightful intersections here that the book treads. Even the idea of 'passing' with Silas, which you touched on, is a huge one. It's a book that digs into not just the community against the world of Whiteness, but also the intra-communal conflicts and struggles, and what or who makes up that community. Silas as a man who gets to pass, and that leads to resentment from his own people who do not view him as being like them, for he was gifted with privileges they'll never have and could only dream of. And largely what follows in the book is his response to that, that life, of being rejected not only by Whiteness and White society but also by his own community. He holds onto his Asian identity and does as much as he feels he can. It's why he idealizes and is so protective of Ivy Chen, his half-sister. It's why he starts the whole blackmailing situation without her ever even knowing, thinking he's doing this for her, for his people, for the community, that he's getting back at Whiteness and rich White society that rejected him, when it should've taken him in.
Deep down, the key difference between Silas and Edison is that Silas feels entitled. He's the rich heir denied, in his mind. Whereas Edison has no such entitlement in him, despite having grown up with great privileges many couldn't dream of. He knows all that he has is not really his, it's the Calloways', and he feels like a fraud and an imposter. His father telling him to never forget he's Chinese, because they won't, or his mother telling him that he must 'behave' and do all that is needed to just cling on and not get devoured? It all warned him and prepared him for the rich white society like a layer of thin ice that he skates on. Silas has never even been in it and desperately wishes he had been and feels he was denied. And so while his love for his Asian identity, his love for his sister and his people are all very real, his entitlement overpowers everything, and he gets too greedy and overplays his hand, and it all goes so wrong. He never truly considers the consequences of what might occur or how it might all truly affect Ivy, the sister he professes to care so much about. His ideality and reality do not match, because he absolutely has blinders on. His passing means he's never had to adjust or exist in quite the way Edison or Ivy or Lucy have. So he makes a crucial misjudgement. And it all backfires and goes so wrong.
But also, the book does have pity, sympathy, and a sadness for him, despite all that, amidst all of that.
Harry: There's not a lot of open villainy in this book, which I think is rather remarkable. It's the easy solution, in many ways, to just put White people on blast in a story like this. The harder thing is to actually ask why and how White people continue to exploit marginalized groups. We see them acting in their own interest here, and in the supposed interest of the Asian community, even drawing some Chinese leaders into their scheme, but it never escapes that limiting White perspective. What we see, then, is how a system that privileges Whiteness cannot bring about justice, because the White perspective doesn't see injustices against the Chinese as valid or worthy or concern, or worse, views them as good and right. Any attempt by Chinese authorities, to the extent that such things exist in the US (and it's telling that these are organized economically), to bring their concerns to the attention of the White leaders must necessarily make them intelligible to White perspectives, which is how things go so wrong in The Good Asian.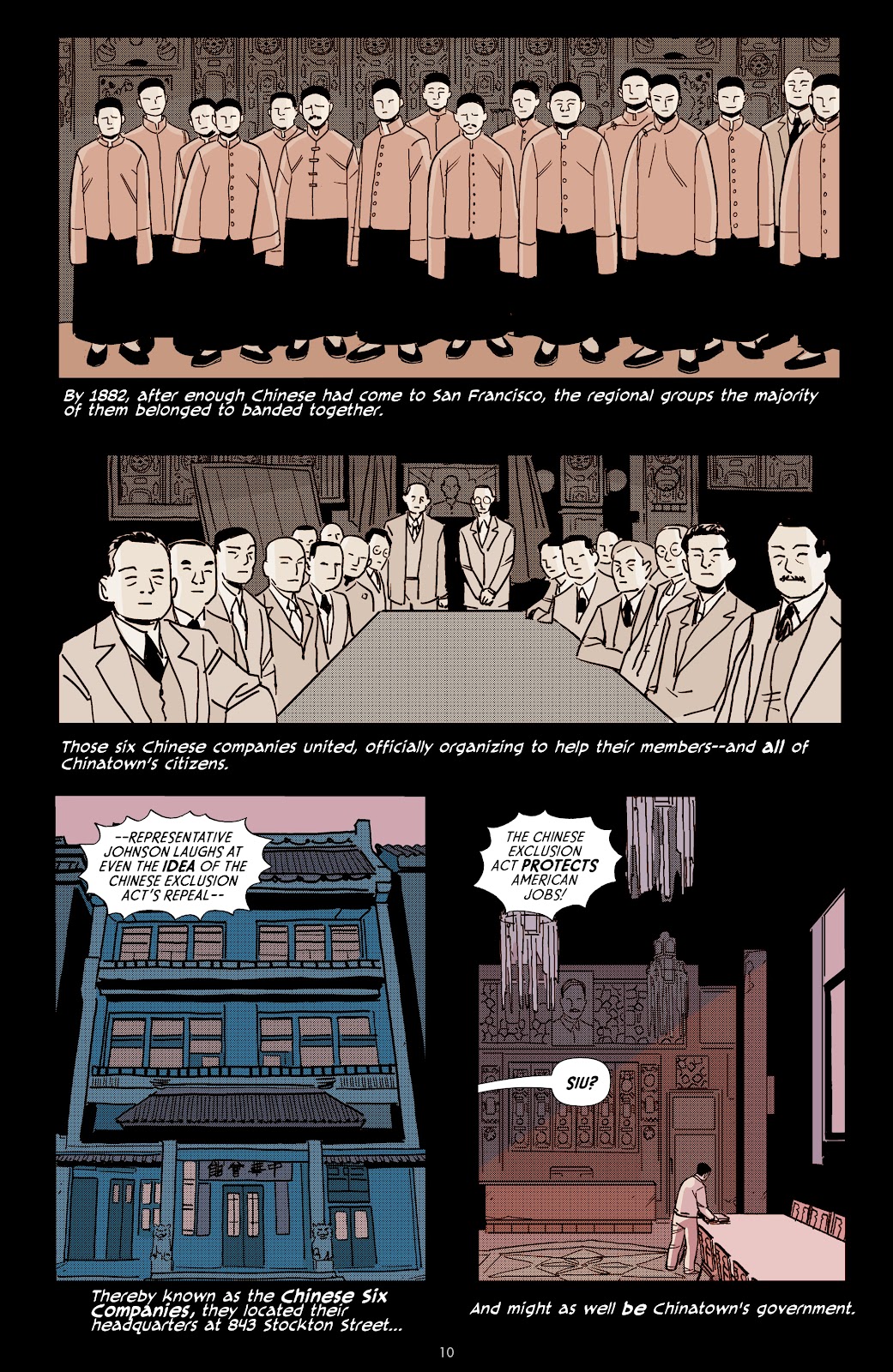 So it's not anyone's malice, necessarily, at fault in the story, but it is a system that cannot deliver justice because it doesn't value certain groups. And the book is very clear about the malice in the system, opening with an explanation of the fear, xenophobia, and violence that result in the Chinese Exclusion Act, but also very careful to demonstrate that this is not the result of individually and specifically malicious White people.
Ritesh: Absolutely. I think a lot about how much the book emerges from…Silas blackmailing both Victoria and the Yan brothers over Terence Chang, essentially threatening both the White wealthy society that rejected him AND his own community that did not accept him. He's enjoying his power over them, knowing full well the damage destroying Terence Chang would do to his own community and people that he says he loves and cares for so much.
At its core, I think the book is so deeply about self-loathing. The self-loathing bound to one's own identity and existence, and how that hurts and poisons and destroys. It's a lesson laid clearly to Edison Hark who is also full of self-loathing. In the end, Silas is never truly able to deal with or manage that self-loathing or find any kind of acceptance or peace within himself. He's never able to heal in any way. The hurt has festered too deep, and so the choices he makes from that hurt…they are disastrous, both to himself and everything and everyone he says he cares about.
And that's effectively what Edison is forced to realize. The fate of such a path, of the destined doom by self-loathing. It is why he must change, grow, and shed who he was, opening himself up to who he might be. He must find some measure of acceptance or peace and healing with his identity, he can't just let that self-loathing sit and fester. It is poison, it is corrosive, and its hurt is disastrous for both you, your loved ones, and your community. It doesn't do anyone any good.
Harry: I said this above, but I think it bears repeating, it's only when Edison is stripped of everything but that part of himself that he hates that he's able to fully come to appreciate it. It takes everything else about his life being burned away for him to realize that not forgetting he's Chinese is more than just a warning, but a call for him to remain true to himself and his community. And it's when he starts thinking like, and with, the members of that community, that he starts to understand the real shape of the mystery around him.
It's a powerful statement about identity, I think, that shows that identity can be something that holds you back, or it can be something that holds people together. It can be a lens that the world sees you through, or it can be a lens that you see the world through, and it's in those moments that it's something to appreciate, and to love about yourself. I don't know that I'd call Edison proud to be Chinese at the end of the story, but I do think he understands the value of that identity a little better.
Ritesh: Certainly. He feels more comfortable in who he is and how he is by the end, and there is a clear empowering sense of freedom that clearly comes with that. There's a real sense of 'Wow, I don't have to be…like that?' about his past self. He's found an acceptance that will serve him, at least for the moment. A balance that won't destroy him.
It's interesting. I look at a work like this and I think of a show like Warrior, produced by Shannon Lee and Justin Lin, based off Bruce Lee's ideas and work. It's something that began as a Western that Bruce Lee wanted to do, the idea of the era of The Cowboy Hero but instead of the white dude, it's an Asian martian arts hero. And so that Western conceit is baked into the show starring an Asian-American cast of characters, which also at once operates like a Gangster drama. But vitally, it's a work set just around the Chinese Exclusion Act. So there's a sense of it as a real haunting terror that hangs over everything. And The Good Asian then is a book about having grown up with that terror for decades, having lived with that monster every single day and come of age underneath its shadow.
They're specific responses to the idea of the Western and the idea of a Noir, and I'm just really loving the fact that we are seeing how creators are taking these classic, typically very Whitewashed genres and reinterpreting them within the context of America's very real Othering and how Whiteness was built on and profited off that, and how The Othered then have lived and dealt with their trying realities in the face of that.
Harry: It's interesting you bring up Westerns, I think, because they have a shared history with crime/detective stories, coming up in the pulps as well, and they have a shared role in American mythmaking. The vast majority of American noir is set in the West, generally LA or San Francisco (as we see in The Good Asian). There's a sense in these stories that the West is still a sort of untamed frontier, full of possibility, both hopeful and violent. And so these become important spaces in determining the American identity, first in reality, and then in fiction. So Westerns and Noir, produced at the same time, about the same places, become sites where in- and out-groups are established and delineated, and society's norms are demonstrated. Both Westerns and Noir feature characters on both sides of the law, showing which ones are good and which are evil, which groups get to be American, and which are outsiders meant to be shunned.
Taking, then, the idea of who is American and mapping it explicitly onto the era and the genre's tropes makes explicit the subtextual boundary work present in all of these stories. Calling it to the surface makes it legible and, importantly, vulnerable to whatever attacks the narrative has in store. The Good Asian, in some ways, is analogous to 1972's Kung Fu, which attempts to ask and answer similar questions, albeit in somewhat insensitive ways. Despite being played by a White man though, Kung Fu's Kwai Chang Caine is a Chinese-American man set adrift in a new world that he doesn't know and that doesn't know him. It's a fundamentally resonant text, and meant a lot to me as a kid because of it. The Good Asian offers a similar exploration through a noir lens, with all of the accompanying concerns, and importantly from the perspective of Asian creators, who infuse the story with depth and authenticity lacking in the whitewashed TV casting.
Ritesh: The way Perspective Shift alters and affects genres is so fascinating to me. It's something that applies as a general adage, but when you bring over cultural context and specificity and considerations of how that identity you're exploring has been dealt with in the genre's past, you kind of have a lot to work with. You are, whether willingly or unwillingly, in direct dialogue with what has come before. You're in conversation with history and constructions of history, as molded by myth-making tools. What is or can be, what is acceptable and okay, it's all part of that. So the ahistorical nature and construction of the Western, which is rooted in the reality of many Brown/Black cowboys but gets a Whitewash paint job for the white audience, which then convinces far, far too many people that the white construction was actuality. For far too many it becomes inseparable from reality itself. You're seeing that again now with Lord of The Rings and Fantasy- given the world's nature as a 'myth' of the English language and the home of Tolkien, and how people view and perceive Englishness/what is 'okay' in their eyes.
Genre is a useful construct to engage with big ideas and visions of who we all are and challenge things in ways that emotionally engage and move.
Harry: Ultimately, I think, that's the promise of stories like The Good Asian. There's a weird incentive, as we try to diversify the media, to imagine that we need remakes of X but Asian (or Brown, Queer, etc.) or that it all needs to be fundamentally new. But that ignores the vast middle range where it's enough to say "this one element is different" and the rest of the story flows from that difference. Structurally, The Good Asian isn't tremendously different from, say, The Dain Curse, but its themes couldn't be more distinct. Changing the setting to Chinatown, making the lead Chinese, making the victim Chinese, the whole story changes. Those few simple changes, which in another, less accomplished work, might be merely cosmetic, undergird every element of The Good Asian.
So while I'm excited that there seem to be plans for more Edison Hark mysteries, what I really want to see next are other creators doing this same sort of thing (and you are seeing this more and more, it's definitely out there). Taking a genre and playing it straight, but kicking it in a couple different directions, pulling out some hidden threads, and really uncovering new territory in these already explored places.
Ritesh: Yeah, very much so. It's there in the works of, say, Nadia Shammas, Ram V, Tate Brombal, James Tynion IV and a bunch of others working in mainstream American direct market comics right now, doing genre stuff. It is absolutely out there and only growing. I definitely want to see more and more.
But also, as we both know, this specific team IS going to come back for more. And that's terribly exciting. I cannot wait to see where they go and take this. And I can't wait to talk about it when it arrives before us.
Edison Hark will return.
And so will we.