The first six issues of Donny Cates, Nic Klein and Matt Wilson's relaunched Thor are now out, and the final issue is the strongest of the bunch, salvaging a meandering and disappointing back half with enormous Marvel Cosmic implications.
Today I'll answer:
What does the "Devourer Herald" mean for Galactus in the Marvel Universe?
What insanely exciting Marvel Cosmic tease is revealed in Thor #6?
Where does the first volume of Donny Cates' Thor fit into his Marvel Universe works?
*Spoilers For Discussed Comics Will Follow*
Related Reading Orders:
Support For Comic Book Herald:
Comic Book Herald is reader-supported. When you buy through links on our site, we may earn a qualifying affiliate commission.
Comic Book Herald's reading orders and guides are also made possible by reader support on Patreon, and generous reader donations.
Any size contribution will help keep CBH alive and full of new comics guides and content. Support CBH on Patreon for exclusive rewards, or Donate here! Thank you for reading!
Like a lot of comic fans, I was very excited for the Cates, Klein, Wilson era of Thor
, hot on the heels of Jason Aaron and company's incredible 7 year run in the world of Asgard. I even launched "The Cates of Hel," a series where I planned to dig deeper into the evolving Marvel Universe of writer Donny Cates, but a strange thing happened: Both Thor and the post Absolute Carnage Cates' written Venom
took really notable dips in excitement, at best reverting to the Marvel Mendoza line (For a non-baseball comics replacement, I've decided to christen this The Lobdell Line).
Fortunately, Thor #6 brought the thunder, renewing my excitement for the series (the recent "Venom Beyond" arc of Venom has done the same on that front as well!). I'm really engaged with the cosmic elements unveiled throughout this arc, even if I still think the arc as a whole played things too safe.
Since Thor #1 came out in January 2020 which is the chronal equivalent of 616,000 years ago, here's a quick recap. Following Aaron's run on Thor, the years-long Odinson is once again worthy of Mjolnir, and now the King of Asgard. Galactus shows up after what looks like a brutal 12 rounds in the ring, and before Thor can say "Black Winter who?" the Big G is imbuing King Thor with the power cosmic, making him his new Galactus, and going on a planet hunt to store up enough power to defeat this universe-ending threat of The Black Winter.
I've covered this previously, but I found the Black Winter reminiscent of Hickman's Avengers threats like the Builders, except, well not as interesting. The Black Winter looks like Thor, threatens the entire multiverse (that's a real big threat for someone we know nothing about!), and even by this end of this arc, is a pretty hollow creation only made interesting by connecting to pre-existing Marvel properties.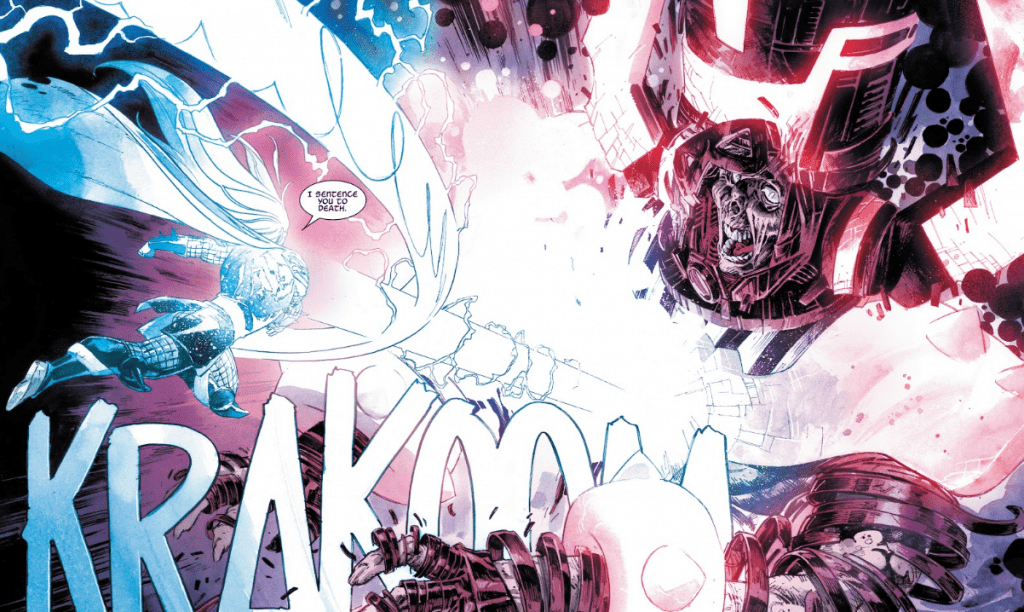 Thor #6 escalates the confrontation with the Black Winter, as the mysterious entity tries to reclaim Galactus as his herald. Making Galactus someone else's Herald – in this case the Black Winter's from Galactus' original universe he escaped from before making it to the current Earth-616 verse – feels tired and repetitive. If you can't beat Franklin Richards saying "To me, My Galactus," you probably shouldn't repeat the beat.
Either way, this is the showdown the arc has been building towards and it's well worth it. Matt Wilson's colors to illustrate a Galactus literally glowing with power are phenomenal.
Now, to really dig into the implications of King Thor's actions here, we kind of have to completely ignore the pretty crazy power fluctuations that allow his assault on Galan to take place. We go from Galactus rage-eating a superpowered planet and becoming uber-powerful to Thor stealing that power like the Beasties stole your honey, and destroying Galactus in like two combo moves. I'm actually fine with the speed with which it happens, but if you want to argue the semantics of whether Thor should be that powerful, I'll hear you out in the comments.
Either way, rather than let the Black Winter claim Galactus back as his Herald, Thor murderizes his big ass, and turns him into a cosmic bomb. Nic Klein has absolutely knocked it out of the starways with his wounded Galactus shots. It's gorgeous destruction. Galactus' explosion seemingly ends him, and turns the Black Winter into a literal single black snowflake.
So Thor sentences Galactus to death for his crimes devouring planets, and turns him into a bomb to destroy the Black Winter. Cates writes excellent Sturm Und Drang narrative captions, and this is a real chance for him to shine: "The full might of the immeasurable Power Cosmic… the bleeding life force of a universal constant… the energy of a hundred thousand devoured worlds."
Now this is all pretty interesting to me because in acknowledging the destruction of this universal constant, and unleashing the energy of a hundred thousand devoured worlds, Cates is casually asking the question: Should Galactus be allowed to exist? What happens if he dies?
The question of murdering Galactus is basically as old as the World Devourer. A particularly interesting example comes in Fantastic Four #261 to #262 by John Byrne, otherwise known as the Trial of Reed Richards. Reed is charged by a cosmic council with saving the life of Galactus (which he did) and argues that "Galactus is beyond good and evil." Appropriately for this conversation, Odin shows up as a witness and agrees with Reed, saying Galactus is "a natural force" in the universe like a super-nova, and that he serves to test societies. Odin that absolves Reed of all blame and somehow ends a trial as a "witness" lol. This idea that Galactus is a necessary force has been reiterated throughout Marvel for a long time.
Thor's actions are way less calculated, more vengeful murder, and I suppose in his own way an unexpected resolution to defeat the encroaching Black Winter. That's a hole in the cosmic fabric now though.
So Thor murders Galactus' ass. Has Galactus died before? Marvel pretty clearly hasn't quite known what to do with Galactus for a number of years now. Al Ewing had the best idea, but it was way too quickly undone in Infinity Wars.
It's interesting to me, too, to consider a Marvel Universe without Galactus. We know for example in the Jonathan Hickman written House of X / Powers of X, one of the only cosmic entities the Phalanx fear is Galactus (the other is the Phoenix). That's a vacuum of power, and as we hear all the time, nature abhors a vacuum.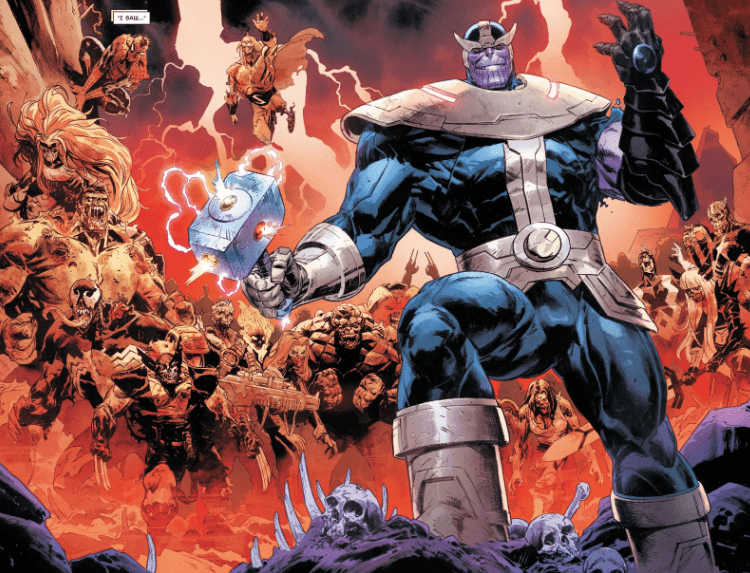 The coolest revelation, though, and huge props to Cates and company here for delivering this image now rather than milking the suspense for future issues, is the vision of the coming end that the Black Winter grants Thor. He's given a vision of Thanos laying waste to the heroes of the Marvel Universe. He's wielding Mjolnir imbued with the infinity gems (which is a freaking fun as hell idea), and what I'm guessing is a Necro-infinity gauntlet. Wildest of all, there appears to be an army of Marvel Zombies standing behind him.
2 strong possibilities here:
1)Thanos accessed the Marvel zombies realm and brings them to Earth-616 to aid his conquest. Cates is playing with Ultimate U in pages of Venom, including a new future all symbiote reality in "Venom Beyond" so why not.
2)Thanos is pulling the zombies from beyond the SHIELD in Secret Wars "Battleworld." This is less likely!
Jason Aaron did so much work across the future of Thor that it's unclear how neatly Cates vision lines up, or whether the two even really need to (possible futures are a time-tested storytelling trick in Marvel Comics).
Same goes for Cates "Thanos Wins" future, where we know Galactus and the Cosmic Ghost Rider war against Thanos for a time. Any way you slice it, unsurprisingly, this means this is far from the last we'll see of Galactus.
I do kinda think the best thing Cates could do is to build towards a showdown with Thanos, rather than centering everything around Knull. Or have Knull operate as one of Thanos' lieutenants. There's definite tiring around Knull, which is kind of inevitable when you spend so many comics on build-up without really getting to the confrontation (we've had glimpses in the earliest Venom story arc, or Silver Surfer Black, sure).
Conclusion
As far as where this fits in the Cates' Marvel Universe, it's definitely lower tier for me, probably better than Death of the Inhumans but not much else. Nic Klein and Matt Wilson definitely help this story achieve far greater heights than it was meant for, similar to how Dautermann and Wilson were able to elevate some of the more middling chapters of Jason Aaron's Thor. This final issue was definitely an eye-opener, though, and as this series inevitably spirals towards King in Black it will be interesting to see if Cates and team can maintain this degree of energy and momentum.