Magneto rules, y'all. I would say he is the best villain in comics, but slotting him into a strictly villainous role does him a disservice. The mutant master of magnetism has been everything from a cackling murderous despot to a kind, understanding mentor to the next generation of his people. Given his nearly 60-year history, it is tough to narrow down the best stories starring Erik Lensherr (or Max Eisnerhardt, or Magnus depending on which stories are currently in continuity). Still, it's a task I am more than happy to try.
Related Reading Orders:
The 2009 miniseries from Greg Pak and Carmine Di Giandomenico is decidedly not a standard superhero story. It isn't even really a superhero story. Set during the height of The Holocaust, Testament has more in common with Schindler's List than any X-Men tale. Starring a young Magneto, before he would ever don his iconic helmet, the series is a harsh, deeply personal look at the pain and horrors that would forever scar one of Marvel's most prominent Jewish characters. Human, harrowing, and handled with every ounce of respect due to its weighty subject matter, Testament is a powerful series that deserves to be read and studied.
Support For Comic Book Herald:
Comic Book Herald is reader-supported. When you buy through links on our site, we may earn a qualifying affiliate commission.
Comic Book Herald's reading orders and guides are also made possible by reader support on Patreon, and generous reader donations.
Any size contribution will help keep CBH alive and full of new comics guides and content. Support CBH on Patreon for exclusive rewards, or Donate here! Thank you for reading!
It's easy to forget, but Magneto wasn't always the complex, fascinating character he is today. For roughly the first 20 years of his existence, he was little more than a bog-standard maniacal supervillain, with Mutant Superiority as his sole defining trait. That all changed with Uncanny X-Men #150, from Chris Claremont and Dave Cockrum. After several appearances boasting his more nuanced outlook on the world and its ills, as well as providing safety to a shipwrecked Cyclops, Magneto unleashes a plan to disarm the world's nuclear arsenal forcibly.
In the ensuing melee as the X-Men attempt to stop him after striking a small, evacuated, Siberian city with a nuclear missile, Magneto ends up hitting Kitty Pryde and knocking her unconscious. Upon seeing both her age and the Star of David necklace, she wears he is overcome with guilt and realizes what a monster he has become. His history as a Holocaust survivor is then firmly established and begins the character turn leading to his willful surrender to stand trial for his crimes. In a single issue, Magneto is elevated from cackling, cartoonish lousy guy to a tortured man overcome by his past. Forty years later, it still lands as strong as ever.

Magneto received his first ongoing series in 2015, courtesy of Cullen Bunn and Gabriel Hernandez Walta, and expectations going in weren't sky-high. Bunn had proven himself a competent writer, but with no truly outstanding showcases, and Walta hadn't yet done his work with Tom King on Vision
that would cement his career. So, when the debut series featured some of the most gripping, modern tales starring Magneto in years, it was a very welcome surprise. Recasting Mags as a powered-down vengeance-seeking killer looking to find justice for dead mutants, a violent, bleak comic handles both its premise and its star in a genuinely satisfying fashion.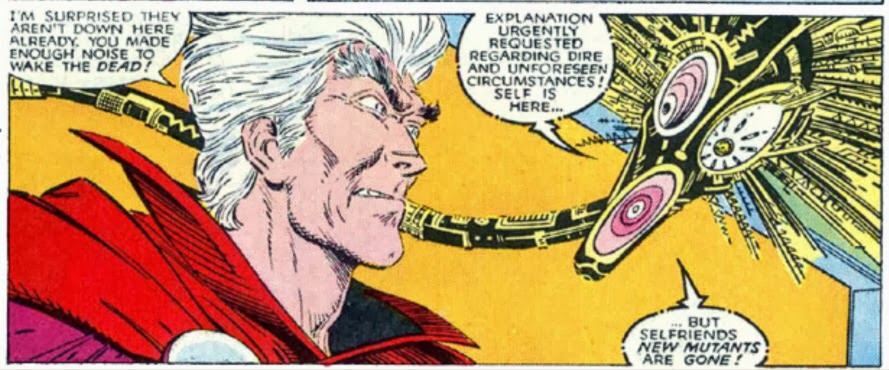 Following the events of Uncanny X-Men #200 (more on that later), Magneto is left in charge of Charles Xavier's School for Gifted Youngsters and its class of New Mutants. Part of Chris Claremont and Bill Sienkiewicz' (with an assist from Mary Wilshire on this issue) legendary run on the series, Magneto's first outing as headmaster is, predictably, met with skepticism and scorn from the young mutants. While the tense introductions and early training sessions are entertaining, the issue proves a classic in its final pages.
After a run-in with a group of racist frat boys from a nearby college, Dani Moonstar is nearly assaulted and killed. Where Professor Xavier might have sought a reckoning via peaceful means, Magneto proves himself a different type of instructor and goes straight to the frat house. The scenes that follow, and the speech Magneto delivers, is among his greatest moments and holds up as a take-down of privileged rich bigoted men as well as it did when printed nearly 40 years ago.

The most recent entry on this list, Jonathan Hickman, RB Silva, and Pepe Larraz's overhaul of the X-Men franchise, is one of the most exciting comics in modern history; of course, Magneto plays a pivotal role. While not the lead of either of the intertwined miniseries, Magneto remains a constant presence and is directly involved in many of the series' most important moments. Definitively ending his rivalry with Charles Xavier and providing new context to some of his more violent mood swings over the years, HoX/PoX gives Magneto a clear, defined direction that is currently being gleefully explored in the current era of X-Men titles.
Yeah, I know what you're thinking: "What the hell is a Captain America book doing here?" While the good Captain and Magneto don't cross paths too often, the issue in question is part of the Acts of Vengeance crossover. The event had the Marvel Universe's villains decide to team-up to get an edge on their standard superhero opponents, with Magneto being paired with…The Red Skull. Whoops! While Steve Rogers is present in the issue, it is arguably closer to a proper Magneto solo story. It offers some deeply cathartic and entertaining moments as Magneto takes down each of Red Skull's defenses. The final page, in particular, is one of the most iconic moments in Magneto's entire history.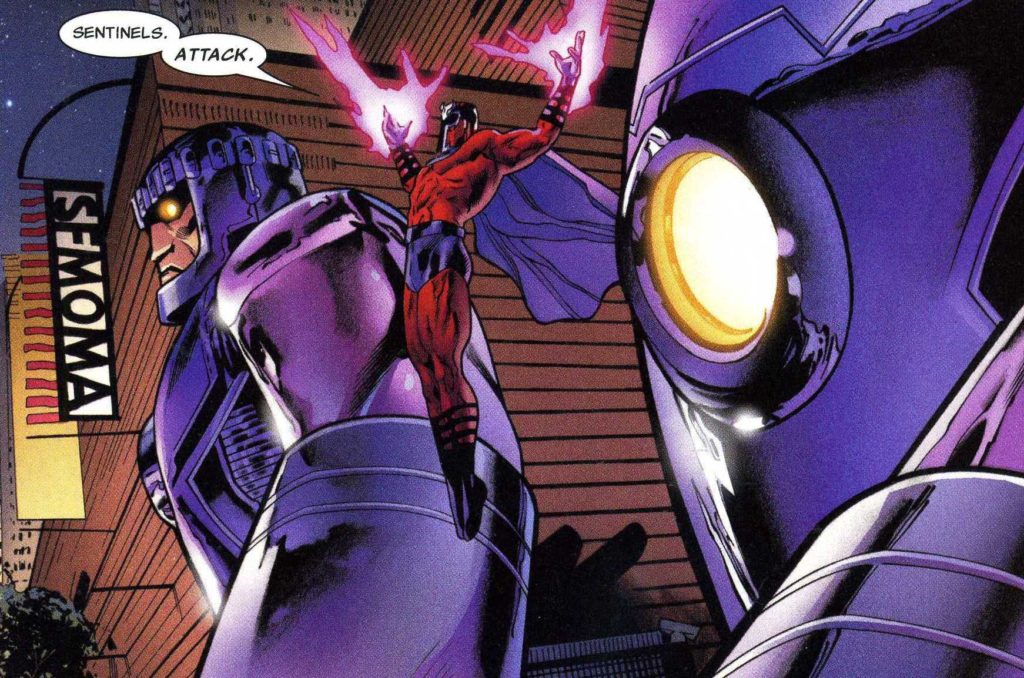 In 2011, after spending decades as a despotic villain, Magneto became an X-Man again. That's a problem for the X-Men, as he spent decades as a tyrannical villain, you see. Luckily, the jumping-on one-shot from Kieron Gillen and Carlos Pacheco tackles the issue head-on by tackling it in the pages of the story itself. The X-Men's new PR guru sits down with Erik, hashing out both his change of heart and how he could possibly assure the masses of humanity that he isn't going to try to kill them. Again. Clever, funny, and wholly accessible, it is a delightful read that helped rehabilitate Magneto's relationship with the X-Men so well he hasn't left their number since.
This issue is a bit of an odd recommendation, as half of its page count is spent reprinting an early issue in Claremont's run. However, with art from John Bolton, the second tale provided some much-needed depth to Magneto's background and shaped countless later tales. Granting haunted glimpses at both his experiences in the Holocaust and his life post-war. Facing endless discrimination against both himself and his wife, Magda, Magneto's descent into radical violence comes following his child's death. It goes far beyond the still-vague background established in Uncanny X-Men.
Another Chris Claremont tale, this time joined by John Romita Jr., this time is putting Magneto on trial for his many crimes in the middle of the global spotlight. While various elements of long-simmering plotlines come to bear in this double-sized anniversary issue, its real legacy is the titular trial and Magneto's passionate plea for understanding in the wake of his actions. Whether it is Erik fending off the Fenris twins to save the prosecutor seeking his death or the X-Men foiling an attempted terrorist assault, it is a dense and rewarding read. The tale comes in the middle of what is arguably the greatest era in Claremont's 17-year run with the X-Men, and it is something to behold.
While Magneto's time as the New Mutant's instructor was, sadly, waylaid by crossovers, creative team shifts, and other speedbumps, it packed plenty of classic tales into its 40 issue run. Chief among them is this three-part story that proves Magneto's role as Headmaster is not merely a hollow title, but a badge of honor he truly cherishes and carries with responsibility. Guest-starring Emma Frost, the Hellions, and even the Avengers, the tale has Magneto fighting not only to prove his own turn to the side of angels but to help aid the scarred young mutants in his care. Equal parts warrior-protector and kind, patient caretaker, the three issues explore the many facets of Magneto as a character and the weight he can bring to a story.