After Marvel Universe: The End, Thanos comes back for a solo run! Full review to come – keep reading for Comic Book Herald overview.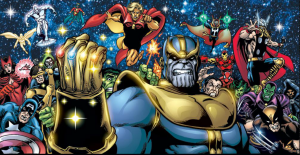 Comic Book Run: Thanos (1-12)
Publication Dates: Oct 2003 – July 2004
Writer: Jim Starlin/Giffen  Artist: Al Milgrom
CBH Score: 6.4
Continuity Relevance?: Minor.
Who Needs It?: True Thanos devotees. Anyone with a real hankering for Star Wars/Marvel Comics mashups.
Want more on Thanos? See the Complete Thanos Reading Order.