It is often said that Watchmen
is the most influential comic ever to be released. That comics wouldn't be where they are without it, for good and for ill. But how did we get here, exactly? More to the point, just what influence did Watchmen provide to the larger world of comics? What, ultimately, is the legacy of Watchmen? Who watched the Watchmen?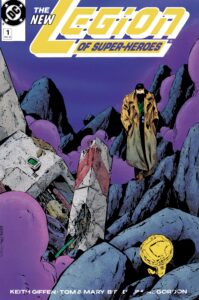 The cover of Legion of Superheroes Vol 4 #1 features a bedraggled Cosmic Boy morosely strolling through jagged gray rocks, eyes cast downward at the busted remains of the Legion's former headquarters. A banged-up Legion ring is wedged between stones, forgotten but still sparkling at the forefront of the shot. Transporting us from the end of writer Paul Levitz's wildly influential run with Legion of Super-Heroes Vol. 3 #63 into a story taking place five years later, Legion Vol. 4 serves not just as a reboot but as a tonal reset of the franchise.
For the first time, we meet a Legion who is older, traumatized by the horrors they have seen, and cast to opposite ends of the galaxy. Still, even in the first moments of the book, there are glimmers of hope. The affable Chameleon Boy muses that the growing threats around him can only mean one thing; it's time to get the band back together. If this sounds like an awfully Watchmen-ish take on the Legion, the fact is, you're not wrong, but as many of this era's fans will tell you, that doesn't keep this story from absolutely shredding.
Covering Legion of Superheroes Vol 4 #1-12 [Read more…] about Who Watched the Watchmen? How "Legion of Super-Heroes: Five Years Later" Changed the Future