The Legion of Super-Heroes can be a bit of an acquired taste, and the dozens upon dozens of trades collecting their stories offer an abundance of choices that might not necessarily make it easier to break into the series. As with the characters of the Legion, the trades are many, and a lot of them don't have a ton of depth. There is plenty of content, but it takes a while for the essential stuff to start happening, and that has been retconned and re-retconned to the end of time.
Legion of Super-Heroes: Before the Darkness (collecting Legion of Super-Heroes #260-271 and Secrets of the Legion of Super-Heroes #1-3) is not essential, but it builds a bridge between the departure of Superboy and the pending Paul Levitz and Keith Giffen run that would go on to define the team for many readers. The fact is that in spite of and often because of its density, The Legion of Super-Heroes is almost always at least a little bit fun to read. Case in point: Before The Darkness begins with a fight at a space circus and ends with more than one assassination attempt under its belt. So buckle up, it's going to be a wild ride.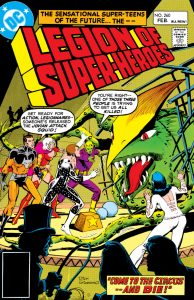 NIGHT AT THE SPACE CIRCUS
This arc begins with the issue after Superboy departed the team and the title reverted to Legion of Super-Heroes, dropping SB's name from the covers to let the Legion live on its own merits without the son of Krypton there to boost sales and guide the way. Of course, the team still had an absurd abundance of characters, for that is the way of the Legion. This arc splits the team up to make for a slightly less unwieldy cast, but it is still very much a team book. Individual character arcs occur within a larger group dynamic.
The first part of this run sees some of the team on Earth, taking on a mystery at the space circus. Somehow, circuses have made a comeback in a big way in the thirtieth century, as have the sleazy circus antics we've seen in countless B movies and pulp stories since the dawn of time. The Legion comes face to face with a Jovian Attack Squid (what?) and a Venusian Night Shark (what?). An innocent alien named Imik is murdered right as someone tries to frame him for a different murder. A blue lady with a lion face gets vaporized with a raygun, which is very sad and not just because I feel like she could have had great potential as a Legionnaire (she could still come back). So there's a lot going on.
Naturally, the ringleader, Aton Gissark, was simply trying to instigate intergalactic war with these killings, and the Legion makes short work of that plan. His reasoning is that, despite living on Cygnus IV, he hates the local populace because they never accepted him and his family. Not a very solid foundation for a defense, but listen, this is Earth. People do stuff like that here.
Support For Comic Book Herald:
Comic Book Herald is reader-supported. When you buy through links on our site, we may earn a qualifying affiliate commission.
Comic Book Herald's reading orders and guides are also made possible by reader support on Patreon, and generous reader donations.
Any size contribution will help keep CBH alive and full of new comics guides and content. Support CBH on Patreon for exclusive rewards, or Donate here! Thank you for reading!
The next story starts with the Legion doing chores, playing around and "enjoying friendly kisses" with one another. Space customs are strange! Some of the other Legionnaires head out to help R.J. Brande "build a star" (no idea) and end up fighting a pirate ship. Just a great big pirate ship with pirates on it in space that literally fires cannonballs at their ship. This turns out to be the defense mechanism of a drifting ship that has been housing the corpse of a long-since deceased misanthrope with a fascination about Earth's history. Chameleon Boy transforms into the living image of the dead man, orders the ship to stop turning into pirates or whatever, and it does. That's it!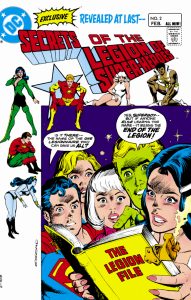 SECRETS OF THE LEGION OF SUPER-HEROES
There are more primarily incidental stories in this collection, including "Secrets," which is more or less just an active character sheet walking us through the names and backgrounds of various Legionnaires. Most of what we learn in this three-issue miniseries is not actually a secret, but it adds a little intrigue to a basic "who's who" rundown of the team that could be pretty handy if you were trying to read it in the early '80s. R.J. Brande is in a coma after a failed assassination attempt, but it doesn't matter much and it all gets resolved in the end.
In #263, the Legionnaires see a handful of their family members held for ransom (the asking price: one billion credits!). While trying to formulate a plan, the incredibly well-dressed Tyroc feels a tug that forces him to return to his home planet immediately. In the following issue, Tyroc is the main protagonist in a very weird reimagined history of his family, who were once envisioned as "irrational" Black separatists. This story involves Tyroc's ancestor leading a revolt on a slave ship, and attempts to rectify some of the wildly offensive elements of his earlier background. Still, it might go without saying that it falls flat at best. (Osvaldo Oyola wrote about Tyroc, his history, and this specific issue as it relates to the overarching legacy of Black superheroes.) The issue begins with Wildfire reacting violently when Tyroc insists he needs to leave, the next cover shows him in chains, and the story ends with him vanishing from the pre-Crisis Legion.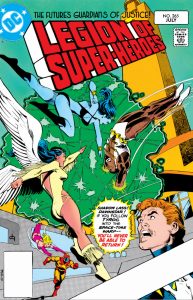 THEN, OF COURSE, THE DJINN
Sometimes when reading Legion of Super-Heroes, it's fair to question how much good the Legion actually does in the universe, considering the fact that about half of their problems are their own fault. Case in point: Legion of Super-Heroes #266 and #267. Duo Damsel and Bouncing Boy accidentally free a djinn named Kantuu while going about their business on Wondil IX, and we discover that the djinn were actually a race of aliens who were so evil that the Guardians needed to punish them. Rather than eradicate the djinn from the cosmos, the Guardians chose to imprison them in green bottles to drift through space for eternity. Very… compassionate. Though Kantuu does not actually cause that many problems, other than almost killing some Legionnaires, the story ends with him once more imprisoned in a bottle for all eternity without a fair trial.
A truly bizarre character named Doctor Mayavale is the antagonist of #268. This is a Steve Ditko character if I've ever seen one. The Legionnaires respond to Dream Girl's unpleasant reaction to Mayavale's presence in her dreams, and this leads them into a series of nightmare worlds based on their past lives. This issue is tonally strange, and definitely changes up the vibe of the trade to something that borders on a satire of eldritch Horror.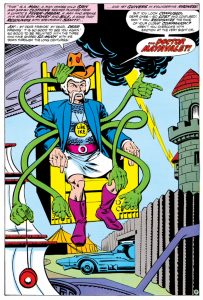 The trade draws to a close with the return of the Fatal Five (suppresses yawn) and a presidential election on Earth. A generic villain who had long been manipulating things from behind the scenes, referred to as the Dark Man, is revealed to have been a clone of Tharok, the cybernetically enhanced mastermind behind the Fatal Five.
To say this is a bit of a roller-coaster ride is like saying that water is wet, but Legion of Super-Heroes: Before the Darkness generally errs on the side of bonkers space adventures, which is nice. In some ways, this makes the trade a quick read and a good way to catch a lot of Legion backstory in a little time, but it's all the more frustrating to think of what more progressive attitudes and more diverse creative teams might have brought to the table. The fact that we're forty years on and the same issues tend to hold the series down today makes this for a more depressing read than it might otherwise be.