It is often said that Watchmen
is the most influential comic ever to be released. That comics wouldn't be where they are without it, for good and for ill. But how did we get here, exactly? More to the point, just what influence did Watchmen provide to the larger world of comics? What, ultimately, is the legacy of Watchmen? Who watched the Watchmen?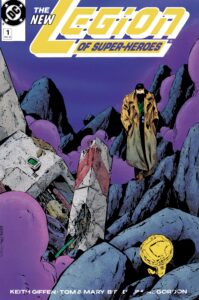 The cover of Legion of Superheroes Vol 4 #1 features a bedraggled Cosmic Boy morosely strolling through jagged gray rocks, eyes cast downward at the busted remains of the Legion's former headquarters. A banged-up Legion ring is wedged between stones, forgotten but still sparkling at the forefront of the shot. Transporting us from the end of writer Paul Levitz's wildly influential run with Legion of Super-Heroes Vol. 3 #63 into a story taking place five years later, Legion Vol. 4 serves not just as a reboot but as a tonal reset of the franchise.
For the first time, we meet a Legion who is older, traumatized by the horrors they have seen, and cast to opposite ends of the galaxy. Still, even in the first moments of the book, there are glimmers of hope. The affable Chameleon Boy muses that the growing threats around him can only mean one thing; it's time to get the band back together. If this sounds like an awfully Watchmen-ish take on the Legion, the fact is, you're not wrong, but as many of this era's fans will tell you, that doesn't keep this story from absolutely shredding.
Covering Legion of Superheroes Vol 4 #1-12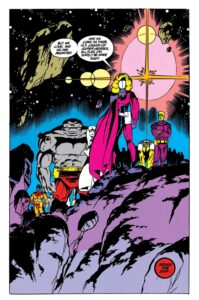 SO WHAT IS FIVE YEARS LATER?
Longtime Legion writer Paul Levitz left the franchise on a high note after a run that is still considered the most memorable in the series' history. His last arc was The Magic Wars, in which it was supposed that the sharp lean into science had left the universe woefully underequipped to handle magical threats. This was a tumultuous time for the Legion in which some characters had perished, a change in leadership that no one particularly wanted had occurred, and legacy members struggled to find purpose. The Magic Wars was already a relatively moody story. Still, things got much worse in the switchover to Five Years Later.
Support For Comic Book Herald:
Comic Book Herald is reader-supported. When you buy through links on our site, we may earn a qualifying affiliate commission.
Comic Book Herald's reading orders and guides are also made possible by reader support on Patreon, and generous reader donations.
Any size contribution will help keep CBH alive and full of new comics guides and content. Support CBH on Patreon for exclusive rewards, or Donate here! Thank you for reading!
Here, we discover that the Legion was forced to disband after an increased crackdown on their membership by the United Planets. Earth leaves the collective and becomes hostile to alien species while Braal undergoes severe economic collapse. Military action increases, and bloody wars erupt. The team struggles to make meaning in a world that not only seems to have forgotten them individually but has become surprisingly hostile to the very idea of the Legion. However, as aggression rises and long-time Legion threats amp up, the scattered main crew begins to find their way back to each other.
Already well-known for his work on Levitz's Legion, Keith Giffen and inker Al Gordon teamed up with scripting superstars Tom and Mary Bierbaum to create an intentionally grittier kind of Legion story. However, while many consider it to be one of the greatest Legion stories of all, the entirety of the 5YL run has been rendered moot multiple times over by subsequent shifts in continuity. Characters that play vital roles here but no longer exist include Laurel Gand, Kono, Kent Shakespeare, Celeste McCauley, Devlin O'Ryan, and the Batch SW6 Legionnaires. Much of this story vanished by the time of Zero Hour, which occurred roughly five years after the 5YL Later reboot, adding a strange sense of metacommentary that was not intentional but remains ironic.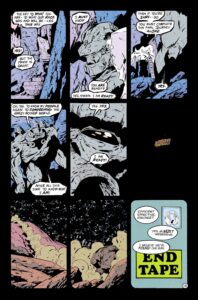 SO WHO WATCHES THE WATCHPEOPLE?
There is no shaking Watchmen's influence on this comic, but this also isn't where the clear impact of Alan Moore and Dave Gibbons' masterwork began for the Legion. Looking back at The Magic Wars, there was an interesting mix of superhero optimism with 9-panel page layouts and moody, high-stakes battles that served as a strong hinge between the two time periods. Indeed, despite the time jump, the first issue of this series picks up with very much the same cast, with some exceptions. Likewise, though there is an increase in "adult" themes, the book had long leaned in that direction with the soap opera format of its prior run.
Indeed, this is easily one of the most prominent examples of an ongoing superhero book at DC replicating the formula of Alan Moore and Dave Gibbons' now-classic deconstruction of the genre's tropes. Acknowledging its influence, it's also important to note that there's no way this story would have had the staying power it has had without being something significantly more complex than a direct copy.
Legion benefits greatly from the level of threat the series drops on it, with several heroes stretched to their limits and facing almost unfathomable life changes. Notably, while Watchmen features many characters after they've more or less walked away from the world of superheroes, 5YL is about characters who have disbanded only to reunite stronger than ever before. In many ways, Legion succeeds by sticking to its guns and remaining the exact kind of bright-eyed hero's journey it always was regardless of how scary things get.
There is no mistaking that this is a Watchmen-inspired story. The Legion Flight Ring appears contextually in place of Watchmen's bloody smiley face button. The journals and written-out reports, articles, and book excerpts at the back of each issue and the dynamic page layouts are pure Moore/Gibbons. The background noise of TV reports filling readers in on major plot beats is something that appears both in Watchmen and The Dark Knight Returns
, as well as a number of other comics of the era. Yet, the ongoing serial format with characters that will mostly survive the tale adds a challenge for the creators. This story can't be the end; it has to serve as a bridge between the past and whatever would come next. As such, there is a certain level of optimism here that Watchmen comes nowhere close to throughout its twelve issues.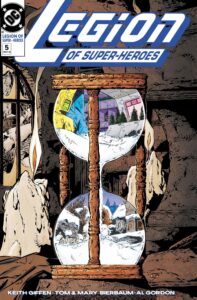 MORE DIFFERENT THAN THE SAME
Utilizing news reports, flashbacks, narration, and letter-writing while leaning into Levitz's outstanding ability to juggle an enormous cast to great effect, 5YL hits the ground running by clipping past much of what its cast has been through to better focus on the present day. Cosmic Boy is trying to provide for his family in an increasingly crime-riddled city, while Shrinking Violet unwillingly takes place in a massacre against his people. She abandons her post and joins her lover Lightning Lass on the agricultural planet of Winath. After a brutal death scene in The Magic Wars, Mon-El comes back to life and reunites with his highly devoted partner, Shadow Lass. The villain Roxxas, more inspired by The Dark Knight Return's Joker than anything in Watchmen, murders the gentle Blokk, leaving his former teammates to mourn him as they attempt to pick up the pieces of the team he loved.
If Legion still isn't quite so adult as Watchmen, it is to its benefit that it is much gentler on its readers. Though we're seeing many of the Legionnaires at their lowest ebb, there is much affection between them. The teasing, brotherly love between Lightning Lad and Cosmic Boy, the devastating loyalty of Shadow Lass and Laurel Gand, the ongoing passion between Shrinking Violet and Lightning Lass, and the mischievous wit of Chameleon Boy make for nothing short of a thrilling read. While 5YL occasionally remains too dense for new readers, the level of heart beneath its somewhat convoluted surface is worth the time it takes to catch the painstakingly thought-out details of the new world order.
Meanwhile, though Roxxas falls into several homophobic tropes, he manages to be both a frightening and enjoyable villain, somewhat counterbalanced with the surprisingly textual romance between Lightning Lass and Shrinking Violet. Roxxas is tormented by his destruction of the planet Trom years before, he has been driven over the edge by the grief that he experienced in no small part due to the Tommites actively haunting him. Some of his most entertaining scenes show other Legion villains growing disturbed by him, making it clear that this is an entirely new kind of villain for the Legion, motivated by emotions well out of check rather than greed or ambition. This is very much in contrast to Watchmen's emotionless big bad Ozymandias, as is the idea that the Legion successfully fights back against the machinations of the shady government organizations that forced them to break up, to begin with.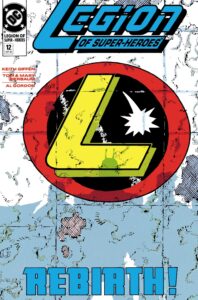 WHY LOOK AT THE TIME, IT'S ZERO HOUR
To all great things, there's a continuity reboot. After the first twelve issues wrap, Giffen's numerous other books led to a lessened focus on the series, and the story becomes looser and more sprawling as it goes along. It never tops its opening arc, despite running for a full half-decade. Zero Hour
erases much of this from continuity. Though there have been great Legion stories in the interim, they have been few and far between.
Legion Vol. 4 is an example of the many comics that took Watchmen-like directions in the back half of the 80s and leading into the 90s in order to create a very different kind of story. While its dystopian view of the far-flung future is unquestionably reflective of Watchmen, it can't be said that Watchmen itself occurred in a void when there was a clear cultural lean in a grittier direction across mediums. On the other hand, Watchmen went many places that this series was never going to be able to follow and vice versa. While it shares an optimistic past reflected in the grimy mirror of the present with the series, much of the layover between the two stories is rooted in aesthetics more than plot or tone. In all the ways that matter, this remains very much a Legion story, and it's one of the best.