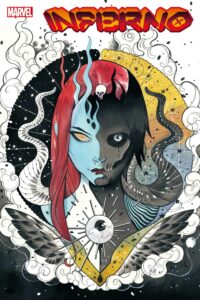 Wrapping with Inferno #4, Hickman's X-Men has drawn to a close, yet the Krakoa era has only just begun. New stories are kicking off and away from the central premise introduced in HoXPox
, ushering in another chapter of X-History. There are many important elements of this run to discuss, which is a major reason why it has been widely reviewed and commented on by critics both within comics and in the larger entertainment sphere. From the resurrection protocols to Moira X to Nimrod and the Omega Sentinels, Dawn of X and then Reign of X hit the ground running and the X-Titles are showing no signs of slowing down.
One monumentally important element of the era has been bringing the villain Destiny back and reinstating her importance in both the franchise and Mystique's life. While decades of subtext, film franchises, editorial mandates, and death have kept them apart, this run effectively brought the pair to the forefront as a couple for the first time in ways that could never have happened before. Among the many things this era has given its readers, perhaps no gift has been so sweet as the reunion between these two murder wives and the long-awaited continuation of their beautiful love story, all while pitting them against Moira X, Xavier, Magneto, and others.
Discussing elements of House of X/Powers of X, X-Men Vol. 5 #1-21, and Inferno #1-4 [Read more…] about I Have Awoken in a World that is Upside Down: Mystique & Destiny in Inferno