Jennifer Walters is one of the best late Bronze Age character additions to the Marvel Universe, popularizing an intelligent, team-friendly Hulk before Peter David and Todd McFarlane made it cool
. It would be easy to underestimate Jen as a mere copycat of her cousin Bruce Banner, but She-Hulk is a powerful, fascinating individual, blending charisma, a legal degree, and powerhouse strength across the landscape of Marvel Comics.
Below you'll find a complete guide to She-Hulk comics throughout the years, from her origins to today. I've placed the Comic Book Herald logo next to my picks for personal favorites!
Related Reading Orders:
Support For Comic Book Herald:
Comic Book Herald is reader-supported. When you buy through links on our site, we may earn a qualifying affiliate commission.
Comic Book Herald's reading orders and guides are also made possible by reader support on Patreon, and generous reader donations.
Any size contribution will help keep CBH alive and full of new comics guides and content. Support CBH on Patreon for exclusive rewards, or Donate here! Thank you for reading!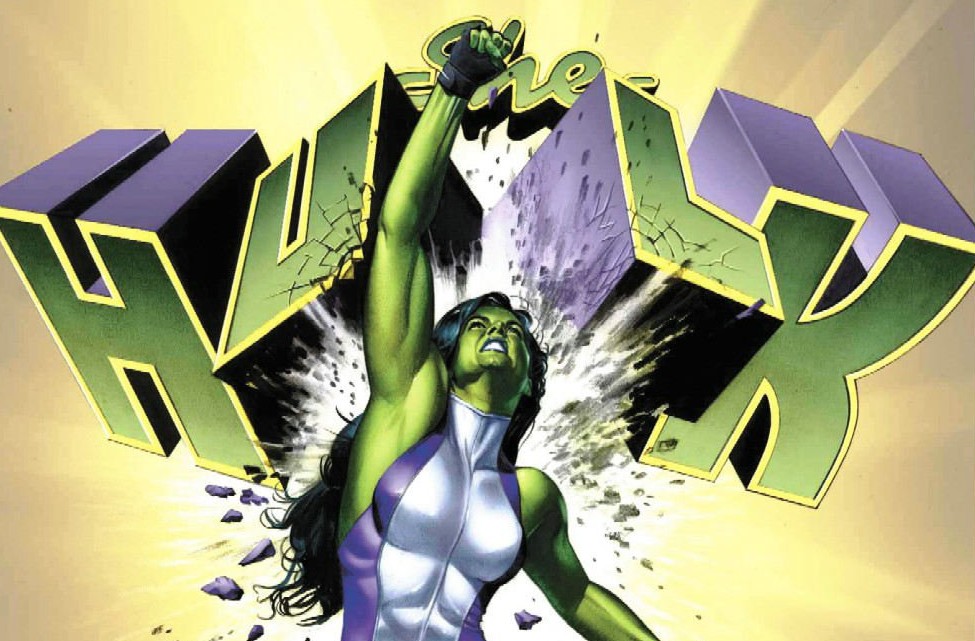 She-Hulk Reading Order
Issues: #1 to #25
She-Hulk debuts!
Avengers: The Trial of Yellowjacket
Collects: Avengers (1963) #212-230
She-Hulk joins the Avengers during a membership drive in Issue #221 and becomes a regular through the end of the collection and beyond!
Issues: #1 to #12
John Byrne (and Friends) on She-Hulk Comics
Issues: #265 to #275
She-Hulk joins the Fantastic Four. She remains on the team for longer than these 11 issues, but issue #275 is Shulkie hunting down a sleazy papparazi, so maybe stop while you're ahead?
Issues: OGN
Marvel Graphic Novel #18 – John Byrne's first take on solo Jen Walters.

Sensational She-Hulk
Issues: #1 to #8
Astonishingly ground-breaking solo She-Hulk series from John Byrne (in 1989). This flies under the radar a lot, but Byrne basically set the Deadpool template within the pages of She-Hulk before we'd even hit the 90's! Sadly, not on Marvel Unlimited.
Sensational She-Hulk
Issues: #9 to #30
Steve Gerber (of Howard the Duck fame) penned issues #9 to #23, with Peter David serving up the assist with issue #12. John Byrne hops back on for issues #31 to #50. As far as I can tell, none of these issues are collected. So if you have a hankering for She-Hulk, looks like it's local comic shop or bust.
Sensational She-Hulk by John Byrne: The Return
Collects: Sensational She-Hulk (1989) #31-46, 48-50
Update: John Byrne's return to the title is finally collected!
She-Hulk McBeal: Enter the 2000's!
Avengers: The Complete Collection by Geoff Johns Vol. 2
Collects: Avengers (1998) #64-76
After the a disaster involving the Red Skull, She-Hulk is left a wandering rage monster, laying waste to a small town!
Collects: Avengers (1998) #500-503, Avengers Finale (2004) #1
She-Hulk is once again transformed into a gamma rage monster and literally used as a weapon against the Avengers as Brian Micheal Bendis and company changeth the old order forever!

She-Hulk by Dan Slott
Issues: #1 to #12
One of my top 100 best Marvel runs in the 2000's picks.
She-Hulk by Dan Slott (volume 2)
Issues: #1 to #21
Issues: #22 to #38
Issues: #1
The She-Hulk, Lady Liberators, Guardians of the Galaxy team-up you didn't know you needed.
Issues: #1 to #4
The She Hulks hunt for the intelligentsia. This time period is heavily interwoven with the Greg Pak written run on Hulk, so I would recommend reading it in full.
Marvel Now! She-Hulk
Red She-Hulk – Volume 1: Hell Hath No Fury
Collects: Red She-Hulk #58 to #62
Red She-Hulk Volume 2: Route 616
Collects: Red She-Hulk #63 to #67
Fearless Defenders Volume 1: Doom Maidens
Collects: Fearless Defenders #1 to #6

She-Hulk by Soule & Pulido: The Complete Collection
Collects: She-Hulk #1 to #12, Wolverines #13, Gwenpool Special #1
She-Hulk In Secret Wars: A-Force & Beyond
A-Force Vol. 0: Warzones!
Collects: A-Force #1 to #5
Secret Wars (2015) tie-in!
A-Force Vol. 1: Hypertime
 (A-Force #1 to #5)
Team led by She-Hulk
A-Force Vol. 2: Rage Against the Dying of the Light
Collects: A-Force #5 to #10

Patsy Walker, A.K.A. Hellcat! Vol. 1: Hooked On A Feline
Collects: Patsy Walker #1 to #6
For the full event, check out Comic Book Herald's Civil War II reading order. In addition the main event, Jen's involved in the pages of tie-ins like Patsy Walker #8, and Totally Awesome Hulk #8.
She-Hulk Vol. 1: Deconstructed
Collects: Hulk (2016) #1-6
After the events of Civil War II, She-Hulk 's grey persona takes over in a whole new way!
She-Hulk Vol. 2: Let Them Eat Cake
Collects: Hulk (2016) #7-11
Writer Mariko Tamaki continues to explore what this latest Hulk transformation means in life of the usually with-it Jen Walters. Also featuring a guest appearance by Patsy Walker, Hellcat!
She-Hulk Vol. 3: Jen Walters Must Die
Collects: She-Hulk (2017) #159-163
Jen Walters returns to her old familiar title and Legacy numbering! The gamma-brained Leader also returns with a scheme of his own!
She-Hulk Returns To the Avengers

Avengers by Jason Aaron Vol. 1: The Final Host
Collects: Avengers (2018) #1-6, Material from Free Comic Book Day 2018 (Avengers/ Captain America)
Writer Jason Aaron brings Jen on at the formation of this Avengers team with a return to the classic green but with a mysteriously dumbed-down, physically huge and literally explosive Hulk persona!
Avengers by Jason Aaron Vol. 2: World Tour
Collects: Avengers (2018) #7-12
Featuring Thor Odinson taking Jen-Hulk on a date… in the Savage Land!
Collects: War of the Realms (2019) #1-6
Both Jen-Hulk and Amadeus (as his new identity, Brawn) feature in this event as Malekith's forces invade across Midgard!
Find the full event guide with Comic Book Herald's War of the Realms reading order.