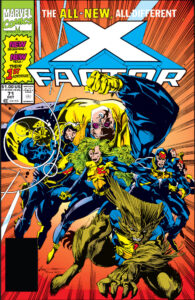 Peter David's work on X-Force is one of those rare books where it's easier to explain the plot than it is why the book exists in the first place. Where Claremont and Davis' Excalibur is something of a superhero and fantasy farce, David's X-Force is a satire of the X-Books themselves. This omnibus is focused right at the 90s era mutant craze while being published right alongside the books it was subtly commenting on.
It debuted the same year as Deadpool and Weapon-X and within months of Lobo, Deathstroke the Terminator, and Shade the Changing Man getting solo titles. Yet X-Factor adds nothing to the Dark Era or its complexities.
These collected issues also existed near the very height of the speculator boom, and yet it doesn't fall in line much with the Scott Lobdell, Fabian Nicieza, and Ann Nocenti money train. In fact, David would quit the series two times in three decades with one of them being over event books.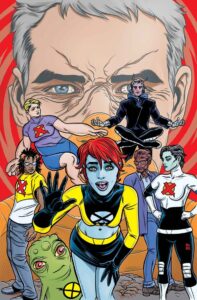 By rights, this should be the least impactful X-Book since The X-Terminators (no one remembers that book. And if you do, for god's sake stop.) And yet, David's work paved the way for everything from Peter Milligan and Mike Allred's fantastically subversive X-Force/X-Statix series to Jonathan Hickman's HoX/PoX. And furthermore, I'd say that the future of the X-Men will learn more from this series than Fatal Attractions.
Let's dig through X-Factor by Peter David Omnibus vol. 1 to find out more.
Support For Comic Book Herald:
Comic Book Herald is reader-supported. When you buy through links on our site, we may earn a qualifying affiliate commission.
Comic Book Herald's reading orders and guides are also made possible by reader support on Patreon, and generous reader donations.
Any size contribution will help keep CBH alive and full of new comics guides and content. Support CBH on Patreon for exclusive rewards, or Donate here! Thank you for reading!
Setting the Stage | X-Factor #71-75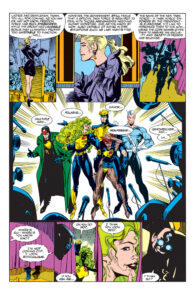 This is a satire of first arc conventions. A knowing wink and nudge that goes like this:
After the popularity of the X-Men and New Mutants, the US Government has decided to form its own X-Team. But, since this is the Government's second attempt at making one after the first was a colossal failure, they don't want to spend a lot of money. To that end, they hire a kind of pick-and-mix to cover all the necessary components of any team:
Team manager and third-string energy manipulator (Polaris)

A complicated loner (Quicksilver)

A fuzzy one (fan favorite Wolfsbane)

Resident screw-up (Multiple Man)

And the most generic muscle they can find (literally Strong Guy)
To top it off, the government gets the second-tier Summers brother, Havok, to lead the thing and a beleaguered agent, Valerie Cooper, to lead him.
The dynamics work out perfectly. Havok/Polaris fit the Scott/Jean drama engine. Guido takes on the Wolverine-style odd-man-out. Wolfsbane acts as the possessed jilted lover. Quicksilver is a complete ass to everyone. And since this story uses the classic "murder mystery" style frame, the all-important spot of "disposable teammate" is played by Multiple Man, Jamie Maddrox.
Maddrox was the perfect cast here, as his ability to make duplicates of himself creates the most blatantly obvious setup for this who-done-it, letting the mutant play a triple role of victim, detective, and his own surprise evil twin. It also gives him the rare excess of dying twice in the same storyline. (David will return to this character throughout his career, establishing him as a favorite means to delve into deeper territory.)

Interludes |
Incredible Hulk #390-392
David is almost certainly better known for his decade-long run on the Incredible Hulk, and he leverages that fame for a little cross-promotion between the two titles. These stories are fun, but they don't provide much of anything in terms of canon. To me, they work best as a snapshot of very late period American action cinema, with a heavily-armed Hulk in the place of Arnold Schwarzenegger.
This Hollywood view works especially well with the X-Factor issues that follow, many of which seem like satires of classic television and movie plots. Particularly when polar opposites Quicksilver and Multiple Man decide to bond on a road trip while Polaris is suddenly hospitalized. (Much later in issue #88, we meet Random. When you get there, look back at "Gun Hulk.")
David makes the humorous and effective choice of having the book focus more on those relationships than on battle, though the team does fight some pointedly C- and D-list X-Men villains like Sauron and Cyber. The dangerous, unlicensed X-Men are off fighting Apocalypse while US tax dollars are spent putting pants on a pterodactyl man. This is why we can't have health care.
Two Mister Sinisters is One Stryfe Too Many |
'X-Cutioner's Song'
Events like this one present a real challenge when building omnibuses around a creator or team. On the one hand, events tend to have big impacts on larger story arcs, so removing them runs the risk of making an omnibus not only incomplete but potentially incomprehensible. On the other hand, Peter David only wrote part of 'X-Cutioner's Song,' so collecting only issues of this event means the same problem.
But there's another dilemma with events, and it's much bigger. Events impact titles but don't necessarily represent the creative vision(s) of those working on them. And this event does not, in my estimation, represent this omnibus.
Looney Tunes
Peter David has Mister Sinister shows up in the very first arc of the series, where the villain is cast as an homage to 80s cartoon bad guys. David is outspoken about his love of Looney Tunes cartoons, and his use of sight gags, bad puns, and comic misunderstandings throughout X-Force and his other titles cements that. But let's really lay this out.
Minister Sinister first appears as the shadowy head of a group called "the Nasty Boys." They are a group of the most pathetic thugs with the most inane names and powers imaginable. There's "Ramrod," with the mutant ability to materialize a large stick and then hit people with it, "Hairbag," who can be either full or three-quarters werewolf, and of course "Gorgeous George," a stretchy man with the power of picking the worst name on the team.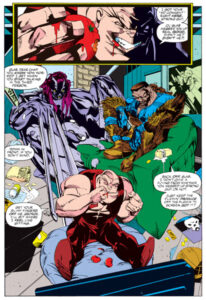 Two of them are late to roll call because they knocked over a liquor store. For liquor. So a supervillain who summons a poking twig and his partner, Michael Winslow from Police Academy, rob a place for Schlitz and pocket money; that's craftsmanship that even Ben Edlund would admire. 
But it's Sinister who takes the cake, hitting every single bullet point in the "Saturday morning bad guy" playbook, from having a plan that contradicts itself to not explaining that plan to his henchmen, and finally "fixing" the situation by blaming someone else and killing them in a puny, ironic sort of way. (We'll pause here to remind everyone of Hickman's gossipy, caty Mister Sinister.)
Bad Shakespeare
In 'X-Cutioner's Song,' Sinister is a hyper-competent mastermind. A schemer with plans for entire bloodlines. A villain capable of outfoxing the oldest mutant on the planet. And worst of all, he is deadly serious. Honestly, neither I nor the event can stress enough how serious he is.
So in the space of no pages, the X-Force goes from Merry Melodies to Much Ado About Nothing, Tragedy Edition.
To be clear, both the comedic and dramatic takes on ol' Dr. Frankenfurter are fine directions on their own. They both feel purposeful, developed through a series of very intentional choices. But they are also completely opposed and this omnibus offers no explanation for their incompatibility. Instead, they smash cut into a Ren & Stimpy joke.
The only answer we might have is that David eventually left the series saying that he didn't like how events interrupted his work.
Artwork
For being an omnibus named after a single author, this book has some big artists in it. But I want to start somewhere a little more unusual.
Al Milgrom inks nearly the full run of this title, with exceptions for some of the event books. His brush and nib work is the secret weapon of this book, effortlessly shifting and adapting to a wide range of styles and giving weight, drama, and clarity to each. And he's got his perfect match with Glynis Oliver on colors. Oliver's pallets always feel so brilliantly balanced with a luminance that complements Al's heavy shadows so gloriously. If any of the following names look even remotely good on the page, it's got a whole lot to do with Al and Glynis.
Jae Lee's work on X-Cutioner's Song is still fantastic and filled with a raw, primal energy that feels like it should be drawn on a cave wall. Lee might be the sole argument for that event's inclusion. If you're a fan of Ben Templesmith or Sam Keith, you should check this out.
Joe Quesada puts in work on the later issues. His penciling is a little inconsistent at times, but in a way that fits with the motif of the book. They work even better as a look back on this particular moment in comics. Still, his biggest contribution to the age legitimately has to be his signature block; I struggle to imagine a 90s cover without it or a poor facsimile.

Larry Stroman
Still, the big artistic star of this book has to be Larry Stroman. The 90s produced a number of true iconoclasts from Peter Chung to Jim Mahfood. Fluorescent-soaked, stray marked styles that danced between gestural and polish. And Stroman, with his anime meets music video stylings and his knowing rule-breaking in his anatomy certainly feels like a part of that same movement. Yet, at the same time, his work shows clear formal influence from some of the best of previous generations, like how his poses have a little Art Adams to them and his design work nods at Sienkiewicz, Steranko, and Chaykin.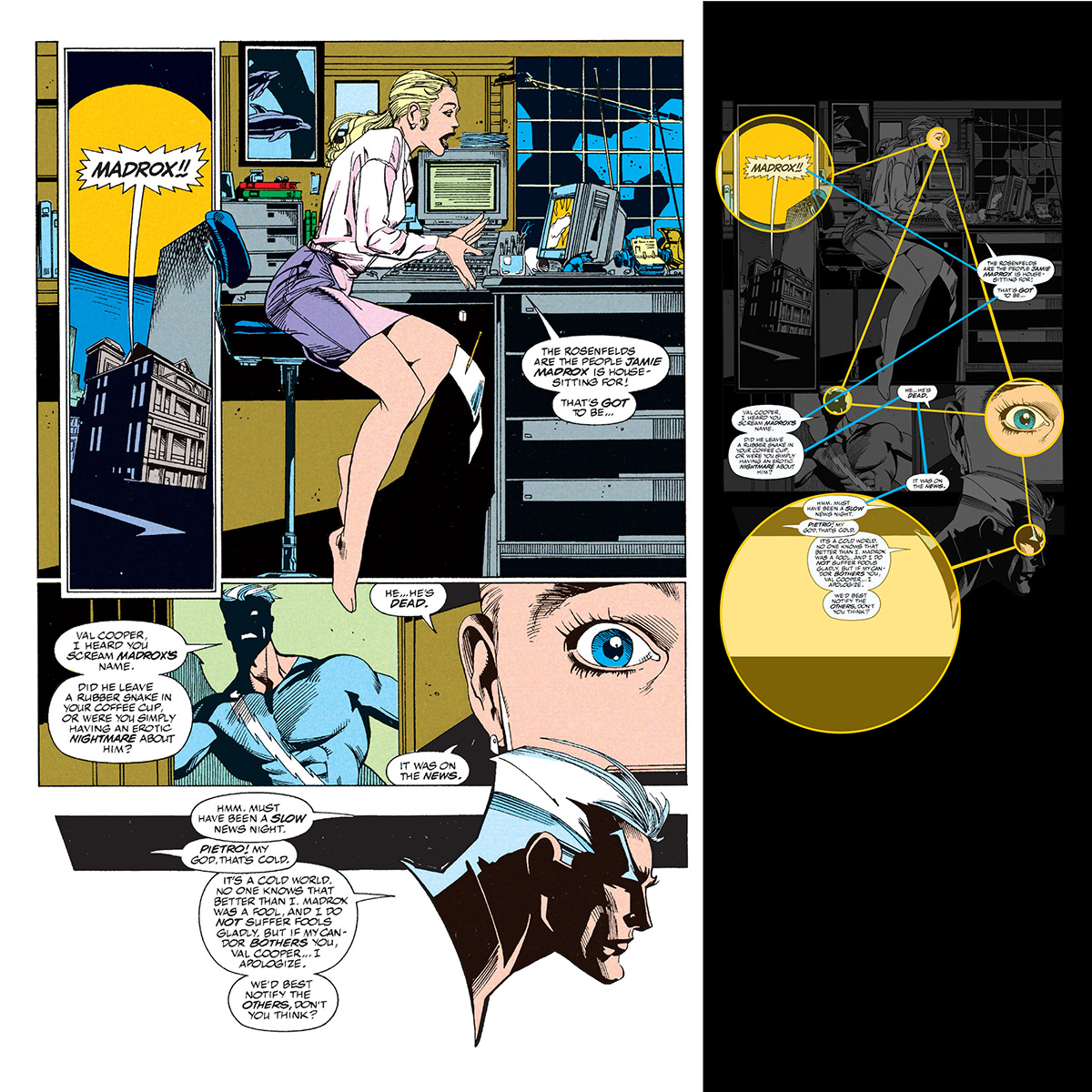 But probably the most electrifying thing about Stroman's art is also the thing that makes it the most 90s: it is unapologetically "Black." It's the faces in his crowds all pose for the 'camera' of his pencil. It's also in the way Stroman plays with details, brevity, and distortion to make caricatures feel like real people. It's in the fashion choices and street scenes, and how they can feel straight out of Do the Right Thing. It's in the way the artist sneaks members of Public Enemy into a scene.
Stroman brings a sense of the unexpected to seemingly every page, shaking things up in a way that breathes life into them where other artists might settle for mere disruption. Similarly, where the 90s was filled with artists like Rob Liefeld and Erik Larson making a name for themselves with wildly embellished anatomy, Stroman succeeds where others failed by being absolutely rock solid in his exaggerations. His depiction of 'Strong Guy' Guido is impossible, but it's always impossible in the same way, every time. You can see that same care and attention to detail in nearly any of his panels. Sadly, Stroman left after about a year, giving us only so many panels to enjoy.
Conclusion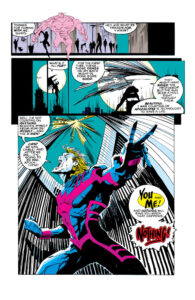 Peter David's first issue of X-Factor comes out smack between the first appearance of Cleetus Kassidy and the holographic cover of ASM #365 that doomed the industry. Or, if you prefer to have your Dark Age mixed with your speculator boom, David's run began the same year Marvel published Ghost Rider #15 with its glow-in-the-dark cover.
And whereas people actually bought those other comic books, Marvel had to concoct a whole cloning debacle event book to convince people to read X-Factor. A debacle that was as artistically terrible for the X-Men franchise as it is ironic for Spider-Man.
I can see it from Marvel's point of view. David's work favors character building over fight scenes, subtlety and humor over trauma and violence, and even goes so far as to specifically speak out against mind control plots. Were you to remove that story device from the X-Men line of books, I think you'd just have the Blackbird left.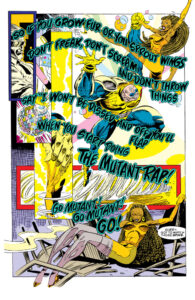 And yet, taking the long view, it's hard to say that David wasn't right. The best X-Men stories, hell the best Marvel stories all focus on character development. The X-Men work best as an allegory for social inequality and struggle the most when they're child soldiers. The comics also work best when they're a joy to read, a fact well established by Stan Lee's mere existence.
Sadly, that lack of intensity and urgency won't help sell this omnibus any more than it did the issues in it. But I would argue that I think it might be the best way to keep selling comics period. To me, David's entire effort on the series is a must-read. And you should definitely start at this, the beginning.