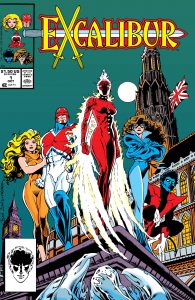 All Time Is Relative |
Excalibur's
Place in Marvel History
During the later half of the 1980s, Marvel comic sales were on fire. It's estimated that they dominated the market with around 70% share, thanks in large part from their ascendant X-Men line and that book's storied (re)creators: Claremont, Byrne, and Cockrum. Guided by these three, and aided by some of the greatest talents in the industry, the X-books drove a period of rapid expansion in the Marvel universe, an air of wild experimentation within the company itself, and inspired the same all across the industry. 
And just when it must have seemed Uncanny X-Men was reaching the height of its powers, Claremont — along with Louise and Walter Simonson, Mark Gruenwald, Mark Silvestri, plenty more — decided Xavier's students needed a time out before they burnt out. 
So this creative supergroup did the unthinkable: they killed not just the X-Men, but the Uncanny X-Men title itself. The Fall of the Mutants went further than previous stories like the Dark Phoenix saga or Days of Future Past, and actually removed the team from the game board for a while. (To be fair, it would be revealed that the X-Men weren't dead but in Australia. But I'm asking you, with all of those poisonous animals, what's the difference?)

Power Vacuum
It was a brilliant move. Claremont and team got their breather, the market went from oversaturated to hungry. Two things that only fed the wild experimentation and expansion. And after so many hits, Marvel must have felt untouchable and more than happy to indulge its audience and its creators.
Support For Comic Book Herald:
Comic Book Herald is reader-supported. When you buy through links on our site, we may earn a qualifying affiliate commission.
Comic Book Herald's reading orders and guides are also made possible by reader support on Patreon, and generous reader donations.
Any size contribution will help keep CBH alive and full of new comics guides and content. Support CBH on Patreon for exclusive rewards, or Donate here! Thank you for reading!
These were the precise conditions needed for something like Excalibur to be born. There needed to be a world without an X-Men in order for a book so similar but so wildly opposed could have a chance.
Excalibur was in many ways the antithesis of the constant life-and-death high drama of the X-Men. Instead, this was an oversized cartoon or, as the book's editor Ann Nocenti said, "a cosmic comedy" book. On the face of it, Marvel making fun of its own best-selling book this way and Chris Claremont putting a red rubber nose on his own legacy seems like a real business challenge. And it was. But then again, as is so often the case, the joke wasn't quite what we all thought.

On The Shoulders of Madmen |
The Strange Tale of
Captain Britain 
Brian Braddock, ostensibly Excalibur's leader, first appeared in Captain Britain Weekly in October of 1976, written by Chris Claremont. The comic was made for two reasons:
So Marvel could get a foothold in the European market, which had long eluded them with it's adult content, the impossible mix of fabulism against dry, dark humor, and a frequently cartoonier style.

Because the Queen was going to have her Silver Jubilee and I guess that was a sales opportunity?
Claremont was a noted anglophile at the time, so his stories were earnest. There's a kind of charm to how Claremont weaves in Arthurian legend, castles, magic, and everything else Americans love about the isles. Only, it turns out that the United Kingdom was very far away — perhaps even in other countries — which turned Braddock's "nationality" into more of an outside-looking-in affair.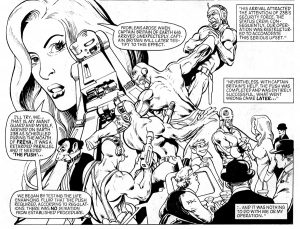 So it was that with little fanfare, Claremont left the book to go back to X-Men full time.
Later, the series was dusted off and put into the hands of illustrator Alan Davis and writers like Dave Thorpe, Alan More, and Jamie Delano who turned the magazine into a wild, dystopian, and extremely experimental comic that balanced action, gallows humor, and absurdity. And along the way, those writers created and defined the Marvel Omniverse.
And though Thorpe would be fired for being too outspoken, and Moore's contract created a terrible grudge with the publisher, and Davis essentially pushing Delano off the book, the title still resulted in some stories that stand the test of time.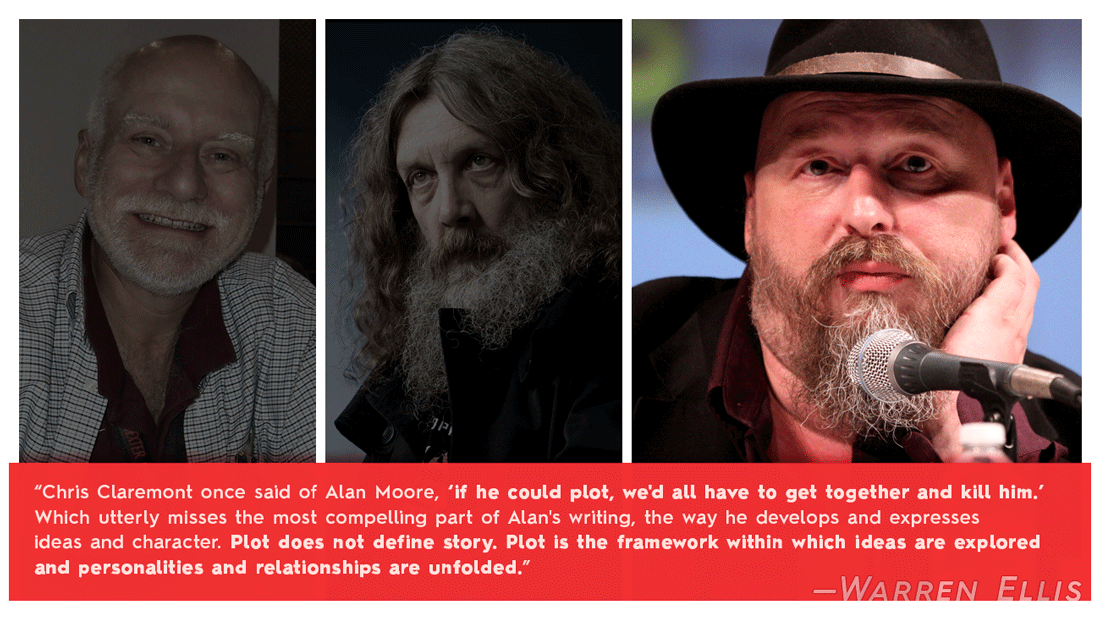 The Irony of Multiversal Canon |
How
Excalibur
borrows from
Captain Britain: Crooked World (aka. Jasper's Warp)
Captain Britain: Crooked World (sometimes Jasper's Warp) [CB:CW/JW] is the story that gives Marvel its cosmic rules. The idea of a multiverse has existed in Marvel since at least What If #1 (1977) but it's Dave Thorpe and Alan Moore's story, along with Alan Davis' art, that builds it all out, as Captain Britain goes careening through the new "Omniverse" before landing on the newly dubbed Earth-616. The story is a stupendous piece of work by all four creators.
A fact Chris Claremont himself seems to agree upon, as he's borrowed from CB:CW/JW often: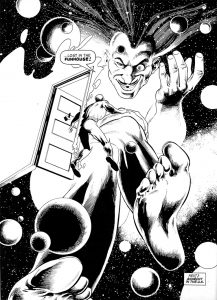 Thorpe's Mad Jim Jaspers (the villain for which the Warp was named) appears in Claremont's Uncanny X-Men #200 anniversary special (1985).
Excalibur launches three years later, using more Captain Britain creations:

The Dimensional Development Court

The Special Executive

Opal Luna, the Omniversal Majestrix

The Avant Guard

The multiversal Captain Britain Corps.

The Technet

The Crazy Gang

Captain Britain

's distinct style of interdimensional adventure

Claremont leaves to resume Uncanny X-Men, working on another dimension-hopping story featuring Bishop and another villain from Crooked World, The Fury. At least until the latter becomes "Nimrod" due to, you guessed it, Moore's contract.
I concede that normally, canon exists for specifically these reasons. However, I'd argue that — before Excalibur: The Sword is Drawn
was published in 1988 — CB:CW/JW wasn't canon at all. Those Captain Britain stories were printed almost exclusively for the UK market and weren't exactly widely available outside. Even now, with mass printing, they're not! And that unavailability only made worse when Marvel screwed-up their relationship with Thorpe, Delano, and especially Moore, which ironically meant the characters and events they created couldn't have major interactions with the rest of 616. Which raises the question: What is Excalibur, as a book, doing?

Chris Claremont |
The Architect's Hobby
Excalibur was a part of a grand experiment in expanding the X-Men universe. But where books like Wolverine and X-Factor pushed the potential of a small portion of reality (mutants), Excalibur was pushing the very possibilities of the Omniverse (or, I suppose, making those possibilities known.)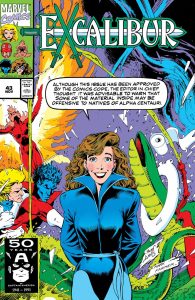 The book feels fresh, unburdened by Xavier's dream and "a world that hates and fears them." Hell, at this point, almost half of Excalibur's initial roster have never been X-Men. They're not even mutants. Excalibur is also a small, five-person team that makes the book uncrowded, leaving plenty of room for character moments, Claremont's hallmark rest issues, and of course, gags. 
But for me, what the X-brand gains with Excalibur is much simpler: Claremont's joy of writing. Free of the Uncanny main title and its habitual melancholy, Claremont is free to branch out and offer a greater emotional range. Rereading Excalibur again, I was struck by just how good it could be. Time and memory have a way of flattening things to caricature, and I'd gotten into the lazy habit of remembering Claremont for his love of phonetic accents and his constant reminders of who has what powers. But Excalibur does away with enough of those detractions to remind that few people have ever done full-heart heroism quite like Claremont.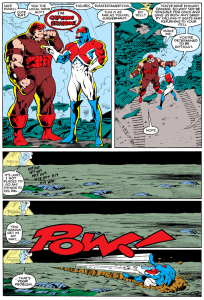 Claremont's Satire
Most of Excalibur's jokes are simple and straightforward. The setup is almost always in the same issue as the punchline, more often than not within only a page or two of each other. And as we'll find out later, a lot of that is actually Alan Davis' doing.
But here and there, Claremont shows an incredibly sly hand with humor.
The Premise, Team Mix
A group of misfits in a world of literal magic. They're under threat from a cosmic peril evil cosmic woman, failing their way through literally unpredictable adventures.
Delete the word "literal(ly)" and you have the Dark Phoenix saga.
Then you have Excalibur's first ensemble: a jock in knight form, a good witch, a bad witch, one elf, the everygirl who shows them how it's done, and her dragon. How many cartoon fantasy movies does that describe?
Magic Over Mutation
The book's use of fantasy over science fiction blows open a world of humor. Fans have come to expect that mutations are genetic and have some kind of boundaries, and I feel that dangerous certainty helps add to the classic fatalism in the X-books.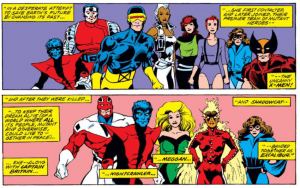 But magic? Magic is anything goes. Where boundaries make most comics headlong and breathless, Excalibur gets away in a universe with seemingly no rules and no hurry to get them. If the X-Men suffer the sword of Damocles, then Excalibur is galavanting under an anvil.
Which adds a second dimension. The only real rule of classic magic was that it always revolves around a hero pure of heart and their destiny. Excalibur under Claremont constantly plays that rule. On the one hand, Kitty, Nightcrawler, and Meggan take turns as the hero while Phoenix plays the part of fate. Simultaneously, Captain Britain, the Knight in Union Jack armor, gets the stuffing beat out of him at the start of over 90% of his encounters. It's something of a running gag.
Indistinguishable from
Sorcery also better explains the series' reality jumping and how it aggressively evades actual explanation (strictly speaking, the "The Cross-Time Caper" does not involve time travel and there's no single caper.) I think the mutant world and its genetics-focused, sci-fi hang-ups would have been too restricting for this.
But really, why this book needs magic, is to justify anything just long enough to get to the next thing. So why is Nightcrawler constantly dressed as a 70s pimp? What was Widget's plan? Why, why is Feron? (That last part is from Davis' run, but it needs to jump the queue.)
Thankfully, there's much more than one kind of magic in the air thanks to this book's extreme horniness. Particularly on the part of Davis and his expressive cartooning; that man knows fan service.
Alan Davis |
More Than an Artist, a Creative Partner
Claremont's jokes are up and down, but generally do a good imitation of British absurdity. There's the same kind of hopeful mockery and slightly nihilistic slapstick of Terry Gilliam, Terry Pratchett, and Joanna Lumley's. If the X-Men is an invading alien ship and impending doom, then Excalibur is Ford Prefect introducing himself to a speeding car.
That said, Claremont isn't a comedian, so much of the books goofs actually come down to Davis' artist talent. We'll get into the nature of that soon, but right now I want to emphasize how impressive it is that Chris Claremont pays deference to someone else on an X-Book. The writer serves his artist some great opportunities, including a Nightcrawler/John Carter of Mars story for swashbuckling and posturing, as well as some great downtime with Kitty and Rachael. (The girls' time in Paris might be my favorite part of the series.)

The Cross-Time Caper
| Chris Claremont is Something of an Alan Moore fan
Excalibur #12-24 is the series' first, big story. So it seems right that it should have some allusions to its Captain Britain ties. However, Claremont goes a little beyond "enjoyment" and tries to recapture some of the world-tripping, time-bending, Alice Through the Looking Glass weirdness of those Thorpe and Moore Captain Britain issues. And that changes matters.
The Good
Claremont had already delivered a spectacular opening issue with The Sword is Drawn, and followed it up with several solid issues. Goofy, but still a good foundation. And while Claremont can certainly be funny, he makes the smart choice of relying on Davis' natural skills to bring the laughs. That says a lot for Claremont, especially on an X-book.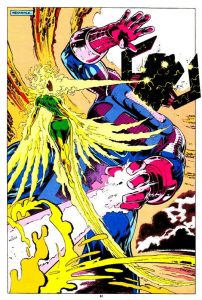 Which is not to say the man doesn't play his part. CB:CW/JW was black comedy at its best, an example of that classic European trait of mocking Armageddon behind its back. Claremont keeps that smirk in his script, but with much lower stakes than Moore and team employed. This makes The Cross-Time Caper a much more fun title, which lines up better with those first 11 Excalibur issues.
Additionally, Alan Davis really was born to draw dimension-hopping heroes. I must imagine that both creators were having a gala ball on this book, and it would break my heart to hear anything else. Because if you let go and give yourself up to this book's madness (and maybe only read in small bursts) it's a tremendously good time.
The Less Good
It turns out that doom really helps to define a story. Claremont and Davis try to deliver an epic, it gets away from them. This is the problem with absurdity: it still needs rules and logic, if only to break those too. Without them, you get this story: a delightful but sprawling mass of confusion. 
Let's start with basic math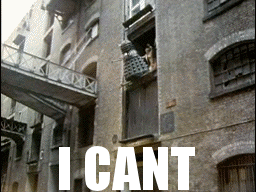 The Cross-Time Caper

was planned as a 9-part series

It picked up three additional issues during publication. Marvel officially lists the story as spanning

Excalibur

#12-24

Except it's actually Excalibur #8-19,21-24. The first four issues don't have the series banner, but do contain a lot of important details and aesthetics. Also, some that should be skipped (more soon). Issue #20 is a "rest" issue that has nothing to do with this story.
Creative issues
The story undergoes at least three erratic changes, dropping one antagonist/conflict for another without notice

This is compounded by Claremont's known tendency to leave plot threads dangling around and ultimately hampers any payoff.

Sometimes the story mistakes that "shortsightedness" for "absurdity"
If He Could Plot, We'd Have to Get Together and Kill Him
On the subject of shortsightedness: there are so many questionable decisions, so much unnecessary confusion. Like the first two issues, where we meet a "Mirror, Mirror, version of the team. As in literal Nazi Excalibur. How does the book account for Kitty Pryde, a notably, proudly Jewish character? "Not well" is the answer to that. Which is really surprising seeing as Claremont not only created Kitty Pryde but is Jewish himself. Of course, character was a bit of a problem from the beginning. Pryde learns Nightcrawler was attempting suicide and proceeds to yell at her old friend for not thinking of her feelings. Nothing more is ever said. Also, there's Braddock's drinking problem, his unexplained love triangle, and his constant failing (which gets tiresome after a while.)
The Cross-Time Caper feels like the dark end of absurdity. As if without a Mad Jim Jaspers-level menace, the story becomes its own reality-warping villain. One minute it's like a cartoon. The next. it's campy Doctor Who. But every once in a while, Cross-Time Caper  trying to "yes, and" your way out of an improv game as it bombs around you, and just when you think you know how many issues there are, the crowd suggests "Auschwitz vampire attack ghost."

Alan Davis |
The Legendary Artist Turns Writer
As stated before, Davis is the laugh track of this series. They're simple, to be sure. And much goofier than Davis' work on Captain Britain where he first cut his teeth. But then, Davis' artwork advanced by leaps and bounds over that series, and in Excalibur, it might be at its height.
Davis still has that cartoonist knack for emphasis and clarity he showed on David Thorpe's tenure on Captain Britain. It's a little Metal Hurlant, a little 2000AD, very Euro-pulp. And Davis has the reaching ambition he showed alongside Moore on CB:CW/JW. But in Excalibur, he finds a better merger. It's not as flashy as Moore's run, not as rough and ready as Thorpe's. Davis feels much more like a North American artist here, albeit with some spectacular economy.
The Good
Post-Claremont Clean-up |
Tying Loose Ends
This brings us to the rest of Alan Davis' writing. When Davis came back in Excalibur #42, it was as a janitor, trying to clean up Claremont's pile of loose ends. And honestly, I admire Davis for taking that on. First, for asking people to forget Michael Higgins' resoundingly awful, Weird War III (the Nazis are back. Even the author seems unsure why.) Though I suppose, after that, it would have been easier for Davis to ask fans to trust that he, a novice writer, could replace Chris Claremont on an X-book.
And fans didn't know how much Davis was winging it. Davis writes much of his run based solely on his half-remembered conversations from three years prior. Which shows you just how much of Alan Davis is actually in these issues. He really pours his heart into some of them.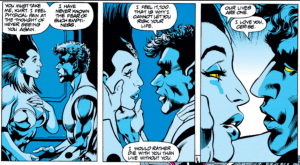 Davis & Farmer |
Like Claremont & Davis, Only for Art
Davis' work is well-serviced during Claremont's run, even looking great here and there. But it isn't until Davis return and his partnering with inker Mark Farmer that Excalibur because a portfolio piece. Farmer has a beautifully fluid hand, and he really accentuates the "cartoon-y" roundness of Davis' drawings. This goes double for character expressions and posture.
Farmer also knows how to work restrained, adding only essential detail here or shadow there, focusing on clarity above bombast. Farmer is a genius, and his partnership with Davis creates something extraordinary.
The Less Good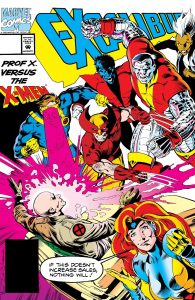 Davis' individuality can get lost. 
Davis wasted no time in closing down Claremont's stories and explaining seemingly everything about Excalibur. Every tertiary character, every side story, nearly every possible question gets played out in these issues.
"When I took over on Excalibur, there was a definite brief that there were too many loose ends hanging and (editor) Terry (Kavanagh) wanted them tied up"
Alan Davis — (Eric Nolen-Weathington: Modern Masters Volume One: Alan Davis, April 2003)
Short term, this is exciting as we so seldom see it from books. But long term, it becomes impossible for Excalibur to live in both a world with an answer for everything and one that's absurd, fundamentally unknowable, or even explicable. 
The secondary effect is that the team must choose between meaningful actions making them into saviors, or inexplicable action making them misfits and clowns.
Necrom
| Magic Gone Bad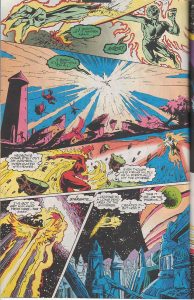 This is especially true with Necrom, the evil sorcerer. Necrom is the arch-enemy of Merlyn because now more things must tie into Captain Britain. But doing that means the influences are imbalanced, so Necrom also becomes host to the Anti-Phoenix force. Also, he travels the multiverse, lest we forget that can happen.
Davis has an obvious soft spot for Rachel Summers, whom he'd set on a redemption path at this point. Being a fan of her myself, it's pretty great seeing her defeat Necrom. 
But it leaves me wondering: why did Davis introduce new characters Cerise (Shi'ar Barbarian) and Colin (sort of Conan/Large House Cat. Also a barbarian). By the final issues, Phoenix has the entire spotlight.
The obvious question is: "did Rachael derail the story?"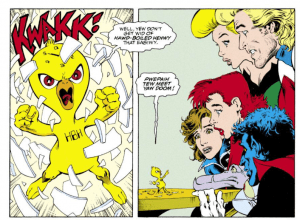 This is followed by more questions: Why did Excalibur need another multiversal threat? What are the universal implications of an anti-phoenix force? Was this the best use of the entire team's time? Wait, why was Nightcrawler back at home training the Technet? Better question, why was Thundercat Conan introduced as being the one with the power to kill Necrom only to ride the bench? Why did this particular comic get to take the Phoenix force, one of the most powerful cosmic entities in Marvel canon, and create a "dark side for it?" In 5 issues? When Davis and Claremont combined couldn't fix a train in 15?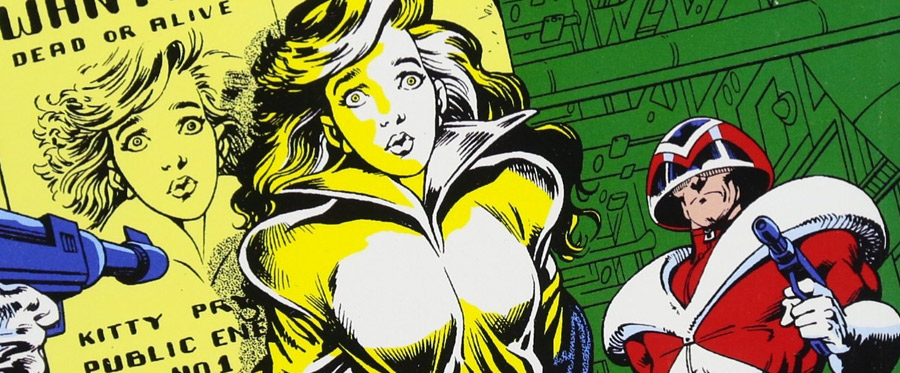 Optional Reading |
Why the Claremont & Davis Days Are So Beloved
For all of their faults, Claremont and Davis worked a kind of magic together, creating their own little pocket of the Marvel universe that seemed more fantastic, more unpredictable than most other books from the publisher. Better yet, the two's artistic talents could, at times, make one, singular whole. A seamless output in which it didn't matter where one set of hands became another. This sort of thing is why comics should exist.
And for Excalibur, it would never exist in quite the same away again.
The next two chapters are not required. You can skip to Final Thoughts and still understand the review.
After Davis exited for the final time, the book ceased to exist and became something completely different. So to really understand what we have in Excalibur, we really should go beyond this Omnibus for a quick look at what happened after.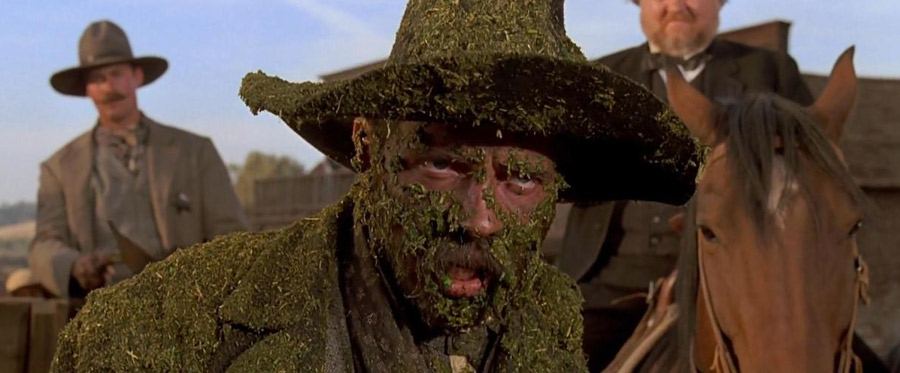 Scott Lobdell |
The House of Lee and Liefeld; the Lobdell Gap Years
Officially, Scot Lobdell took over from Davis on issue #68, though he'd been contributing to Excalibur since #31. Which should account for something.
However, I'm going to skip the content of Lobdell's run because…
The Less Good
| Lobdell Makes a Generic Mutant Book
Honestly, I don't know what Lobdell thought he was taking over or why he wanted Excalibur at all. I don't feel like it was out of love for these characters, as he just misses the entire point of the book.
Excalibur was the "Anti-X-Book" under Claremont and Davis, a comedy act about a C-rate team with a gimmick that can't seem to do anything all that right. 
Lobdell, through the course of his run, tries to make Excalibur into a formulaic X-Men title. He tosses the satire and charm and works with what's left: a still C-rate team, a gimmick, and mistakes. 
X-History
| Image Comics and the 1990s
From around 1975-1991, the X-Books went from a highly-experimental talent incubator to perhaps it's biggest "art book." Then, in 1992, five of the title's hottest contemporary artists left the company to form Image Comics, taking their talent and profile to creator-owned endeavors. The X-Men (and Marvel itself) were in danger of losing their importance.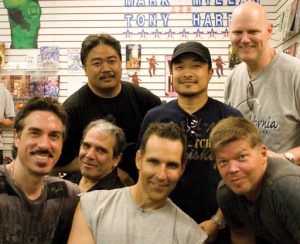 People kept leaving until X-Line Editor Bob Harras was scrambling for anyone to write the book. At that same moment, Scott Lobdell had just finished ruining Excalibur for the month and happened to walk by Harras' open door.
And that's how X-Cutioner's Song, Fatal Attractions, and Onslaught happened. Seriously. 
Sales soared under Lobdell, but the X-Men were dragged once again into high trauma. Not only that, but as his credits imply, Scott Lobdell is uniquely (almost singularly) responsible for getting Marvel — and by extension, the rest of the industry — hopelessly addicted to events. His tenure on X-Men is one, long, rolling cataclysm, stripped of Claremont rests. Much as I enjoyed those stories as a kid, I blame them for putting fans on the endless events treadmill that still plagues comics today.
Warren Ellis |
Further Down Familiar Paths
Background
Warren Ellis takes over the book with issue #83. He's incredibly green at this point, with Doom 2099 being perhaps his biggest success.
Lobdell left Excalibur in poor shape but went immediately over to X-Men where he helped usher in enormous sales. So not only did Ellis have to fix what his predecessor had done, he had to reconcile it with smash success. And did I mention Lobdell would sorta be his boss?
The Writing
At some point, it's just decided that Excalibur is simply part of the X-Men. Making X-Men's teams "Gold," "Blue," and "UK." Ellis steers into that, with Excalibur's stories now being more action than exploration, and with much less fantasy and only Ellis' acerbic wit as humor.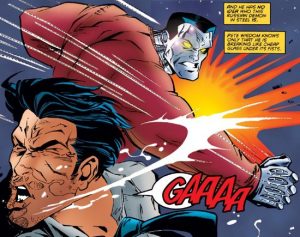 The loss of Claremont's satiric buffoonery and the final move away from Davis' arts tyle is the end of an era. The switch from Claremont's magic to Lobdell's mutant obsession means the book also loses its fantasy and absurdist elements.
I'm almost certain all of that was Editorial's intent. The short of it is that under Ellis, Excalibur becomes a whole different book and it's best to try to consider it as such.
And honestly, it's better than it has any right to be. Ellis is still green, with pressure from Marvel and from readers to do contradictory things. Excalibur has to fit tightly into X-Men for the first time, but still needs character — and way more authenticity. Given all of that, Ellis turns out a good product: there's action, sly wit, and Kitty Pryde really gets to shine.
Additionally, Peter Wisdom is essentially a prototype for Spider Jerusalem, only in Stormwatch. If you like transgressive Ellis, this is a fun archeological find.
The Less Good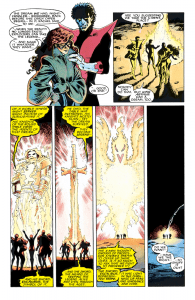 Again, I think these decisions were made above Ellis' pay grade. He gets dinged for their exact implementation, but not their inclusion. 
Thematic swing and a miss
The series must now match pace with Scott's treadmill. It also suffers the loss of its trademark magic. With these new restrictions, Excalibur have little choice but to share the status quo task of "protecting a world that hates and fears them."
Which narratively makes no sense for many reasons, but the simplest is to go back to Claremont's concept. Captain Britain and Meggan — nearly half of the original Excalibur — are not mutants, did not train under Xavier, and never pledged themselves to his dream before this point. This only made worse as the newest member, Peter Wisdom, who was created by Ellis is not an X-Man!
Born Too Soon
This part of the series began in the mid to late 90s, which I bring up only to say that personally, I don't think Ellis' paranoid, future tech, Illuminati approach to writing makes much sense pre-9/11. Even with X-Men being one, endless event of misery and holographic covers, the industry was still a reflection of the times: not quite ready to give up its colorful spandex for its grim trenchcoat future.
Pete Wisdom's MI-13 connections may be based on an earlier Captain Britain mini-series, but it feels anachronistic. It doesn't quite make sense to worry about government spooks when Magneto has an asteroid base. But it we'd rewound the clock to Delano's run on Captain Britain…
The Artwork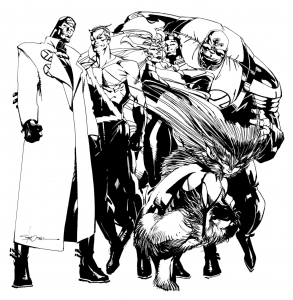 The Good
Larry Stroman shows up on this run, and that is reason enough to buy anything. I'm a huge fan of Stroman's X-Factor, where Brandon Peter's inks seal the deal perfectly. Stroman's ingeniously detailed pencils and superb layouts are instantly recognizable.
And because it's an X-book in the 90s, that Fabian Nicieza/Andy Kubert's aesthetic sneaks in. Their work really defines this era for me, bringing in fantastic action opportunities that make up some of the most memorable parts of every major event I can think of from the time. So seeing echoes of it here just feels right.
Last but not least, Chris Bachalo and Carlos Pacheco are both here. They're still a little rough, but them getting a shot feels like this book is trying to return to fostering talent like Uncanny X-Men under Claremont.
The Less Good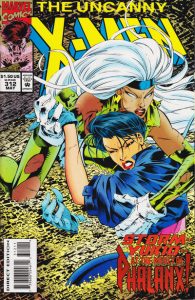 Lobdell was only half of Marvel's answer to Image. The other half at the time had to be Joe Madureira. He's a unique talent. He helped on a few Excalibur tales, where his style clashes with Davis just a little. Then he does fill-in on Uncanny X-Men #312 and it catches like wildfire. Just over a year later, he was co-creating the Age of Apocalypse. 
He was exciting, he felt every bit as young and fresh as Image, and Marvel knew it. But they had no idea what they had. Joe Mad was a part of that same "LA street art" style on the time, along with J. Scott Campbell, Jim Mahfood, and Brian Pulido to name a few, 
Joe Mad and the other's obvious use of manga (particularly Akira Toriyama) was a revelation and introduced many to the medium. However, what was much less obvious was the criticality of Ernie Barnes, Diego Rivera, and other black and latin-x revolutionary artists, who made up all of the underpinnings.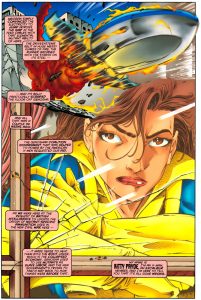 The point is, Dragon Ball is a big part of Madureira's appeal, but it's not how he makes drawings work. 
And in Ellis' Excalibur, there are a lot of imitations that just don't work. Whole pages can work so hard at mimicking Joe Mad's style they become grotesque, confused, hard to look at  With heavily stylized work like Madureira's, you can't miss beyond a little. It's too obvious. Especially when it's the 90s and you put 10 lens flares on it.
Like Ellis, I can't quite blame these artists. They were pawns in a fight against another publisher. But my dreams are nonetheless haunted by their melting faces and awful one-point perspective (which I thought impossible to mess up.)

Final Thoughts |
Traveling the Multiverse, Taking the Long Way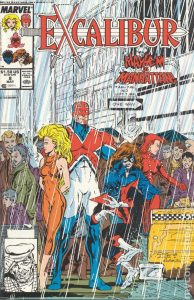 I loved this whole series as a kid. Yes, even the Scott Lobdell travesty. I was young!
The book was weird. It got away with things. Claremont and Davis could feel perfectly attuned to one another, which even then seemed impossible on a comedy book. It sorta still does.
For me, this makes the omnibus a clear "buy." Clearly, I look at it differently now that I'm older, but I'll never shake my love of the series (except for the Lobdell issues.) The 90s is full of things like that for me. Series and writers and artists who were there at a critical time for me, defined my first understanding of comics, and so now I can only judge them and their works imperfectly.
This means that, like other books from the period, I have no idea if it's good for anyone else. The only way I can think to test is to ask this.
A workable definition of comedy is celebrating contradictions, like tradition and invention at the same time. So Excalibur depends on your ability to see that.

So what is different and what is the same
Chris Claremont, oft-copied king of X-Men and not English, creates Captain Britain as a sales gimmick

Thorpe, Moore, Delano, and Davis make more Captain Britain, only better.

Moore's contract presents Marvel from making more of it.

Claremont fears he's copying himself on X-Men. He creates a new x-book, Excalibur, recreating some of Thorpe, et. al's Captain Britain.

Davis takes over, recreating much of Claremont's Excalibur.

Lobdell takes over from Davis, tries recreating the X-Men magic.

Several X-Men artists leave the title and company for a better deal, Marvel promotes Lobdell, changes the title to be more similar to those exited artist's work.

Ellis, the only humorist of the bunch AND the only Englishman, prefects what Lobdell could not. Finally, Excalibur is part of the X-Men and the parody becomes the copy.
In other words
I'm pretty confident Alan Moore's Captain Britain contract played an important role in Marvel's decision to make Excalibur. I'm certain the series intentionally borrowed from that work rather than validate even partial creator ownership. And I believe that ultimately, the reason Excalibur stopped borrowing after Davis and instead inverted itself under Lobdell/Ellis is that Marvel did not want to validate more artists' demands for creative ownership.
I have the feeling that this entire ordeal was just an extremely expensive way to do reprints instead of negotiating. I also wonder if Chris Claremont had nixed The Fall of the Mutants and just stayed on Uncanny X-Men from 1976-1994, would the mutant-verse be richer or poorer for it?
The story of Excalibur could be a tragedy. Or it could also be the darkest comedy going. It might be either, depending on which Earth you find yourself on.