This week on "Previously On," I consider why I'm so excited for Marvel's War of the Realms, analyze the strength of Image Comics throughout the decade, and find a cool new Judge Dredd podcast!

Featured Comics Of the Week –
The Road to War of the Realms
Against all better judgment, I'm insanely excited for Marvel's War of Realms event. While Marvel events are a dime a dozen, I haven't been more pumped for an event takeover since 2015's Secret Wars
(my favorite comic book event of all time).
The main reason for this is that War of Realms is the culmination of years of good comics, with writer Jason Aaron at the helm of the Thor franchise since 2012. Unlike more out of the blue events like, say, 2016's Civil War 2, there's a depth of story and weight behind the build to this massive event. This makes a huge difference to me, as I'm already invested in the storyline that began with Thor: God of Thunder
, continued in to the Jane Foster era of Thor, and has recently returned with Thor in the Marvel Fresh Start era.
For the whole run, I recommend checking out Comic Book Herald's Thor reading order!
Support For Comic Book Herald:
Comic Book Herald is reader-supported. When you buy through links on our site, we may earn a qualifying affiliate commission.
Comic Book Herald's reading orders and guides are also made possible by reader support on Patreon, and generous reader donations.
Any size contribution will help keep CBH alive and full of new comics guides and content. Support CBH on Patreon for exclusive rewards, or Donate here! Thank you for reading!
If you look at all the Marvel events since Marvel NOW! in 2012, it's a spotty field at best. I love the Jonathan Hickman written Infinity and Secret Wars as parts of his larger Avengers work, and 2014's Spider-Verse
is a brilliant concept from the Dan Slott era of Amazing Spider-Man.
Otherwise, it gets rough. Even thoughtful set-up doesn't guarantee a good event. The biggest missed opportunity – and the cautionary tale for War of the Realms – is likely Axis, a strange miss by writer Rick Remender that should have formed the final part of his work started in Uncanny X-Force. Likewise, Secret Empire is very intentionally built through the Captain America comics by writer Nick Spencer, but the event falls very flat as it progresses (and was mired in an overload of controversy).
Just looking back over the past year, nothing in Infinity Wars, Hunt for Wolverine, Extermination, Spider-Geddon, or Age of X-man comes close to rivaling the years of legwork put into Thor before this event.
I've seen the idea that Jason Aaron's time writing Thor could go down as the best ever run on the character, and as much as I enjoy it, that's extremely unlikely. Walt Simonson's time writing and drawing Thor in the 80's is easily the GOAT, and the My Marvelous Year faithful would have my head if I didn't at least consider the Stan and Jack years in the conversation. Nonetheless, Aaron's Thor is a wonderful read, augmented substantially by the contributions of incredible artists like Esad Ribic, Russell Dautermann, Christian Ward, and now Mike Del Mundo (among others). Absolutely nothing in Marvel in the 2010's has been as consistent for as long, and that's worth celebrating.
So yes, it's been a great ride to this point, and I'm pumped for War of the Realms. Here's to Marvel's best event since 2015!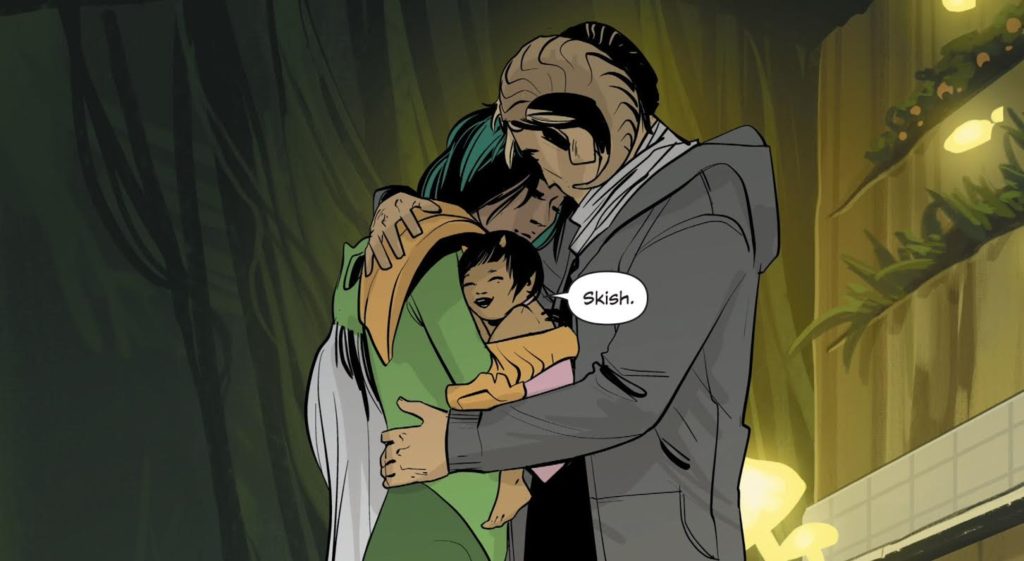 IMAGE COMICS
TREND: Where have all the hits gone?
There's a growing sentiment that Image Comics isn't what it used to be even 5 years ago, with iCV2 mastermind Milton Griepp stating on the Off Panel podcast that the company seems to have "lost the magic."
In terms of my read on public perception this feels right, although it belies a lot of the actual product I've seen from Image over the past year (much of which is quite good!). The biggest trend I've felt is Image slipping from carefully curated excellence to mass produced aimlessness. Or simpler, it's the age old problem of quantity over quality, with actual new good books like Ice Cream Man or Farmhand muddled by an over-crowded field.
Since much of this is simply perception, I was curious to look back at the "hit" Image comics of this decade, and when they launched. The goal here is to see if Image really has slipped in launching knockout books over the years, or if the "magic" is merely buried.
The actual beginnings of the Image-can-do-no-wrong wave can likely be traced to 2012. For example, here's a New York Times articles from the year celebrating Image's creative resurgence: https://www.nytimes.com/2012/07/15/business/media/image-comics-is-having-a-creative-renaissance.html
Ongoings throughout this time period include Walking Dead, Invincible, Chew, Morning Glories and a handful of others, with the Walking Dead in particular benefiting from the late 2010 debut of the mega hit series on AMC.
Before looking at the list, I'll also call out that I almost certainly missed some books, and those included are pretty centered on stuff I've read or absorbed through comics-obsession osmosis.
2012
Bedlam
The Bulletproof Coffin: Disinterred
Fatale
The Manhattan Projects
Saga
2013
Alex + Ada
Black Science
Deadly Class
East of West
Lazarus
Manifest Destiny
Pretty Deadly
Rat Queens
Revival
Sex Criminals
Velvet
2014
Bitch Planet
Descender
The Fade Out
Low
Outcast
Southern Bastards
The Wicked + The Divine
2015
Black Magick
Descender
Monstress
Paper Girls
Southern Cross
Trees
2016
Black Monday Murders
The Fix
Kill or Be Killed
Motorcrush
Seven to Eternity
Snotgirl
2017
Curse Words
Extremity
God Country
Maestros
Redlands
Redneck
2018
Farmhand
Flavor
Gideon Falls
Ice Cream Man
Maneaters
Murder Falcon
Stellar
Unnatural
I remember 2013 as the year I really started to fall in love with Image Comics, and from that selection it's not hard to see why. From 2012 to 2014 you see the exodus of Marvel's creative pool, as writers like Ed Brubaker, Kelly Sue Deconnick, Jonathan Hickman, Matt Fraction, Rick Remender, and Kieron Gillen all commit thoroughly to creator-owned series with Image.
The end result is a pretty staggering three year stretch of great comics, many of which are still in circulation and popular in 2019. On a personal level, Saga, Sex Criminals, Deadly Class, Black Science, East of West and Lazarus are all on my pull list, and much of the rest I plan to keep up with via trade.
There are absolutely books I enjoy from 2015 on, but it's not hard to spot the dwindling "hit" level of each selective draft class. Paper Girls is a big book written by Brian K. Vaughan, but even that can't compare to Vaughan's 2012 debut of Saga.
Likewise, looking at my own list of favorite new books from 2018, and predicting a massive cultural phenomena from the bunch feels like a fool's errand. I'd hope books like Ice Cream Man, Farmhand, and Murder Falcon all have a shot, but it feels unlikely.
So, yes, all things considered, I do think there's some truth to the assertions that Image's creative apex this decade happened between 2012 and 2014. I suspect they'll reach similar heights again, but the simple truth is they aren't there right now.

LOVE OF THE WEEK
My love this week is the "Drokk!" feature on the Wait, What comic book podcast. Already one of my favorite podcasts of the last year, Graeme and Jeff of Wait, What are talking their way through a Judge Dredd re-read, and it's great conversation.
I'm far from a tried and true Judge Dredd comics fan, so it's particularly interesting for me to hear about the character's origins, history, and developments. This pod gets a strong recommendation from me regardless, but if you're interested in a deep dive into the world of Judge Dredd, I definitely suggest checking out "Drokk!"