As happens every so often when the fates align, lord chaos and master order agree on a point of policy, and Doctor Doom and Reed Richards share a beer, my My Marvelous Year co-guest Zack Deane asked a really good question (in the exclusive MMY Slack channel!):
Have you noticed any bump in interest on CBH about Kamala Khan after the release of the Avengers Game?
For those who haven't seen, Kamala Khan, aka Ms. Marvel, is at the center of Marvel's Avengers
, the Square Enix Avengers game bizarrely focused on a combination of Avengers Disassembled, Inhumans, and MODOK (I'm about 70% through the campaign at present, and while I'm mostly enjoying the game, my general review at this point is I don't think it's a game I'd ever play if not for my obsession with all things Marvel).
As half search marketing professional, half comic book blogger, all party manimal, my natural instinct was to inspect Comic Book Herald's site analytics to see what traffic to Ms. Marvel / Kamala reading orders looked like.


Based on related searches to Comic Book Herald (aka searchers who eventually landed on my Ms. Marvel reading order), there's an approximate 7x increase in searcher interest in Kamala Khan around the launch / post-launch of Marvel's Avengers
. In 2020, Kamala's reading order on CBH is inside the top 125 guides, behind Guardians of the Galaxy, and ahead of Swamp Thing. In the 3 months leading up to the game's launch, Kamala jumped inside the top 75 pages, ahead of Iron Man, and behind Thanos. Since game launch, Kamala shoots up inside the top 35 reading order guides on CBH, ahead of Miles Morales, and behind Black Panther.
Support For Comic Book Herald:
Comic Book Herald is reader-supported. When you buy through links on our site, we may earn a qualifying affiliate commission.
Comic Book Herald's reading orders and guides are also made possible by reader support on Patreon, and generous reader donations.
Any size contribution will help keep CBH alive and full of new comics guides and content. Support CBH on Patreon for exclusive rewards, or Donate here! Thank you for reading!
For a little context, too, the searcher intent driving to Comic Book Herald is heavily weighted towards individuals actually looking to read comics! Whereas a search for just "Kamala Khan" might be centered around quick Wiki research on the character, the types of searches I capture (ex: "Kamala Khan reading order") are typically tied to a plan to read a Chimera-load of comics.
(Because folks were curious in the MMY Slack, Batman is always #1 in my analytics!)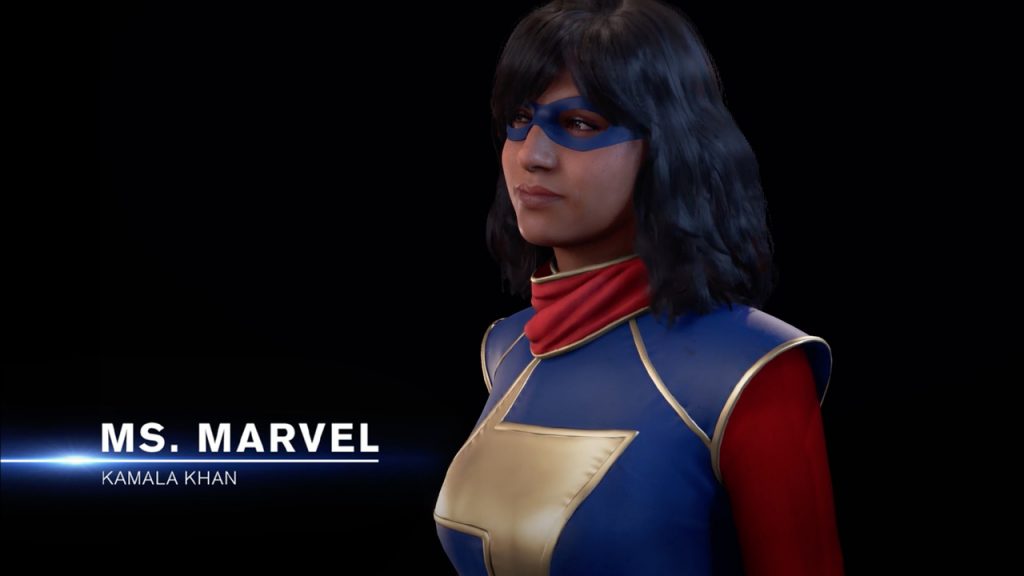 So proportionally, yes, I've seen a fair amount more interest in Kamala Khan since the game launched, and that's actually sustained throughout September (although certainly down from launch date peaks). Non-CBH Google search trends are even more dramatic, with 20x increases in search interest for 2020. Although I'll caveat those gains are for the character's name; searcher intent that is often less "gimme comics!" focused. Google Trends is good for quick hit cultural trends information, but winds up offering a pretty limited view of intent and actual digital visits/numbers (for more on these conversations, come see me at my day job!).
The growth doesn't really hold a candle to the boost CBH pages get from MCU drops (or that Kamala will get when her Disney+ series hits), but it's a decent boost that at least anecdotally supports my general theory that cross-media representation leads to more comics reading interest than pundits like to acknowledge. As a counter example, the mere reference to a possible House of M connection in Marvel's Wandavision trailer launched searches for reading the event into my top 10 site queries for the week of September 21st, putting it narrowly behind the ongoing "Joker War reading order" for the entire month of September.
To be clear, though, I'm talking about reader-interest expressed digitally (specifically through search) which does not in any way directly correlate with comics buying behavior, especially for single issues. The real test would be to look at trade sales in September to see if Ms. Marvel saw a boost this month compared to previous months (and even there, you'd have to account for the fact that 2020 is a statistically preposterous year and that any findings are covered in some combination of silly string, bat dung, and wet leaves). I'd imagine even lower-barrier to entry comics reading options like Marvel Unlimited, Hoopla, or even local libraries are seeing even clearer boosts in Ms. Marvel check-outs.
That said, if a metric of success for Kamala's inclusion is getting comics curious fans more interested in exploring her character, mission accomplished. Honestly, her prominent role in the game is a pretty bold play by Square Enix, and while I don't think the writing and story can quite hold a candle to the comics work of G. Willow Wilson and Adrian Alphona
, playing as Kamala is a blast, and her role in reassembling the Avengers is a good fit. Personally, I would have preferred a narrative arc that focused on Kamala as the lead reforming a group of Young Avengers in the aftermath of the original team's dissolution, but that's also probably a tougher sell than "You can throw Mjolnir at robots in this game!" so I get it.
I can't really stress enough that Marvel's Avengers is a game full of very odd choices (I may even dig into them in an upcoming story-focused review), but prioritizing the central importance of Kamala in the Marvel Universe is one that actually works.  The game's mediocrity (and inherent B-movie aesthetic in the wake of the MCU) is likely to limit any kind of extensive reach, so I don't foresee Kamala getting her "Miles Morales" style come-up this year. Nonetheless, I appreciate the ambition, and it appears to be a nice introduction to the character for a whole new audience, which is always a win in my book.
Addendum: Kamala Khan Casting News
Naturally, the moment I wrapped up this essay, news broke that Iman Vellani will play Ms. Marvel in the upcoming Disney+ series! The news immediately doubled visits to my own Ms. Marvel reading order, and will unquestionably drive the larger gains in digital interest I described above, particularly as trailers and content promoting the actual series are released.
Once Google's data catches up, expect another huge spike like the September 6th game launch trend you see below for Ms. Marvel searches!