Following Tom King's occasionally excellent, often mediocre, and frequently divisive DC Rebirth run on Batman since 2016, James Tynion IV took over the DC best-selling title starting with 2020's Batman #86. Tynion has a strong resume in Gotham, starting out co-writing books like Talon with Scott Snyder, and writing Joker-focused Batman: Endgame backups during the Snyder/Capullo New 52 era
.
Tynion is also the writer of a very strong run on Detective Comics at launch of DC Rebirth, and had a strong hand in DC's Year of the Villain including writing of the "Hell Arisen" mini starring Lex Luthor and the Batman Who Laughs.
All of this sets the stage for the ongoing Batman and the build to Tynion's first Bat-crossover with "Joker War." The event will run through all major Batman universe titles, including Batman, Detective Comics, Catwoman, Nightwing, Batgirl, and Red Hood: Outlaw. King's time on Batman was pleasantly devoid of linewide crossovers, making "Joker War" the first major "Bat-line" event since Rebirth's Night of the Monster Men
.
Below you'll find a complete reading order for "Joker War," including a road to guide to prepare you for the event, and an issue by issue guided checklist as comics are released.
Previously: Year of the Villain
Support For Comic Book Herald:
Comic Book Herald is reader-supported. When you buy through links on our site, we may earn a qualifying affiliate commission.
Comic Book Herald's reading orders and guides are also made possible by reader support on Patreon, and generous reader donations.
Any size contribution will help keep CBH alive and full of new comics guides and content. Support CBH on Patreon for exclusive rewards, or Donate here! Thank you for reading!
Related Reading Orders:
* Updates to this reading order provided by AC Elliott. Thanks for your work, AC! *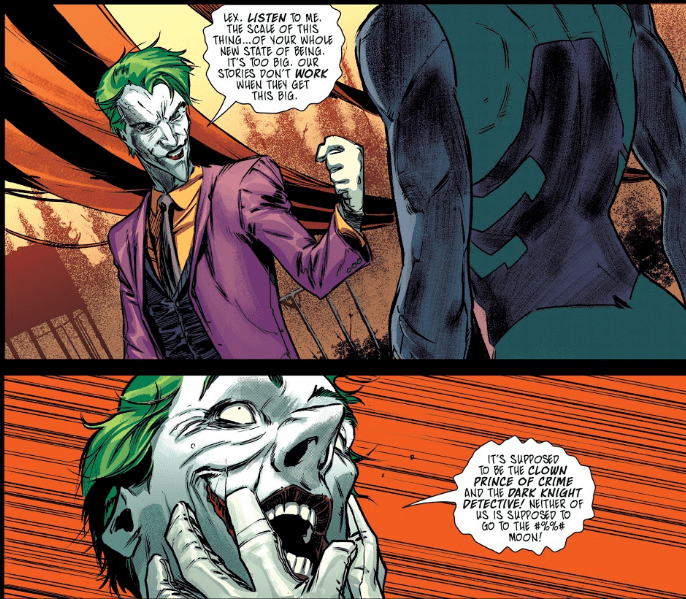 The Road to Joker War
Tom King's Batman
You definitely don't need to read all of DC Rebirth Batman to understand the context of "Joker War," but there are a handful of major Batman happenings that come into play. The vast majority of these revelations occur during Batman: City of Bane
, so in the interest of not spoiling anything in this fast track, I'd simply direct you to the end of writer Tom King's lengthy run on the title.
If you're not worried about spoilers (or you're familiar with King's Batman), you'll want to follow "City of Bane" with this comic book
, a one issue snapshot by Tynion and Detective Comics writer Peter Tomasi that does a solid job covering the current state of the Batman family.
Year of the Villain: Joker
Not tremendously essential, but a good Year of the Villain era Joker one-shot from legendary horror director John Carpenter, with a killer Condiment King appearance to boot!
Year of the Villain: Hell Arisen
The "Hell Arisen" mini is 4 issues by Tynion IV and Steve Epting, wrapping up Year of the Villain, setting the stage for Death Metal, and
providing a bit of background about where the Joker and the all-new Punchline are during all of the YotV madness.
James Tynion IV's Batman
Unsurprisingly, Tynion has been teasing the build to "Joker War" since the epilogue of his first issue in Batman #86, and the "Dark Designs" story (running through Batman #94) that kicks things off. Here's Tynion in an interview with Comics Beat:
The munitions of "Joker War" are the same munitions that Batman built to fight his war on crime. It's Batman's designs used against him, ultimately. That's one of the key ways that "Joker War" builds out of "Their Dark Designs." I see them all as different acts in one big story I'm telling that I hope reads pretty smoothly as one singular thing. Obviously, the story about the Designer will come to an end but will lead directly into the next act of the story.
There are also the following additional prelude stories written by Tynion prior to kicking off "Joker War":
Batman: Secret Files #3
Tynion writes a prelude story about Deathstroke's appearance in "Dark Designs." This is actually a very effective "Joker War" teaser, explaining much of what to expect in the event. This story should be read prior to Batman #93.
Joker 80th Anniversary
Tynion writes a very early Punchline story. Only really required for big fans of the new character.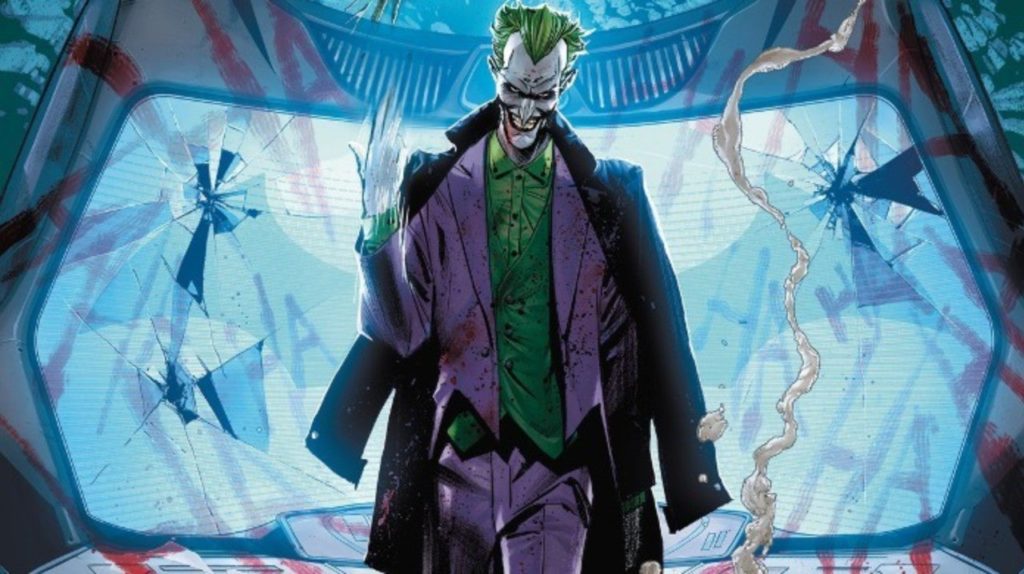 Collected Joker War Editions:
Batman: The Joker War
Collects: Batman #95-100
Batman: Detective Comics Vol. 5: The Joker War
Collects: Detective Comics #1020-1026, Detective Comics Annual #3, and Batman: Pennyworth #1
Batman: The Joker War Companion Vol. 1
Collects: Nightwing #70-73, Batgirl #47-48, and Detective Comics #1022-1024
Batman: The Joker War Companion Vol. 2
Collects: Red Hood: Outlaw #48, Nightwing #75, Harley Quinn #75, Catwoman #25-26, and Batman: The Joker War Zone #1
Joker War Comics Checklist:
Prelude:
Nightwing has struggled with his memory since being shot by KGBeast in Batman #55
. His arc during Joker War forces Dick to face these issues through some personal transformation therapy by the Joker.
Nightwing #73
Joker War Begins!
Batgirl's connectivity to the overall Joker Wars story is strained. #47 is a well intended follow up to Brian Bolland and Alan Moore's classic The Killing Joke
 before diverting the book away from the main story and into the familiar beats of Gordon family drama. Batgirl does appear in Nightwing and the main overall story, but the continuity is challenging. Tynion is on record stating that Batgirl #47 does occur prior to Batman #95.
The Official kickoff to Joker War. Not only does Joker drive a hostile takeover of Wayne Enterprises but is also trying to drive Batman insane. Neither of these strategies has worked in the past but Joker gets off to an explosive start.
This is the final issue of this run of Harley Quinn and serves as a loud send-off to Harlz. The final story of the issue "After the Laughter" by Sam Humphries helps to bridge between Batman #95 and Batman #96. 
Detective Comics #1026
It is not surprising with Jason Todd's history with the Joker that his book bleeds into the Joker War. This issue is a rough fit for continuity and if you were expecting a sequel to "A Death in the Family
" you may be disappointed.
Technically, Batgirl #49 is still listed as part of the Joker War "Collateral Damage," but this is a tie-in in the loosest sense of the word. If you're a Batgirl reader have at it, but I don't see how this is really a part of Joker War.
The vast majority of this over-sized anniversary issue is out of continuity and not a part of the Joker War. The final story by Mariko Tamaki and Dan Mora does technically take place during Joker War.
Batman #99
Catwoman recruits the Riddler and the Penguin for a mission with billions at stake.
Batgirl #49
An Anthology issue that is highlighted by a positively electric confrontation between the Joker and Bane that takes place after the events of "City of Bane". Plus this issue offers additional insight around the Clownhunter vigilante that has been shown through the event.
Joker War Fallout
Batgirl #50
Catwoman #26
Nightwing #75
Heroically Support Comic Book Herald!
If you like Comic Book Herald, and are able to donate, any small contribution will help keep CBH alive and full of new comics guides and content. Donate here! Or, support CBH on Patreon for exclusive rewards! Or you can even check out the CBH Merch store and get something nice with a small portion benefiting the site! Thank you for reading!