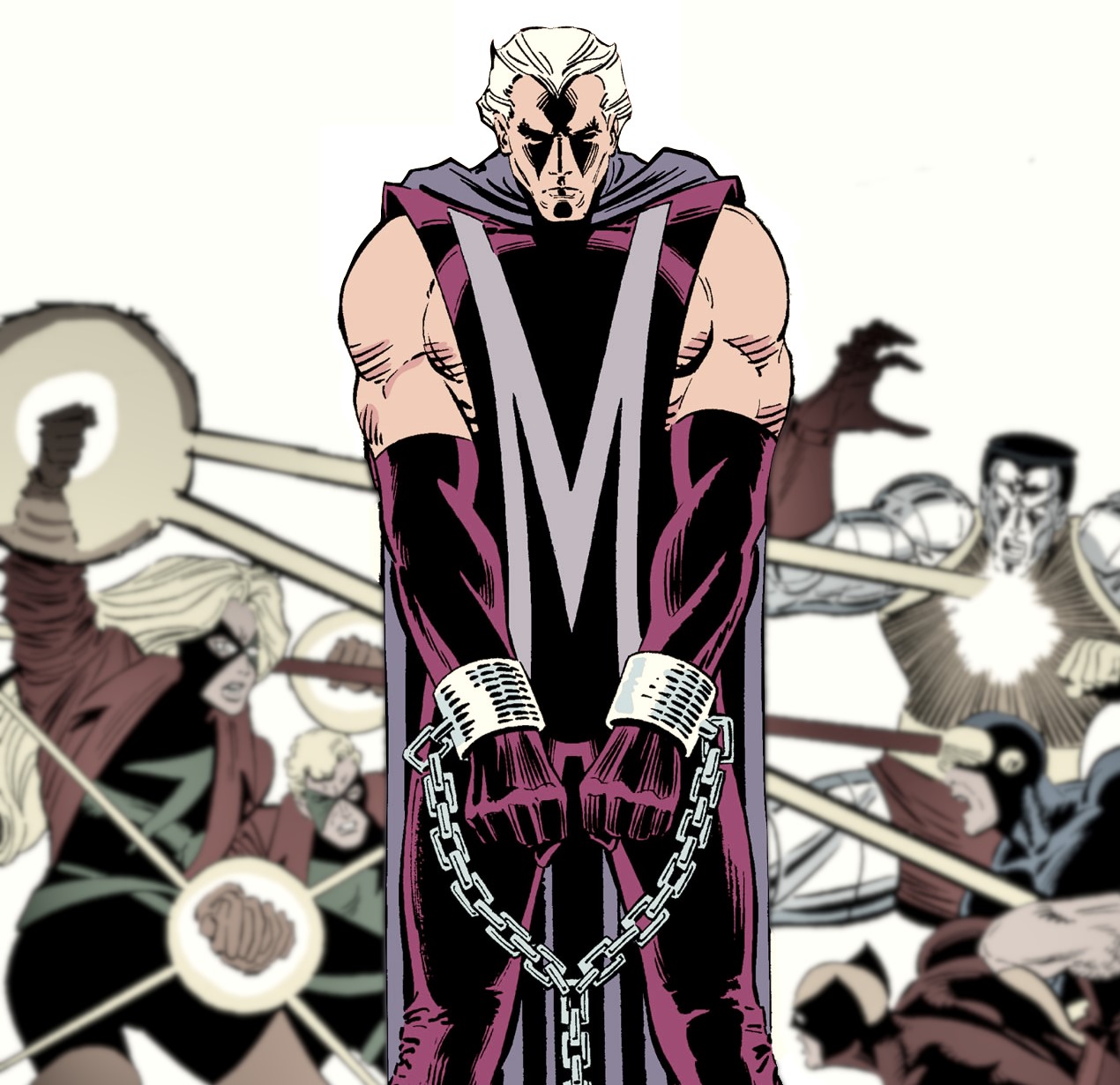 As an omnibus collector (and as someone with a bit of an obsessive streak, but let's ignore that for now), there are few things more frustrating than a conspicuous gap between volumes of a collected line of comics. This is particularly vexing when it's a matter of "orphaned" issues; that is, stories that were missed between existing compilations, which means they'll likely never be collected in this oversized hardcover format. Other times, it's just a matter of a line that's yet to be finished, which isn't so bad if one is patient. Unfortunately, "one" —that's me— isn't patient (see aforementioned "obsessive streak"), so I decided to inaugurate this column about mapping hypothetical omnibus volumes with The Big One: the next Uncanny X-Men omnibus… which I wouldn't title Uncanny X-Men Vol. 5, for reasons that will soon become clear.
Uncanny X-Men Vol. 4
was released in 2021, taking us up to Uncanny X-Men #193 in the middle of Chris Claremont's excellent run with John Romita Jr. This was, for me, when it became clear Claremont's long run was something truly special: Rachel Summers; the Morlocks; Rogue; Selene and the Hellfire Club; and much more. This numbered volume almost took the X-Men from the Bronze Age to the first Dark Age self-titled collection in the line: X-Men: Mutant Massacre, which kicks off with Uncanny X-Men #210. There is, however, a gap to bridge between these two eras.

Uncanny X-Men #194 to #209 is that gap. If this seems like far too little for an omnibus, it's because it is: this would only be 396 pages, with original letter pages included. But don't you worry: by this point the X-Men were starting to branch out and there is much more there to include. To start with, there were two otherworldly crossovers with New Mutants, the first X-Men spin-off book, in New Mutants Special Edition and X-Men Annual #9, which took the two mutant teams to Asgard, as well as New Mutants Annual #2 and X-Men Annual #10, in which they ended up in Mojoworld. These four giant-sized annuals would add 207 pages to the count.
Additionally, just as previous omnibuses did, any X-Men related miniseries, as well as stories from anthology titles, should be included. Following the mapping of the smaller-sized Masterworks line of books (volumes 12 and 13 of Uncanny X-Men, specifically), these would be Nightcrawler (1985) #1-4 (98 pages), a swashbuckling tale by Kurt Wagner co-creator Dave Cockrum; Longshot (1985) #1-6 (99 pages), Ann Nocenti's oddball story with Art Adams introducing not only Longshot but the Mojoworld; as well as the first story from Marvel Fanfare (1982) #33, a fun little Claremont-penned 26-page X-Men story with June Brigman tying into Questprobe of all things, an obscure and short-lived sci-fi title Marvel had published a few years back.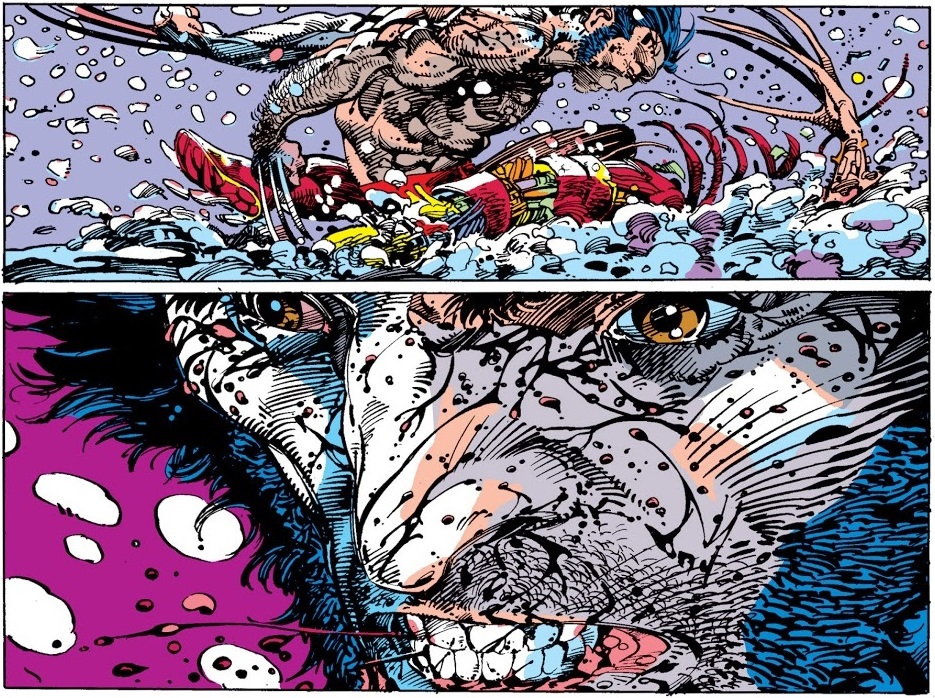 In this hypothetical collection one would find some of the era's best Claremont stories, many of which are relevant in X-Men comics to this day —in a few cases incredibly so: the volume would be bookended by two massive fights against Nimrod, the mutant-hunting robot from the future; it would include the landmark issue #200 "The Trial of Magneto!"; Cyclops and a depowered Storm fighting for leadership of the X-Men; Doom and Arcade; Barry Windsor-Smith's beautiful Storm-centric "Lifedeath II" sequel story; the X-Men and New Mutants lost in Asgard against the God of Mischief Loki; Freedom Force; Rachel going berserk while Wolverine is forced to do what he does best; The Hellfire club; Mojoworld; two surprisingly dark Power Pack team-ups with Wolverine; and probably the least painful Secret Wars II tie-ins, which is a plus of sorts.
Support For Comic Book Herald:
Comic Book Herald is reader-supported. When you buy through links on our site, we may earn a qualifying affiliate commission.
Comic Book Herald's reading orders and guides are also made possible by reader support on Patreon, and generous reader donations.
Any size contribution will help keep CBH alive and full of new comics guides and content. Support CBH on Patreon for exclusive rewards, or Donate here! Thank you for reading!
One would think that would be it! The volume would be a minimum of 826 pages, plus extras; not the heftiest of omnibuses but a respectable size nonetheless, comparable to the line's first and forth volumes. But here is when things get tricky: what about poor, orphaned X-Factor?
This requires some context: the X-Men spin-off book X-Factor
, in which the original five X-Men got back together after Jean Grey's surprising return, has already been collected in omnibus format, but not wholly or in its own line. One can only find X-Factor in the post-Bronze Age, uniquely titled omnibus books, alongside intertwining stories from all other mutant titles: X-Men: Mutant Massacre
(with X-Factor issues #9 to #17), X-Men: The Fall of the Mutants
(#18 to #26), X-Men: Inferno Prologue
(#27 to #32), and X-Men: Inferno
(#33 to 40). After "Inferno", there is a notable gap until X-Men: X-Tinction Agenda (#60 to #62). (By the way, this gap between "Inferno" and "X-Tinction Agenda" would make for an excellent omnibus, especially in these times in which even the mainstream knows about the Celestials… but that is a story for another time. Ask for my mapping if you're interested!). The original X-Factor ends in X-Men by Chris Claremont & Jim Lee Vol. 2 (#63 to #70). At this point, Peter David reimagines the title with a completely different premise and roster, which was collected in 2021 in X-Factor by Peter David Vol. 1
(#70 to #92).
What I'm trying to illustrate is the original X-Factor has exclusively been collected in these multi-titled mutant crossover volumes, so an X-Factor Omnibus Vol. 1 double-dipping with all of these existing books seems unlikely, especially considering this isn't a particularly famed era for this title (unlike New Mutants, whose new omnibus collections do double-dip with the "Mutant Massacre" and "Fall of the Mutants" event omnibuses). However, that Celestial-centric gap aside, a lack of a dedicated line for X-Factor would only leave the crucial first 8 issues of the series (and the first annual) uncollected in this format. Hence my solution: to include these in the volume we're mapping here, which is where these stories would fall chronologically, too.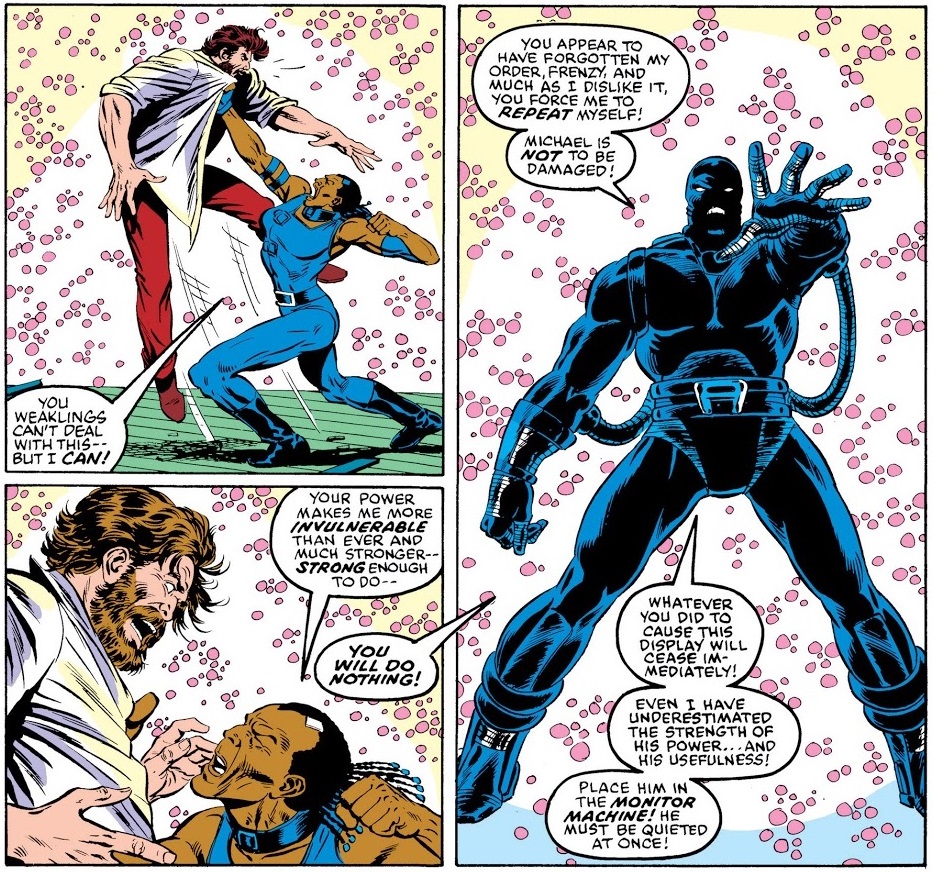 As also collected in the softcover X-Factor Epic Collection: Genesis & Apocalypse, X-Factor is preceded by these crucial stories in which the "true fate" (i.e., retcon) of Jean Grey, the Phoenix, is revealed to us, and eventually to Marvel's heroes: the backup stories for Classic X-Men #8 & #43 (25 pages), and then Avengers (1963) #263 and Fantastic Four (1961) #286 (54 pages). This is then followed by X-Factor (1986) #1-8 and X-Factor Annual #1 (254 pages). Though not the best of X-Factor, even of this initial iteration with the original five, this is a crucial part of X-Men history, with the return of Jean and the first appearance of Apocalypse in Louise Simonson's much needed re-orientation of the nascent title in X-Factor #6, with Jackson Guice.
Naturally, this addition would likely make the book we are building here not Uncanny X-Men Vol. 5 but the new first uniquely titled crossover mutant volume, preceding X-Men: Mutant Massacre. At a minimum of 1159 pages, the inclusion of X-Factor would also make a book of a comparable size to the likes of X-Men: Inferno (1240 pages), especially once we consider the usual 20-to-50 pages of credits, Masterworks introductions by authors and editors, as well as extras at the back, which would leave it around the 1200-page mark.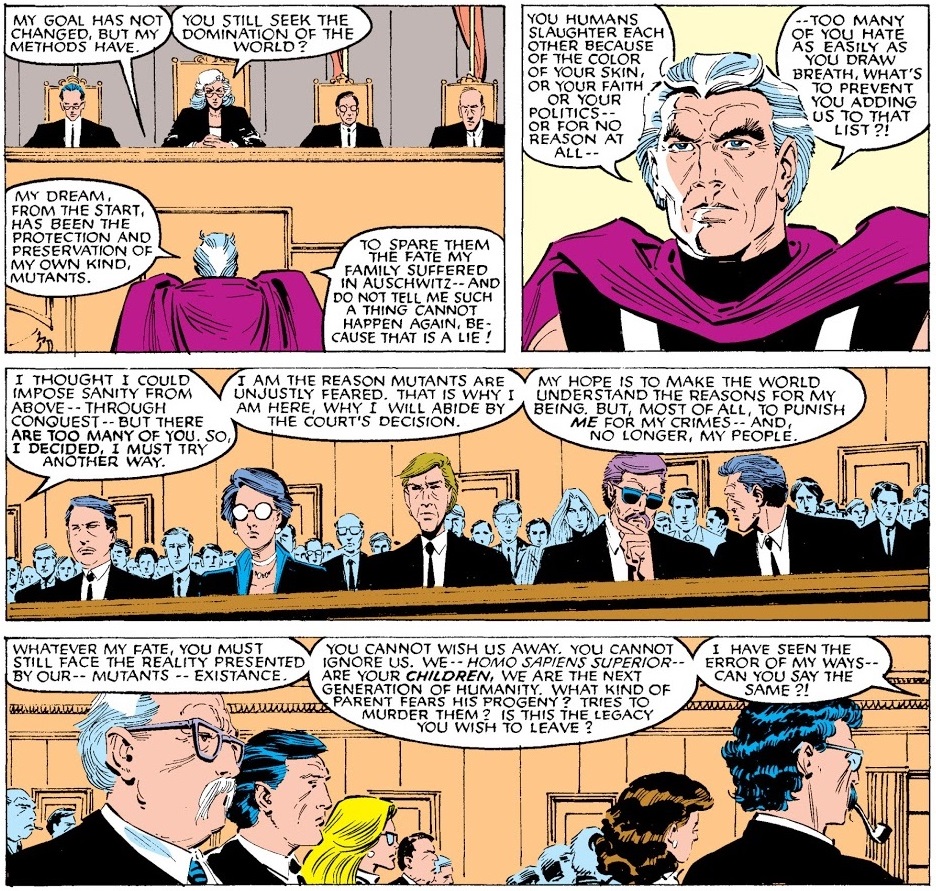 As for what name this volume could have if not Uncanny X-Men Vol. 5, there are plenty of possibilities. The most famous story here is likely Uncanny X-Men #200, "The Trial of Magneto!", but it seems disingenuous to name the entire volume after a single issue. These X-Factor stories include the first appearance of Apocalypse, a milestone the Epic Collection runs with, also referencing the original five X-Men's new beginning: "Genesis & Apocalypse", the beginning and the end. This is an enticing option, but Marvel usually tries to avoid naming books with different contents in the exact same way, even if they don't share a format. My preference would be to do something akin to "Genesis & Apocalypse", but contrasting "Apocalypse" with one of the Uncanny X-Men story titles to be found here —the last one, in fact: Uncanny X-Men #209, "Salvation", the fateful battle against Nimrod. That would leave us with X-Men: Salvation & Apocalypse Omnibus; or X-Men: Apocalypse & Salvation Omnibus, if we're being strictly chronological.
While on the subject of chronology, omnibus contents are never listed in story order, unlike the proper way in which they are displayed inside, but what kind of mapping would I be doing if I didn't write out the issues in the precise way in which I would expect them to be arranged? To cap off this inaugural omnibus-mapping column, this is the precise mapping I envision for this X-Men volume, based on chronology considerations and ease of reading, making it a reading order as well:
Uncanny X-Men (1963) #194, Nightcrawler (1985) #1-4, Uncanny X-Men #195-199, New Mutants Special Edition, X-Men Annual #9, Uncanny X-Men #200-201, Marvel Fanfare (1982) #33 (A Story); Classic X-Men #8 (B), #43 (B); Avengers (1963) #263, Fantastic Four (1961) #286, X-Factor (1986) #1-7, X-Factor Annual #1, X-Factor #8, Uncanny X-Men #202-209, Longshot (1985) #1-6, New Mutants Annual #2, and X-Men Annual #10.
This omnibus's defining authors would be Chris Claremont and John Romita Jr., with few but outstanding contributions by Barry Windsor-Smith; Louise Simonson, Bob Layton and Jackson Guice in X-Factor; Dave Cockrum in Nightcrawler; and Ann Nocenti and Arthur Adams in Longshot.
If you liked the idea for this column, don't hesitate to suggest hypothetical omnibuses you would like to see and I'll do my best to map them. This endeavor is, of course, just for fun, but please consider Marvel does take note of what the omnibus-collector readership is asking for. Whatever your reasons, ask away and I'll get mapping. Or rather, I'll get to explain my mapping: I already have more than a hundred mapped omnibuses, including their reading order and page count. See what I was saying about my obsessive streak? It's all very healthy, I'm sure.