Secret Wars II is the bewildering follow-up to the successful 1984-1985 Secret Wars
, with Marvel Editor-in-Chief Jim Shooter returning to write the sequel. Whereas the original Secret Wars was a contained 12 issue event about the Marvel heroes and villains duking it out on the alien Battleworld (all while Doctor Doom vied for ultimate power), Secret Wars II is all about the Beyonder's voyage to Earth and a journey to learn what it means to be.
As Marvel's first mega crossover event of all time, Secret Wars II also holds the distinction of delivering the most tie-ins of any Marvel work at the time (from 1985 on into 1986). For all intents and purposes, what we know of crossover events in Marvel Comics today traces back to the legacy of Secret Wars and in the most recognizable ways Secret Wars II.
Put bluntly, Secret Wars II is also a frustratingly arduous journey, and currently sits among the bottom 10 comics of all time on Comic Book Herald's ranking of every comic. As always, mileage may vary, and you'll find the complete event below!
Related Reading Orders:
Support For Comic Book Herald:
Comic Book Herald is reader-supported. When you buy through links on our site, we may earn a qualifying affiliate commission.
Comic Book Herald's reading orders and guides are also made possible by reader support on Patreon, and generous reader donations.
Any size contribution will help keep CBH alive and full of new comics guides and content. Support CBH on Patreon for exclusive rewards, or Donate here! Thank you for reading!
Previously: Secret Wars (1984)
Collected Secret Wars 2
Secret Wars 2
Collects: Secret Wars 2 #1 to #9
Secret Wars 2 Omnibus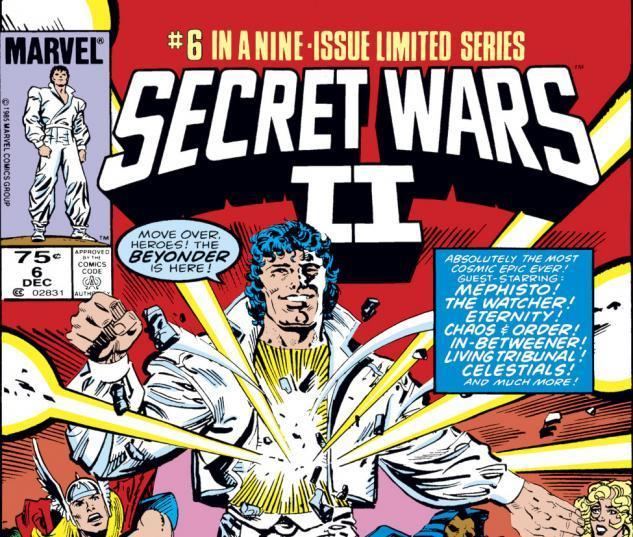 Secret Wars 2 Issue by Issue Reading Order!
*Credit to Dan Molden for this reading order, and all notes, created to support the My Marvelous Year reading club!*
Secret Wars II #1
Worth Reading? If Interested
Important for Continuity? Yes
The event actually starts out pretty good. The Beyonder crashes to Earth, apparently in the same suburb in Denver he stole to make Battleworld in SW I. We get to see the Molecule Man playing house with Volcana before The Beyonder heads to LA in search of "experience"! We get to see Magneto leading the X-Men and New Mutants (at Xavier's request when he is too weak from his own recent ordeals to go himself)! We get to see a frustrated TV writer destroying TV studios and fast food restaurants while decrying the decay of American culture! OK, maybe we could have done without that part, but the pacing of the issue and the action when the heroes get together is pretty good, if nothing like the initial excitement of SW I.
New Mutants #30
Worth Reading? If Really Bored
Important for Continuity? Not really (but something of a cliffhanger from SW II is resolved in the first few pages)
There's a pretty big cliffhanger involving Ilyana in SW II #1, so you might want to read the first few pages to see how that resolves, but this is not a good issue overall. Like in the Beauty and the Beast miniseries, the idea of an underground mutant fighting ring (where Sunspot and Magma have been forced into service) sounds really cool, but it is not well executed. The issue really suffers from centering the story on Dazzler and whether her "addiction" to the fame of the arena will cause her to betray the rest of the NM. The Beyonder just kind of lurks around observing things and pondering "experience". He briefly makes contact with Rachel Summers, but his power is so overwhelming that she immediately forgets everything she sees in his mind (so, yeah, great story beat).
Iron Man #197
Worth Reading? If Really Bored
Important for Continuity? Not at all
This issue follows the frustrated TV writer from SW II #1 who, with the power The Beyonder gave him, turned himself in "Thundersword". He seemed to have lost his power at the end of the first SW II issue, but after Rhodey takes him to jail, he figures out a way to reclaim it and begins to generally wreak havoc on the "Hollywood system" that he feels oppressed him. Thundersword is a nothing villain and most of the issue is Tony and Rhodey talking about tinkering with armor to figure out how to get enough power to stop Thundersword, so it's not actively terrible, but pretty boring overall.
Captain America #308
Worth Reading? If Really Bored
Important for Continuity? Not really – there are some minor developments with The Beyonder that carry forward
Wow, this issue is all over the place. Cap wants to get back to NY and is looking for transportation, but first he gets attacked by an Armadillo man who, it turns out, is just trying to save his wife and allowed himself to be turned into an armadillo so that a sketchy doctor would help. Cap finds the doctor and stops his immediate mischief, but then explicitly says "This guy is pretty bad, but I have to leave now and just hope that he screws up in a way that the cops can handle themselves." Oh, and there's a new Serpent Squad getting together or something. All this plus The Beyonder is following Cap the whole time and decides that Steve Rogers is the ultimate human specimen and that he will adopt that form as his own. So, weird issue, but the writing and pacing is actually pretty good despite the overall plot or arc making little sense. Also a nice moment where Hawkeye shyly shows Cap the West Coast compound hoping for an "Atta Boy" from his idol.
X-Men #196
Worth Reading? Yes
Important for Continuity? Not really – there is some brief foreshadowing that The Beyonder and Rachel will have more to do with each other later.
There is A LOT happening in this issue. Professor X returns to teaching but accidentally "overhears" a murder plot that he's still too weak to just fully uncover himself with his psychic powers, and he has to call in the X-Men to try to prevent it. The X-Men encounter growing anti-mutant sentiment on campus, Magneto continues his forceful renunciation of his past, Nightcrawler questions his faith in God, Rachel is pushed over the edge and goes ballistic, and Kitty casually drops the "n-word" (again). This issue might be a bit confusing if you weren't already reading X-Men, but there's great pacing and action and a few nice twists. The Beyonder is lurking around in the background and makes a few stray observations but doesn't involve himself in the story in any way, so there isn't much real tie-in to the SW II story.
Secret Wars II #2
Worth Reading? If Masochistic
Important for Continuity? Yes
People, this one is rough. The Beyonder decides that to gain the "experience" he craves he needs to be "fully human". So, he assumes a human form and seeks out various people to explain to him things like clothes, eating, and (sigh) using the bathroom (in Spider-Man's apartment, no less). He tries Spider-Man, Reed Richards, some homeless woman, and finally Power Man and Iron Fist, with the main lesson he learns being that money is what defines human existence (oh, and in the single truly funny moment, that humans greet each other with punches, which serves as a nice meta-commentary on the ubiquitous hero-on-hero violence that defines every first meeting in comic book history). The whole thing is just a poorly rendered "fish out of water" trope where nothing truly interesting happens. There was a movie released in 1984 called "Star Man", in which an alien comes to Earth, assumes human form, and then has to learn how to navigate his way through society with a companion who tries to guide him. I strongly suspect that Jim Shooter saw this movie and sloppily adapted the main premise for this issue. Oh, and let's not forget the scene where the homeless lady that The Beyonder meets is specifically referenced as the same women that Ben Grimm saves from a mugger in a previous issue (Marvel Fanfare #20), but, whereas she was previously White, now she is Black and portrayed as having flies buzzing around her (and not just in the art – the flies are directly called out in the dialogue).
Web of Spider-Man #6
Worth Reading? Yes
Important for Continuity? Not at all
Spider-Man is left to handle the fallout of The Beyonder's last act in the previous issue after he turns Power Man and Iron Fist's entire building into gold when Luke Cage tells him that money is what fulfills humans' desires. The action is gripping and there is some interesting moral complexity regarding how both the US Government must deal with the Kingpin to avert a major catastrophe of what all that gold would do if released on the open market and Spider-Man's own temptations and choices (and the choice he makes continues to resonate for awhile in the Spider-Man books). The issue may also lead you to start asking complicated questions about how commodities markets really impact the global economy, but it's worth reading nonetheless
Amazing Spider-Man #268
Worth Reading? If Really Bored
Important for Continuity? Not at all
This issue essentially just repeats the story from WSM #6 (for those who were only going to buy one of the two I guess). The events take place directly after that previous issue, but the central story line about the Kingpin seeking to steal more of the gold they are trying to sink in the ocean to protect world financial markets for himself and Spider-Man trying to stop him while the government runs interference is the same. There is also lots more talk about commodities and global finance, but, alas, no more real clarity about how what flooding it with gold would actually do (I mean most countries had gone off the gold standard by this point, which Danny Rand actually explicitly says to Luke Cage in SW II #2, so I don't know).
Fantastic Four #282
Worth Reading? If Really Bored
Important for Continuity? Not at all
The first ten of the 24 pages in this issue are one of Franklin's newly precognitive dreams whose purpose seem entirely for the sake of setting up a Power Pack crossover. Then there are seven pages of Sue (portrayed as hysterical) insisting that they pursue the villain who brainwashed her in the previous two issues, whereas Reed keeps saying things like "Uh, maybe we should be worried about The Beyonder?". The final seven pages involve the team headed to the Microverse (where they shockingly do not meet the Micronauts given the present crossover mania). The whole thing is the very definition of filler.
Secret Wars II #3
Worth Reading? If Masochistic
Important for Continuity? Yes
Oof, this one was pretty awful too. Continuing his search for "experience" the Beyonder meets Toots (I am not making this up), a "working girl" who ends up connecting him with a minor crime boss, Vinnie. Vinnie gets The Beyonder (whom he dubs "Frank") new clothes, and teaches him how to be a gangster. Since this is The Beyonder, he soon takes over all of organized crime, then the government, and then the world by simply controlling everyone's mind. But he also learns an important lesson from Toots that, more important than power or possessions, is treating people kindly, so of course he goes off to join the Avengers to better understand this. There are maybe not as many cringe-worthy parts of this issue as the last one, but The Beyonder enjoying the "experience" of bedding dozens of women, eating himself into obesity and then thinking himself thin, and having Toots inexplicably fall in love with him are no picnic. However, the first appearance of the "hip" jumpsuit he wears throughout the series in a variety of colors, is the one truly amusing thing that happens.
Avengers #260
Worth Reading? If Interested
Important for Continuity? A little – if you must know what The Beyonder did between a few panels in SW II #3, you'll find it here
This is a pretty straightforward Avengers issue. It continues the ongoing cosmic plot where they face off against Nebula, who has found and taken over Thanos's old Sanctuary II flagship to wreak havoc throughout the Andromeda galaxy. It's all a standard, competent Stern story with some interesting developments and revelations for Marvel cosmic involving Thanos and the Skrulls. The Beyonder makes a brief "comical" appearance involving a well-intentioned attempt to help out the heros that backfires.
Daredevil #223
Worth Reading? If Interested
Important for Continuity? A little – resolves what The Beyonder's plan is that he mentions at the end of SW II # 3
At the end of SW II #3, The Beyonder announces a new plan following his unsatisfying, effortless conquest of the world that involves hiring Matt Murdock. This issue reveals that this plan is to purchase the entire world through legal means rather than using his godly powers (DEEP sigh). Daredevil helping his girlfriend retrieve a sentimental camera a mugger stole from her is the only real action in the story. So it's pretty boring, BUT, what makes this issue potentially worth reading is that the retainer The Beyonder gives Matt for his services is the restoration of his sight (without the sacrifice of his radar sense). There is a prolonged sequence of Matt enraptured by actually seeing the world around him that is pretty cool. Alas, ultimately, Matt decides that he values his sight so much that he would do anything to keep it and that might compromise his integrity, even after The Beyonder releases him from any obligation, so he makes The Beyonder return him to blindness (slightly confused sigh).
Hulk #312
Worth Reading? Yes
Important for Continuity? Not at all (although it is relevant for the ongoing Alpha Flight continuity)
Another issue where The Beyonder is not directly involved and just pops up in the background musing about human experience – particularly Bruce Banner's inner turmoil. The story itself is the history of Bruce Banner's childhood (for I believe the first time). Turns out he was only a little better off than the Red Skull in terms of his upbringing – an abusive, distant father who murdered his mother, but then escaped prosecution – so that he's always had a monster inside of him, it just took the gamma rays to give it a physical form. Overall, this wasn't the most fun read, but a pretty interesting retcon of the Hulk's origin, and one that stands for quite some time.
Secret Wars II #4
Worth Reading? If Masochistic
Important for Continuity? Yes
The title of this issue is "Love is the Answer", and I cannot tell you how deeply I sighed when seeing that first splash page. In his attempts to understand human desire, The Beyonder decides he must understand love. After a "humorous" incident with a flying car and a stolen F-16, The Beyonder drops in on the Molecule Man to ask him what love is before somehow deciding that he wants to experience love with (another deep sigh) Dazzler. He tries to win her over "fairly" by not using mind control and instead just fulfilling her every desire and then kind of making her a God. It almost works? Apparently all you have to do is make yourself seem like you're in danger and Dazzler will fall in love with you (is this how Jim Shooter thinks romance typically unfolds?). But, no, ultimately, Dazzler only wants fame and power "the right way", so The Beyonder is left spurned and in despair. I'm sorry could you please stop this ride, I want to get off.
Dazzler #40
Worth Reading? If Masochistic
Important for Continuity? Not really (unless you are inexplicably invested in the Dazzler/Beyonder romance subplot)
I can't even pretend to know or care about what's going on in Dazzler. There is a scene at the beginning where The Beyonder is talking to her about celebrating some big thing they accomplished together, but I'm not sure this actually never happened in the previous issue, so there was either some change of plans in the plotting of SW II # 4 or I'd have to read more Dazzler to understand (not an option). At any rate Dazzler was willfully allowing herself to be transported by some bounty hunter when The Beyonder grabbed her and she gets dropped back with that guy now. There is some other group of somethings pursuing her too and they attack trying to abduct her. I don't know. Whatever. Anyway, in a shocking twist, The Beyonder has stowed-away inside Dazzler's body so he can share the experience of satisfaction she gets from her individual accomplishments. He pops out to save the day. There is some requisite anti-mutant sentiment and a near riot, and in the end, Dazzler again tells The Beyonder to leave her alone, which he thankfully does.
Alpha Flight #28
Worth Reading? If Interested
Important for Continuity? Not at all
Alpha Flight has been pretty inconsistent overall, but this one is pretty good (although you will have no idea what is going on if you haven't been reading up to this point). In SW II #4, The Beyonder drops in right after the conclusion of a battle with Gamma Flight in which Talisman has been sucked into Shaman's pouch (the last issue concludes with Shaman screaming that he'll never get her back because he can only pull out things that fit through the opening). Well, The Beyonder pops in, enlarges the bag, pulls out Talisman, gets something he wants from the bag, and then leaves. This issue is essentially the aftermath of that (Talisman is super pissed at Shaman for letting that happen to her), and then a second plot about Walter Langkowski, who is living inside the Box robot because his body was destroyed fighting the seven great beasts, trying to find a new body (because, you know, Aurora is not cool with him being a robot now). While Heather is taking a bath, everyone else casually decides to just go fishing for one in another dimension, and just happen to reel in The Hulk (see Hulk 312). So yeah, if all of this sounds silly and you have no investment in these characters, this is very skippable.
Avengers #261
Worth Reading? If Interested
Important for Continuity? A little – The Beyonder is featured quite a bit, although it's pretty much all him still talking about his ongoing quest for "experience".
The beginning of this issue wraps up the Avengers cosmic adventures with the Skrulls (for which you also need to read Avengers Annual #14 and Fantastic Four Annual #19 to get the full story), and then, when they return to Earth, The Beyonder shows up to play. This time he wants to make amends for the misunderstanding in issue #260 so he essentially allows the Avengers to chase him around and try to subdue him in what he understands as a form of sport. Hijinks ensue? In the end, Wasp offers to make him an Avenger in training as a ploy to rein him in, but there's just too much world for him to experience, so he takes off again. It's a reasonably fun issue with decent pace and action if you want to get a sense of what a good writer like Roger Stern can do with a character like the Beyonder as a opposed to what Jim Shooter has been inflicting upon us.
ROM Spaceknight (not in MU) #72
Worth Reading? If Really Bored
Important for Continuity? A little – The Beyonder is featured heavily again and this issue is all about his ruminations on desire.
It's never going to be easy to drop into a comic series four issues before it ends, but this was still surprisingly readable, if ultimately skippable. Another surprise, ROM wasn't in this issue at all. Instead, three people, who are apparently ROM-adjacent, encounter The Beyonder as he is trying to understand human desire. And, look at this! One of them is Rick Jones (boo)! He has cancer (yay)! But then The Beyonder cures him as part of his attempts to understand desire and see what happens when it's fulfilled (boo)! He does this with the other two people as well and ultimately concludes that fulfilling desires can only bring complete contentment when you're a child but then you grow up and begin to desire more than you can ever have. The one reason to read this would be to see another example of what a decent author (Mantlo) can do with The Beyonder and give yourself another reason to be mad about what Shooter does give us the rest of the time.
Secret Wars II #5
Worth Reading? If Really Bored
Important for Continuity? Yes
Maybe it's just in comparison to the previous issues, but this one wasn't awful. The Beyonder is depressed about Dazzler blowing him off so he's just walking the earth. He considers going back to his own dimension, but he meets a young mutant who ran away from home after her dad beat her (Shooter just loves a woman with a "shiner") and is on her way to seek out Professor X. She gives him a pep talk about not giving up on life, so he takes her with him. After an aborted attempt to drop her off with the X-Men (they freak out and attack The Beyonder), he whisks her off to the headquarters of The Celestials (remember them?). To impress her, he decides to show her that he can take on all of them at once, but this (obviously) freaks her out. She asks to go home and then rats The Beyonder out to the Avengers. They show up and The Beyonder is so bummed out about the Betrayal that he sits there a just takes a beating until Cap calls everyone off (because of course Cap does that) and then The Beyonder just disappears still depressed. So, not fun! But, way better than The Beyonder learning to be human or falling in love.
The Thing #30
Worth Reading? If Really Bored
Important for Continuity? Not really (unless you want to see the beginning of The Beyonder's drinking problem)
A lot has happened to The Thing since leaving the FF, apparently. He is now the champion and main attraction at a pseudo-ultimate fighting league. After some guys try to hassle The Beyonder, instead of just, say, dissolving them with his mind, he just plain beats them up and he is "discovered" by a promoter. He then ends up across the ring from Ben, and Ben, thinking about all of the ordeals he's been through because of The Beyonder from SW I and all his time afterwards on Battleword, loses it and thrashes him to a pulp. But, before Ben can kill The Beyonder, he stops himself. Because The Beyonder is still depressed, he is a little disappointed by this, but he heads back to the bar to continue working on his budding drinking problem.
Dr. Strange #74
Worth Reading? If Interested
Important for Continuity? A little – The Beyonder is featured heavily and takes the next turn in his concern with human experiences
Despairing and drinking himself into a stupor, The Beyonder seeks out Dr. Strange as the only one who can explain what he needs to achieve enlightenment. Dr. Strange responds by taking him on a journey through the past of Stephen Strange so that The Beyonder can see the Dr.'s own path to enlightenment, from an arrogant materialist, to a despairing drunk, to someone searching for a quick fix to his problems, to a scholar willing to sacrifice to achieve true enlightenment. His primary message for The Beyonder is enlightenment requires "…the willingness to take on pain for the sake of others and the world." After the reading I've done so far, I am so feeling that right now. Anyway, this is another issue where the philosophizing with The Beyonder actually works OK and could be of interest if one is in to Dr. Strange.
Fantastic Four #285
Worth Reading? If Really Bored
Important for Continuity? Not at all
Boy, this is a weird one and more than a little disturbing. The whole story is about a little boy who has no friends and is a frequent target of bullies. The boy idolizes the Human Torch and so decides that maybe he could become The Torch if he covers himself with rocket fuel and lights himself on fire. He ends up in the hospital and Johnny learns about it and makes it to his bedside just in time to watch him die. Johnny is devastated and unsure whether he can go on being The Torch anymore when The Beyonder just drops in and decides to give Johnny a pep talk. They time travel and The Beyonder shows him that The Human Torch was the only thing that gave the poor neglected and lonely boy's life meaning, and so Johnny did as much to save the boy as kill him. Johnny is cool being a superhero again and The Beyonder bounces. Yeah, that's really how it ends.
Secret Wars II #6
Worth Reading? If Really Bored
Important for Continuity? Yes
It is becoming abundantly clear that Jim Shooter had no idea what the story arc of this comic was going to be when he started and is just faking it from month to month. After his enlightening chat with Dr. Strange, The Beyonder decides he needs to become a "Champion of Life". He builds himself a superhero headquarters in the middle of Illinois and begins doing standard superhero things (even though, as he himself notes, he could just instantly fix things with his mind, but whatever). A local reporter, Dave, decides he wants to help and takes over the management of the burgeoning operation. Unsatisfied with the small-potatoes heroing, The Beyonder decides that he needs to go bigger and sets about to kill Death. The Watcher and all of the other heavy-hitter cosmic beings (Eternity, Mephisto, Eon, Chaos and Order, The Inbetweener, The Tribunal) show up to try to explain why this would actually be a bad idea, but Dave is having none of it and makes sure the plan is carried through. It takes the Molecule Man showing up and scolding The Beyonder for him to realize this was a mistake, but the only way to undo it is for a living being to sacrifice himself to become Death born anew. So it ends up being a tough beat for Dave and The Beyonder is left to figure out a more minimalist approach to championing life.
Cloak & Dagger #4
Worth Reading? If Really Bored
Important for Continuity? Not at all
The Beyonder is still on his hero kick. He ends up in some bad neighborhood in Manhattan and is naively lured into a drug den with the promise of "happiness". Cloak and Dagger go in to save him and he learns of the evils of illegal narcotics. Inspired by the vigilante spirit of C & D, The Beyonder instantly incinerates every drug dealer and user in NYC. C & D have second thoughts about their motivations to punish drug pushers and decide instead that people need to be given the opportunity for redemption. So, The Beyonder restores everything to the way it was before, including my profound disinterest in C & D.
Power Pack #18
Worth Reading? If Really Bored
Important for Continuity? Not at all
It feels wrong to hate children, but I experience enough sibling bickering in real life to have no interest in reading a comic that seems primarily based on it. At any rate, way back in SW II #4, The Beyonder reanimated Algrim the Dark Elf, who perished in a lava pit fighting Thor, into a living set of armor called Kurse because Algrim's single-minded desire to live and destroy Thor intrigued him. Kurse has now reached Manhattan and is generally destroying things while yelling for Thor. In the mayhem, The Powers children's mother is severely injured. The Beyonder, who is both playing hero and letting Kurse go because he "might as well see what happens" takes Mom to the hospital and the kids set out after Kurse for revenge. They drop a building on him, but he emerges to continue the single-minded quest for Thor.
Thor #363
Worth Reading? If Really Bored
Important for Continuity? Not really – The Beyonder has a revelation at the end that kind of informs his behavior for the next few issues but if you don't know about it, you won't miss it.
You might want to read this one if you're following the Simonson run, because there are some important larger developments for the overall story arc, but otherwise, there's not much interesting here. The action picks up right after Power Pack 18 as Thor arrives back on Earth, still worse for the wear after his battle with Hela and wearing his cloak over his face. Kurse finds Thor, the Power Pack kids find Beta Ray Bill (who fought Kurse "off-camera" in SW II #6) and fisticuffs ensue. The Beyonder just hangs out watching the whole thing and even makes Kurse stronger to test Thor's will to live and fight. In the end it takes both Thor and BRB to defeat Kurse and The Beyonder, inspired, swears to "choose good" for everyone.
Micronauts: The New Voyage (Not in MU) #16
Worth Reading? If Masochistic
Important for Continuity? Not at all
Apparently there is a whole comic series with multiple runs (including a 4-issue crossover with the X-Men in 1984) set in the Microverse that the FF have visited a few times (and that Doom got banished to in FF #10). There is just no way for me to understand or describe what is going on here. At the beginning, there's some big revelation about a betrayal, but then there's an emergency and the Micronauts leap into action, but one of them gets cocky and thinks he can stop some guy with his finger on a doomsday trigger, but he fails and thousands die in a massive explosion. But then, The Beyonder shows up and fixes it. But THEN, some other guy who the Micronauts do not seem to like, tells Beyonder the whole Microverse is dying and gets him to destroy three whole inhabited planets to stop the spread of some madness, but then the Micronauts get mad and seemingly kill that guy, vowing to find another way to save the Microverse, but THEN, that was all a ruse in which The Beyonder participated to get the Micronauts all fired up to save the Microverse and the guy they killed comes back to life and seems very pleased about the whole thing, as is The Beyonder because he's learned some lessons about how smaller goods and evils can add up to greater goods. Look, sorry, that's the best I've got and I refuse to put one extra second in trying to figure it out any further.
Power Man & Iron Fist (Not in MU) #121
Worth Reading? If Masochistic (or maybe a little racist)
Important for Continuity? Not really – There is a subplot about The Beyonder's new base in the North Atlantic, but it's not a critical detail.
For some reason, The Beyonder drops in on Power Man and Iron First in New York. For some reason they seem to be expecting him, but there are some weird continuity problems with this issue and references to things in previous issues that didn't really happen. Maybe that's why this one is still missing from MU. The plot centers on Shield getting freaked out about The Beyonder's base in the North Atlantic and going to blow it up. Danny goes along but seems to strangely be on The Beyonder's side and eventually decides to stop Shield from going through with it. So, meanwhile, Luke Cage takes The Beyonder for some soul food up in Harlem. The other patrons start making fun of The Beyonder because he's a white guy so – and this is perhaps another reason why this issue is not in MU – The Beyonder makes himself into a black man and they pull the jive-talkin joke from Airplane: The Movie, complete with the translations in the editor's notes (wince). Anyway, The Beyonder of course knows what's going on at his base, zaps back there, stops it from blowing up, and then decides to just get rid of it because he knows Shield will keep trying to destroy it. So yeah, the whole thing seemed pretty pointless.
Secret Wars II #7
Worth Reading? If Masochistic
Important for Continuity? Yes
This issue is deeply stupid. Mephisto is shaken by the events of SW II #6, in which The Beyonder killed Death before restoring her, and decides that he can take no chances and must destroy The Beyonder. To do so he has siphoned off some of The Beyonder's own power expended while slaying Death to build a giant fighting robot manned by Eternity himself(!). But to activate the robot (called, and I am not making this up, "Beyondersbane") some mystical link has to be activated, so Mephisto recruits every supervillain you can think of to attack The Beyonder and if he fights back or even touches one, then Beyondersbane will spring into action. BUT, there is also only a limited amount of time before Beyondersbane runs out of the siphoned power, so it has to happen before The Beyonder moves again. Luckily The Beyonder is just chillin' on an island because he wants to think things over, but then people see him just sitting and thinking and decide that looks like a good idea and so soon more and more people are coming to the island and sitting and thinking and then The Beyonder starts thinking he's going to have to leave because it's getting too crowded, so Mephisto panics (because if The Beyonder goes somewhere else, the whole plan is thwarted), powers up The Thing (who, if you've been following along has a grudge against The Beyonder and almost tried to kill him in a wrestling match) and send him to the island to delay The Beyonder. But then, when all the supervillains arrive to put the plan into motion and The Beyonder just sits there, Ben can't help himself and so, with his extra power, fights off all the supervillains. The Beyonder sees what Ben does for him and decides that maybe his purpose in this universe is to help others find their own purpose. I feel 50% stupider for having actually written this down.
Defenders #152
Worth Reading? If Really Bored
Important for Continuity? Not at all
If it's tough to jump into a series you're never really read in the middle, it's even harder to do so at the final issue. Moondragon has gone full Dark Phoenix (I mean, it's the exact same thing – a dark cosmic entity has possessed her promising her power and safety, only it's called The Dragon instead of Phoenix), destroyed the Defenders headquarters and is ready to kill them. Some random Eternal named The Interloper shows up and helps beat back Moondragon ("Heather") and temporarily disable The Dragon. But then The Beyonder shows up, offers to give Heather the ultimate power to do good but somehow fails to notice The Dragon still hanging around (bad look for an omniscient being). After The Beyonder does so, The Dragon comes right back, possesses Heather, kidnaps the Defenders and their loved ones, and then stages a final confrontation. All of the non-X Factor Defenders plus the new Interloper guy sacrifice themselves to take down The Dragon, while Hank, Warren, and Bobby watch too worried about what will happen to their friends and lovers if they intervene. There is some implication that Heather, working from the inside, somehow helped engineer that outcome (if so, tough beat for Valkyrie). A second-rate end to a generally second-rate group of heroes (sorry Defenders fans!).
X-Men #202
Worth Reading? If Interested
Important for Continuity? Not at all
Rachel, who, since she sought out her grandparents and held her mom's memory crystal, has begun calling herself Phoenix is terrified that The Beyonder will destroy the world and kill everyone she loves as in her own future world, so she sets out alone to kill him. This doesn't work, because of course it never does (sigh), but then he increases her power to the point where she could kill him (which also seems to happen a lot). However, he also zaps all the X-Men to where he is and sends Sentinels after them so Rachel has to choose between killing him and saving her friends. By having her choose to save her friends The Beyonder hopes to give her some peace from not being able to save them in her own timeline, But, Rachel feels manipulated and lectures The Beyonder about having to earn inner peace for it to mean anything so, like many, many, of these tie in issues, you have a closed circle where nothing changes and The Beyonder ends up looking sad and puzzled. Watching the X-Men fight Sentinels is always pretty fun though, and there's some good Magneto vs. Wolverine banter.
New Mutants #36
Worth Reading? If Really Bored
Important for Continuity? Not at all
The Beyonder decides to seek out Ilyana because, after unleashing Darkchilde way back in SW II #1, he wants to come back and cure her of it completely. He does, but in doing so, he turns her into a disciple for joining the "Overmind", which is a universal consciousness to bring peace and order to the Earth. One side effect of this happens to be that Kitty Pryde becomes the new bearer of the Soulsword and protector against demons, but she doesn't have the experience to combat them and they start popping up everywhere and threatening to complete the Bloodstone amulet to fully open the portal between limbo. When Illyana sees Kitty's soul in danger, she chooses to accept the Darkchilde as part of her again and banishes the demons. So, more circles.
Amazing Spider-Man #273
Worth Reading? If Really Bored
Important for Continuity? Not really – The people who got really into sitting and thinking on the island with The Beyonder have formed a Hare Krishna-like organization and are handing out flyers, but it's just in the background.
The primary figure in this issue isn't The Beyonder or Spider-Man, but The Puma. Religious readers of Spider-Man will remember him as a Native-American business tycoon who is also a hitman and can transform into a Puma Warrior. Anyway, The Puma's tribal elders have a prophecy about the "One from Beyond" who threatens the universe and whom only he can defeat. The Puma is not really feeling the whole prophesy thing, but he is a dutiful champion and goes to New York to recruit Spider Man to help him kill The Beyonder. Peter is really not feeling the whole murder-The-Beyonder-to-fulfill-an-ancient-prophecy thing but tags along to get a read on the whole situation. After a near-murder of someone who is not The Beyonder, Spidey decides he's had enough and leaves The Puma to his own devices. The Puma confronts The Beyonder, who sends him to Japan with the snap of his fingers, setting the stage for the next issue of SSM. As absurd as the whole thing sounds, the issue reads pretty well and The Puma is a way more interesting character than the last time he showed up.
Spectacular Spider-Man #111
Worth Reading? If Really Bored
Important for Continuity? Not at all
This issue too is really much more about The Puma than anyone else. Since he's stuck in Japan for a bit till he can get his passport mailed to him, he goes to check in on an old sensei and tells him about The Beyonder. The sensei responds "Oh hey, I know The Beyonder", who then shows up to talk things out. The Beyonder tells The Puma that he is just helping people find their roles in life and that the Puma should just take a deep breath and go back to protecting his tribe, but The Puma is not here for that and goes back to the US to prepare to destroy The Beyonder. The Puma seeks Spider-Man again to ask for help against The Beyonder, and then a bunch of really silly stuff happens leading to Peter Parker, The Puma, the sensei, The Beyonder, and some guy with a huge grudge against the movement that sprung up around The Beyonder in SW II #7 all in some nightclub that The Beyonder owns (where the sensei is now playing guitar in a rock band, naturally). The guy with the grudge goes after The Beyonder, the sensei tries to stop him and gets shot while The Beyonder is distracted thinking about The Puma; The Puma has finally found his purpose and embraced the ancient legends so he powers up, but Peter Parker has changed to Spider-Man to intervene. But, The Beyonder doesn't want Spidey to intervene because, if his role is to help others fulfill their purpose, then he must let The Puma kill him. Spidey throws a little fit about how crazy this is and bails, but instills enough doubt in The Puma that he loses his extra powers and is no longer able to kill The Beyonder, who, sadly disappears looking for another path to enlightenment. As bonkers as all of this is, The Beyonder's musings about the paradox of his role being to help The Puma fulfill his own role, meaning he must allow himself to die (including a nice little sidebar with Death herself) is fun in an "I'm really high right now" way.
Secret Wars II #8
Worth Reading? If Interested
Important for Continuity? Yes
This is easily the most interesting SW II issue since the first one, although that isn't saying much. It starts with The Beyonder going full emo after his many frustrating efforts to find fulfillment and trying to talk things out with the Molecule Man. MM tires to talk him down (and even has him lie down on the couch while they try to revisit his "childhood") and explain that what makes existence meaningful is actually mortality because without it there aren't any really stakes. The Beyonder is not having it and decides he would be happier if he just destroyed the multiverse, but agrees to think about it for 24 hours. He spends that time, flitting about the world easily defeating heroes, until he finally drops in on Spider-Man who gives him the mortality explanation again. Reconsidering, he returns to MM intending to give mortality a try, but MM is panicking because he doesn't want to die and tries to attack The Beyonder. Like every other attempt, this fails and pisses The Beyonder off so he goes back to the plan of destroying everything, deciding to take one last spin around the multiverse before he does. In an epilogue, he comes face-to-face with the Avengers, who have tracked him down, but he sends them all away with a tornado, except for Cap, for whom The Beyonder promises something special. This one starts a little rough, but it gets better and is even minimally suspenseful.
Avengers #265
Worth Reading? If Really Bored
Important for Continuity? Not really – it's yet another battle with The Beyonder that doesn't do much to change the larger arc of the story
After all the build-up from the previous issue, nothing much happens here. The Avengers blown away by the tornado regroup and set off after The Beyonder again. Captain America escapes The Beyonder's imprisonment and tries to sneak up and render him unconscious, but, as always, fails. The rest of the Avengers arrive and try to pull their own subterfuge on The Beyonder, which, of course, also fails. The Beyonder finally just blows up (like, literally, blows up into a giant) subdues them all and then rants about his intentions for destroying all of existence again. The only reason to read this would be if you are keeping up with Stern's Avengers and want to see Hercules and the Sub-Mariner butt heads or the further development of Captain Marvel, which happens between confrontations with The Beyonder.
New Mutants #37
Worth Reading? If Interested
Important for Continuity? Yes
Because of the new Valkyrie-like powers she obtained in Asgard a few issues back, Dani has a vision of death above hovering above all of her teammates (except for Bobby, who is off in Manhattan). She freaks out and takes off on her Pegasus (also obtained a few years back) until Sam chases her down. When they return, The Beyonder is waiting for them and is pissed that they refused the whole Overmind thing last issue. Ilyana tries to sacrifice herself to spare her teammates, but The Beyonder isn't satisfied and takes out each of the New Mutants one by one before erasing them completely from history and the memories of everyone in the world. Although, like any fight with The Beyonder, you know that he's invincible and can't lose, and, just like any type of mass death for our heroes, you know this can't last, but the pacing of the issue still makes everything suspenseful and, however ultimately hollow, the deaths are emotional.
Amazing Spider-Man #274
Worth Reading? Yes
Important for Continuity? Not really – nothing happens that isn't explained (or ignored) in the issues that follow
The Beyonder begins to make good on his promise to destroy the multiverse by eradicating some galaxies outside of the Milky Way. Then he drops in on Mephisto to wipe out that realm, but Mephisto talks him into a wager such that if they can find one person worthy of life The Beyonder has to cool it for another 24 hours. The Beyonder chooses Spider-Man as his test case and sends one of Mephisto's demons to torment him and make him relinquish his feeling of responsibility. Spider-Man overhears some hitman planning to kill The Kingpen, and the wager becomes if Spider-Man lets him die, then The Beyonder wins, but if Spider-Man saves Kingpen, Mephisto wins and the universe has another 24 hours. The rest of the issue involves Peter being tortured by past enemies and visions of failed responsibilities (Green Goblin, Gwen and Captain Stacy, Uncle Ben) and enduring enormous punishment without giving in, and, in the end the Kingpen is saved and the universe lives another day. Although this covers a lot of the same themes as "If This Be My Destiny" (Amazing Spider-Man #31-33), it's still effectively done and highlights why Spidey is one of the best Marvel characters – he is one of the most noble, but also most human and imperfect of all the heroes.
Fantastic Four #288
Worth Reading? If Masochistic
Important for Continuity? Not at all (unless you REALLY want to know how Doom was supposedly dead, but then ended up on Battleword intact in SW I)
My best guess for why this issue exists is that John Byrne was tired of getting crap about why it seemed like Dr. Doom died (but projected his consciousness into a new body) in an FF issue before Secret Wars, but then showed up on Battleword intact in his own body. So, Byrne picked up the body-switch storyline in FF #287 and then had The Beyonder show up in FF #288 and talk with Reed about how he actually reached forward in time to grab Doom for Battleworld, thereby creating a time loop that Reed then convinces him he needs to fix. So, nothing connects to the larger SW II story and it makes for a really lame FF issue because after The Beyonder puts Doom in his own body and sends him to Battleworld to complete the time loop, the FF just go home as if nothing really has happened.
X-Men #203
Worth Reading? If Really Bored
Important for Continuity? A little – the events appear to influence The Beyonder's decision to destroy the universe, but don't seem to tie directly into the next issue.
Rachel is still powered-up from the last issue because The Beyonder didn't remove the energy he gave her to potentially kill him. She decides to use this energy to take the fight to The Beyonder and destroy the universe before he can so that he goes down with it too. She powers up even more by borrowing the life essence of all her teammates (some willingly, some unwillingly) plus the Starjammers and returns to the M'Kraan Crystal (remember that from X-Men # 107?) so that she can release the neutron galaxy inside, which will then consume the universe. To begin the job, Rachel reaches out and touches every being in the universe but once she sees all of these beings as individuals she can't go through with it and returns everyone's essences. The Beyonder shows up, but when he reabsorbs Rachel's energy in preparation for destroying the universe himself, he too perceives all of the individual beings and stops. He then leaves to ponder again whether to actually end the universe or to consider sacrificing his own discomfort and uncertainty for the fate of everything else.
Secret Wars II #9
Worth Reading? If Interested
Important for Continuity? Yes
This is not a good comic, but some of the moments are so crazy, you almost owe it yourself to read it. The Beyonder retreats to a hideout buried miles beneath the ground in the Rockies and, before he finally goes about destroying the universe, decides to sit and think for a moment. He's just too curious about all of the mortal beings he's met so he decides to experiment with making himself mortal. He creates a "Mama Machine" to birth himself a mortal body then puts all his power into a giant glass vessel and becomes human. But, while he is testing out experiences such as sweating and running out of breath, Mephisto shows up and begins to torture him in some truly insane ways before The Beyonder realizes they are all illusions and regains his power. Meanwhile, Rachel (who still seems to have crazy Phoenix-like powers) zaps all of the heroes to the mountains above where The Beyonder is. The Beyonder is about to take a final shot at the Mama Machine so that he can be mortal and still have his power but the heroes interrupt him. The Beyonder ends up in a one-on-one battle with the Molecule Man and tears a huge hole through the Earth defeating him, but The Molecule Man manages to survive and save all the heroes too. They return as the Beyonder is going through the Mama Machine. Reed warns them that if they interfere it could loose The Beyonder's energy and destroy the world (and he tried to hold them all back by flattening himself into a 10-story flexible wall), but the Molecule Man doesn't listen and seems to have, in fact, destroyed all existence. But, being the Molecule Man, he just recreates our universe and manages to push all of The Beyonder's energy back into the universe beyond ours, where it sets off a big bang creating a new universe that develops mortal life. So, The Beyonder gets his wish and everyone lives happily ever after. Credits.
Avengers #266
Worth Reading? If Masochistic
Important for Continuity? Yes
Oh hey, wait, maybe the Molecule Man didn't fix everything (after-credit sequence)! There is still apparently a huge gash through the Rocky Mountains that has exposed the magma below the Earth's crust and threatens to lead the whole Earth to break apart. The Avengers, the FF, and the Silver Surfer have hung around to try to fix it, but there's nothing they can do. But then, they find the Molecule Man, who in is a nearby field hospital the army has set up and is recovering from the huge effort he made to banish The Beyonder and recreate the universe. He doesn't want to help fix the Earth because he thinks the effort might kill him and he contemplates just creating a pocket world for him and Volcana, but in the end he agrees and, with the help of the Silver Surfer is finally able to repair all of the damage. The Molecule Man pretends that the efforts robbed him of his powers so that the heroes will leave him alone, but he secretly retained them and returns to his life of domestic bliss where we first found him in SW II #1. So everything comes full circle in this whole pointless waste of an event. There is absolutely no reason for this issue to exist. Forty one comics wasn't enough for this event? Shame on you Marvel.
Next: X-Men – Mutant Massacre
Heroically Support Comic Book Herald!
If you like Comic Book Herald, and are able to donate, any small contribution will help keep CBH alive and full of new comics guides and content. Donate here! Or, support CBH on Patreon for exclusive rewards! Or you can even check out the CBH Merch store and get something nice with a small portion benefiting the site! Thank you for reading!