1986's X-Men Mutant Massacre is the darkest event in the history of X-Men comics to that point, witnessing the wholesale slaughter of the Morlocks at the hands of Mister Sinister's debuting Marauders. In these Milestones installments of Krakin' Krakoa, I'm looking back at the biggest moments in X-Men history, and investigating their influence on the X-Men comics of today.
Some questions I answer in my video review:
What happened in Mutant Massacre and why is it relevant today?
How Mutant Masscare escalates mutant tragedy in a way that only grows from here
What's the legacy of Mutant Massacre as Marvel's first X-Men crossover?
Previously: Secret Wars 2
Related Reading Orders:
Collected Mutant Massacre Editions
X-Men: Mutant Massacre Omnibus
Support For Comic Book Herald:
Comic Book Herald is reader-supported. When you buy through links on our site, we may earn a qualifying affiliate commission.
Comic Book Herald's reading orders and guides are also made possible by reader support on Patreon, and generous reader donations.
Any size contribution will help keep CBH alive and full of new comics guides and content. Support CBH on Patreon for exclusive rewards, or Donate here! Thank you for reading!
Collects: Uncanny X-Men (1981) #210-219; X-Men Annual (1970) #11; X-Factor (1986) #9-17, X-Factor Annual #2; New Mutants (1983) #46; Thor (1966) #373-374, #377-378; Power Pack (1984) #27; Daredevil (1964) #238; Fantastic Four Vs. The X-Men #1-4; X-Men Vs. The Avengers #1-4
X-Men Milestones: Mutant Massacre
Collects: Uncanny X-Men (1981) 210-214, X-Factor (1986) 9-11, New Mutants (1983) 46, Thor (1966) 373-374, Power Pack (1984) 27, Daredevil (1964) 238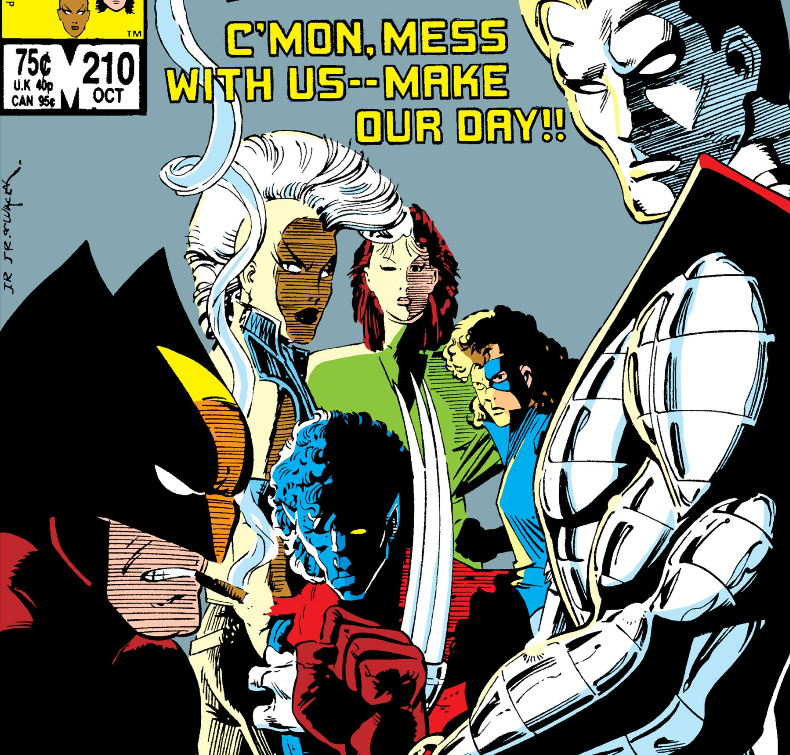 Mutant Massacre Reading Order (Main Event)
Uncanny X-Men #210
X-Factor #9
Uncanny X-Men #211
New Mutants #46
X-Factor #10
Thor #373
Thor #374
Power Pack #27 to #28
X-Factor #11
Uncanny X-Men #212
Daredevil #238
Uncanny X-Men #213
The Mutant Massacre: Omnibus Extension
Uncanny X-Men #214
X-Factor #12
X-Factor #13
X-Factor #14
X-Factor #15
Uncanny X-Men #215
Uncanny X-Men #216
Uncanny X-Men #217
Uncanny X-Men #218
Uncanny X-Men #219
Thor #377
Thor #378
X-Factor #16
X-Factor #17
X-Factor Annual #2
Fantastic Four vs. X-Men #1 to #4
Avengers vs. X-Men #1 to #4
X-Men Annual #11
The premise of the "Mutant Massacre," which stretches across 13 issues, and six different series (X-Men, X-Factor, New Mutants, Thor, Power Pack, and Daredevil) is that debuting Marauders invade the Morlock tunnels and massacre these mutants who can't pass as human and are living in the sewers.
We'll get a hint here that the Marauders are working for Mister Sinister, but the name drop doesn't actually mean anything to X-Men readers yet – Mister Sinister was yet to make an on page appearance! The first Marauders are Scalphunter, Riptide, Arclight, Vertigo, Harpoon, Blockbuster, Prism, Scrambler, and as we come to learn, Sabretooth.
The darkness and encroaching hate the X-Men face is present even before the X-Men learn of the massacre.  Anti mutant sentiment is increasing, and we're in an era were the X-Men are led by Magneto, considering joining the Hellfire Club to gain some allies, and the team coming off a battle with Nimrod that has left them depleted.
In the aftermath of the wreckage, we also get our first real no holds barre throwdown between Wolverine and Sabretooth. It's obviously an archenemy relationship that has held up well over time, and very quickly serves to distill the sense of honor that makes Wolverine more than the animalistic killing machine he's been at times.
Sabretooth is all over the back half of this issue, including a trip to the X-Mansion where he serves as the challenge for Betsy Braddock, very recently having joined the team to prove her mettle as a full fledged member of the X-Men.
X-Factor written by Louise Simonson, and starting with issue #10 with art by her husband Walt Simonson, is the other most directly essential tie-in chapters. One of the other fascinating developments here is one of the earliest appearances of Apocalypse, making a cameo in the post Massacre tunnels, and stopping Harpoon from killing the Morlock who would become his new Pestilence, one of the horsemen of Apocalypse.
For the X-Men, the Mutant Massacre is the most devastating defeat the team has faced since the Dark Phoenix Saga, and certainly this is on a much greater scale of life lost. Certainly there are dark, tragic moments in X-Men history to this point. The opening of God Loves, Man Kills is a gross lynching of two mutant children. Mutant Massacre is the deepest darkest pit of devastation in X-Men to this point though.
Structurally, too, the Mutant Massacre is enormously influential. X-Men crossovers would become an annual tradition from here on out, of course only increasing in our modern era of comics. It's a tremendous feat of planning that requires close collaboration between storytellers. As Louise Simonson said in an interview after the event: "It was horrible. I don't know why we're thinking of doing this again."
Heroically Support Comic Book Herald!
If you like Comic Book Herald, and are able to donate, any small contribution will help keep CBH alive and full of new comics guides and content. Donate here! Or, support CBH on Patreon for exclusive rewards! Or you can even check out the CBH Merch store and get something nice with a small portion benefiting the site! Thank you for reading!