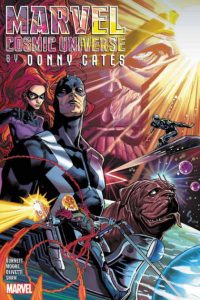 Donny Cates is inarguably one of the hottest writers of this generation. His style is a sort of love letter to new and beautifully strange beginnings:
60s Marvel, the company's first rebirth full of hope and wonder

90s Marvel, where Cates' love for the medium seems to begin (or at least cement)

And Cates' own, personal story, with all of its second chances
These elements return again and again in Cates' work. They're also why he's such a natural fit for Marvel's cosmic lines; his voice is so big, he really benefits from that scale. It seems only right he have a tome to match: Marvel Cosmic Universe by Donny Cates.

Thanos |
Cates and the Tyrant King
In Which Jim Starlin takes Cates Out for Lunch
Before we can even discuss Cate's take on the Mad Titan, we must address the big, purple alien in the room: Jim Starlin's exit from Marvel.
Starlin created the unstoppable, literally Death-worshiping, universal threat we know as Thanos. And most crucially for me, defined the tyrant's role and relationship to the universe. For decades, Starlin was considered the "only" writer on the character.
Which makes what happens next so unfortunate.
Support For Comic Book Herald:
Comic Book Herald is reader-supported. When you buy through links on our site, we may earn a qualifying affiliate commission.
Comic Book Herald's reading orders and guides are also made possible by reader support on Patreon, and generous reader donations.
Any size contribution will help keep CBH alive and full of new comics guides and content. Support CBH on Patreon for exclusive rewards, or Donate here! Thank you for reading!
In brief, Marvel was set to publish two Thanos stories: Cates', followed by a new one from Starlin. The problem being that, to Starlin, Cates' story was much too similar to his own long-running tale, and so the older author quit. 
But, to both artist's credit, the debacle resolved well between them. In fact, Starlin might just have had an impression on the young man.
I met Jim Starlin at Rose City this weekend. We stepped off the show floor and got coffee just the two of us. We traded stories about Thanos. His were better. Mostly I listened.

I'll think about that meeting for the rest of my life. Thank you, Jim. That meant the world to me. pic.twitter.com/PSwIb9Nm2O

— DONNY CATES (@Doncates) September 10, 2018
Thanos Wins
To me, Jim Starlin's most iconic contribution to Thanos was his presence. It's in the way Starlin used style to sell the villain's enormous influence in the universe. It's that voice — a mythic, romantic rumor that makes Thanos feel like the Big, Bad Wolf or the Queen in Iron Shoes. Something ancient passed down, a legend told by other legends — that makes a single character capable of inspiring this much fear across an entire timeline. 
The Art
Shaw, Iriving, and Cook are simply perfect for this book, bringing an imperious strength to their Mad Titan that can sometimes get lost in his weird chin culverts. There's an almost Conan-like feel to the whole thing… see for yourself.
Even the tiniest of choices, like showing Thanos eating, are revelatory. If you'd told me before this book that Thanos, the Grape Ape of Grieving, should be shown going to town on a Thanksgiving dinner, I'd have rolled my eyes. Eating seems too base, too crass for his character. It implies a lowly, mortal concern that should be beneath him. But watching Thanos tearing apart a bird… that hunger it shows…
You can really learn a lot about a thing by watching eat.
The Story
Cates nails those classic Starlin concepts. The story follows the Mad Titan on his conquering path across time, clearly establishing the monster as the unparalleled scourge of the stars before having the butcher kidnapped by his only true enemy: himself.
The conflict between the older and younger Thanos shows how unending his drive and cruelty truly is. The relationship between this king near the end of his quest and the young warrior still near his beginning feels solid, with a proper contrast of speech, reaction, and mannerism creating two beings out of one character. As it turns out, through the deft foreshadowing in this book, this is the ignition that sets the rest of the omnibus' stories into motion.

But it's Cates' tone that makes the story a worthy descendant of Starlin's work. The majesty and awe of it all. Additionally, Cates' attention to detail is remarkable, from the older despot's creative cruelties to the well-placed foreshadowing for the rest of this omnibus, to rage at the heart of everything. At times, you could almost mistake the book for beautiful…

Cosmic Ghost Rider |
And I don't want to die; I just want to ride my motorcycle
The 1990s sure did love their dark, violent anti-heroes, and it appears Cates does as well. His resurrection of Venom, from cheesy brute to misunderstood tragedy has been storied. (Sadly, it's also outside the purview of this omni.)
And yet, even with Eddie Brock's resurrection, Cates doesn't shy away from cheesy brutes either. Enter Cosmic Ghost Rider.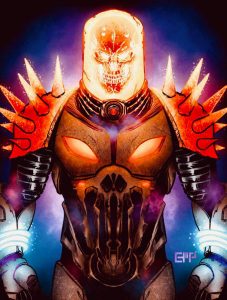 If Thanos is the universal constant, then Cosmic Ghost Rider is its variable. The character is a mash-up of two 90s heavy-hitters — half-Punisher, half-Danny Ketch Ghost Rider, part god, all skull.
The character makes a surprising amount of sense beyond that… at least, on the drawing board. The two anti-heroes he's composed of share a love of judging the wicked and returning sin upon sinner. The character also makes smart use of Castle's blunder years as an angelic assassin, which contrasts well with Ridey's whole Hell and Zarathos thing. Plus there's the whole skull motif. 
Baby Thanos Must Die
The Art
Dylan Burnett turns in some spectacular work here. It's bright, colorful, expressive, and captures the character and his world wonderfully. The comedy notes work, and there's a sort of indie vibe in spots that feels right. It reminds me a bit of what James Harren, Dave Stewart, David Rubin, et al are doing over on Rumble. Come to think of it, John Arcudi's writing on that book is similar enough to Cates' style that I think Rumble ought to be considered side-canon to this omnibus.
The Story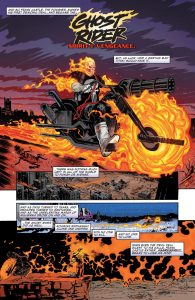 Cosmic Ghost Rider is, first and foremost, a lot of fun. There are space sharks, a sassy Uatu, and an hilariously murderous baby. But there's some solid character work, too. 
Here we see Frank Castle, the sole survivor of Thanos' last assault on Earth. A man who was so traumatized, he took on a grim, grisly, one-man suicide mission against human nature. Now shown here, so broken by Thanos that he's given up that life mission and stops punishing the guilty. Castle is destroyed so utterly by Armageddon that he actually develops a sense of humor.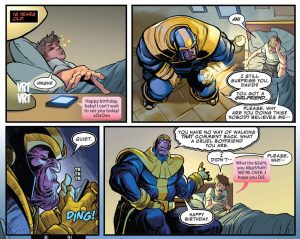 Dealing such a blow to the Punisher raises the core question of the book: what is the nature of guilt? A query that leads Castle to reconsider his life of revenge, and the origin of that: his fatherhood. All of which spins out to the bigger question: is Thanos evil? Or the fate of the universe? Is he "heat death," or the Malicious Grimace?
These heavy quandaries and an overall humorous tone set the book apart from the character's standard cliches. As if Burnett and Cates set the soundtrack to Arlo Guthrie instead of AC/DC.
The Less Excellent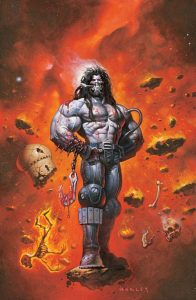 Space Ghost gets a lot of flack for his parallels with Deadpool. Which I think is unfair, because it actually lifts much more from Lobo. The chains, cosmic chopper, space dolphins/sharks, the Contract on God. Cosmic Ghost Rider isn't just an homage to 90s antiheroes… he's an almost exact recreation, sans glow in the dark cover. 
That's not entirely a bad thing. 
90's books suffer from being overly serious. Levity is welcome generally, especially in Cosmic Ghost Rider where some of the gags are honestly quite good (Galactus' enormous pistol being among them.) Most importantly, Cates makes a small but meaningful change to that zany antihero format; making Castle's humor focus less on him being a fool (as with Deadpool and Lobo) and much more on him being fundamentally broken. 
Yet, therein lies the tragedy. For as much fun as the gags can be, I can't shake the feeling they limit the book's potential.
Making the Punisher, Marvel's second most death-obsessed character, the faltering judge over Thanos' has some real potential for poetry. Once in a while, the book even gets close to that at times, particularly in the results of Castle's attempt at being a father figure again. But it comes up shy for me. Like it's hero, it cracks too many nervous jokes to get out of serious situations. Your mileage may vary.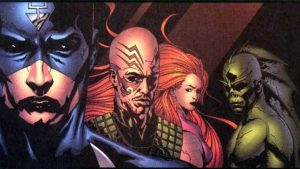 The Inhumans
We start back at the beginning with Jack Kirby, father of Galactus, his herald, Annihilus, and the Inhumans (to name only a few.) These characters kickstarted the Cosmic Marvel subgenre, with looks, powers, and belonged to events that seemed from a totally different universe. 
Every single one of the King's creations is filled with potential (as seen in Jenkins/Lee's Eisner-award winning Marvel Knights miniseries.) But for most of their publication history, the Black Bolt and his people have been children of a lesser god. They've frequently struggled to maintain an ongoing, and frankly, I'd say wager their recent popularity has more to do with Marvel's corporate pettiness than anything else.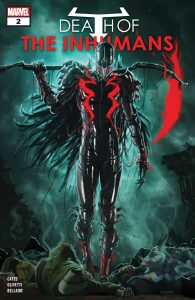 Whether it's fallout or prophecy, two things seem inevitable:
That Cates would (have to) work in Kirby's sandbox

That something about this book would disappoint
Death of the Inhumans
The Art
Ariel Olivetti's artwork is good. They work in classic looks for teammates along with some of the 2017 redesigns. The book's visual style contains hints of Mike Mignola, Ben Templesmith, Bryan Hitch, and of course, Gerardo Zaffino. Olivetti truly shines on some detail work, such as the representation of powers and especially in Black Bolt's ISL (Inhuman sign language )
The Story
The plot of the story revolves around the Inhumans' origin as genetically modified warriors for the Kree empire. That power is back, and is using new Inhumans (like the dark "duplicate" of Black Bolt, the murderous Vox, I see what you did there, very clever) to try to force Black Bolt's clan back into the fold.
Cates has some arresting images. Particularly with his new Saturn, its ring made not from shattered moons, but desecrated bodies. The author also makes fantastic use of his Guardians of the Galaxy roster, which I won't spoil, along with some truly wonderful turns of phrase. Moreover, I want to commend Cates for making a story that has essentially nothing to do with Terrigen mists (the spooky McGuffin that separates the Inhuman race from Mutants.)

The Less Excellent
I'll be honest: I think this is the weakest addition to the omnibus. But that's not entirely the creative team's doing.
Inhumans was heading for a mess well before Death Of came about. The full story is way outside of the scope of this review, but it comes down to Marvel's vindictive break-up with 20th Century Fox (check out IvX, the failed show on ABC, the Unbeatable Squirrel Girl.) Everything after Avengers: Age of Ultron is basically a mutant massacre, (no, not that one. Not that one either. Man, this happens a lot) that begins to end with Death of X.
All of that really overshadows this book. (Though it also doesn't help that new bad guy Vox looks suspiciously like The Batman Who Laughs).
Cates' Involvement
It also doesn't help that the team's core conflict is generally the Terrigen Mists; a power source, weapon, and general-purpose McGuffin. As core conflicts go, the mists are a pretty terrible one. Mostly because such dangers should be somehow definable, substantial. A foundation for characters to back up against. You know, like fog isn't.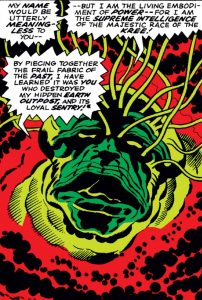 This blunder wasn't Cates' doing, of course, but it was his to deal with. I appreciate his attempt to go back to Kirby's notes and re-involve the Kree… but I don't think it works. The Kree are an ancient, intergalactic menace at the best of times and in Death of the Inhumans they're an empire ascendant. You can't really express all of that in a handful of isolated issues.
Without that story, the book can't say anything definitively as "Death of" books are meant to. In fact, the whole battle is such a non-event that this is the only book not foreshadowed in Thanos Wins. 
At most, these handful of issues are a b-story that happens between Cates' Silver Surfer: Black and his Guardians of the Galaxy series. Frankly, the latter should have replaced DoI in this omnibus.
To be honest, I can't decide if this is a missed opportunity or not. On the one hand, the being that would become the Rider is maybe the only other character in the Marvel universe as obsessed with death as Thanos is.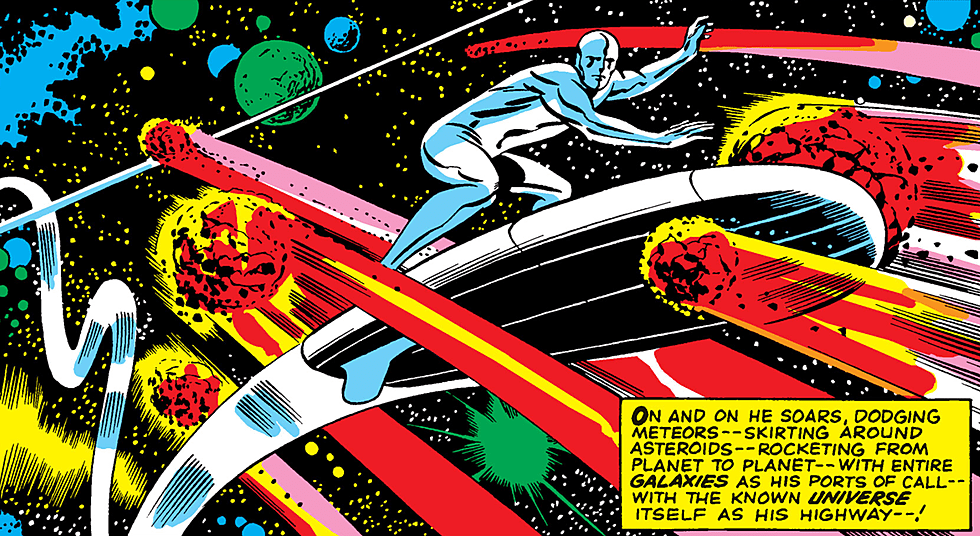 Silver Surfer
Cates' Surfer marks a sort of end to this arc of his space odyssey. It takes into account all he's learned thus far and ties together virtually all of his books (from Venom to Guardians of the Galaxy.) Fittingly, this story also makes the jump from classic cosmic works to late-period Fourth World stuff.
Silver Surfer: Black
| We Lived Falling Out of the Skin into the Soul
The Art
Tradd Moore's work is as gorgeous as it is nontraditional. It employs a wide array of styles, from Ditko's Doctor Strange (eg. the cubism in issue 5) and New Gods era Kirby (issue 3), to modern or surprising choices. But my hat goes off to the recurring shot from Tsuburaya's Ultraman tv show, an absolute classic about another cosmic, chrome hero… this time from the far-out, mid-60s Tokyo!
Much more simply, we can distill it all down to the prismatic lighting that marks the spaces where the Silver Surfer turns black. Every line in this book dances along with that same, chrome distortion, which is as much a thematic decision as it is an artistic one.
The Story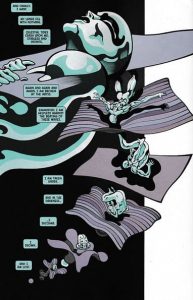 Silver Surfer: Black takes place after the events in Guardians, where Thanos has died and his body has been stolen by The Black Order. Outnumbered and desperate, The Order make their escape by setting off a bomb that tears a hole in the reality of space-time (think of a black hole that's been dosed with LSD.) The tear pulls the Guardians in, along with the Silver Surfer, who eventually helps them escape by using his body to rip through the black hole. The heroes are free, but Radd is lost, falling through time until he sees something "killing in the darkness." 
This leads to the final showdown, with Silver Surfer versus Knull, the symbiote god. It's a classic "light vs. darkness" story; a reflective hero versus the empty shadow of the universe, a literal null. But there's a little more to it, as we'll see soon.
Like all of the best Surfer stories, this one has a bit of philosophy to it. One that tips heavily towards the Age of Aquarius, universal life force end of things. Since this omnibus started with Thanos the destroyer, it seems only fitting it should end here with the Silver Surfer, hero of rebirth.
The Less Excellent
If I have one critique, it would be this book's sense of scale. Or rather, lack thereof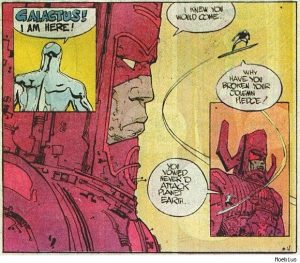 Any story involving Norrin Radd is, at its core, a story about one hero against impossibly-sized odds. Visually, that's meant placing him next to Galactus, planets, whole solar systems. Narratively, it's about seeing the universe, traveling in the cold and lonely darkness, and saving whole star systems filled with civilizations (or mourning over those he's already failed during his time as a herald.)
This book doesn't quite hit that mark. Not for lack of trying; it does have a black hole, time travel, and a symbiote prison planet after all.
But really, it can't hit that goal because the book isn't trying to be a classic, cosmically-scaled adventure and is instead working very hard to be roughly the size of Norrin Radd himself, which is hinted at quite subtly by Cates himself:
Of all the books in this omnibus, this is the first to switch from primarily third-person omniscient narrator to first. In other words, from the universe speaking to the hero speaking for themselves.
I miss the contrast between Galan and Radd, but I'll happily take this in its stead.
Overall
Mortal versus the Divine
In Thanos Wins, a titan seeks to kill a god-king. In Cosmic Ghost Rider, a man must pass judgment upon The Divine Unmaker. The Death of the Inhumans sees them fighting to the end against their creators. In Silver Surfer: Black, the luminous savior set against the lord of darkness.
Each of these stories is the same story. Each has their sacrifices, their failures. Each focuses on the struggle against a power so much bigger than our heroes. A force that's bent on conquering and ending them utterly.
And each ends the same way, one moral growing clearer over time: "You cannot fight this. Violence does not end with violence." The final message being that faith — even in one's self — means accepting the impossible. This is both faith's trial and its gift, in one.
That's a hard pitch, and I respect Cates for not just telling it, but for telling it over and over. Each of his efforts finds new audiences, and he in turn finds new ways for his message to reach them.
I genuinely love this, and think that this, all by itself, is a reason to buy every story in this omnibus individually. That it's offered here in a collective format should be a no-brainer.
Only it's not.
Variations on a Pattern
Cates works hard to deliver enormous stories in small page counts. He does that remarkably well, turning out clean, five-issue arcs that feel as big as annual events. A perfect representation of what the Cosmic sub-genre can do. The author using smoke and mirrors to make his stage look much, much bigger than its hundred and twenty or so pages.
But something about the omnibus format ruins the illusion. Maybe it's the repeating pattern that forms when all of these stories are bound together. Maybe it's that smoke and mirrors work fine on one stage, but poorly on four. Whatever the cause, the effect is the same.
Readers who go right through are bound to notice the stagecraft. The frequency with which Cates uses the old "no one knows what happened next" trick, relying on mystery and possibility to build out more story than there is on-page. That's great for Thanos, but it's hard to hold onto through Inhumans.
It's especially a problem with this repeating tale of devastation he's telling. All of these stories are filled with razed planets, mass extinction, and slaughter, so there can be a little too much "nothing" to begin with. It's hard to have a big, expansive story when there are only a few people left in the entire universe. And harder still when you note that a lot is being left out.
Again, I think this is an unforeseen consequence of the format. But it's one I found palpable in this second reading.
Final Thoughts
Cates' love of comics is infectious, elevating his stories beyond their dark subject matter and towards something remarkable. In a way, this makes his work exactly like his beloved 90s influences. Only now they, like he, have had an opportunity to grow over time.
This omnibus is worth buying. But it's not worth reading like an omnibus. It's so much more than that. Cosmic stories are meant to deliver unbelievable notions that seem so much bigger than us. Like all things, accepting them means taking it all one eon at a time.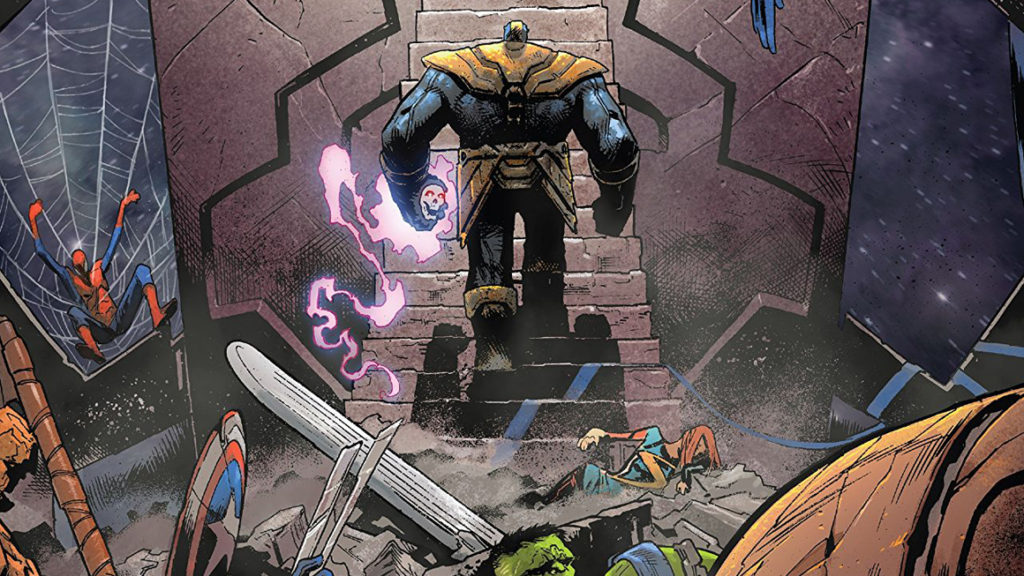 "Of course there is nothing the matter with the stars /
It is my emptiness among them"
— W. S. MERWIN

In the Winter of My Thirty-Eighth Year