Madelyne Pryor Reading Order
Most notably known for her role in "Inferno" (1989), Madelyne Pryor – the Goblin Queen – was first introduced in Uncanny X-Men #168 as a pilot that greatly resembled Jean Grey. She and Scott start dating and, soon, they marry and have a son, Nathan Christopher Charles Summers – aka Cable.
Below you'll find a brief history of Maddie, or skip ahead to the reading order to experience it all for the first time yourself!
Related Reading Orders:
Support For Comic Book Herald:
Comic Book Herald is reader-supported. When you buy through links on our site, we may earn a qualifying affiliate commission.
Comic Book Herald's reading orders and guides are also made possible by reader support on Patreon, and generous reader donations.
Any size contribution will help keep CBH alive and full of new comics guides and content. Support CBH on Patreon for exclusive rewards, or Donate here! Thank you for reading!
Scott starts mistreating Madelyne, abandons her, and joins Jean Grey in the newly formed X-Factor. After a while, the Marauders attacked Madelyne and kidnapped her baby. The X-Men start protecting her and she develops a romantic relationship with Havok, Scott's brother (the Summers family is a big mess, you'll get used to it).
Then "Inferno" begins. The demons N'astirh and S'ym contact Maddie, making her latent power awaken. Also, Mister Sinister tells her she is a clone of Jean Grey, which drives her crazy. She blames Jean and Scott for all her misery and decides to get revenge by sacrificing her son. At the end of the event, Madelyne attempts to kill herself and the heroes but ends up being the only one that dies.
Honestly, most of Maddie's stories after that could be better. She comes back in the series X-Man as a psionic shell unconsciously created by Nate Grey – an alternative version of Cable.
She also meets with her son Cable a few times; he refuses to stay by her side, but she still tries to explain herself and help him.
A few years later, she had a few appearances as the Red Queen of the Hellfire Club. She recently appeared again as the Goblin Queen in Hellions, a must-read if you like her. Also, she will battle Magik for the Throne of Limbo during the arc "The Labors of Magik" which begins in New Mutants #25 this April, 2022.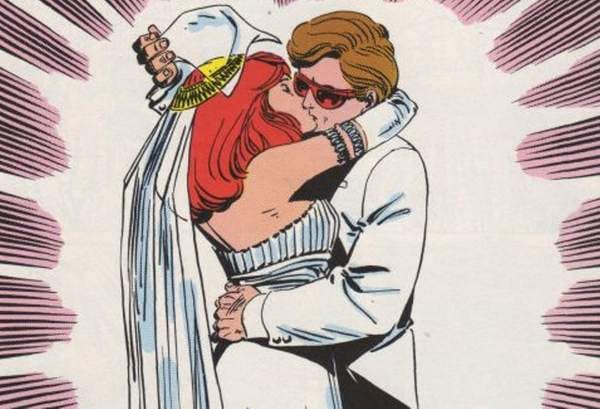 Madelyne and Scott
Collects: Uncanny X-Men #162-179; Annual #7; Marvel Graphic Novel #5
As she looks like Jean Grey, Scott is interested in Madelyne, and they started dating. Mysteriously, she doesn't remember much about her past; the last thing she remembers is a plane accident – in which she was the only survivor – that happened on the day Jean died.
Everything was going great; Scott quickly told her about his Mutant powers, which didn't bother Madelyne. He also presented her to his parents and the X-Men.
Their relationship starts going through some problems, though. Scott, for example, asks if Madelyne is the reincarnation of Jean Grey (she gives him a heck of a punch for that, well deserved if I may say). It was all Mastermind's plan; he manipulated Scott because he wanted Cyclops and the X-Men to believe the Phoenix was back so they would kill her, and they almost did, but Madelyne managed to survive. In the end, she and Scott married and went off on a honeymoon trip.
The Madelyne Pryor Cut (every comic she's in): Uncanny X-Men #168-171, #173-176.
Collects: Uncanny X-Men #180-198; Annual #8; X-Men/Alpha Flight #1-2
Madelyne is concerned by Scott's missions with the X-Men. She still lets him help, but she says he has a family now, and he has to sacrifice some things to make it work – as she gave up on being a pilot to be with him.
During the X-Men/Alpha Flight crossover, Madelyne is given mystical healing powers by Loki. But she finds out the power is deeply flawed, so she denies it. During the story, Madelyne tells for the first time that she's pregnant.
The Madelyne Pryor Cut: Uncanny X-Men #181, #185, X-Men/Alpha Flight #1-2, Uncanny X-Men #197.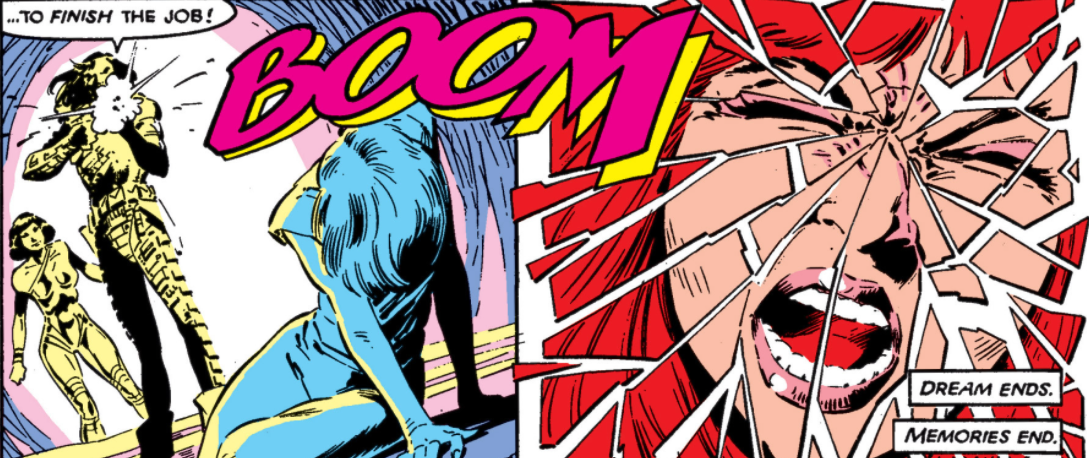 Madelyne and the X-Men
Scott starts acting coldly towards Madelyne, even to the point that he abandons her when he finds out Jean Grey is alive. They only meet again in the "Inferno" event.
So, after being attacked by the Marauders, Madelyne decided to stay with the X-Men, and there she developed feelings for Alex Summers, aka Havok.
Collects: Uncanny X-Men #199-213; New Mutants Special Edition (1985) #1; Uncanny X-Men Annual #9; X-Factor #9-11; New Mutants #46; Thor #373-374; Power Pack #27
Scott goes on a mission and Madelyne wonders if they'll ever get to be happy again, 'cause the shadow of Jean Grey seems to always be looming close. Even after the mission, Cyclops doesn't call Madelyne even a single time – different from some X-Men members like Storm, Nightcrawler, and Kate Pryde that call almost every day.
While Madelyne is alone, she gives birth to her son; thankfully, she reached a hospital and everything went fine. But she's pissed with Cyclops, who only chooses to go with her and the baby because he lost a duel that decided who would be the next leader of the X-Men.
After a while, Madelyne is admitted to a hospital badly hurt.
The Madelyne Pryor Cut: Uncanny X-Men Annual #9, Uncanny X-Men #200-201, #206.
Collects: X-Factor #1-16; X-Factor Annual #1; Avengers #263; Fantastic Four #286; Thor #373-374
Scott and Madelyne's relationship is reaching its breaking point, they can't agree on anything and both are unhappy with their situations. Scott receives a call from Warren and says he has to go, but Madelyne tells him – if he goes – he shouldn't bother coming back, but he still leaves. Later we find out the call was about Jean Grey being alive, something Maddie will take a long time to discover.
Madelyne only appears during X-Factor #1, but she's mentioned a few times (if you want to get even angrier at Scott, read chapter #8, omg).
Collects: Uncanny X-Men #214-228; Annual #10-11; And Fantastic Four Vs. The X-Men #1-4.
Madelyne remembers the plane crash and, when she wakes up, she realizes the Marauders have captured her. Greycrow shoots her and leaves her in an alley; she survives, though, and is taken to a hospital. But her baby wasn't so lucky, as the Marauders still had him.
The Marauders go to the hospital to finish their mission, but the X-Men come and save Madelyne. Later, she is at the top of a cliff remembering her life and that every proof she exists mysteriously disappeared, and – when he is thinking of jumping off – Havok sees her and convinces her otherwise; they start bonding over their struggles.
During the "Fall of Mutants" arc, the X-Men and Madelyne go to Dallas and suddenly see themselves in the middle of a strange mystical incident. At the end of it, they have to sacrifice themselves to save everyone, but before that, Madelyne sends Scott a message. The goddess Roma appears and brings them back to life.
The Madelyne Pryor Cut: Uncanny X-Men #215, #221-227.

The Goblin Queen
If you have been liking Madelyne Pryor, you'll love "Inferno". It's a character-defining event for her and the most know story of the character. It develops her struggles, backstory, and personality.
I'm only going to focus on the stories important for Madelyne, but it's a pretty big event, even having the participation of characters like the Spider-Man. If you want to see more, check out our X-Men: Inferno Reading Order.
X-Men: Inferno Prologue Omnibus
Collects: X-Factor (1986) #27-32 And Annual #3; Uncanny X-Men (1981) #228-238; New Mutants (1983) #62-70 And Annual #4; X-Men Annual (1970) #12; material from Marvel Age Annual #4 And Marvel Fanfare (1982) #40
This whole volume sets the stage for the "Inferno" event, but the must-read comics are within the Uncanny X-Men issues.
Madelyne tries to have a more active role on the team by acting as their tech whiz. While she's messing with the TV, she sees Scott and Jean Grey together and – out of anger – punches the screen, which explodes and knocks her out. Chapter #233 is easily one of my favorite Madelyne Pryor issues, she dreams of being free and independent, but it quickly turns into a nightmare in which Jean Grey takes everything from her.
Inside the nightmare, Madelyne has her first contact with the demon S'ym and we are shown her Goblin Queen outfit for the first time.
Madelyne and her friend are kidnapped and taken to Genosha; the demon N'astirh tries to talk to her, but she says he should try later. The doctor can't tell if she's human or mutant. She kills the Magistrates and mentally attacks Dr. Moreau, but loses the memory of doing it. By the end of the volume, she kisses Havok.
The Madelyne Pryor Cut: Uncanny X-Men #229-238.
Collects: X-Terminators 1-4; Uncanny X-Men (1981) 239-243; X-Factor (1986) 35-39; New Mutants (1983) 71-73
Everything has been building up to this. Madelyne meets Mister Sinister and finally learns her true origin; she is Jean's clone. Showing her true power as the Goblin Queen, she defeats Sinister and goes after her son, Nathan.
The city and the people start to be manipulated and changed by demonic influence. It results in a battle between the affected X-Men and the X-Factor, that win the fight and manage to save the other mutants, but, even without the demon influence, Havok still sides with Madelyne.
After the death of N'astirh, the incident culminated in a battle between Madelyne and Jean. The Goblin Queen unleashes a psionic attack intended to destroy herself and her opponents, but as they protect each other, Madelyne is the only one who suffers, ultimately dying.
The Madelyne Pryor Cut: Uncanny X-Men #239-241, Excalibur #6, X-Factor #37, Uncanny X-Men #242, X-Factor #38, Uncanny X-Men #243.

Madelyne… Is a Ghost Now?
It's difficult to say, but in this section, what's done with Madelyne is not the best and honestly can be ignored. If you only want the best of the bunch, stick with her appearances in the Cable solo run. But if you want to know everything, come with me.
X-Man: The Man Who Fell To Earth
Collects: X-Man #5-14, Excalibur (1988) #95 and Cable (1993) #29-31
An amnesiac Madelyne Pryor appears to help Nate Grey but ends up abandoning him to stay with Selene, the black queen, because she says she knows who Madelyne is. After a while, she starts to realize she might not be a normal human being.
The Madelyne Pryor Cut: X-Man #6-7, #13-14.
Collects: X-Men (1991) #50, Uncanny X-Men #333, X-Man #15-17 and Cable (1993) #32-33
Madelyne still is trying to understand who she is.
The Madelyne Cut: X-Man #15-16.
Collects: X-Man #20-29, Annual '96 & Amazing Spider-Man #420
Madelyne meets Sebastian Shawn and proves herself to him, turning herself into the new Black Rook of the Hellfire Cult. Madelyne finds out who she is and goes after Nate, meeting his girlfriend at the moment, Threnody, first. They fight and Maddie kills her out of anger when she reveals that Madelyne still is dead.
Later, Madelyne meets Nate and they kiss (I know he isn't her son, but he still is a version of Cable, so we have to agree it's really weird, okay?). Then it's revealed that she is a psionic shell of her former self, created by Nate; he tries to absorb her, but she became independent, so he can't. Madelyne returns to Sebastian Shaw.
The Madelyne Pryor Cut: X-Man #20-23, Annual '96, X-Man #24-25, #28-29.
Cable #44 (Sins of the Mother, June 1997)
Collects: Cable #44: Sins of the Mother.
It's the first time Cable and his mom meet. She explains her whole story to him, but he still doesn't want to be with her. If needed, he says they can meet at their house from when he was a child, the only peaceful place for both of them.
Collects: Cable (1993) #-1, 48-58; Cable & Machine Man Annual 1998; Machine Man & Bastion Annual 1998; Wolverine/Cable #1
Madelyne appears to warn Cable he has to stop Sebastian Shaw.
The Madelyne Pryor Cut: Cable #48, #50.
Collects: Cable (1993) #59-70, Annual '99; X-Man #45-47
Madelyne helps in the fight.
The Madelyne Pryor Cut: Cable #63, X-Man #45-47.
X-Men Vs. Apocalypse Vol. 1: The Twelve
Collects: Uncanny X-Men #376-377, Cable #73-76, X-Men #96-97, Wolverine #145-147 and material from X-Man #59
Madelyne gives Cable a chance to escape Apocalypse and be with her, but he refuses.
The Madelyne Pryor Cut: Cable #76.
Uncanny X-Men: Divided We Stand
Collects: Uncanny X-Men #495-499
She doesn't show who she is, but Madelyne appears in Uncanny X-Men #499 trying to form the Sisterhood.
Uncanny X-Men: The Complete Collection by Matt Fraction Vol. 1
Collects: Uncanny X-Men (1963) #500-511, Uncanny X-Men Annual (2006) #2 and material from X-Men Unlimited (2004) #9 and X-Men: Divided We Stand #1.
Madelyne is back as the new Red Queen. She is using Empath and an anti-mutant faction to fight the X-Men. Later, it's revealed that she still is a ghost and is planning to use the Sisterhood to reach Jean Grey's body and use it to be resurrected, but she is stopped before she can find it.
The Madelyne Pryor Cut: Uncanny X-Men #501-504, #508-511
Collects: X-Men (2013) #7-12
In issue #12, Madelyne is resurrected. Storm is only after Lady Deathstrike, so she lets Madelyne and Selene escape without a fight.
A Second Chance in Krakoa
During the Krakoa Era – as resurrection is possible – came one question no one was sure how to answer: are clones their own person? As Maddie is a clone of Jean Grey, she's caught in the middle of the discussion. If you want to know more about the development of the story or this era, give our Krakoa Era X-Men Reading Order a chance.
Collects: Hellions #1-6
Empath, Psylocke (Kwannon), Havok, Wild Child, Greycrow, Nanny, and the Orphan-Maker are Sent on a mission to destroy Mister Sinister's clone lab. Little did they know, Madelyne was there controlling what was left of the old Marauders.
In my opinion, if you like the character, you can't miss her moments in this run, mainly the ones with Havok, they are amazing.
The Madelyne Pryor Cut: Hellions #1-4
Collects: Hellions #13-18
In the last chapter, it's revealed that she was resurrected and still is the Goblin Queen, obviously something that will be important for her battle against Magik in New Mutants this April.