Writer Jonathan Hickman's return to Marvel Comics with the two-series X-Men event House of X and Powers of X is the most discussed series in superhero comics this year (and then some). The passion and theorizing around these transformative comics is like nothing I've seen in fandom, and so far, it's bringing all the best aspects of loving superhero comics to the forefront.
While I'd agree these are compelling entry points into the world of X-Men, I also see dense, multi-layered stories full of references that newer or lapsed readers might not follow. Or even references that longtime readers may have simply forgotten (I know I've had plenty of those recently with Grant Morrison and Liam Sharp's hyper-referential The Green Lantern
).
[Spoilers for House of X and Powers of X may follow!!!]
In order to help with some of this history or background, no matter how seemingly tangential, I've put together a list of references, easter eggs, and hidden gems that caught my eye while reading. I should be clear here that there are probably a lot more than just the ones I noticed, and I'm sure X-Men fans everywhere are going deep on every facet of this text as we speak! For the most part, all the background reading and comics I'll talk about are covered in the linked reading orders below.
Related Reading Orders:
Support For Comic Book Herald:
Comic Book Herald is reader-supported. When you buy through links on our site, we may earn a qualifying affiliate commission.
Comic Book Herald's reading orders and guides are also made possible by reader support on Patreon, and generous reader donations.
Any size contribution will help keep CBH alive and full of new comics guides and content. Support CBH on Patreon for exclusive rewards, or Donate here! Thank you for reading!
Jonathan Hickman's Marvel Universe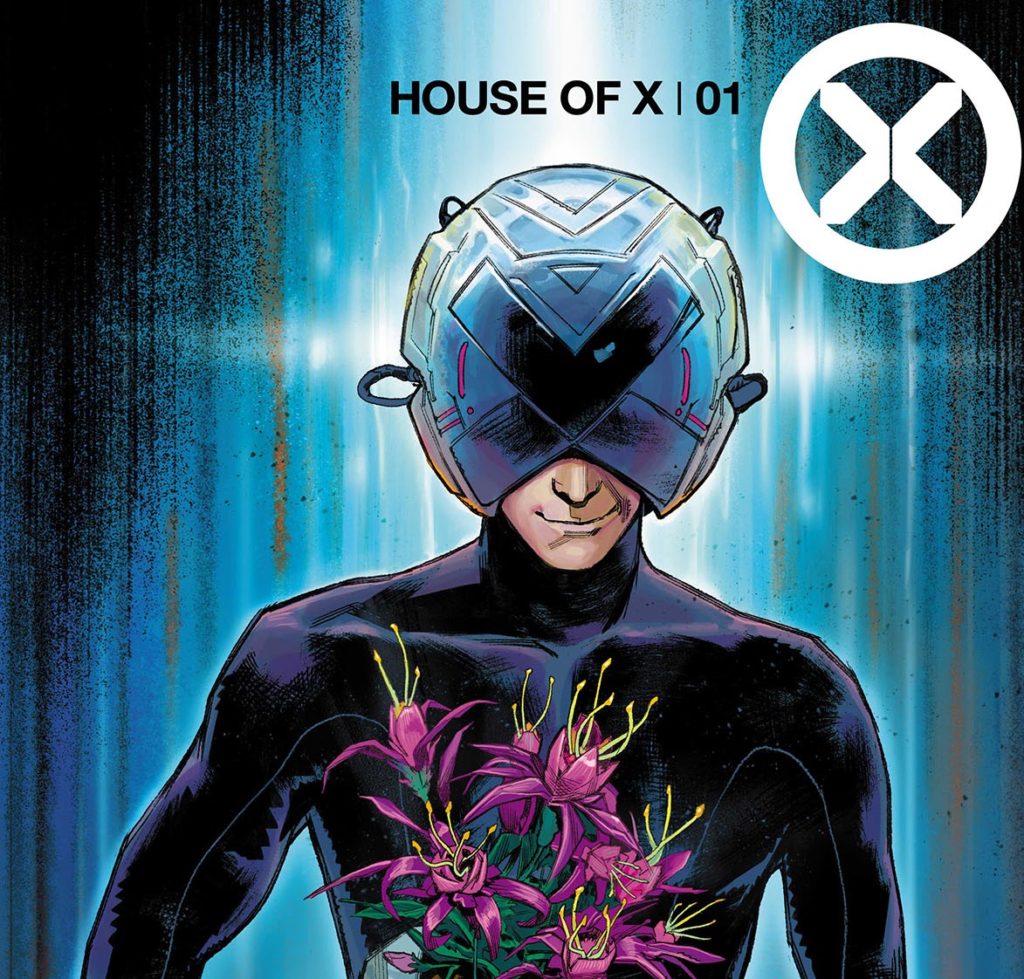 Cerebra
Since it's on Professor X's head all day long, it seems relevant to note Cerebra is an enhanced version of mutant-detecting Cerebro, created by Charles Xavier and Hank McKoy. Design-wise, Frank Quitely's rendition created a helmet that places an X squarely across the user's eyeline (unlike the past bucket-helmet of Cerebro).
The design and naming are all Morrison and Quitely, which is clearly the key reference point for Hickman's take on X-Men.
I'd be remiss here not to also mention that this version of Cerebra distinctly creates allusions to The Maker, Jonathan Hickman's interpretation of Ultimate Universe Reed Richards following the events of Ultimate Enemy. The Maker notoriously likes to wear very similar headgear, and while it wouldn't seem like a particularly worthy twist to reveal this "Professor" is just scheming Ultimate Reed, the connections don't feel accidental.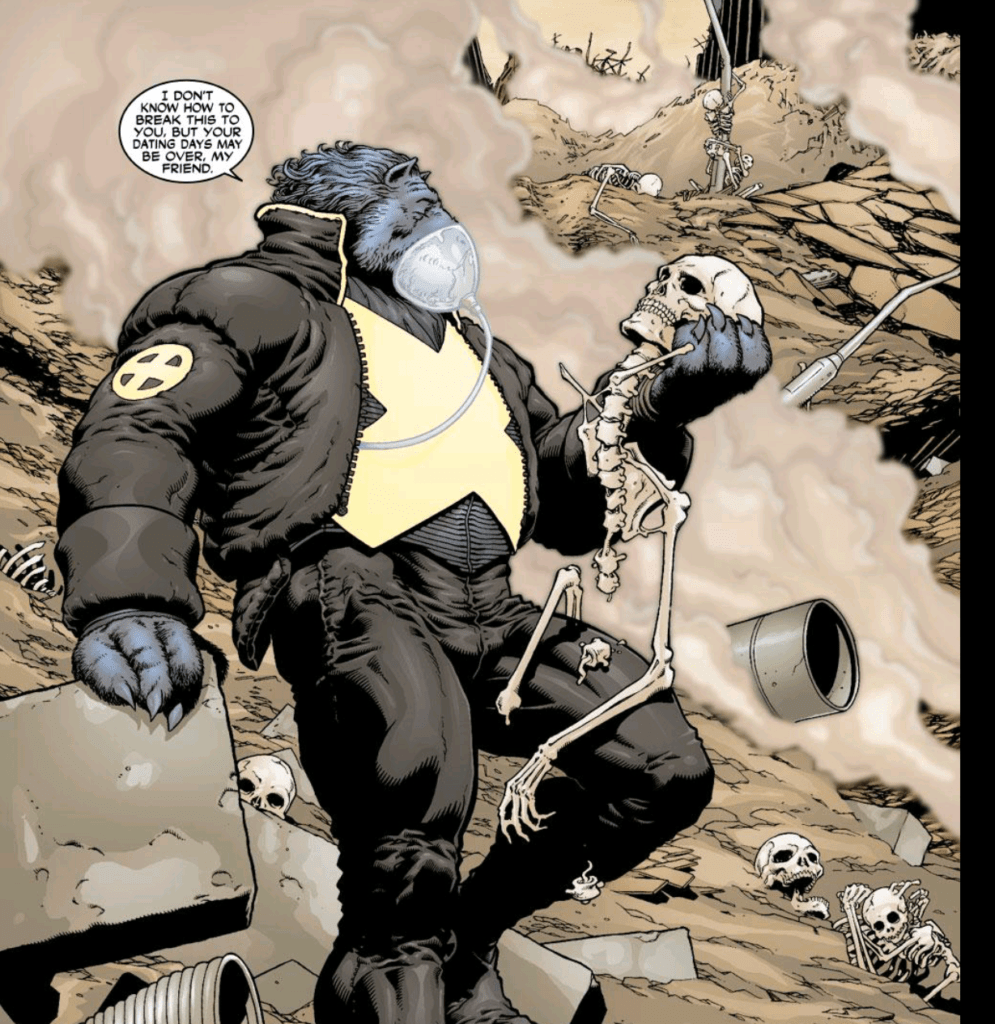 The Genosha Event
While we're on the topic of New X-Men (and I'll reiterate here there are clearly strong reasons I included the series on my "road to" House of X guide), there have been multiple references to a historic incident in Genosha. For the unfamiliar this is a reference to the "E is for Extinction" story arc that kicked off the series in New X-Men #114 to #116.
Intriguingly, this event is much closer to "recent" X-Men history than I would have guessed, considering it was published in 2001. But, as you'll see from "The Moira Timeline" section below, Hickman's X-Men universe has genocide at Genosha a mere two years prior to kicking off House of X (this may, of course, mean an earlier point in time than what we've seen in House of X #1).
Long story short – and you should really read it! – 16 million mutants are exterminated by sentinels (at the behest of scheming Cassandra Nova) on the island of Genosha. Apparent casualties include Magneto and Negasonic Teenage Warhead, and survivors include Unus the Untouchable, Emma Frost, and that's about it.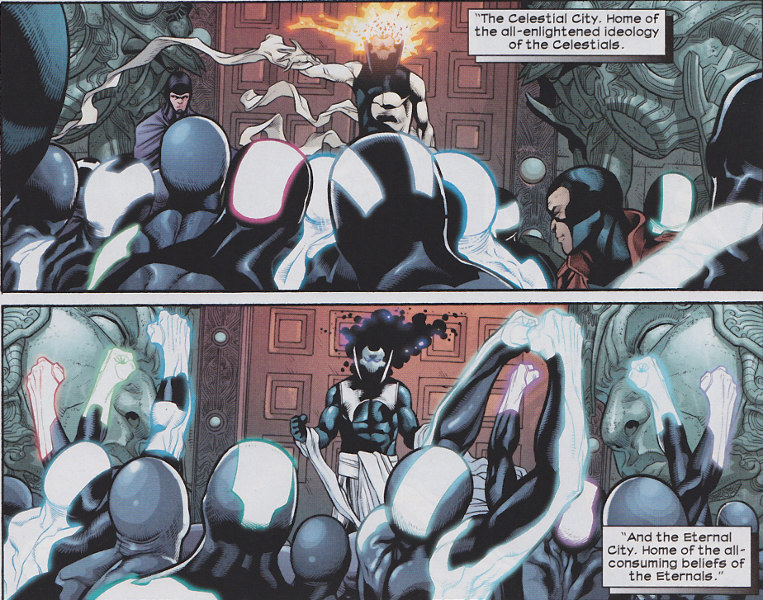 Xorn & Zorn
This one's complicated!!!
Xorn is a creation from the Morrison New X-Men run, but the twins Xorn and Zorn are an expansion from Jonathan Hickman's work writing in the Marvel Ultimate Universe, debuting in Ultimate Hawkeye
and playing a role through his run on the Ultimates
.
Hickman's take on Ultimate Xorn and Zorn is pretty damn *out there* even for him. The hyper-powered brothers each reside over twin capital cities in Asia, with a collective of followers known as the People. Xorn leads a group called the Celestials and Zorn leads a group called the Eternals, which to be clear, are not very much like the Celestials and Eternals everybody's getting excited for in the MCU's Eternals (and the original Jack Kirby creations).
Xorn and Zorn's safehaven in the Ultimate Universe is known as Tian, which offers refuge from government interference. When threatened in the pages of Ultimate Hawkeye, Zorn beats up Ultimate Hulk, which is a pretty good indicator of the duo's capabilities. I'm pretty surprised "Tian" wasn't a listed habitat on the map of Krakoa from House of X #1, but perhaps will get a similar idea under a different name.
A minor connection that I like to mention here merely because I remember: This isn't the first time Hickman's brought back Xorn! One of the multiversal incursions during New Avengers featured the villainous cabal mocking an alternate reality Professor X with the skulls of an apparently deceased Xorn.
Questions that arise from the House of X return: We know plenty of elements from the Ultimate Universe have made over to Earth-616 (Miles Morales and Jimmy Hudson come to mind) but does this mean Xorn and Zorn have been around the whole time?
Given Hickman's reverence for New X-Men, I'd be shocked if Xorn and Zorn don't have more of a role to play in the extended run.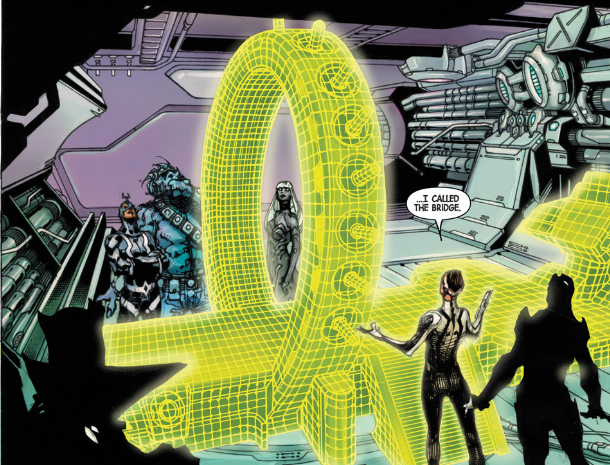 The Bridge
The next five items all stem from the data table outlining assets Damage Control has seized, and all call back to Hickman's previous Marvel Universe writing either in the pages of Fantastic Four
 or New Avengers
. I'm going to shuffle the technology into the relative order it appeared because there's actually connective tissue as we go.
Hickman's very first Fantastic Four story arc in "Dark Reign: Fantastic Four #1 to #5" is called "The Bridge." The device itself is created by Reed Richards to view or travel to alternate realities. Ostensibly the idea is that if we can see how problems were dealt with in other realities, we can apply those learnings to our own.
In New Avengers, the Illuminati use Reed's Bridge to watch incursions and eavesdrop on alternate universes.
Antiproton Sling
In the very first issue of New Avengers by Hickman and Mike Deodato, Black Panther encounters a character we'll come to know as Black Swan as she destroys an entire multiveral Earth before hopping to Earth-616. T'Challa and Reed Richards will uncover what they call an "antiproton sling" which fires an anti-matter bomb powerful enough to kill planets.
In New Avengers #4, T'Challa and Reed reveal to Tony Stark that they've begun mass manufacturing this reverse-engineered technology. Adorably/horrifyingly, the biggest hang-up the Illuminati have about the bombs at this point is whether T'Challa or Reed's design sense is more on point. Much later, Thanos will discover this stockade, and act genuinely impressed!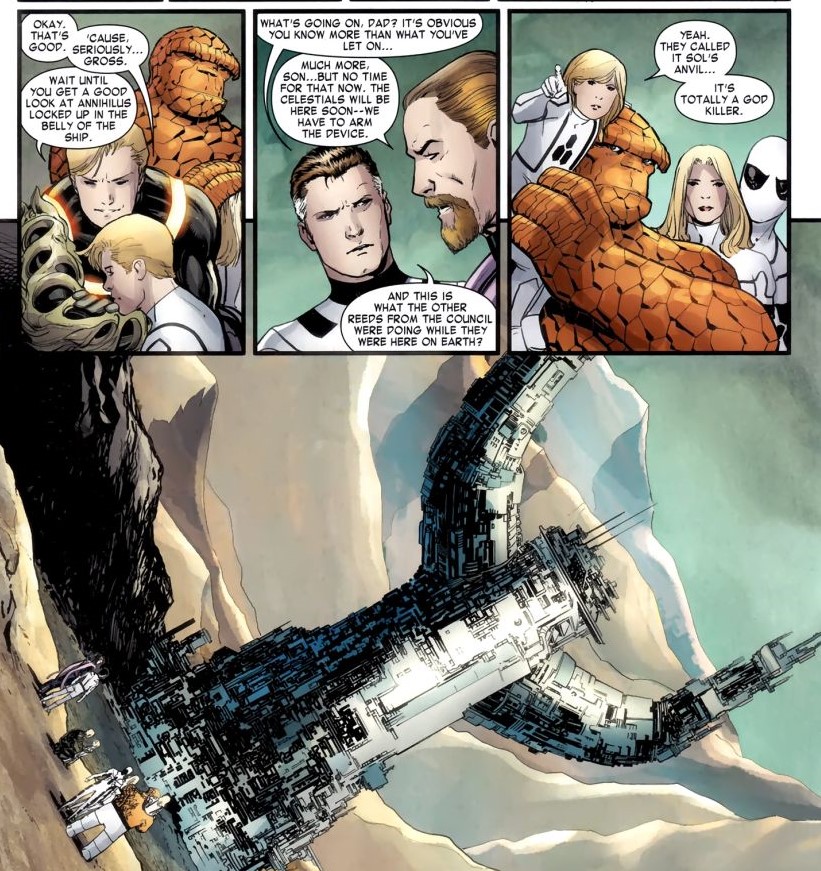 Sol's Anvil
Used by the council of interdimensional Reeds (aka probably still my favorite idea Hickman's delivered) to crush gods. The device (which looks an awful lot like DC's Crisis tuning fork) first appeared in FF #3, and I believe is rumored to have killed a Beyonder.
As you've seen, this means Damage Control – and the shadowly governmental/spy agencies that may control them, or have access to them – has immensely powerful technology in their possession. I haven't seen a ton of Damage Control in the MU lately, but I don't feel the best about a company originally part-owned by Wilson Fisk (aka the Kingpin) holding the locks on these gizmos.
This also means that all of Hickman's Avengers build to Secret Wars remains very much a part of House of X and Marvel Universe continuity. I'll admit to some confusion about the post Secret Wars state of events, and how much of Hickman's "Time Runs Out" might make it through to House of X (for example, did Stark actually use the Dyson Sphere in this timeline?). I'm looking forward to the answers (or just you all correcting me and telling me here!).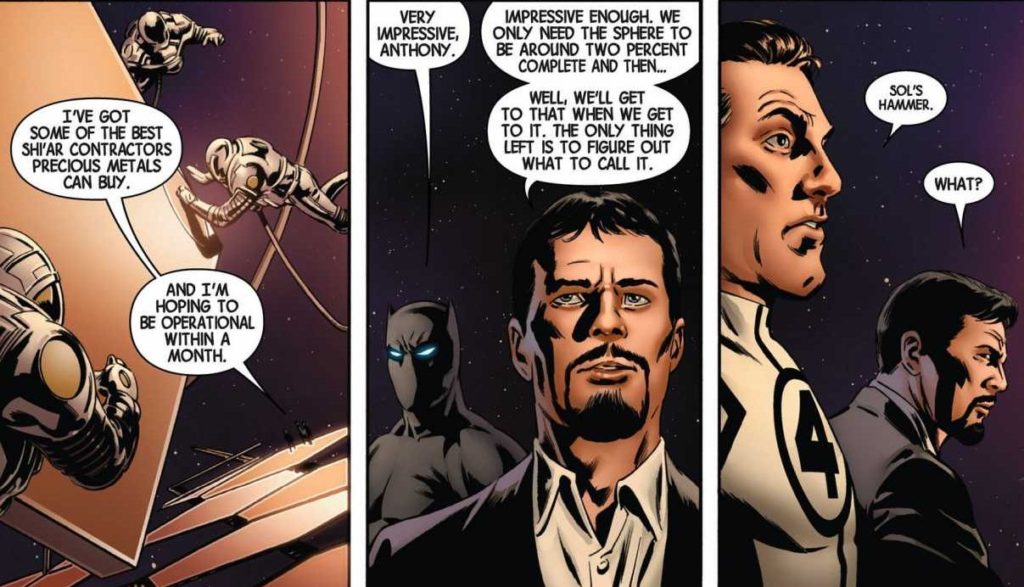 Sol's Hammer
Sol's Hammer is a Dyson Sphere – a hypothetical megastructure that completely encompasses a star and captures a large percentage of its power output – built by Tony Stark, Reed Richards, and T'Challa (but… mostly Stark) in New Avengers as a failsafe against multiversal incursions. The proposal for the weapon first appeared in New Avengers #4.
During a stretch of the Avengers "Time Runs Out" arc that overlaps with the brief period in Marvel history where the events of Axis made Tony Stark the worst possible version of himself (see Superior Iron Man
), Tony used the hammer to destroy Shi'ar fleets to prevent them from destroying Earth.
Multiversal Beacon
From the pages of Fantastic Four, this is another Reed Richards invention used to communicate across universes.
This one gets used in a variety of seemingly innocuous ways. One of the most memorable for me is via Captain Britain in the pages of New Avengers during the build to Secret Wars (2015).

Mister M
The majority of omega level mutants will be contextually familiar to even casual X-fans, but boy oh boy is Mister M a deep cut for this chart of all-powerful mutants. The character debuted in the 2004 District X series, and played a light role during Decimation-era X-Men.
Intriguingly, Hickman and company aren't asserting anything particularly new with Mister M's status as an omega level mutant. He actually seems like the sort of character Hickman might have a lot of fun with given his relative obscurity to date, and his monochromatic color scheme.
Speaking of fun, Mister M brings to mind Secret Wars all-time great Molecule Man, although replace the self-doubt and nervous energy with nebulous intentions and enigmatic dialogue.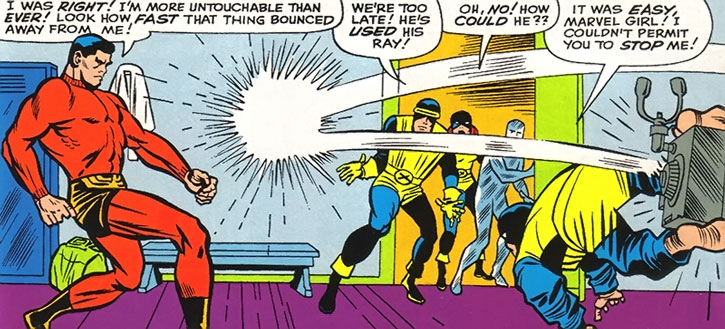 Gunther Bain
In Powers of X #1 there's a DNA chart of Rasputin meant to illustrate the character's powerset and the mutants Mister Sinister drew upon in creating her. The name "Bain" stood out to me, as it was the only one I couldn't pinpoint from memory.
As it turns out, Gunther Bain is the given name of Unus the Untouchable.
I just love the detail of Bain mixed in the DNA with very recognizable mutants, and with his forcefield powers being applied here. I'll admit I never in my life knew Unus as anything other than Unus, and while I was content to keep it that way, Gunther gets his due!
[Spoilers below for House of X #2 – Run Away if you haven't read!!!]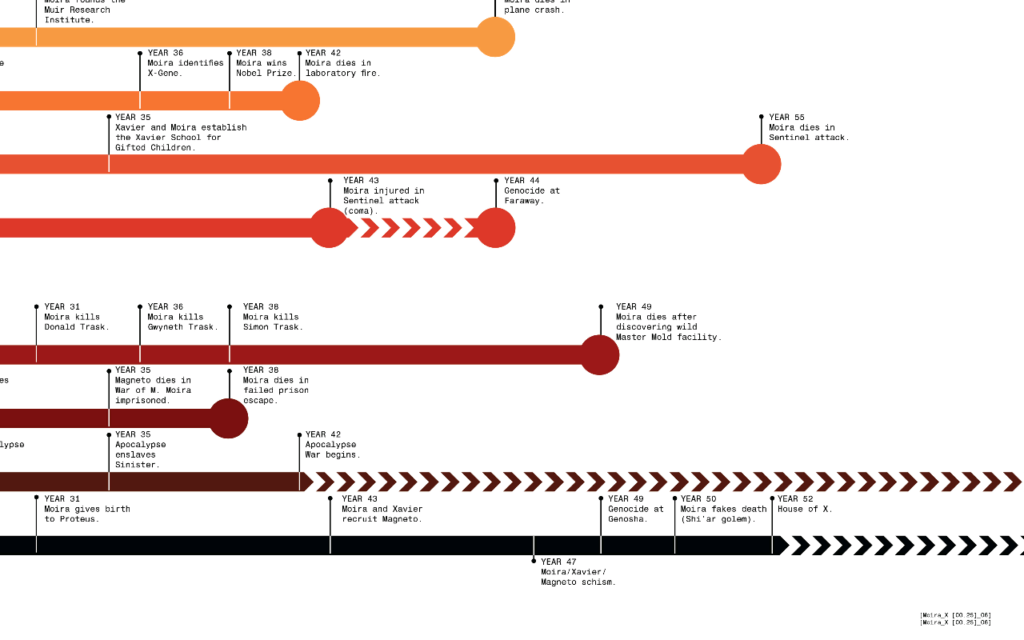 The Moira Timeline
There's approximately 10 lifetimes worth of detail to unpack from House of X #2 and "The Uncanny Life of Moira X." Nonetheless, my primary focus for this first deep dive is the (apparent) House of X timeline of events focused on comic book events in the 2000's.
Year 49 – Moira fakes death (Shi'ar golem)
For the observant readers, I've flipped the items associated with Year 49 and Year 50 as published per Jonathan Hickman's own acknowledgement that this timeline order was an error.
Once adjusted, this still leaves the major question: Wait, what is this referring to?!
The most likely interpretation is that the death of Moira MacTaggert in X-Men #108 still happened in this timeline, except that wasn't actually Moira who died, but instead a Shi'ar Golem. You know, Shi'ar Golems, those extremely common figures in X-Men comics?
Yeah, I have no idea either, so there may be more to come on that front! The intent here, though, is to rewrite X-Men history so that the real Moira did not actually die in X-Men #108, and has instead been in the Marvel Universe ever since.
In an interesting bit of potential coincidence, X-Men #108 features art by Leinil Francis Yu, who will begin as the artist alongside Jonathan Hickman on X-Men #1 following the conclusion of House of X.
Year 50 – Genocide at Genosha
As mentioned above in the "Genosha event," this is the "E is for Extinction" arc of New X-Men. House of X #2 issue also pulls directly from the scene in New X-Men where Professor X announces to the world that he's a mutant.
This is a big capital "M" Moment in Moira's life (err, one of them), and also contextualizes how long the world has had mass awareness of mutants in the Marvel Universe.
Year 52 – House of X
And here we are.
The biggest takeaway from this timing – for me at least – is that in Hickman's X-Men, the gap between Morrison and his House of X is a mere two years in Marvel time! It's unclear – at least to me – what this means for 2004 to 2019 events like Messiah CompleX, Avengers vs. X-Men, or even the entire Brian Michael Bendis X-Men concentrating on the time-displaced original X-Men.
My guess at this time is that Hickman and Marvel editorial will not explicitly do away with many – if any – of the X-men stories from this time period. As we all know, comic book "time" is a wishy-washy wibbly-wobbly thing, and two years Marvel time can hold any number of stories and events. Best case scenario the X-Men does away with "The Draco
" as part of this timeline, but I'm not expecting as much.
The real meta-take, though, is that Hickman wants to put as little distance between himself and Morrison as possible. This is not in any way surprising, as New X-Men is time and again proving itself as the alpha and omega of reference points for this story.