Ask any comic book fan worth their weight in longboxes about "definitive runs" and you will undoubtedly get a list of heavy-hitting collections that they can rattle off in their sleep. It's sure to include such obvious gold standards as Chris Claremont's marathon work on X-Men, Alan Moore's Swamp Thing, and the solo writer-artist breakouts of Frank Miller (Daredevil) and Walt Simonson (Thor).
Essentially, it's a pretty tight club and it doesn't seem like they take a lot of new members. To be fair, it's not everyday you get to see that sort of endeavor. However, Kelly Sue DeConnick's Captain Marvel makes a very strong case to be recognized as a worthy modern day addition.

Related Reading Orders:
Make no mistake, DeConnick's multi-volume effort from 2012 to 2015 isn't "airtight" or "bulletproof" by any means, but for all its occasional faults, stumbles and event hijackings, it more than makes up for it in heart and moxie. More than that, it seems through some kind of infectious perseverance to have transformed an oft-overlooked character into a legit cultural phenomenon.
Residing firmly in the LL Cool J "Don't Call It a Comeback, I've Been Here for Years" category is Lieutenant Carol Susan Jane Danvers. Although she's better known these days as the eponymous Captain Marvel, holy Kracklin' Kirby- what a half-century it was getting her to where she is now!
Support For Comic Book Herald:
Comic Book Herald is reader-supported. When you buy through links on our site, we may earn a qualifying affiliate commission.
Comic Book Herald's reading orders and guides are also made possible by reader support on Patreon, and generous reader donations.
Any size contribution will help keep CBH alive and full of new comics guides and content. Support CBH on Patreon for exclusive rewards, or Donate here! Thank you for reading!
Carol debuted in the 1960s Marvel Super-Heroes anthology series as a support character in Roy Thomas and Gene Colan's "Captain Marvel" feature, acting as a military liaison to the Kree alien Mar-Vell in his guise as Dr. Walter Lawson. Springboarding into an ongoing title, Carol continued on in Mar-Vell's adventures. Eventually, this close proximity to super-hero shenanigans leads to Carol getting powers of her own.
Staking her identity as the adjunct "Ms. Marvel", Carol gets her own series in the late 1970s. Despite being largely helmed by Chris Claremont and his X-Men artist cohort, Dave Cockrum, it's relatively short-lived. Concurrently, Carol's profile is upped as she's regularly seen in Avengers. Unfortunately, things don't exactly go well for her there as well either (putting it mildly…).
By the early 80s, it seems no one knew what to do with the character- except Claremont, who temporarily depowers her only to then give Carol even crazier omega-level space powers and a new name: "Binary". He then ships her off with ancillary X-Men guest players, the Starjammers. So, see ya once every couple of years when there's a deep space story, m'kay?
Fast-forward to the late 90s where Kurt Busiek brings her back to Avengers, dials her powers back and gives her yet another name: "Warbird". However, Busiek seems more interested in using Carol as a plot device in his Iron Man dealings and once he is off the books, Danvers is once again on the periphery.
Brian Michael Bendis comes in next, making better attempts to raise Carol's prominence. The reality warp of the House of M event series serves as a wake-up call with Danvers re-cast as the world's premiere super hero. Reinvigorated to be "the best of the best", Carol reclaims her "Ms. Marvel" moniker and once again features in her own title.
While Brian Reed's 2000s Ms. Marvel is admirable and charming, it also has trouble standing on its own. When not playing too much on the "greatest hits" of Carol's history, the only real advancement is in service of whatever event or "thematic banner" the book is supposed to perpetuate at any given moment- be it Civil War, Secret Invasion, "The Initiative" or "Dark Reign". Ironically, this sort of constant unsure footing does it in as well- Carol herself edged out of starring in her own title by super-villain Moonstone, parading around as one of Norman Osborn's ersatz Dark Avengers.
All of this is to say, that despite this involved history of attempts, nothing really had traction until only just a handful of years ago. It seems Marvel wanted to give Carol the "Captain Marvel" name by the end of the last run but didn't really know how to position it until the Avengers vs. X-Men event. In it, Carol encounters the Phoenix Force-animated zombie body of Mar-Vell, has an epiphany, and firmly takes hold of her rightful legacy.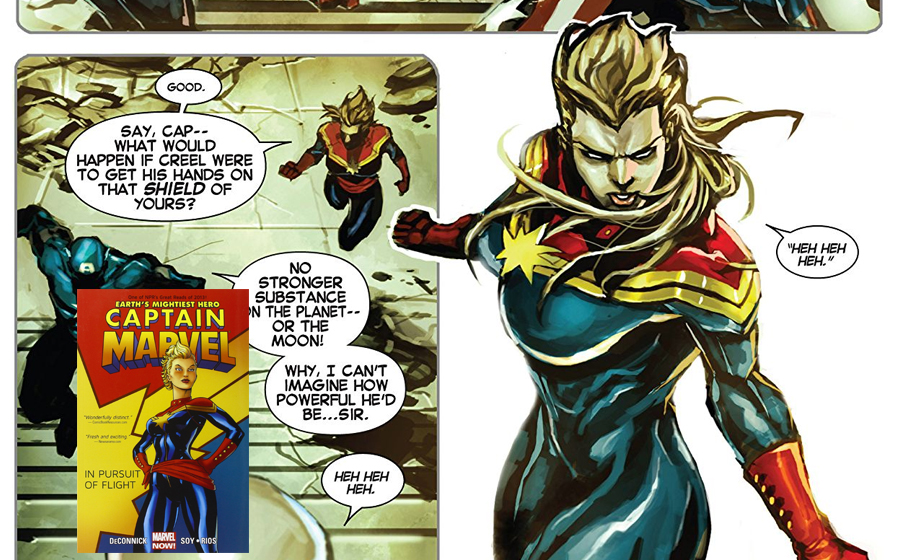 It also helps that the combination of right writer, right pitch, right editorial staff, right time was perfectly poised on deck to take it from there in a new ongoing.
Although at the time not possessing a ton of title credentials to her name, Captain Marvel seems to be the character Kelly Sue DeConnick was born to write- as her personal experience oddly mirrors a lot of the aspects of Carol's background, serendipitously feeding into the old axiom "write from what you know." As a "military brat," DeConnick could lend first-hand clout to life on an Air Force base. Also, and perhaps most novelly, this would also be the first time the character has been (wait for it)… written by a woman!  (Shocking, isn't it?)
Yes, who knew letting a woman write about arguably the most powerful female hero ever- the one with the publisher's frikkin' name in her codename- would yield unbridled amounts of legitimacy and gravitas?! (Again, shocking, right?)
It also doesn't hurt that the DeConnick-era Captain Marvel also comes with pithy little mantra: "Higher. Faster. Further. More." Not only does it serve as a bullet-point mission statement and testimony to the experience, it's also the name of one of the trade collections.
That's not to say DeConnick's work is a hard departure from all that's come before, in fact it wholly owns Carol's past. But while previous creators chose to play up nostalgia elements for what amounts to their own self-serving ends, Kelly Sue embraces it all with a wink and puts it all in the rearview- because it is very much all about the empowerment of the current moment. Carol is Captain Marvel now. There is no going back.
It's not total smooth sailing for thirty-something issues, though, as there are periodic hiccups. The first volume sees a great deal of artist turnover, with initial artist Dexter Soy taking off after only the first handful of issues. The 2014 follow-up relaunch sees a more consistent visual with regular artist David Lopez, with physical, expressive comedy becoming more common in the storytelling.
The unavoidable tie-ins also dampen the enjoyability a bit. While kudos should go to DeConnick for successfully solo-penning an inter-title crossover, if you aren't following The Enemy Within in its entirety, the CM chapters by themselves probably won't cut it. Furthermore, significant ramifications of this Carol-centric story aren't even satisfactorily unpacked before the title is caught up in Jonathan Hickman's Infinity event.
Miraculously, KSD also navigates her way through the pass-the-baton-fest of Guardians of the Galaxy and X-Men: Black Vortex, supplying Chapter 11 of a 13-part story. Again, you will not be able to even come close to grasping the full scope of the story from just this one isolated portion but props for not losing sight of who your protagonist is in such an overcrowded playing field.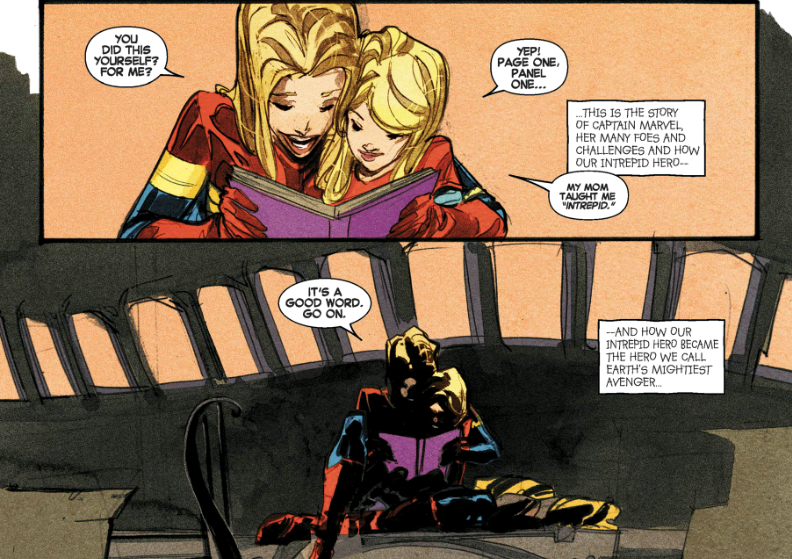 For a bunch of stories about flying and planes, it's appropriate that what this run does best is make very solid landings. Here's maybe a good thing about the "reboot every year or so with a new number 1" way of doing business: you get multiple shots at great endcap stories. And that's what happens here.
For all the fantastic-ness and super-powers, those stories in particular really hit ya in the feels and resonate with that deeper humanity within. Most importantly, they're also celebrations of our humanity and our mortality and maybe help make things just a little bit brighter. There's no visceral angst or deep philosophical pontifications- it's just affirming. And a little positivity is something not to be discounted. If that's a tenet of the "Carol Corps", well then, Make Mine Marvel!