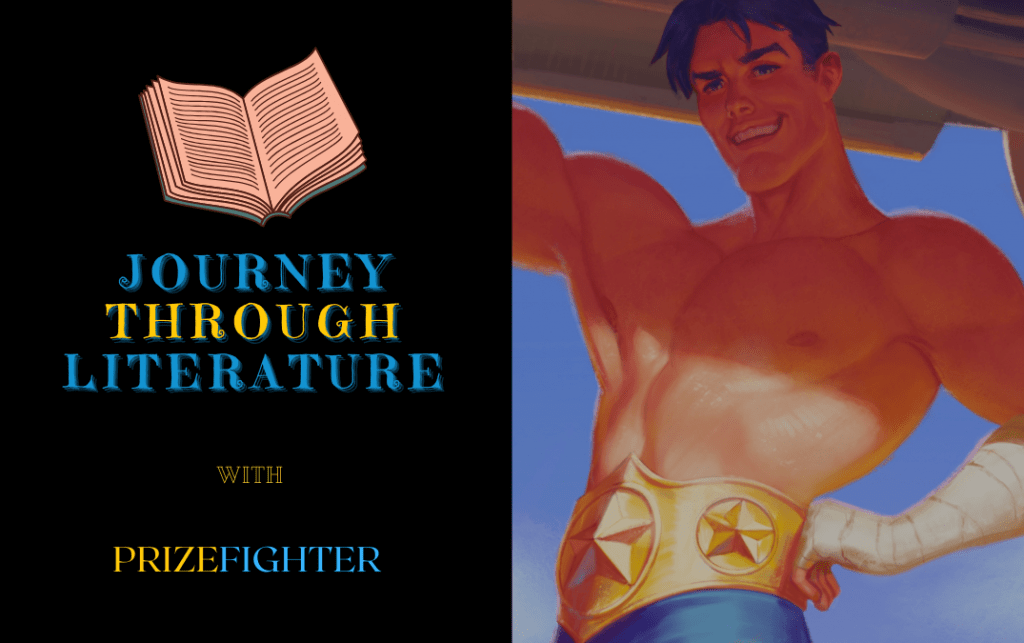 In this bi-monthly series, critic Sean Dillon interviews various weird and interesting people and talks to them about books, new and old, and how they relate to the people who read them. This month, Sean follows up his interview with director Mike Flanagan talking with the people's champion, Prizefighter (as seen in Commanders in Crisis
)! As per Flanagan's suggestion, they are reading If The Devil Didn't Exist… by Steven Moffat.
Wikipedia Book Summary (italics added for clarification): 008 (Rebecca Swanson) has stolen a dossier of ongoing operations. From Operation Moonraker to Project Spectre, these projects have been key to MI6's global operations for policing the world for decades. With the recent leakage of The Belgium Affair, MI6 has tasked its number one agent, James Bond, to hunt down and eliminate this rogue operative. There's just one problem: they were once lovers. Many years ago, 007 and 008 were tasked with infiltrating a suspected Spectre cell in America. Their budding romance is on the verge of collapse and Bond doesn't even realize it. With the world on the brink of devastation, will Bond be able to prevent his lover turned enemy from making things worse? And what secrets does Swanson hold of her own.
I was told that traveling via Atom Rider was a bit like being a washing machine. This is what I was told. The actual experience of traveling this way is perhaps more akin to holding onto a bear for dear life while lightning strikes next to you every five seconds. To say I was frazzled when I found myself in Berlin would be an understatement. Later, when I was asked if I wanted to go home the way I came, I instead asked for plane tickets and spent the night with a friend of mine who lives in the city of stones with her husband.
We meet in a place I am led to believe was once a speakeasy for various queer people to meet and hook up. It's still a bar and it's still extremely queer, but it's a bit more legal now. Prizefighter sits in a booth a few feet away from the stage. No one's performing right now, and it's a real shame they aren't. Prizefighter sits coolly in the booth, arms outstretched and resting on the shoulders of the booth. I sit on the opposite side of the table, placing my phone down, ready to hit record. He pulls out a copy of the book we are about to discuss. The cover is the American version used to promote the movie that was out at the time, so it's rather bland design wise, with Daniel Craig posing like he's Sean Connery. My copy, which I also pull out, is the more traditional international version of the cover. The logo was designed by Rian Hughes, and the art is that of a man cut up like in a Saul Bass cover while falling from a great height.
Prizefighter smiles at me the way one always imagined it'd be like to have Santa Claus in your kitchen. There's a sense of warmth to the smile that contradicts the seemingly superficial nature of a man who needs the people to love him in order to save them. He is genuine even in the moments when he's being disingenuous. I briefly lose composure thinking about this. When I gain it back, I hit record.
How are you doing?
Support For Comic Book Herald:
Comic Book Herald is reader-supported. When you buy through links on our site, we may earn a qualifying affiliate commission.
Comic Book Herald's reading orders and guides are also made possible by reader support on Patreon, and generous reader donations.
Any size contribution will help keep CBH alive and full of new comics guides and content. Support CBH on Patreon for exclusive rewards, or Donate here! Thank you for reading!
How could someone like me not be doing great? That doesn't mean there's not work to do. There's always more work to do, people to save, hashtags to create, trends to set. I need to keep my strength up, after all. The second people get bored by Prizefighter, I start to get weaker. Who knows? I could even end up not being bulletproof anymore, and who wants that? So I'm always good, always working, always on brand. Am I ever really not, behind the costume? I'll never tell. That's the price of being an icon.
What's your familiarity with Bond prior to reading this book? Equally, have you seen any of Moffat's work before reading this one?
For sure I knew more about the Bond stuff. I wasn't what you'd call…a nerd? Before the powers, I was a pretty typical captain of the football team type. I'm still trying to learn and listen my way out of that. Not easy! So I steered clear of Science-Fiction stuff which to me was what you'd get with Moffat. Maybe I was wrong? Assumptions and all, you know?
But Bond? I could take a girl to Bond when I was still in the closet and no one would know where were both checking out Daniel Craig. You'd be surprised how vindicating just a quick, even passing joke about Bond having been with a guy in SKYFALL was for me. Then when I was finally out, I could say the secret part out loud. I figured I'd end up the gay James Bond, but hell, even Bond can't stop bullets. I DID sort of end up dating him though, but that — that didn't end…well. It didn't end well.
The way he looks when talking about his ex isn't quite the reaction one would expect from him. It's not that Prizefighter is openly weeping per-say or even appearing to be outwardly miserable. In fact, at first glance, it doesn't look like he's changed emotion in the least. It's the eyes though that show everything. There's a profound melancholy to them, the kind often held when the sky is grey and you can't cry for your dead grandfather. His smile is slightly weaker than it was before, less toothy and more wry. He's still relaxed, like even this moment of sorrow can't stop him in his tracks.
I suppose no relationship with James Bond could end well. Then again, Roger Moore was very daddy. Do you have any thoughts on any of the other Bond films? Equally, have you read any of Fleming's books?
If I've got thoughts they're probably not high-minded ones, or at least they weren't back then. But now, I am trying to look at things more critically and understand what's around me, instead of floating through. Probably comes as no surprise then that I wasn't ever really a "read the book" type of guy when there was a movie right there, begging for less commitment. Back then, I thought Bond was an idol, but I was stuck in my own bubble. I still admire his focus and drive, but the way he treats people as disposable for the most part, just an utter lack of empathy, acting like the blunt object people assume he is, it's not something I aspire too. In some ways, that attitude is everything we're out here fighting in the Crisis Command. No one, not a single person's disposable. I saw that pretty quickly when I started thinking above the belt.
What did you think of If the Devil Didn't Exist?
Man…that ending! Honestly, just like Bardem and Craig in SKYFALL, I won't say I wasn't excited to see even some passive gay moments like Leiter's husband who died on the job. Would I like it better if we didn't have to have dead husbands in movies? Sure. But that's what I'm here for. When they make my movie, we live to the end. Hell yes. I thought seeing how 008 saw the romance versus how Bond saw it was awesome, it'll probably help me think about how to hone my own persona in the future. Who needs to think more about how their actions are perceived than I do?
And if you think I didn't relate to the fact Bond seemed to be playing the character of James Bond, rather than being himself, whatever that is, then you haven't really thought about what it's like to have the way your body works linked to public perception. I said I wanted to be Bond when I was just coming out, and sort of, if you squint, this Bond was like me. Which again make the ending a pretty big punch in the crotch.
Well that brings up an interesting point: as a superhero, what did you think of the novel's exploration of persona?
Well, I thought it was relatable. And not just to me, to a lot of people. Or it should be. Yeah, I lose a lot more obvious things if my persona starts to falter and people start to doubt. But is that any different than anyone whose career involves being in the public eye? Social media especially means people expect you to be "on" all the time, in every public setting. There's no such thing as not having everything you say be analyzed super deeply, maybe taken out of context, maybe used against you. When you're in the public eye, like an actor, or any type of creative person that might need things like social to make a living, you're always playing the version of yourself that's good for business. And man, that can be tiring for anyone, even if you're not a super spy or a super hero.
Given the political climate we're living in, it seems nationalistic heroes like Bond are growing to be a bit more… dangerous. Given how much you see yourself within Bond, and your powers relate to the perception people have of you, how do see yourself in relation to the image that you are an American hero, if not seen as such?
Well, like I said above, I saw myself in Bond. And I still do want to be as relentless as him once I set myself to doing something. But there's other things about him, these days, I think I more learn from in opposition. I certainly consider more than ever how I treat people when I put on this uniform, and I think I would even if my powers didn't depend on it. Maybe that's wishful thinking? I don't think so. As for being an American hero, I think that journey is a lot like a big version of my own.
When I was a kid, before the powers, I just think I took things at face value. But now, I try to be critical of everything so I can better serve the people than need me. I wouldn't say I'm an American hero specifically, since we answer to those in danger, not to a flag. That's one of Frontier's best lines, hell, it became a meme. But if I were to be one, I'd say that means it's on me more than ever to analyze my actions and question what I do and why I do it. The needs of the endangered has to be my northstar, not one nation or creed. It's need, and our ability to help those with it if we can.
That's absolutely fair. But at the same time, we can't necessarily control how people see us. We can absolutely say we're not an arm of the US military, but that won't stop people from saying that a team complied of Americans– a diverse group of Americans, but Americans nevertheless– are an American team of superheroes. As someone whose powers lie in perception and whose aesthetic invokes a man who stands for "Truth, Justice, and the American Way," how does one go about pushing against such a perception beyond merely saying you're not?
See, you're right. We definitely can't control how people see us, so the best we can do is keep acting as we say we will, not as others might expect us to due to their own perceptions. There's always going to be pundits on TV, or people on social media, putting their own assumptions on us. But we don't answer to them any more than we answer to a government or a corporation. They can think or suppose what they want, you know? Who am I to say that life hasn't showed them not to trust us? Or that other people like us haven't delivered? That's their right to think how they want.
But we answer to the people in danger. And we keep doing that. Actions are how you push against a perception, following up what we say with what we do. If people want to keep looking at an apple and seeing an orange, they can. If they're ever in danger, we'll still be on their side whether they want to believe it or not. And if they're the ones causing the danger, we won't be.
The title of the book, If the Devil Didn't Exist… is quite evocative. A play on the Voltaire quote "If God didn't exist, it would be necessary to invent him." But with the Devil, there's a sense of the creation of the enemy. Fitting considering the information 008 leaks to the world. That Spectre and all the other evil organizations Bond has fought are nothing more than shell organizations to justify English Imperialism rather than, say, unite the world against a common foe. What's your take on this notion?
I think fear sells, and it always has. Look at the question you asked earlier – people with power have given people without it plenty of reason to distrust. And it's often justified. Fear, urgency, scapegoating, it's all a nice way to keep people distracted, keep those with power safe where they sit, and make sure folks don't see they're being manipulated. A big, simple, enemy is how businesses and governments have kept their citizens from looking too closely at what they're really doing for decades. And I think that's real, I am sure I've — no doubt I've been a part of it in the past, no matter my intent. So like I said, all I can do is go forward and show people in action that they don't have to be afraid. I can go forward dealing with threats that do matter and aren't fabricated, and hopefully help people in turn to figure out who is really working in their best interests.
You've been alluding to some rather toxic aspects of your younger self (apt, given we're talking about a Moffat work). Bond has frequently been critiqued as a "sexist, misogynistic dinosaur." Is this the angle of your toxicity or, if you feel comfortable talking about it, something that rhymes with it?
No I think I definitely had room to grow, and I'm happy to admit I wasn't perfect. I took me longer than it should have to give up old, stupid ideas about "what makes a man" and what is and isn't masculine. Or even honestly, who cares if something is or isn't masculine at all? I was programmed, like we all are, to think one way by my parents and people around me. And I had it relatively easy, so I didn't get on myself to do the work I needed to to break that programming until later than I should have.
I certainly thought being a "masculine" guy was superior to being a "feminine" one. But that was a young idiot's point of view. When I got out into the world, and got these powers, and got to listening, I realized that was bullshit. And it's important people hear me say I was wrong, and I had learning to do. Strength is strength, there's no one way it looks, or one definition. I wish I'd known that sooner, and I'm still learning. But I'm working. 
Do you feel Bond deserved the death he got? For that matter, do you feel Moffat made the ending work considering the grandeur of the Bond icon?
Well, sure. I mean, I don't know if I think anyone really "deserves" death in real life, but this isn't real life. It's a story. And stories are supposed to help us do things we can't do, or explore stuff we maybe wish we could, but know we can't for one reason or another. I think someone like Bond finally meeting his end at a woman he was incapable of seeing wasn't under his spell is pretty fitting. And pretty ironic! Some poetic justice for a guy who got plenty of women killed. My ex…he would've been laughing, this was his kind of book.
Let's talk a little about Rebecca Swanson, 008, the woman who gave Bond a Rebecca Swanson ending. How do you feel about her in comparison to other Bond girls with more outlandish names like Pussy Galore, Holly Goodhead, and Oodles O'Quim?
I mean, as much as I love Pussy Galore, and I do! Early gay icon right there, and someone who I really thought met Bond on his own terms. I heard it's even more that way in the novels but like I said, me and reading weren't tight back in the day. But as much as I love her, I think all that stuff needs to be left in the past. Turning these women into sex puns, to me, it already starts dehumanizing them from the get-go. But they're not objects, Bond shouldn't treat them like they are, and we shouldn't just laugh on with it. So I think like I said, it's fitting to watch the way Bond stuff depicts women evolve and evolve, until I guess what it was always going to be: Bond's sexist bullshit catching up with him and making him pay the price. It feels maybe too smart for the schlocky eras maybe? But it makes sense. I'm there for it.
And finally, as is tradition with this series, what book do you want our next guest to read?
FURY UNMASKED, it's got to be. There's a documentary streaming now, one of the Command, Seer, she tried to get me to watch it. But I told you, I'm trying to get into source materials, get into reading and actually absorbing stuff, so I got the original diaries they published before the docuseries. It's wild stuff, the secret diaries of Madame Fury and Hack, the first ever masked vigilantes on this world – I mean the world, on "the" world. Their secret…whoa, I'll say this. Things would've been a whole lot different here if they hadn't waited so long to tell their real story.
See you in two weeks with our next guest: G—- M——-