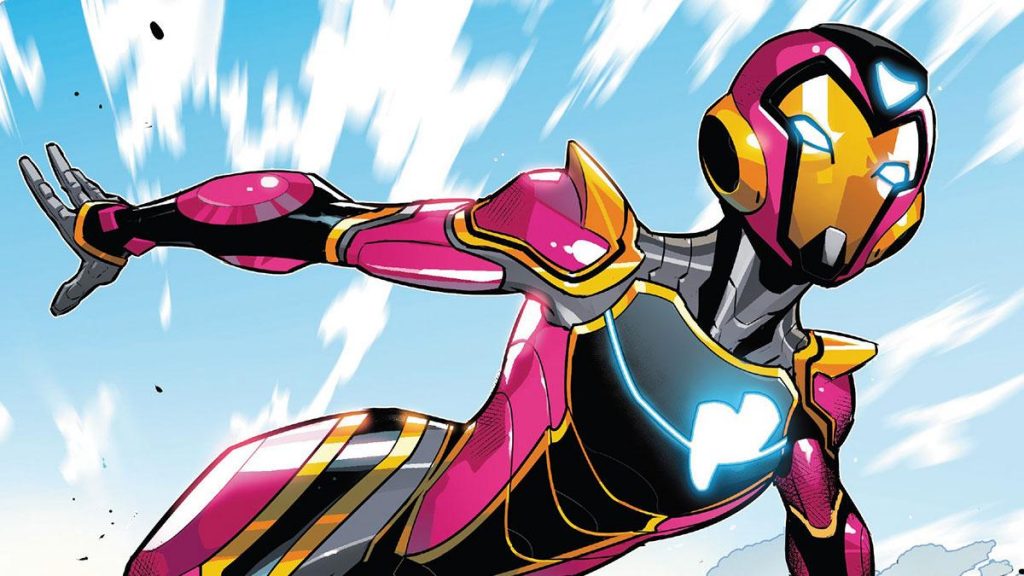 Created by Brian Michael Bendis and Mike Deodato in the lead-up to Civil War II, Riri Williams is a 15-year-old child genius from Chicago who builds her own Iron Man-type armor and soon finds herself taking over Tony Stark's mantle.
In recent stories, particularly Eve Ewing's solo series, Ironheart has started to step outside of Iron Man's shadow and into a spotlight all her own, whether as a member of the teen hero group, the Champions, or on her own adventures taking her as far from Chicago as Latveria, and recently, Wakanda.
Few characters have risen to the center of the Marvel Universe as fast as Ironheart has in the past five years. Along with Kamala Khan, Miles Morales, and Sam Alexander, she is one of the most successful new characters in the wave of younger legacy heroes from the past ten years.
Now, with the recent announcement of her very own Disney+ show with actress Dominique Thorne, the future is looking bright for the young armored hero.
Related Reading Orders:
Support For Comic Book Herald:
Comic Book Herald is reader-supported. When you buy through links on our site, we may earn a qualifying affiliate commission.
Comic Book Herald's reading orders and guides are also made possible by reader support on Patreon, and generous reader donations.
Any size contribution will help keep CBH alive and full of new comics guides and content. Support CBH on Patreon for exclusive rewards, or Donate here! Thank you for reading!
A New Hero: The Iron Legacy
Invincible Iron Man Vol. 2: The War Machines
Collects: Invincible Iron Man (2015) #6-11
Bendis introduces Riri at the very end of Issue #7 as an MIT student tinkering with an Iron Man armor. That curiosity becomes a calling when Tony Stark goes missing, compelling the young student to try to take his place. Naturally, the young scientist begins experimenting with being a superhero, resulting in her stopping an escape at the New Mexico State Penitentiary.
Riri only appears in one or two pages of each of these Iron Man issues, so the focus isn't on her backstory or character details so as on the emotions brought on by her new life. The set-up is familiar: a teenager gets superpowers and begins an exciting life of superheroing. The big difference being that Riri didn't get her powers through luck or any other outside circumstance as with many classic origin stories; she built her armor by herself, using only her intelligence… and various materials she "found" across campus.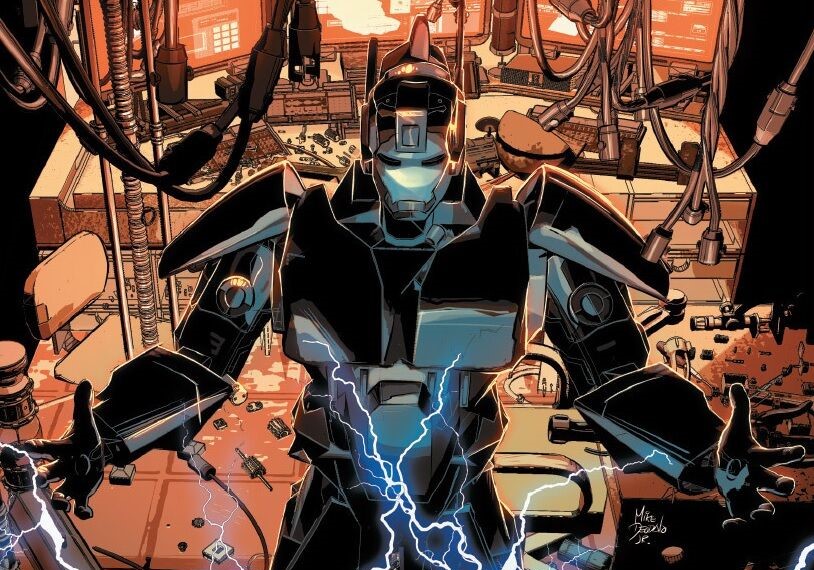 Invincible Iron Man Vol. 3: Civil War II
Collects: Invincible Iron Man (2015) #12-14, Mighty Avengers #9-11 (2007)
As Invincible Iron Man heads into Civil War II, Riri Williams only appears in Issue #12, where she finally meets Tony Stark. She also appears in the main event, fighting alongside Iron Man before sneaking off with the other teen heroes to go help Miles Morales.
At this time, Riri's armor is still big and bulky. Like Tony' original armor (which used to make him look like Bibendum's metal cousin,) the Mk 1 Ironheart suit is a far cry from what it will become.
Invincible Iron Man: Ironheart Vol. 1: Riri Williams
Collects: Invincible Iron Man (2016) #1-5
After Tony falls into a coma at the end of Civil War II,  Invincible Iron Man is relaunched with Riri as the star of the title along with newer, sleeker armor. Riri's first issue introduces her backstory in flashback, from her experiences as a child genius to the loss of her best friend and stepfather in a shooting. In the present day, she receives an A.I. copy of Tony Stark's consciousness who acts as her Jarvis, helping her to control her armor. Later, Riri teams up with Pepper Potts/Rescue against Tomoe the Techno Golem and her ninjas. You know, standard hero stuff.
Infamous Iron Man Vol. 2: The Absolution of Doom
Collects: Infamous Iron Man #7-12
While Riri becomes a new superhero under the name of Ironheart, a newly repentant Victor Von Doom takes the mantle of Iron Man in his own series. In issues 8 and 9, she decides to go after the supposedly reformed villain, only to end up helping him on a spiritual quest.
Invincible Iron Man: Ironheart Vol. 2: Choices
Collects: Invincible Iron Man (2016) #6-11
Riri has to make a choice between several new opportunities, from working at Tony's own lab to going back to MIT, and even an offer to join the newly formed Champions. After getting involved in a conflict between S.H.I.E.L.D and the Latverian army, Riri becomes the new Queen of Latveria, and stays there for a little while to bring peace to the country and establish its first democratic elections.
In 2017, Riri can be found across several successive events. She is part of the Underground during Secret Empire (including Champions #11 and Secret Empire: Uprising), meets a future version of Tony Stark (now Sorcerer Supreme) in Generations: Iron Man & Ironheart, and teams up with Captain America (Sam Wilson) and Thor (Jane Foster) in Marvel Legacy.
Champions Vol. 3: Champion For A Day
Collects: Champions (2016) #16-18
Ironheart joins the Champions.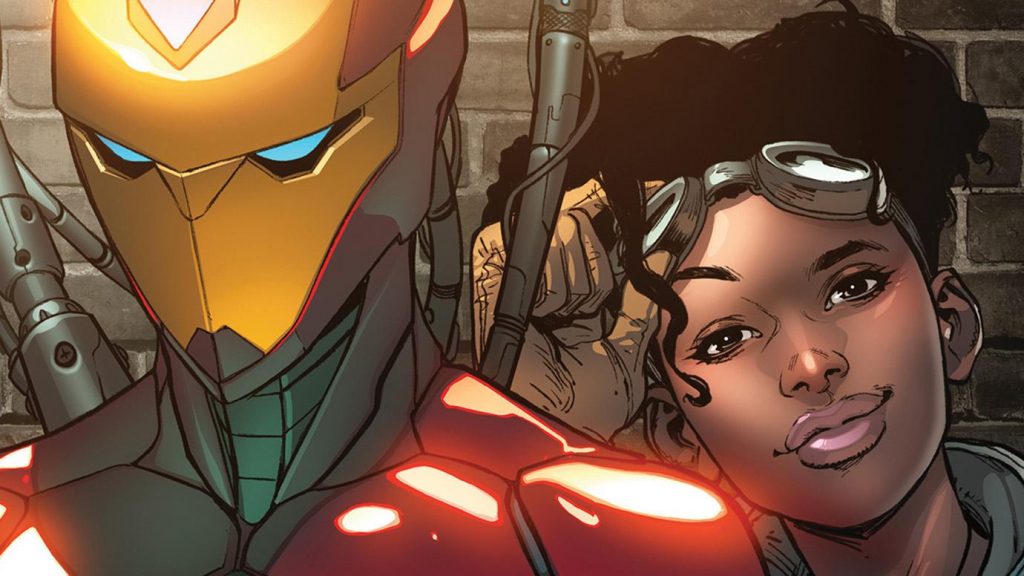 Invincible Iron Man: The Search for Tony Stark
Collects: Invincible Iron Man (2016) #593-600
The main Iron Man title is once again divided into three separate storylines and characters (Ironheart, Doom, and Tony Stark), which all collide in Issue #600. Riri's home is invaded by mercenaries working for Stark Industries' Board of Directors, and she teams up with Toni Ho from the U.S.Avengers to look for Stark, who has disappeared once again. She meets Leonardo Da Vinci (yes, that one) and Blade, who are working to create a newer, better replacement for S.H.I.E.L.D.
Champions Vol. 4: Northern Lights
Collects: Champions (2016) #19-21, Infinity Countdown: Champions #1-2
Ironheart and the Champions (in their new Mobile Bunker, which she helped build) travel to the Arctic and meet the Master of the World. The team also face Thanos and his armies in the leadup to Infinity Countdown, and Thanos easily destroys Riri's armor, leaving her feeling powerless and almost dead.
Champions Vol. 5: Weird War One
Collects: Champions (2016) #22-27, Champions Annual #1
Ironheart builds herself a new armor just in time for the team to be thrown into Weirdworld as the only hero who remembers reality. Back on Earth, she and Viv Vision share a kiss, which makes things awkward and strains Riri's relationship with the team.
Riri On Her Own
Ironheart Vol. 1: Those With Courage
Collects: Ironheart #1-6
Riri Williams finally gets her very own solo series, with Eve Ewing taking over the character. Ironheart now has a new A.I. built in the image of her deceased best friend, Natalie, and the wo investigate the disappearance of several kids, leading to a fight with Midnight's Fire and the Ten Rings.
Collects: Ironheart #7-12
After the Ten Rings cause a zombie outbreak in Chicago, causing Ironheart  to seek advice from Doctor Strange. After that, Riri travels to Wakanda to team up with Shuri, Silhouette, and Okoye, then has an awkward reunion with her long-dead birth father.
Champions by Jim Zub Vol. 2: Give and Take
Collects: Champions (2019) #7-10
Although she appears in Issue #1, Riri quickly leaves the team for a while. She comes back in the second part of the run under the influence of Blackheart, who is manipulating her thanks to her feelings of anger towards Viv.
Collects: 2020 Ironheart #1-2
After the events of Outlawed and the death of Viv Vision, Riri isn't allowed to be a superhero anymore. When some car A.I.s start malfunctioning and endangering people's lives, it leads to Riri having a falling out with her own A.I., N.A.T.A.L.I.E., who decides to take matters into her own "hands."
Collects: Outlawed #1, Champions (2020) #1-5
Ms. Marvel, Spider-Man, and Nova come to Ironheart for help, and despite there still being some animosity between the team and Riri, the four go on the run together. The group is thn helped by Cyclops, who takes them to Kate Pryde and her Marauders.