WARNING: References to addiction. If you are struggling with addiction, call the SAMHSA (Substance Abuse and Mental Health Services Administration) National Hotline at 1-800-662-HELP.
For generations, superheroes have been held up as an inspirational ideal, symbols of our own ability to transcend our limitations and realize our fullest potential. But for every moment of hope, there is one of doubt; a personal crisis that tears our self-image away and leaves us to face our own inner darkness. For many, this struggle is unending. It may break us. But it also gives us the opportunity to rise up, stronger than ever before.
In 1980, legendary writer Dennis "Denny" O'Neil returned to Marvel comics after a decade of revitalizing characters like Batman and Green Arrow for DC. The author would take on a number of assignments while at Marvel, including work on the Amazing Spider-Man and picking up Frank Miller's Daredevil, but one of his most impactful works for the company would be his four-year stint on The Invincible Iron Man alongside artist Luke McDonnell. Drawing from his experiences with addiction and recovery, O'Neil's run would fundamentally transform the armored avenger, having the hero wage his greatest battle yet, and turn his inner resilience into his greatest strength.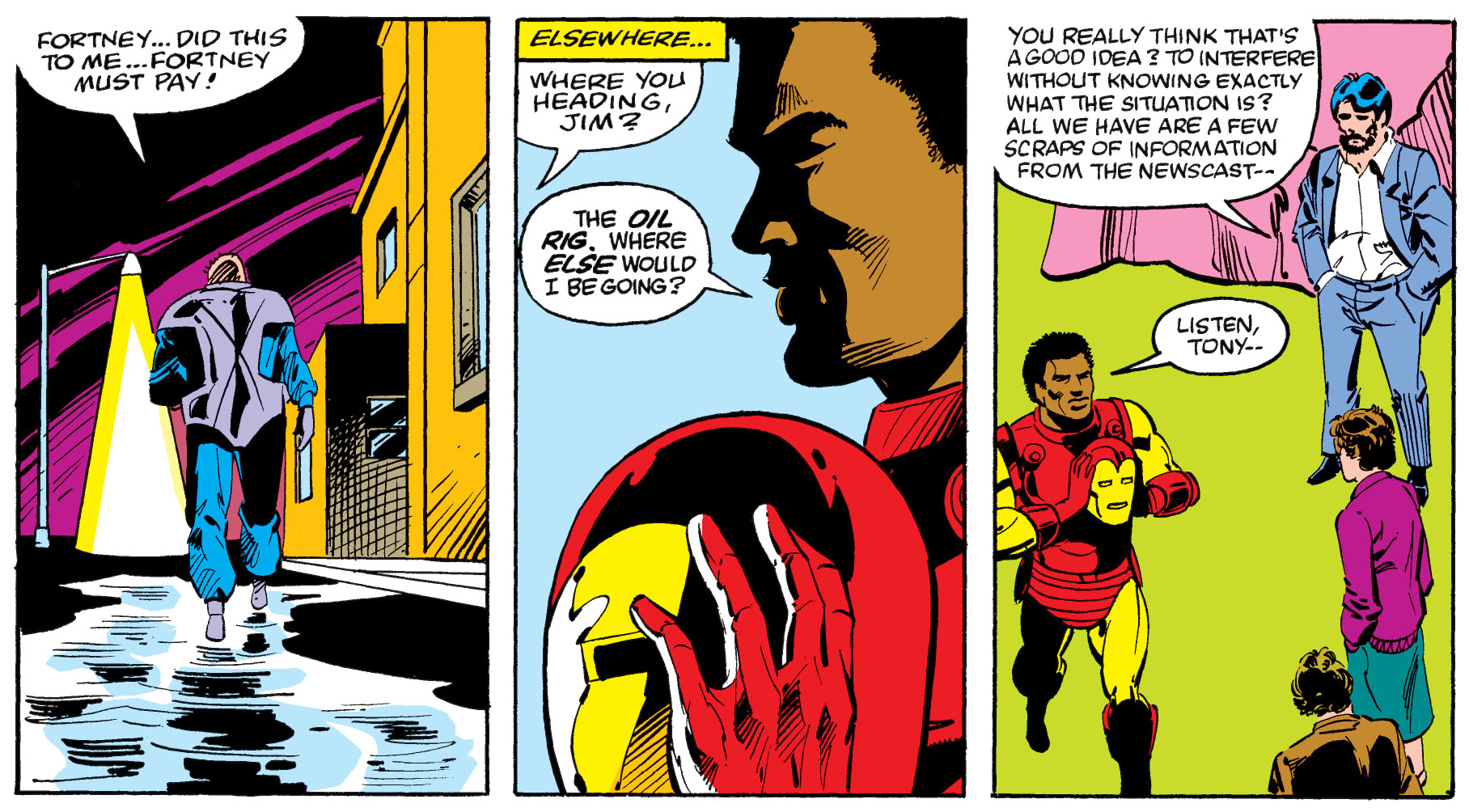 THE EMPTY SHELL
By the '80's, Iron Man was at a crossroads. Created by Stan Lee, Don Heck, and Larry Lieber in 1963, the character was primarily a vehicle to explore the role of technology and industry in the Cold War. As a result, Iron Man would spend most of the '60's battling Vietnamese and Russian agents (a lot of whom were mired in racist stereotypes). Creators like David Michelinie would push the character into the broader field of science fiction through stories like Doomquest, but Iron Man's Cold War ties would persist well into the 80's, something the politically conscious O'Neil took notice of when he arrived on the title.
"My problem with Tony Stark…I hated the bastard," recounted the writer. "There was a lot not to like about ol' shellhead…He was an arms dealer…he was a capitalist…he was a technologist and, like a lot of hippie-types, I did not trust technology. (He was) everything I think is rotten with this country."
To a staunch anti-war activist like O'Neil Tony Stark was practically alien, steeped in pro-war arrogance and aside from an injury that was removed in his earlier years, completely insulated by his privilege and status. There was, however, one link that the writer and the character shared: Stark, like O'Neil, was a recovering alcoholic.
This facet of the character had been established a year prior through David Michelinie and Bob Layton's Demon in a Bottle, which saw Stark fall into addiction under the weight of mounting pressure in his life. The story-line was critically praised, and even won an Eagle Award in 1980 for bringing some much-needed humanity to the character, but it was also criticized by many for its open-and-shut approach, treating alcoholism as an inconvenience to be swatted away over 22 pages. O'Neil, who had entered recovery himself a decade earlier, saw this as the opportunity to catalyze an all-new journey for the armored avenger, having Stark confront his own humanity and face the reality of his addiction. But before doing that, the writer had to tear down the resilient image of Iron Man, piece by piece.
Support For Comic Book Herald:
Comic Book Herald is reader-supported. When you buy through links on our site, we may earn a qualifying affiliate commission.
Comic Book Herald's reading orders and guides are also made possible by reader support on Patreon, and generous reader donations.
Any size contribution will help keep CBH alive and full of new comics guides and content. Support CBH on Patreon for exclusive rewards, or Donate here! Thank you for reading!
O'Neil's run begins in a fairly episodic fashion, with five issues following Iron Man as he teams up with his fellow heroes, fights villains like the Serpent Society, and solves hi-tech problems with his trademark wits and ingenuity. While these initial stories may seem completely unrelated, the writer uses each to build and enhance a through-line for the character: While "The Iron Man" is merely a tool, Stark has slowly made it into a crutch, becoming dependent on the feeling of invincibility it's given him. O'Neil would further this unraveling of the character through a new arch-nemesis: the brilliant criminal mastermind, Obadiah Stane. A ruthless manipulator driven by conquest, Stane spends most of the run's first arc orchestrating the destruction of Stark's life, exhausting him with a gauntlet of supervillains, undermining his business, and destroying his relationships, all in a bid to take over Stark International. And while the stoic will shown in Demon in a Bottle carries the hero through most of these challenges, Stane's gauntlet leaves Stark completely disillusioned in himself. The Invincible Iron Man…is no more.

(From Iron Man #167 By Dennis O'Neil and Luke McDonnell)
From this initial relapse, O'Neil would spend the next year furthering Stark's descent into addiction as he drove away his friends, lost his money, and eventually ended up homeless on the streets of New York. In place of Demon in a Bottle's brief fall and return to normal, O'Neil's slow-burn story would take Stark to a dark place, plunging the hero into an ugly, indifferent world brought forth through Luke McDonnell's expressive artwork. In place of the more classically heroic imagery of series mainstay Bob Layton, McDonnell used Iron Man to pioneer an approach that would become famous in his later tenure working on DC's Suicide Squad: bold, heavy shadows, overwrought expressions and minimal backgrounds to emphasize characters and bring a sobering drama to the hero's dire situation.
To the book's ongoing readers, this approach was a breath of fresh air, finally giving a lasting sense of vulnerability and humanity to a fairly stagnant character. Marvel's executives, however, weren't happy, and demanded a more traditional version of the hero for events like the upcoming Secret Wars. O'Neil and editor Mark Gruenwald would find a compromise between these visions through an all-new Iron Man, moving longtime supporting character Jim Rhodes into the armor and paralleling his rise as the hero with Stark's agonizing road back. These two paths would finally cross in issue #182, where after friend and recovering addict Gretl Anders dies in childbirth, Stark finally gathers the strength to start his journey back to recovery.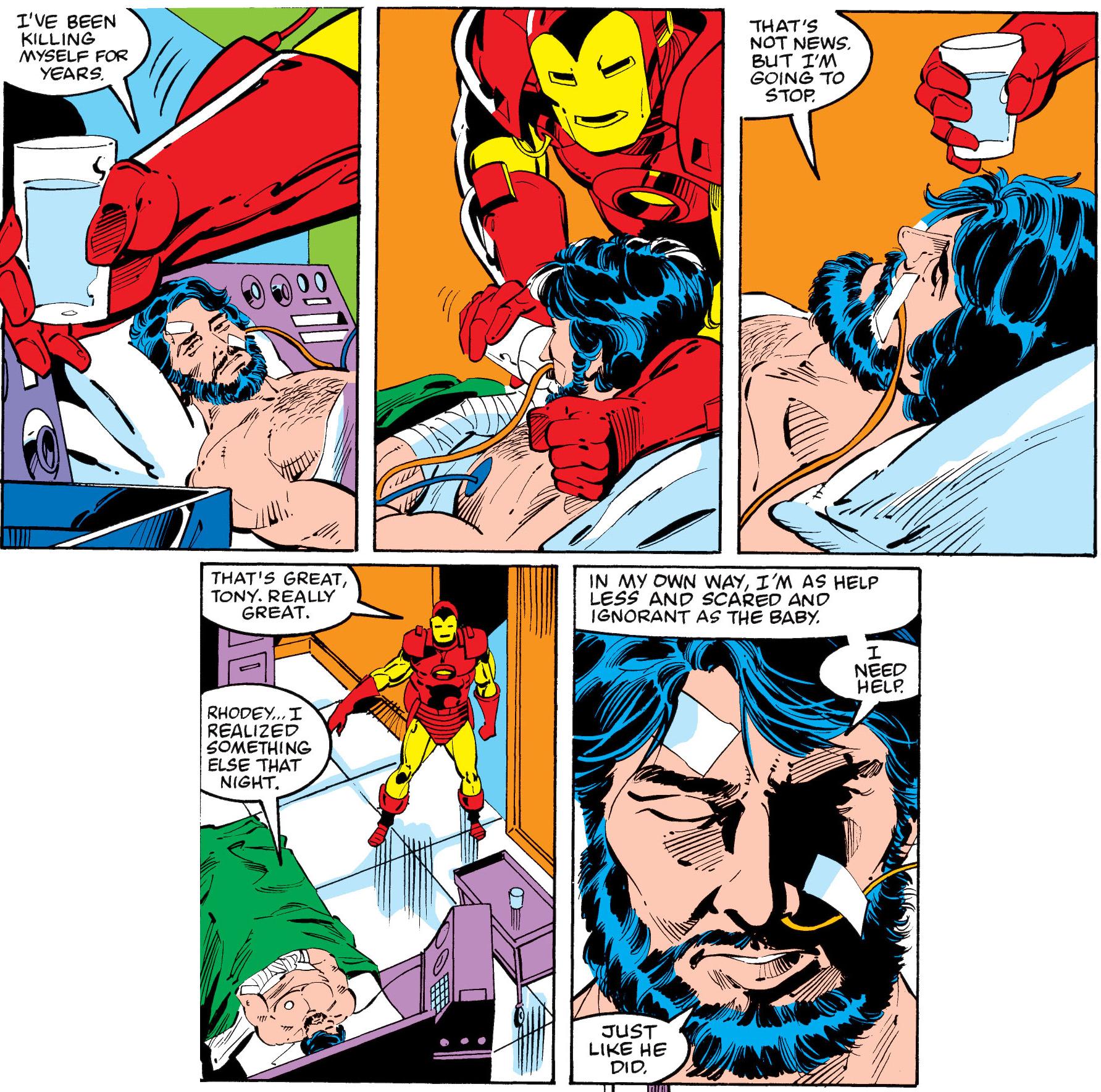 (From Iron Man #182 By Dennis O'Neil and Luke McDonnell)
Coming after two years of hardship, O'Neil and McDonnell would end their first major arc having completely revolutionized Iron Man, passing the mantle to a new generation while sending Tony Stark on a new path of his own. This, however, would only be the first of many changes to come.
HEAVY IS THE HEAD
Since arriving in the pages of Tales of Suspense, Tony Stark and the Iron Man have shared an unbreakable bond, with the armored avenger serving as Stark's idealized vision of what he'd like to become: selfless, resilient, and impervious to harm. But following Stark's self-destruction and recovery, O'Neil quickly began developing a new take on the hero through a new Iron Man: Jim Rhodes. First appearing in Iron Man #118, Rhodey was usually seen as part of the larger ensemble of Stark Industries: a collection of employees that helped show Stark's more human side. However, with the hero distancing himself from the armor to aid his recovery, O'Neil and Gruenwald took the opportunity to elevate Rhodes to co-lead, retitling the book as "The All-New Iron Man." In sharp contrast to Stark's swaggering, carefree (even privileged) demeanor, Rhodes brought a more grounded sense of wonder to Iron Man's massive adventures, fighting Stark's deadliest enemies while trying to cover his rent and grow into his new role, all while bringing a snarkier, more pointed energy to the hero's encounters. Rhodes even took part in Marvel's publisher-wide crossover Secret Wars, where the newcomer was put on the cosmic stage alongside all of Marvel's big-name heroes. It should be said that for an industry plagued by resistance to substantial changes, fans were quick to embrace Rhodey as Iron Man, with many relaying their excitement in the book's letter pages. However, O'Neil had also begun seeding an arc for Rhodes after Secret Wars, with the swashbuckling sci-fi adventures of the early run giving way to a more grounded story.
With both leads reaching a turning point in their arcs, O'Neil catalyzes another shake-up, having Rhodes, supporting members Morely and Cly Erwin, and a newly-sober Stark move across the country to forge a new company in California. Initially set up as a return to form for the title, the story steadily begins to play with readers' expectations, using both leads' journeys to inform a new sense of rivalry between Stark and Rhodes.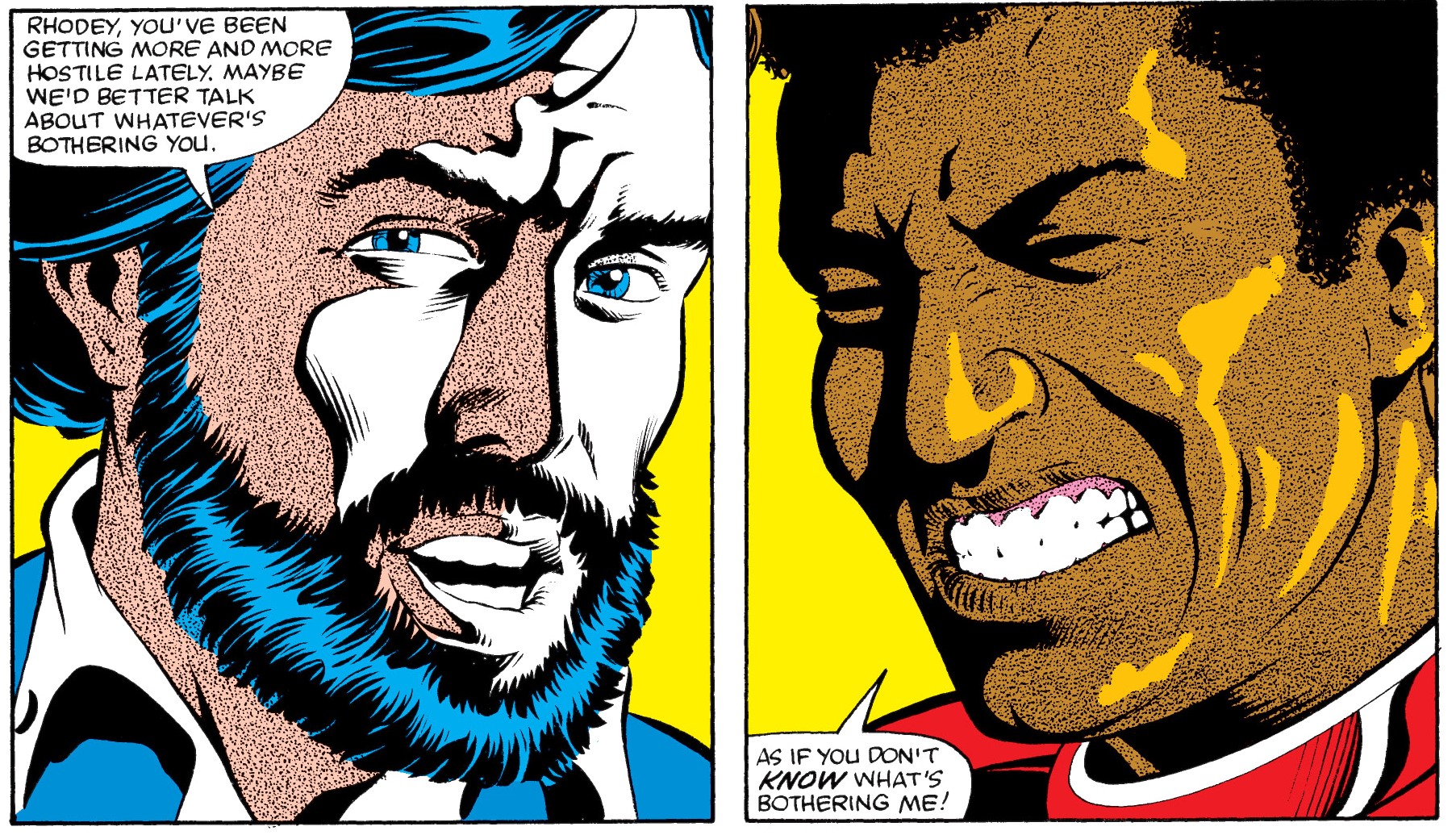 (From Iron Man #190 by Dennis O'Neil and Luke McDonnell)
While (admittedly) a bit melodramatic, this tension is all in the service of O'Neil's through-line for the series: how addiction (whether literal or metaphorical) can isolate you from the people trying to help you. Much like Stark's fall at the start of the run, the writer uses the episodic nature of the series to give Rhodey a fall of his own, as the mounting stress of hero life enables his own dependence on his alter ego, until a minor loss sends Rhodey on a rampage. Having run out of options, O'Neil finally has Stark suit up as Iron Man again, confronting the root of his own addiction to save his friend from a similar fate. But instead of a standard superhero brawl, O'Neil delivers a moment more reminiscent of an intervention between friends, with both heroes admitting their faults and coming together to shoulder the burden of Iron Man.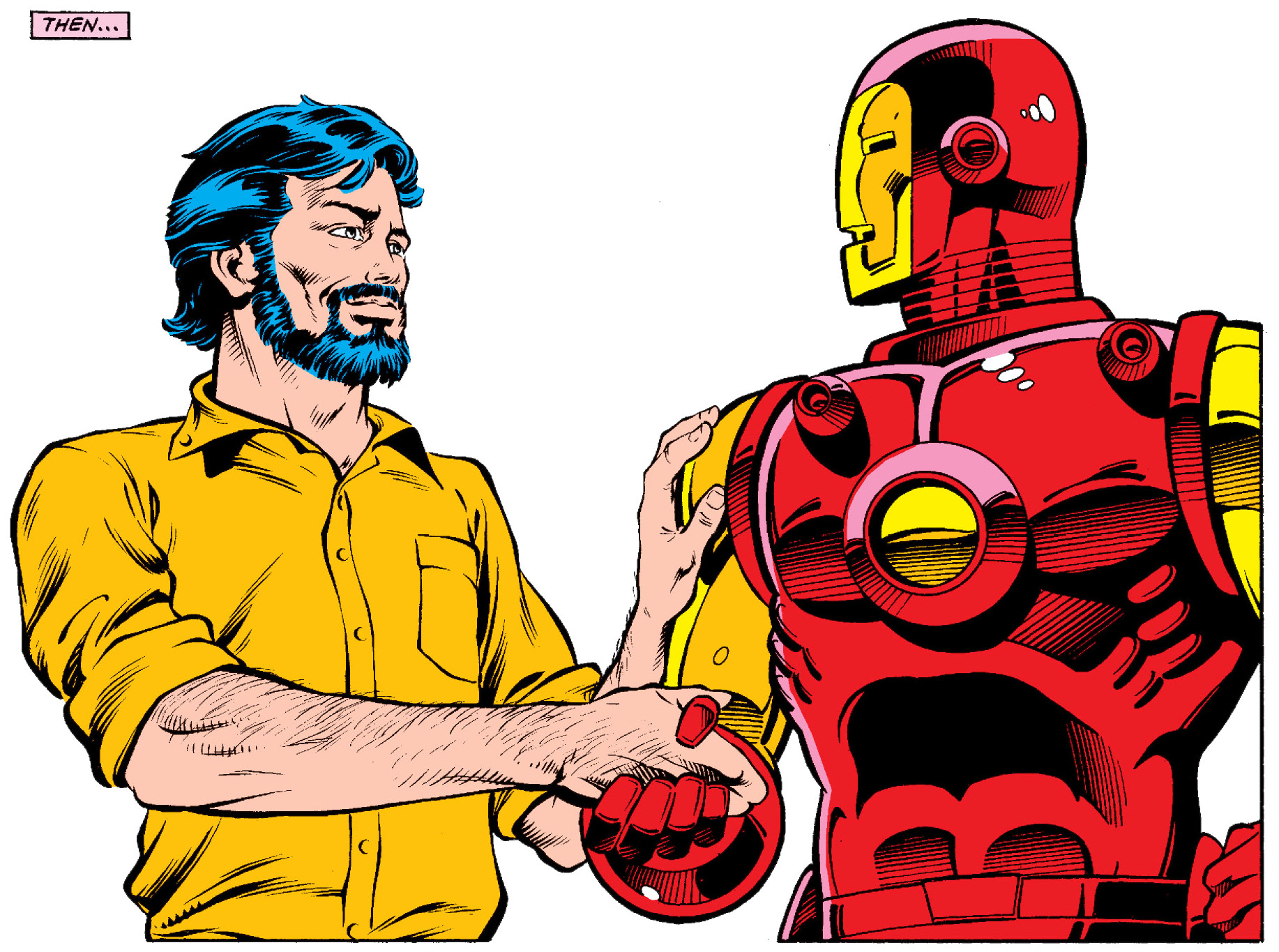 (From Iron Man #192 by Dennis O'Neil and Luke McDonnell)
REFORGED IN SILVER
If the majority of O'Neil's tenure is an exploration of addiction and self-destruction, then his third act is a euphoric victory over what came before, seeing Stark and Rhodes move past their darkest impulses to come back stronger than ever. But to the writer, triumph over addiction isn't something that comes easily. Rather, it's something that is earned and maintained through self-actualization. Almost immediately, O'Neil puts his two leads on parallel journeys of self-discovery, with Stark reuniting with his teammates in the Avengers and Rhodes confronting his insecurities through a vision quest alongside the mystical hero Shaman. While each character comes to their own epiphany, both build on O'Neil's central thesis for the title: that both heroes are more than the armor they wear. Rhodes, finally free of Stark's shadow, returns to the role with a newfound optimism, while Stark realizes that like his addiction, the burden of Iron Man is something he can continue to live with.
It's this realization that O'Neil uses to catalyze the run's deadly climax, heralded by the return of Obadiah Stane, now hell-bent on his mission to destroy Stark and his allies. Enraged that the hero survived his destruction, issues #197-199 see Stane use everything at his disposal to tear Stark back down, kidnapping his friends, discrediting his image, and attacking the team's headquarters in a bombing that leaves Morely dead and Stark guilt-ridden. In a way, O'Neil even uses Stane's backstory to frame him as a mirror to Stark and Rhodes, establishing Stane as a man wholly consumed with an addiction to dominating others, shown through his own twisted inversion of the Iron Man: the deadly Iron Monger. But instead of another fall from grace, the arc's climax in issue #200 sees Stark return as Iron Man more determined than ever to right the wrongs of the past, given a more classically heroic look through Mark Bright's pencils, and clad in a look that would become synonyms with the character's rebirth. What follows is almost page after page of pure catharsis, with Stark dismantling Stane's plans, tearing through the Iron Monger with ease, and standing firm against his addiction while Stane ultimately gives in to his own self-destruction.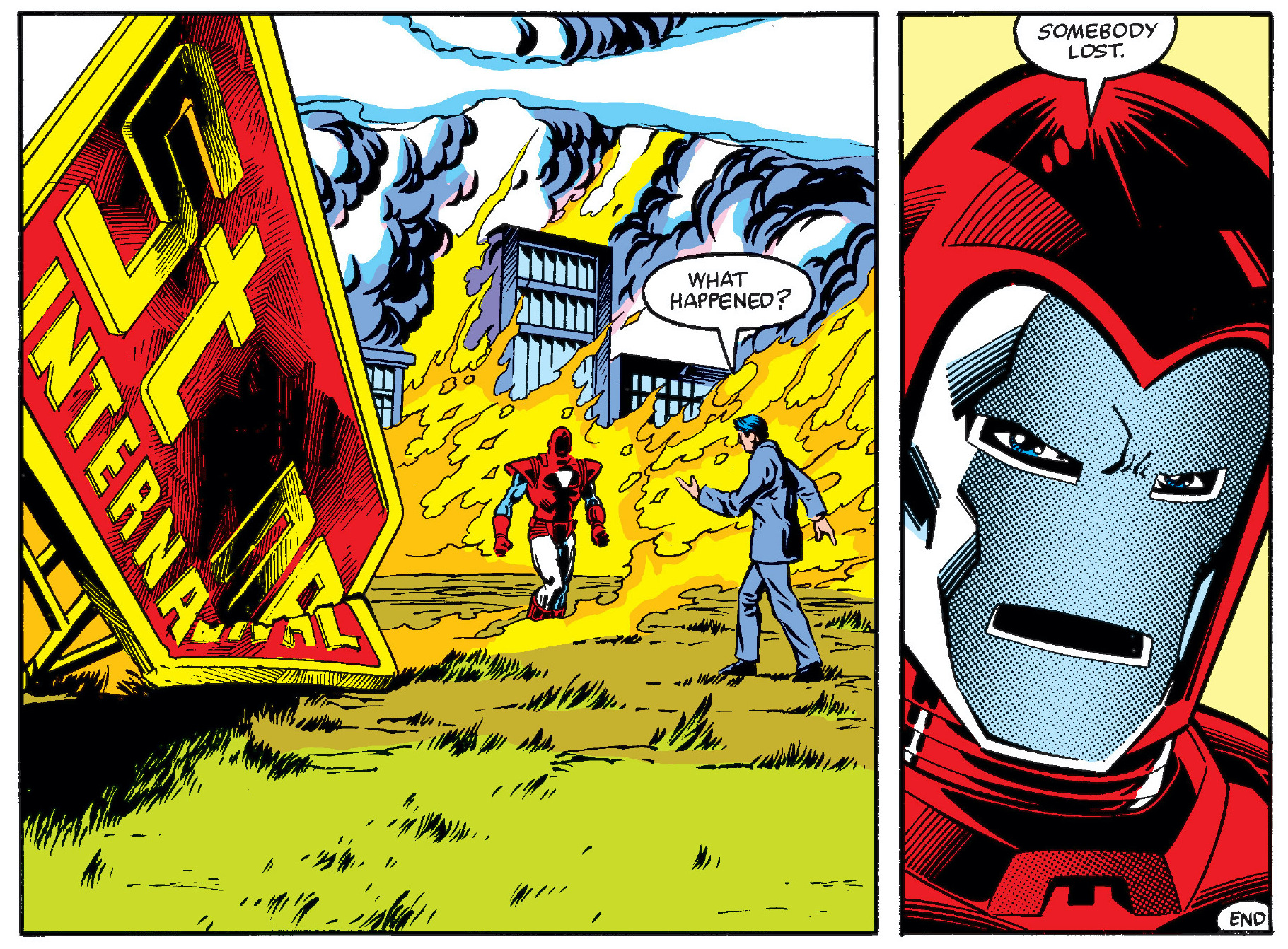 (From Iron Man #200 by Dennis O'Neil and Mark Bright)
O'Neil would continue working on Iron Man through issue #208 before being replaced by Danny Fingeroth, who immediately began efforts to return the character to form, reinstating Stark's CEO status and ditching the more grounded approach for the swashbuckling adventures of Michelinie and Layton, who would return to the book soon after. Still, despite its lack of recognition over the years, O'Neil's tenure would leave a lasting legacy on Iron Man, making Stark's struggles with addiction and recovery as integral as his desire to build a better future.
"There are people who think that heroes should never have serious flaws," recounted O'Neil. "I don't think they should be jerks, the word "hero" is from the Greek "to serve and protect" and I think that has to be an element of it. But, having a guy overcome something like an addiction or a terrible flaw seems to me to enhance his heroism…it comes down to a question of who the man inside the suit really is, and it doesn't matter if the suit comes from a subterranean laboratory or Brooks Brothers."
Much like the never-ending, serialized nature of comics, Tony Stark will always continue to battle his personal demons. And while he may stumble or fall, sometimes harder than ever, it's his ability to endure, to rise above these struggles, that makes him truly invincible.
Sources:
King Arthur, Iron Man, and Brooks Brothers, by Dennis O'Neil