In 2006, Marvel tapped Neil Gaiman (of Sandman and American Gods fame) to resuscitate their long-dormant Eternals line. Gaiman joined heavy-weight penciller John Romita Jr. to create an ambitious, quasi-magical mythology, not unlike American Gods, that tapped into the then-ongoing conversations about intelligent design. Their Eternals
miniseries plays off of the property's own obscurity, priming it to be the definitive introduction for readers of the mid-aughts and beyond. It is gorgeous, cinematic, and so stuffed with fresh ideas that it can lose track of its own plot. Now, with a major motion picture on the way and a new, similarly ambitious relaunch around the corner, let's take a moment to look back at this now-evergreen, contemporary introduction to… the Eternals.
"WE PRESERVE AND WE MAINTAIN"
Mark Curry believes himself to be living a totally normal, human life as a med student until Ike Harris, or Ikaris, topples the apple cart trying to convince Mark, aka Makkari, of their shared immortality as Eternals. Ikaris' sales pitch doubles as a helpful origin story for the reader who may be unfamiliar with Eternals (immortal, super powers), Deviants (ever-changing, monstrous, proliferous), and Celestials (Space Gods, sparkers of life, judgemental daddies). Mark is skeptical of course, except that some of the details fit those recurring dreams he's been having. 
In fact, almost all 100 or so Eternals have forgotten who they are and are living as humans in the modern world. Flighty party planner Sersi is hired to throw an event for the ambassador of the Soviet bloc country Vorozheika. Druig, deputy Prime Minister of said country, has fallen out of political favor and is marked for assasination. Thena Elliot is a weapons scientist working with Tony Stark. Sprite is a famous Disney Channel-type tween star. Ajak is a groundskeeper keeping an eye on everyone and Zuras is a raving vagrant on the street. Ikaris, for his part, is beset and brutalized by burly mobsters – Deviants in a more voluntary disguise. Most of this cast is present at Sersi's big party when violence erupts courtesy of Druig's Vorozheikan political rivals, causing everyone's instincts to kick in and awaken their true, super human nature.
Mark Curry has more questions than ever, and heads to San Francisco to talk with the obnoxious Sprite. Sprite is surprisingly forthcoming with the next big chunk of exposition, revealing himself to be the culprit behind the Eternals' collective amnesia. His plan is not well explained, but it has to do with using the Celestial sleeping beneath Golden Gate Park and space magic to make the Eternals human. As for why, well, Sprite was jealous that the Eternals all got to have sex with each other but he couldn't since he would always be a child. Meanwhile, Deviants have been lurking in the shadows and make their move to wake up the "Dreaming" Celestial, hoping to bring about the end of the world.  
Fortunately, help is on the way. Ikaris, having been successfully killed by his pursuers, finds himself reborn at his full power and Ajak awakens Zuras with more exposition about his complicated machinations. The Eternals, now all empowered and in costume, show up to find themselves hardwired against attacking any Celestial, and even the buttinski Avengers are powerless to help. Thankfully, the awakened Celestial takes a liking to Makkari and decides to not destroy the planet after all, instead entrusting Earth's protection to the Eternals on a provisional basis. The series ends with Ikaris and Makkari racing off to re-awaken the rest of the Eternals, clearly setting up a sequel series with the classic "The Beginning" sign-off.
Support For Comic Book Herald:
Comic Book Herald is reader-supported. When you buy through links on our site, we may earn a qualifying affiliate commission.
Comic Book Herald's reading orders and guides are also made possible by reader support on Patreon, and generous reader donations.
Any size contribution will help keep CBH alive and full of new comics guides and content. Support CBH on Patreon for exclusive rewards, or Donate here! Thank you for reading!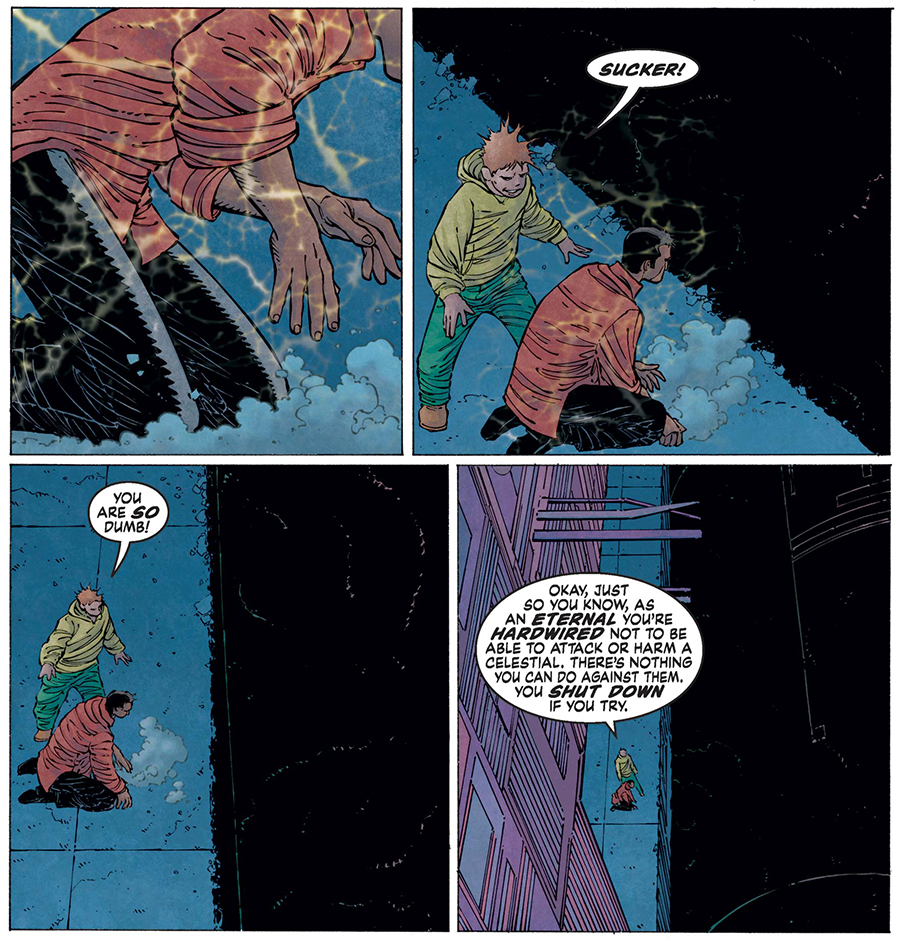 "WHEN THE LAST SHADOW FALLS, I WILL PRONOUNCE MY JUDGEMENT"
Maybe Marvel could only afford Gaiman long enough to get the plane off the ground with the expectation that someone else would actually fly it, I don't know. I do know that it was originally intended to be a six issue affair before it spilled over into a seventh devoted to putting a bow on as many threads as possible for the next writers. It's too bad, because the first three chapters are so tight and focused – laying out the foundations for the new mythos while driving the plot threads toward the culmination of Act 1. The party scene is super engaging and expertly told. From there, however, the stakes continue to build higher and higher with diminishing hope of being paid off. So much of the series is devoted to Druig's villainous ascent, only to have him put it on hold to help the team in the final conflict. Aside from a single panel reference in issue seven, it becomes another dangling plot thread for the next writer to figure out. 
Despite there being more than enough going on, Gaiman managed to wedge in references to the "Civil War" event. Iron Man and the Avengers' inclusion is almost entirely about haranguing the various Eternals to pick a side. Sprite's superhero reality show is hamfistedly pro-registration, a present reminder of the greater Marvel Universe that is forgotten by the middle. It stands out like a smashed thumb and dates an otherwise evergreen comic, but I'm sure there were editorial directives that needed to be followed.
The most egregious element to me is Sprite – every time he shows up, he is grating and cringey. Gaiman misses the mark while coming across like he thinks he's totally nailing it. Sprite's frustrated horniness, as well as his ultimate end, is supposed to be poignant but I find it out of touch, stupid and tasteless – qualities that show up in other places of the story as well. Romita Jr's drawing doesn't do him any favors either, depicting him as oddly expressionless and squishy.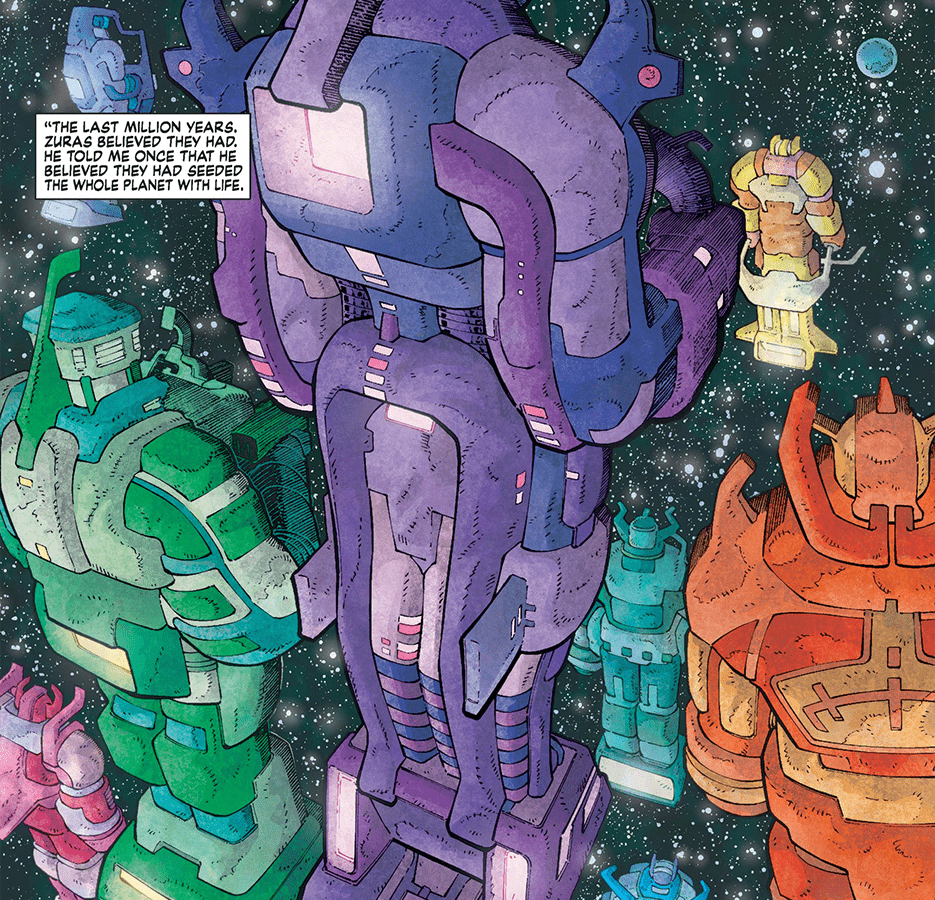 "BIG ROCKS THAT DO MAGIC"
I'll admit that when I first read this series, I was riding high off of reading Jack Kirby's original Eternals series from the 70's. Kirby completely won me over on loving these weird characters and I felt that love affronted by Gaiman's attempts to reconfigure the wiring. His approach felt dispassionate and mechanical – the Eternals are re-established as computerized antibodies for the planet while the Deviants claim to be Celestial food. I realize of course that this is first and foremost a book for people who are unfamiliar with the Eternals, so staying true to the source material was not a high priority. When I reread it for this review with that in mind, I could see a lot more of the good. 
There's actually a lot of clever remixing at work – a lot of the structure resembles the original series if you squint. The narrative's more subjective tone is interesting, and it was smart to promote Makkari to the lead role since few characters are as boring as Ikaris. Overall, Gaiman approaches each of the heroes with care and humanity even if it can be overshadowed by the extra-quippy dialogue. Sersi's interactions with Tony Stark provide some real touching moments, highlighting the disconnect with her forgotten past as a superhero, as an Avenger. The Deviants, or "changing people" as they call themselves, are depicted here with surprising sensitivity in the writing if not necessarily the art. I appreciate Gaiman giving them more motivation than Kirby ever did, and their religious beliefs involving Makkari are intriguing. However, I'm still not fond of Gaiman's voice as a writer, and a lot of the dialogue is painfully annoying. Thankfully, this is a book that is pretty enough to skip the word balloons and still enjoy.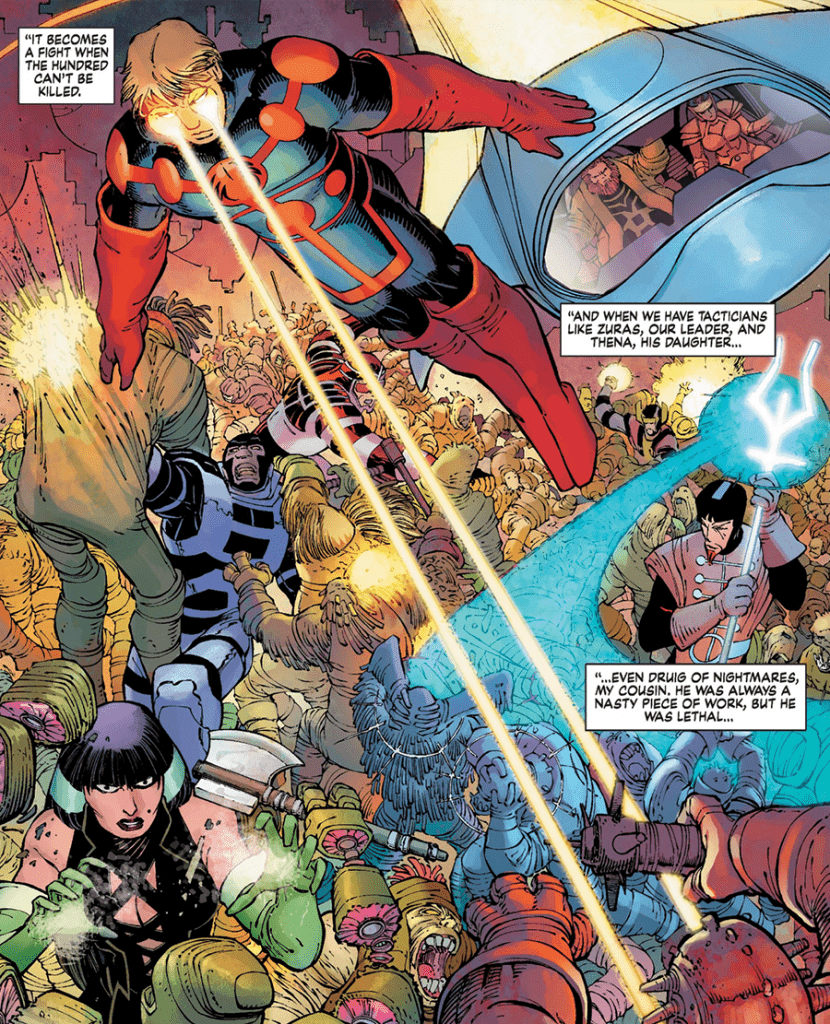 John Romita Jr. is the true star of Eternals
. He's aided by a bevy of inkers and colorists – including Danny Miki, Tim Townsend, Matt Hollingsworth, Dean White, and more – and as they change hands the quality can waver a bit but never enough that I could tell exactly who was working on what page. The core of Romita Jr.'s pencils remain consistently strong, particularly when he's drawing action – the raid on Sersi's party – or big, chunky stuff – his take on the Celestials is so visually satisfying. I have to give credit to Gaiman's concept of "stone machines" that Romita Jr just goes wild bringing to life. He's pro enough to handle the mundane set pieces but he makes the book sing the most when his imagination is going wild, drawing massive, swooping Celestial machinery. It's a shame, then, that the climactic battle takes place in what looks like the middle of nowhere – things get a little too gray/brown. The colors throughout are pretty muted, with a textured quality over everything that works with JRJR's style, but I found myself enjoying the more saturated portions.
There's a laundry list of little things that bug me about this series but it's an overall solid book about getting the band back together. The dialogue can be wordy, trying to sound more profound than it actually is. Still, Eternals is a fun, heady summer blockbuster that wins on the big picture stuff while fudging the details. The mission statement seems to have been "make the Eternals cool" and I have to say it succeeded there. This collection is satisfying enough and remains the high mark against which all Eternals reboots are judged. We have yet to see all of its ideas and canon contributions bear fruit, so I am excited that Marvel continues to give this property a chance.