The Eternals – written, drawn, and edited by Jack Kirby beginning in 1976 – is visually stunning, a bombastic treat loaded up with the King's singular creativity. For 20 issues (including one Annual), Kirby and his collaborators – John Verpoorten on inks and letterers Gaspar Saladino, John Costanza, and Irv Watanabe handling the first four issues, Mike Royer taking over both for the rest of the series, and Glynis Wein neé Oliver supplying colors throughout – have assembled a fun, if inconsistent, comic book epic that practically rattles with potential. The new Eternals: Complete Collection is worth a read, though best when taken on its own terms.
Related Reading Orders:
IS MAN ALONE IN THE UNIVERSE?
The comic kicks off when the mysterious Ikaris reveals himself to be something called an Eternal, one of two species who share a common ancestor with humans. The lineage diverged when interstellar beings, "Space Gods," visited Earth two or three millions years ago to jumpstart mankind's evolution. Their experiments led to us, the Eternals, and the maligned Deviants, born with unstable genetics that cause their varied and monstrous appearance. The immortal Eternals, on the other hand, look like Greek statues and possess a bevy of super powers. The existence of both groups was kept secret from humanity until now, though brief encounters over time became the inspiration for our myths.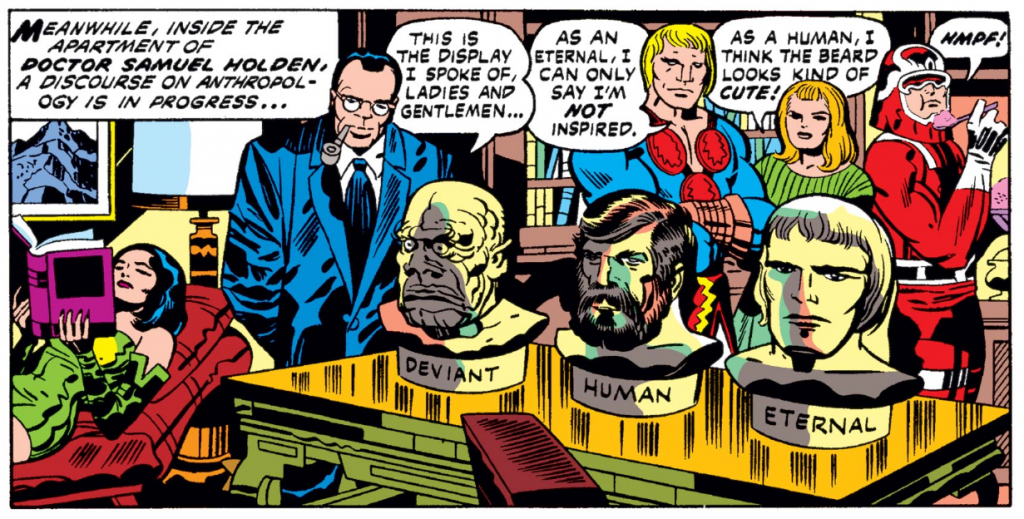 Meanwhile, the Space Gods, or Celestials, return to Earth for the fourth and final time to survey the fruits of their ancient experiments, and in fifty years time, will deliver their final judgement – will Earth survive? The Deviants want to destroy the Celestials as revenge for a previous punishment. The Eternals' job is to protect humanity from the Deviants and to keep everyone from inciting Celestials' wrath on the planet. The idea is inspired by a popular conspiracy theory that aliens orchestrated the great feats of human history. Kirby comes up with a crackling pop take, mixing super heroics with sci-fi religion.
Support For Comic Book Herald:
Comic Book Herald is reader-supported. When you buy through links on our site, we may earn a qualifying affiliate commission.
Comic Book Herald's reading orders and guides are also made possible by reader support on Patreon, and generous reader donations.
Any size contribution will help keep CBH alive and full of new comics guides and content. Support CBH on Patreon for exclusive rewards, or Donate here! Thank you for reading!
IT WAS BOUND TO HAPPEN… THE SPACE GODS HAVE COME BACK!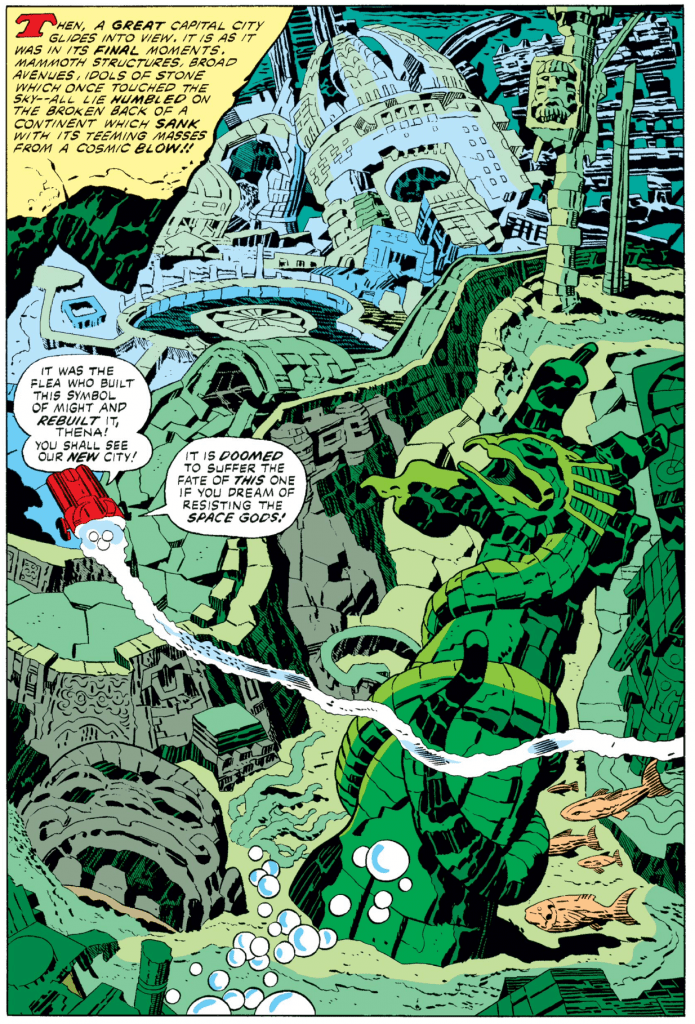 The Kirby collection's
main selling point is the gorgeous art. Take your time looking through this comic, especially the first few issues, every panel is begging to be savored. Minuscule figures crouch in the corner of pages crowded out by breathtaking architecture. Every establishing shot is a gift – from the Incan God Chamber to the Eternal city of Olympia to Lemuria, the undersea home of the Deviants – each landscape emphasizing the sheer scale of this story. The Eternals is particularly lucky to have Glynis Oliver on colors, one of Marvel's unsung heroes. Oliver's contribution (aided and abetted by Verpooten and Royer's bold inking) elevates so many panels to iconic status – I shudder to think of anyone trying to recolor these comics with a more "modern" style.
The Eternals is full of wonderful visual ideas, like the "shroud guns" (think a weaponized t-shirt cannon) and "brain mines" that the Deviants wield. My favorite of these toys is the dragonesque bomb and its icono-glyphic "trigger unit." Every outfit and object is otherworldly and distinctly graphic. The Celestials themselves are chief among Kirby's designs, drifting about the planet like massive bumble bees. Humanoid in the most basic sense, each colossus wears a geometric face rendering them alien and unknowable. They've gotten more mileage by subsequent writers than anything else introduced here, a testament to the richness of their concept. I'd be remiss if I didn't shout out some of their names – Arishem the Judge, Nezarr the Calculator, Gammenon the Gatherer *chef kiss*.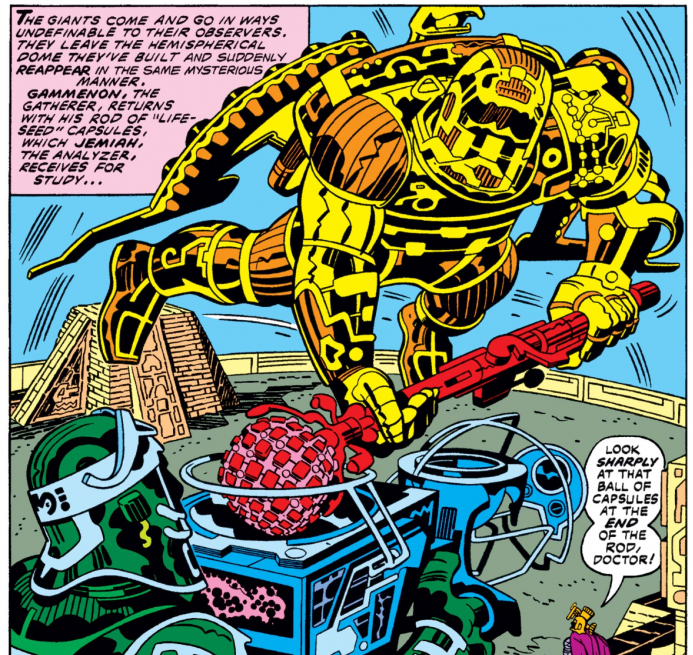 Some of the Eternals are forgettable by comparison, like the main character Ikaris, but thankfully not all. Sersi is an Eternal who chooses to live among the humans and party. You may recall Sersi from her days with the Avengers (a connection I suspect has some bearing on the Eternals' foray into the MCU), but her first appearance establishes her as a fan-favorite straight away – more interested in dancing than whatever drama is going on. Deviant commander Kro has panache and nuance as a villain, and provides this volume with its best soap opera storyline. Kro was love at first sight for me, but he is one of the more three-dimensional characters we get. Also of note are Karkas and the Reject, two Deviants who play against type and are later adopted by Thena, daughter of the chief Eternal Zuras. The unlikely pair is the focus of the Annual, where they help thwart time-displaced rogues from the past (this issue takes place sometime after issue #14, presumably while the other Eternals are fighting the Hulk [more on that later]). These little gems make The Eternals easy to fall for, more than making up for the flatter members of the cast.
Kirby's writing on The Eternals has a dated quality, dated even for when it came out (the same time Chris Claremont's Uncanny X-Men was picking up steam). Every character exposits directly at the reader, making the amount of telling greater-than-or-equal to how much there is to show. The caption boxes are wordy, hyping you up in a way that may feel transparent to someone reading in 2020. There are a lot of exclamation points. It all adds to the fun, though – for all its self-seriousness, there is a definite sense of humor here, intentional or otherwise. If you can play along with the campiness and bombast, you'll discover the joys to be that much greater. Some of the other dated bits are less cute, however, like the undeniably sexist depiction of Margot Damian, or anything having to do with the Incas. It's a blessing those uglier aspects don't get much page space to begin with.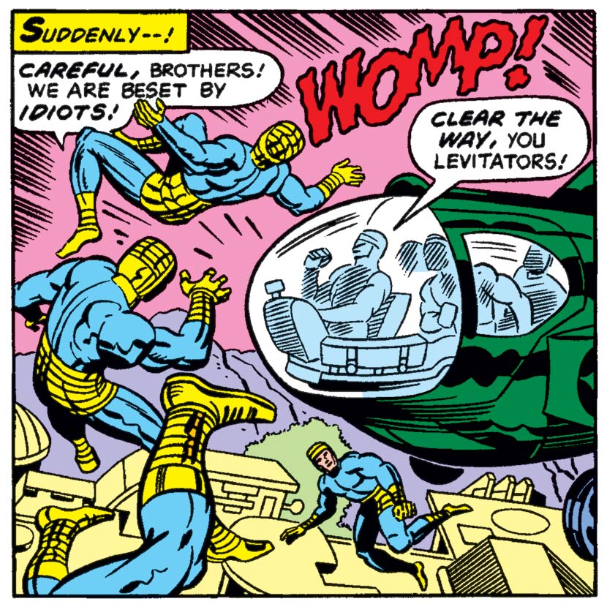 For all the good that can be found here, it's not hard to imagine why The Eternals have remained a niche property. Conceived as occupying its own continuity separate from the shared Marvel Universe, the Eternals mythos doesn't have to contend with the similarities found with other Jack Kirby creations like Galactus, the Kree, and the Asgardians. I don't know if I would have gotten the same thrill if I had been a devout follower of his Fourth World series for DC, or I had already read the Inhumans saga in Fantastic Four. Free of such comparisons, The Eternals can envision an untouched world where the arrival of the Celestials is the most amazing thing to ever happen to this planet. Their 50 year judgement presents a kind of problem that can't be solved by the world's mightiest heroes banding together, since there are none we ever see.
This lack of interconnectivity, however, may have also weakened the property's appeal within the company and in the public imagination. Kirby resisted editorial pressure to write in references to other Marvel IP, even ones he originated. The few concessions he ended up making are largely disappointing. For example, the momentum of the story grinds to a halt to include an overlong story pitting the Eternals against a robotic Incredible Hulk. By the time things get back on track, Kirby & co. have only two issues to wrap everything up, but they choose to introduce new concepts rather than resolve established ones. The loose threads would be inherited by Roy Thomas to tie up later in issues of Thor and Avengers. Integrating the Eternals into Marvel continuity ended up making them more obscure and their origin more complicated. Though they've returned intermittently in the decades since, only rarely have they seemed to make much of an impression.
— AND A NEW CHAPTER SHALL BE WRITTEN IN EARTH'S HISTORY!
Kevin Feige has consistently evoked Kirby's vision whenever discussing the Eternals upcoming addition to the Marvel Cinematic Universe. These movies are as much about how they fit into the overall picture as they are about the individual piece, so it's probably safe to assume its purpose will involve establishing Sersi and the Celestials (not to mention the Thanos connection). The basics are all laid out in the first dozen issues and could easily inform the movie's plot, brought to life with the pacing, dialogue, and spectacle that we expect from all MCU films. The production also has the opportunity to make up for some of Kirby's failings – the cast is already fairly diverse, and I can only hope that women and indiginous cultures are also handled with more sensitivity than the source material. It would be great to see the integrity of Kirby's designs make it onto the screen (only Thor: Ragnarok has really embraced this kind of aesthetic), even if they end up using elements from later runs as well.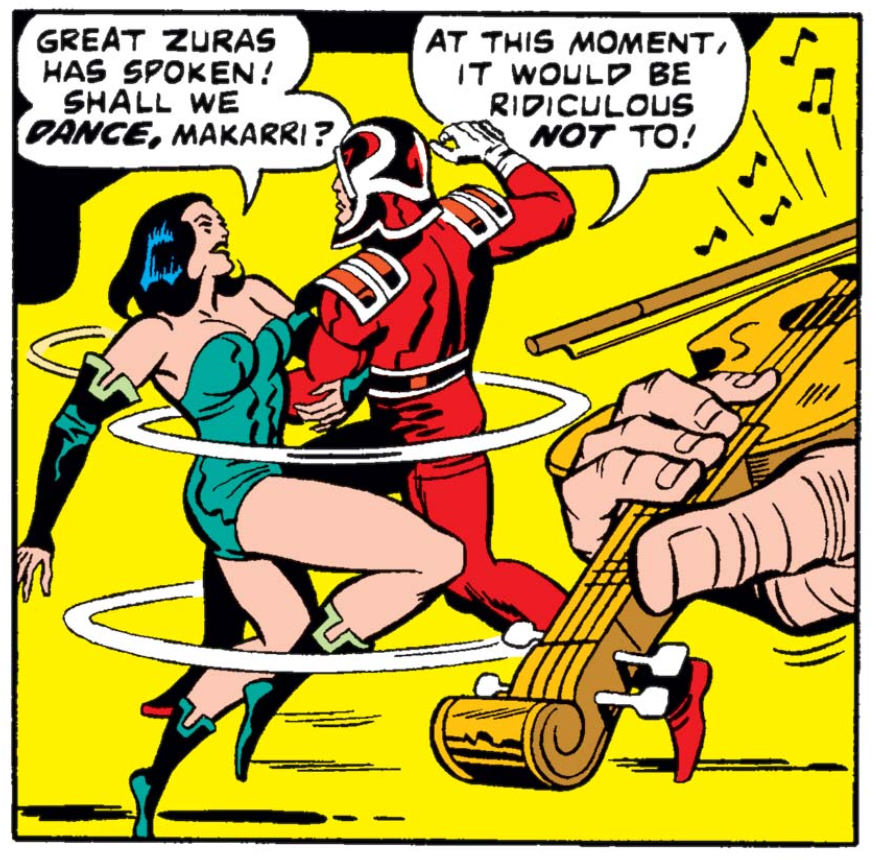 We're likely to see Marvel publish a new Eternals series to accompany the movie. Any reboot of the title would do well to streamline its concepts to emphasize its unique qualities, keeping the scope massive and the characters a little corny. I'd love to see a confident, new voice play with the Deviants concept a bit further – we can not accept a narrative that equates physical appearance with morality at face value. Rather than continue to rely on stereotypes, exploring the perspectives of this cast-off society would generate more interesting stories. On a less serious note, we're approaching 50 years in real time since the Celestials first touched down in the comics. Might we witness the real Day of Alpha in some kind of anniversary tie-in?
Until we see those new projects take shape, I'm glad to see Marvel investing in making the original run available. Jack Kirby's idiosyncratic The Eternals, though not perfectly realized, is a shining testament to his enormous imagination and talent. It's both monumental and cheesy, and introduces some wonderful concepts into the Marvel Universe that are still yielding great stories to this day. I strongly recommend people give this a read as long as they know what they're getting into. You may get more mileage out of it if you're less familiar with Kirby's astounding body of work. I hope that this overlooked jewel finds its way into your heart like it did mine – those who do will develop a fondness lasting the lifetime of any Eternal.